Learning a new skill is an incredibly rewarding experience.
But do you know what's even more rewarding?
Learning to play an instrument.
And if you're looking to learn an instrument, the guitar is a fantastic choice.
With your guitar in hand, you can impress your friends with some of your favorite covers, or maybe even some songs of your own.
But you don't just want to be able to play Wonderwall by Oasis, you want to play it the best.
Of course, it's not like you pick up a guitar and instantly know how to play it.
No – there are a lot of things to learn first.
Learning to play the guitar is a complicated journey at first. But with the right knowledge, you're sure to be a master in no time.
With that being said, here's everything that you need to know about learning to play the guitar.
Acoustic Vs. Electric Guitar
When you embark on your guitar playing journey, the first thing that you need to do is think about whether you want to play the acoustic or the electric guitar.
Can you learn electric guitar before acoustic? Of course. If you can play an electric guitar then you can also play an acoustic guitar later on, and vice versa. They are similar in many respects. But which one you would prefer to learn with first?
So what's similar and what's different between the two?
Let's begin with the acoustic guitar. An acoustic guitar will essentially give you exactly what you see.
There's no need to plug it in to amplify it. The sound hole handles this.
You can use it without connecting it to a speaker, which is handy for when you need to practice on the go. A lot of beginner guitarists start with an acoustic guitar, for this reason.
The primary distinction between an electric and an acoustic guitar, is that you will need to plug an electric guitar into an amplification system. You can play electric guitar without an amp, but the sound does not carry.
Electric guitars can give you a slightly different sound to an acoustic guitar too, and they often look a little different. Here are some things to keep in mind when choosing the right guitar for you.
Budget
You should also think about the budget before you decide to buy a guitar. For instance, you will be spending a lot more money on buying an electric guitar than you would on buying an acoustic guitar.
For an acoustic, you just need the guitar, some extra strings, a guitar tuner and some guitar picks. You can pick these up easily at pretty much any music store or online outlet. How much is an acoustic guitar? They start under $50, but for a decent one, you'll want to spend at least $100.
When you buy an electric guitar, you will need to purchase the guitar itself, a tuner, an amp, guitar cable, picks and more. These can get pretty expensive. And if you want to shred, you'll probably want to get the best guitar picks for shredding, which means you'll need multiple styles of picks.
It's better to buy an electric guitar if you are certain you are truly serious about learning the instrument since they can be a pretty big investment. How much does an electric guitar cost? It is a huge range that can go from $80 to $10,000 and up.
Sound And Genre
The sound is also different between the two. Acoustic guitars will often give you a slightly softer, more airy sound. They're great for when you want to play a song around the campfire – acoustic covers and country music may come to mind.
Electric guitars can be a lot louder thanks to the amplification system. You can also play around with other things such as distortion and other sound effects with an electric guitar, which isn't an option with an acoustic guitar.
Before you buy your guitar, you may also want to think about the kind of genre that you would like to play in. Some songs simply won't sound right on certain guitars.
For instance, would you play a folk song on an electric guitar? What about a heavy metal song on an acoustic guitar?
Sure, it can be done, but there will obviously be one kind of guitar that will fit your genre better. If you play metal, you want the best brand for it.
That said, this is something that can certainly change over time. Look at the band Mumford And Sons. They started out with banjos and acoustic guitars and eventually moved on to using some electric guitars.
Playability
Okay, so which is easier to play? Some people would say that an acoustic guitar is a little bit more tricky to learn. It also depends whether you have a classical or western style acoustic guitar.
There are a few reasons for this, but it's primarily because the strings can be pretty heavy and harder to fully press down.
The strings are slightly further away from the fretboard too. If you don't press them hard enough you may end up producing some pretty strange sounds. However, this is only really an issue when you first start out.
Eventually, your hands will become more accustomed to playing the guitar. You can also use lighter strings.
Acoustic guitars may also be slightly easier to play if you have larger fingers, since the distance between the strings is a little wider.
Many people find that playing the electric guitar is a little bit easier when you start out since the strings are generally a lot lighter and more comfortable to play.
They are a little smaller too which is ideal if you're wondering: can you play guitar with small hands? The distance between the strings is closer though which can sometimes make it tricky to play cords.
How To Play The Acoustic Guitar
Now that you've chosen the kind of guitar you are going to play, you need to learn how to play it! Here's everything that you need to know about how to play an acoustic guitar. And if you're still looking for an instrument, check out our Yamaha F335 acoustic guitar review. It is the best value on the market today for beginning players.
The Basics
Tuning Your Guitar
Before you even think about playing your guitar, there's a little bit of preparation that you need to do.
It's the bane of most guitarists' existence – tuning.
You could be an incredibly skilled guitarist, but if your guitar isn't tuned properly you are going to sound terrible.
Like, nails on a chalkboard kind of bad.
That's the last thing that you want, so you need to learn how to tune your guitar properly!
But wait – what strings do you tune, and what notes do they produce? Well, take a look at your guitar head on.
On an acoustic guitar, the thickest string will be an E note, while the thinnest will be a lower E. So it goes like this, from thickest to thinnest:
You can use an acronym to remember this, such as Every Amateur Does Get Better Eventually. Pretty fitting, don't you think?
If you're playing the guitar, the thickest E string will be the one that's closest to your face.
Once you've figured out where all of the notes are, turn your attention to the headstock of the guitar. This is the part that sticks out on the very end. It has a bunch of little metal pieces that look like keys.
These are machine heads, and you need to twist them in order to tune them. They are designed to change the pitch of your guitar.
Many guitarists can tune a guitar just by listening to the notes being played, but chances are that when you're first starting out, you don't know the difference between a G and an A note.
In this case, if you have a piano, you can press the corresponding note on the piano and tune the guitar that way, making the note as similar to the note on the piano as possible.
You can also use a guitar tuner such as this one for a little bit of extra help.
There are also various smartphone apps out there that you can use, such as Guitar Tuna. There are also electronic vibration based tuners, and these will establish the note you are currently playing so you can tune the string to the correct note.
Pretty neat huh?
To help you to tune the guitar, keep on plucking the corresponding string while you tune to see if the notes sound similar. Once you have tuned the guitar, you are free to go onto the next step.
While these tuners make the job easy, I do recommend learning how to tune an electric guitar without a tuner, as well. It just gives you a better understanding of your instrument. Of course, the same goes for an acoustic guitar.
How To Hold A Guitar
This seems a little obvious, right? You hold a guitar in your hands, duh!
Well, yes, but that's not all there is to it. You need to consider things such as your posture.
When playing the acoustic guitar for the first time, you should sit down on a chair, making sure that both of your feet are firmly on the floor.
Don't hunch over – you should try to keep your back straight.
Then grab the guitar, and put the middle of it onto your right leg, or left if you are left-handed.
You should hold the guitar right against your chest and stomach, and have the neck in a horizontal position to the floor. Your upper right arm should be resting on the top of the guitar.
Then with your left hand you are going to manage the fretboard. To do this, put your left hand underneath the fretboard and then bring it up in front of the fretboard. This will give you the best position to press onto the strings. Your knuckles should be bent.
You will then strum using your right hand. Relax your arms and wrists – the strumming should be a seamless motion.
While you are playing, make sure that you maintain good posture so that you don't end up hurting yourself.
How To Care For Your Guitar
Taking good care of your guitar is a vital step in ensuring that your instrument lasts! It also contributes to how well the guitar plays.
Here are some tips for keeping your instrument in its peak condition.
Beware of Humidity
Most acoustic guitars are made out of wood, which can respond negatively to moisture. For this reason, you should try to keep your guitar away from rooms with high humidity.
Likewise you should also stay away from rooms with excessive dryness as this can cause the guitar to warp or crack.
Creating the best environment for your guitar is key in ensuring that it lasts and sounds fantastic for years to come.
Proper Cleaning
You should always make sure that you thoroughly clean your instrument after use. This is the case whether your guitar cost a thousand dollars or a hundred.
Things such as sweat and dead skin can start to build up on the guitar body and the strings, and this can influence the kinds of sounds that you get. The grime can also make the guitar look dirty, which is something that's best avoided if possible.
To clean your guitar, make sure that you keep a dry, clean cloth in your case and wipe down the strings after any playing sessions.
You should also do a more thorough clean every once in a while – you can check out some products online that can help you to keep your guitar nice and clean. You will just need to clarify that the cleaner is actually safe for your particular guitar.
If you are at all unsure, check with a professional for further advice. The last thing you want is to end up accidentally damaging your guitar by using the wrong products. For further guidance on cleaning your guitar, check out this article.
If you have an acoustic guitar, we also have an article that specifically covers how to clean an acoustic guitar.
Make Sure You're Re-Stringing The Guitar Correctly
Stringing a guitar can be a bit of a pain, no matter what your current level of experience is. When you're just starting though, it's even easier to fail miserably at stringing your guitar, and this can cause a few different problems.
Your strings may end up breaking, or the guitar could just sound plain terrible. With this in mind, you must know how to string your guitar properly.
The way that you string your guitar is largely going to depend on what kind of guitar it is – is it steel strung or classical? If you have a classical guitar, you can check out this guide here for information on how to re-string your guitar.
Strings make a big difference for electric guitars too. For example, the best guitar strings for Fender Stratocaster won't be the same as the best for a Gibson Les Paul.
Use Strap Locks
Making sure that your strap is secured properly on your guitar is important, especially if you're standing. You don't want your guitar to fall to the floor when you're using it, as that can damage it.
Straps can sometimes come off your guitar fairly easily though, so it's a good idea to make sure that they are secured into place correctly using strap locks.
You can usually buy these for a fairly affordable price at your local music store or on an online retailer such as Amazon.
When you have finished with the strap, you should take it off after use, since some straps can contain solvents that can change the finish on the guitar. If this isn't possible, you can get a cotton strap instead.
Protect The Guitar From Scratches or Bumps
You should also keep your guitar away from anything that can scratch or bump it. This includes things like metal zippers and belt buckles. Things like this can damage the guitar.
If you're wearing anything like this that may damage your guitar, you should try to remove it if possible. Also make sure that your guitar is put somewhere safe when you aren't playing it, such as on a stand or in its case.
How To Play The Electric Guitar
The other option is the electric guitar. Like with the acoustic guitar, there are a lot of things that you need to know about how to play the electric guitar and what other essential equipment you may need. Here are some things to consider.
Effects Pedals
Do you know what one of the biggest advantages is of getting an electric guitar?
That's right – effects pedals.
You can give your music a whole new sound using these bad boys.
There are a lot of pedals to take into account, however.
Effects pedals can do a lot of things, depending on the one you're using – they can modulate the sound, distort it, drive it and so much more.
They may be a little complicated to use at first as a beginner, as you may not have gotten into your groove yet. But they're important to remember for when you have more experience.
Using a guitar pedal is pretty simple – just plug the guitar cable into the pedal, plugging another cable into the amp. Once you have set it up following the manufacturer's guidelines, you can turn it on and play around with it.
Eventually you will figure out what works best for you on each individual pedal.
There are a few pedals you can get, including:
Reverb
Distortion and Overdrive
Fuzz
Delay
Each one will give you a different sound, so it's worth checking on YouTube to see what each one will sound like before you buy. You can experiment based on the results that you wish to hear.
You can also get a single multi-FX pedal instead of several individual effects pedals. Multi-effects pedals have many different effects, often well over 100 different ones, in a single box.
They save money and are tons of fun, but once you are ready to find your own tone or do some recording, you're going to want individual effects pedals.
Amps
Another important thing to invest in for your electric guitar is an amp.
Amplifiers are essential if you want your guitar's sound to really fill out the room. Amps can also influence the tone of the guitar.
There are two primary formats for amps – combo and stack amps.
Combo amps are generally all inclusive units, with the speaker and the amplifier built into one. With a stack amp these two components are separate.
You will need to have an amp head and a cabinet, which is where the speaker is. They both have their own pros and cons depending on what exactly you're trying to accomplish.
For instance, a combo amp is best for studios or touring, whereas stack amps could be a good choice for practicing since they don't take up a lot of space.
There are also a few types of amp, including:
Hybrid
Solid State
Valve
Modelling
Digital
Again, what you get will largely depend on what you are looking for, so thoroughly assess each option before buying. Read more about buying an electric guitar amp here.
Line 6 Spider V 20 MkII
On the subject of amps, you should really give the Line 6 Spider V 20 MKII a try.
It is a 20-watt practice amp, and it's perfect for practicing both as part of a band and also for beginners learning to play the electric guitar.
It's fairly affordable as far as amplifiers go, and it comes with hundreds of different effects.
This makes it ideal for practicing a range of different styles. In short, it's a fantastic amp for beginners.
If you want the amp to sound more traditional you can also turn off things like the mic and cabinet emulation. This is a desirable feature for many beginners.
In short, it's a great option for beginners that are looking for a versatile and affordable amp. Read our full Line 6 review for more.
How To Play The Chords On A Guitar
The first real step in learning to play the guitar is learning how to play chords. There are a ton of chords for the guitar, but you will never need most of them. As long as you know the basic chords and which chords sound good together, you can play a wide range of different songs and tunes.
Now, there are two main kinds of chords that you need to know: major and minor. Major chords are usually more uplifting sounding chords – the kind of thing that you would expect to hear in an upbeat song.
Minor chords on the other hand sound sadder, though this isn't always the case. There are some deviations of major and minor chords, such as major 7ths, but when you're first starting out it's best to learn the basics first before moving on to more complicated things.
We're going to cover all of the basic major and minor chords that you need to know next. But first, we should mention the capo. This useful tool allows you to barre a fret, making complex barre chords easier to play. Read "Can You Use A Capo On An Electric Guitar?" for more.
All Majors And Minors Explained
A Major Chord
The first chord to learn is the A Major chord. This is perhaps the easiest chord to learn since all of your fingers are in order on the second fret.
To play it, put the first finger onto the 4th string on the second fret, your second finger onto the third string, second fret, and third finger on the second string, second fret. Then you just strum the bottom 5 strings to hear your full major chord!
C Major Chord
C Major is one of the most well known and most often used chords, whether you're playing guitar, piano or anything else in between. It's the basis for a large number of songs!
It can be a little bit trickier than the A major chord, since you will need to use C, E and G notes. To play this, you will need to put your fingers in a diagonal shape on the fretboard. Put the index finger onto the second string on the very first fret.
Then, put the middle finger onto the fourth string on the second fret. The last finger should be your ring finger which you put onto the third fret on the fifth string. Strum the bottom 5 strings, and you've got C Major!
D Chord
To play the D major chord, you should put your index finger onto the third string on the second fret.
Your middle finger then goes on the first string on the second fret – the two fingers should essentially be almost above each other. Your ring finger then goes onto the second string on the third fret. Now strum the bottom 4 strings.
G Chord
Like the C Major chord, the G chord also makes an appearance in a large number of songs you may hear every day, so it's essential that you learn to play it. To do this, put the middle finger onto the fifth string, second fret.
Then, your ring finger goes onto the sixth string on the third fret. And finally your pinky finger needs to go onto the first string on the third fret.
E Minor Chord
Finally you have the E Minor Chord. This is another one that's fairly simple to play – you just need to put the middle finger on the fifth string of the second fret, and put the ring finger onto the fourth string at the second fret.
Leave the rest of the strings open, and strum your chord to get E minor.
Tips On Buying Your First Guitar
Now that you know most of the basics, it's time to buy your guitar. Buying a guitar can sometimes be difficult, but it doesn't need to be. Here are some tips on how to buy your very first guitar.
Don't Spend Too Much Or Too Little
You may think that it's worth splashing a huge amount of cash on your first guitar, but it's often best to avoid this.
The chances are that you will need to replace it in a few months anyway, and there's always the possibility that you may not want to continue with learning to play the guitar. In this case, buying something more affordable is a better choice.
In general, it's best to buy something from $200 to $500 for your first guitar. You shouldn't spend too little on a guitar either, as these guitars are often very low in quality and won't last very long.
You should try to balance quality with budget when buying your first guitar. You can upgrade later down the line.
Ask An Expert
It can be tempting to bring any old friend with you when you're looking to buy a guitar, but it's often best to speak to an expert for advice. Buying something that looks cool is great, but if it sounds terrible then you're going to be sorry.
You should have some prior knowledge of the sort of style you would like to play in, as this can influence the sort of guitar you get.
For instance, if you want to play jazz then you may be better getting a guitar with a hollow body. If you want to play metal, look for an electric guitar suited for heavy metal.
Take the Guitar For A Test Run
Before you buy your guitar, it's always a good idea to test it out first. You can often test guitars in your local music shop.
If you can already play a little, try playing your favorite song on it to check the durability of the strings and how good it sounds.
This should give you an indication of the overall quality of the guitar and whether it will be suitable for you. If you're not sure at all where to begin, Japanese guitar brands tend to offer the best value for your money. Brands like Yamaha and ESP's subsidiary LTD are always great choices.
How To Protect Your Fingers While Playing The Guitar
One of the biggest problems with learning to play guitar is that it can be pretty painful when you first start out.
It can often cause you to have pain in your fingers. Building your calluses is key to ensuring that you stop feeling pain later down the line.
Let's face it – many of us aren't accustomed to pressing down on thin strings every day, so it's natural that our fingers aren't designed for it. The strings can cause damage to your fingers and you will experience blunt trauma.
Eventually, when you play the guitar more often, the top layer of the skin starts to wear away, and your fingers create a new layer of skin as a result of the injuries. In essence, you get calluses.
Calluses will usually form in around 2 to 4 weeks, though this depends on the frequency that you play the guitar, the kinds of things you play, and how tough your fingers already are before you decide to play the guitar.
So how do you protect your fingers from any pain when you're playing the guitar?
The first thing to do is to change the action on the guitar. If the guitar has higher action then it means that you will need to put more force onto the strings to play it.
You can take your guitar to a music shop nearby to get it adjusted if the action is too high. This will make it a lot easier to play.
Also, when you are learning to play the guitar, you should make sure that your fingernails are well trimmed. It's pretty uncomfortable to break a fingernail when you're playing a riff! It's also a lot easier to build a callus when your nails are short.
Can you play guitar with long nails? Yes, you can. It even has advantages for certain techniques. But it also limits you with many others. For beginners, it is definitely better to keep those nails short.
When you're playing the guitar you should also make an effort not to press too hard on the strings. It can be tempting to press down on the strings hard when you're first learning, but this really isn't necessary.
Instead, try to keep your fingers relaxed and then press down just enough to ensure that the strings are on the fret and that you can play the notes, but not too hard that it hurts your hands.
You should also make sure that you don't try to play the guitar with wet hands and fingers as your hands will be soft from the water, which can do more damage to your fingers.
In addition to this, practice not only makes perfect, but it also helps you to build calluses! The more you practice playing the guitar, the more that your skin builds resistance to the pressure of the strings.
Make sure that when you are practicing, that you're doing so for short periods of time. The last thing that you want to do is accidentally break your skin open by doing too much in a short period of time. You can gradually build up to playing longer over time.
The only question remaining is how can you treat the pain after you've been playing.
There are a few remedies. You could try something like applying a cold compress, or you could try some anti-inflammatories or numbing ointments.
As time goes on it will eventually feel less painful, but in the meantime these are some things that you can do to get you through the painful period.
10 Easy Beginner's Songs To Learn
Once you've learned the basic chords and how to use a guitar properly, it's pretty common to want to dive straight into learning songs.
Of course, you're probably not going to be playing overly complicated songs when you first start out, but there are plenty of beginner level songs that you can play just using a few basic chords. Here are 10 of our favorite easy beginner's songs to learn.
1. Achy Breaky Heart by Billy Ray Cyrus
This is by far one of the easiest songs to learn on the guitar when you're first starting out. It is the perfect song to learn if you're really into your country music. In fact, you only actually need to know two chords – the C chord and the G chord.
The song just repeats in a pattern as well, so there's nothing overly complicated to learn. If you are interested in learning to play this on the guitar, here's an excellent tutorial by Andy Guitar to show you the ropes!
He has a bunch of other fantastic beginner guitar tutorials to help you on your guitar journey, too!
2. Wonderwall by Oasis
Wonderwall by Oasis is the quintessential guitar song to learn for beginners. If you're learning to play the guitar, having this song in your repertoire is basically a right of passage.
In fact, if you go to an open mic night with other beginner guitarists, you are highly likely to hear this song at least 4 or 5 times in an evening.
This is one of the big reasons I absolutely hate this song. And Oasis in general.
But if you don't share my feelings, it is a great song to practice with. It only incorporates a few chords and the song is relatively slow, so it's easy enough to play for beginners.
And there is no doubt many people love them and they have influenced many later groups like the Arctic Monkeys. Check out this tutorial on how to play the song.
3. Shake It Off by Taylor Swift
So the players are gonna play, play play play play…. The guitar, that is! If you're a fan of the pop princess Taylor Swift, you're going to love playing this song.
It's fairly simple – you just need an A minor 7 chord, C major 7 chord and a G6 chord. You also only need 2 fingers in order to play it, and the chords just repeat throughout the entire song.
Check out this tutorial here so you can jam this tune out at your next office Christmas party. You're welcome!
4. Brown Eyed Girl by Van Morrison
Brown Eyed Girl by Van Morrison is a classic tune that's incredibly simple to play. It''s a great choice for weddings and for things like parties, so it's a handy one to have in your repertoire if you want to impress guests with a timeless track.
The song includes three main chords – C Major, G major and D major. There's one part of the song where you will also need a brief E Minor chord, but that's it. You simply need to repeat these chords in a pattern to create the song.
Make sure that you learn the rhythm too, otherwise it may not sound like the same song! Here's a tutorial for the song.
5. Polly by Nirvana
Looking for something a little darker with a rock edge? You can try Polly by Nirvana, a masterpiece penned by Kurt Cobain. The song consists of five chords – E5, D5, G5, C5 and B flat 5.
You play these chords in a sequence, and the finger placement of the song is pretty similar for all of the chords. This song is incredibly simple to learn and it's definitely a show stopper, perfect for a beginner looking to wow a crowd!
6. Sweet Home Alabama by Lynyrd Skynyrd
Here's a track that pretty much everyone at any party will know! It's a great track if you are into a country beat, and it's super easy to learn. All you need is a C chord, a D chord and a G chord. The chord progression for this is also similar to a few other songs.
7. Three Little Birds by Bob Marley
This is another well known song that is super fun to play on the guitar. It's great for any reggae lover, and it involves a simple chord progression of A, D and E.
You can play around with the strumming, but the song should have a relaxed, chill vibe. It's certainly a great choice for a night at the campfire with friends or family.
8. Knockin' On Heaven's Door by Bob Dylan
This is yet another classic guitar song that you could practically learn in your sleep. All you need is the G, D, A minor and C chords. They're simple to play as is the strumming pattern. Keeping the right rhythm is vital with this song.
9. Stand By Me by Ben E King
We just can't get enough of this classic by Ben E King! Stand by Me is super simple to play, and only requires four chords – G6, E minor, C major 7 and D.
This four chord song also has easy strumming patterns and the chords stay consistently the same throughout the entire song, so you don't need to worry about any sudden changes.
10. Pompeii by Bastille
This is another slightly more modern song that most people will likely know. It's easy to play, requiring just the chords of C, G, E minor, and D. It's a great song for any beginner, and you can even sing along as you play.
And if you like Bastille's work, we also have an article on the lyrics and meaning of Happier by Marshmallo and Bastille. A big reason of the song's success is due to the cool juxtaposition of the sad lyrics with the upbeat music.
Can An Older Person Learn To Play Guitar?
Yes, an older person can learn to play the guitar. It does not matter if you are 5 or 65. There is no age limit when it comes to learning how to play the guitar. Of course, we do tend to learn best and fastest when young, but we can still learn new skills when older, too.
There are plenty of resources available for older beginners, such as online courses, in-person music lessons, and apps for phones or tablets. The kay, at any age, is to practice.
Learn To Play The Guitar: Summary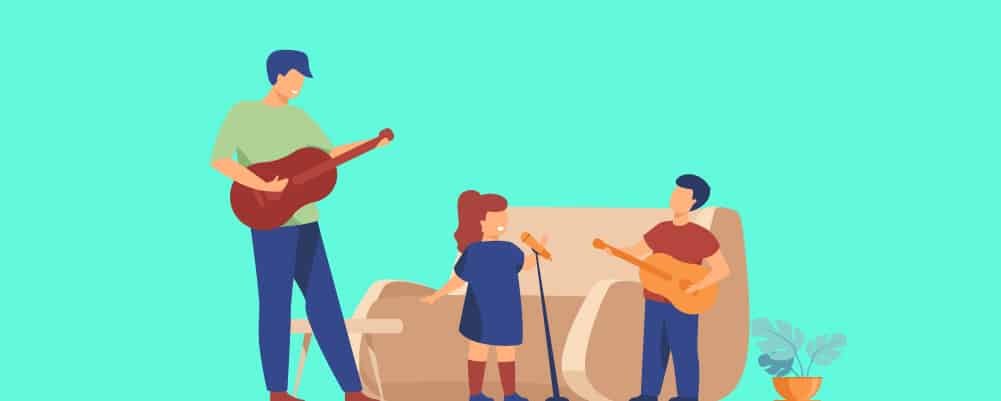 Learning to play the guitar is one of the most rewarding experiences you can have, but it can be tricky at first.
With time and practice though, you'll be able to play so many different songs that you're certain to be invited to pretty much all of the coolest parties so you can play some tunes. Rock on!