I remember when I bought my first electric guitar.
I bought it online, but I ordered an amp from a different store, because it was cheaper there.
I bet you can guess what happened. The guitar arrived and the amp did not. It took another 2 weeks. Two very frustrating weeks.
I played my electric guitar like an acoustic, but I'm sure you know, it's just not the same.
Naturally, this led me to do some research and see if there are any other ways to play my guitar without having an amp, and still have it sound the way it's supposed to sound.
And wouldn't you know it? There are quite a few options. Many of them even have some advantages over using an amp. Let's take a look at them all and hopefully help you figure out which is best for you.
Can You Play An Electric Guitar Without An Amp?
It is technically possible to play an electric guitar without using a specialized electric guitar amplifier. In fact, you can play it without any other external device, but it's very quiet, so it's only really useful for some practice sessions.
You can also use various external devices apart from an amp, including your home stereo or a computer. Let's take a look at all of your options for playing your electric guitar without an amplifier.
Playing Electric Guitars Acoustically
The first and the most obvious way to play without an amp is to play without connecting to any device. Can you play an electric guitar like an acoustic?
Yes, but most electric guitars are solid-body ones, which makes them almost inaudible both to you as the guitar player and to the people around you.
In fact, this is often a problem beginning guitarists face. They get their electric guitar all set up, but don't get an amplified sound out of it, leaving them wondering: why does my electric guitar sound acoustic?
In some cases, solid-body guitars can be chambered or they have weight relief chambers, which can help them resonate more. But in most cases, they're pretty quiet.
This particular method is only useful if you're practicing at home. And even then, it might not be that effective, since you may not hear everything that your guitar would put out through its pickups. Our article "How does an electric guitar work?" explains the importance of pickups on an electric guitar.
Things can be different with semi-hollow body and hollow-body guitars, because they feature resonant chambers that work the same way as acoustic guitars. Old school-styled hollow-body guitars are basically like playing an acoustic guitar when not paired with an amplifier.
Connecting To A Computer
One of the simplest ways to play without an amp is to connect your guitar to your personal computer. But this isn't always the easiest task, because there are a few things you need to consider first.
Every computer has its own integrated sound card, which is also known as an audio interface. Most laptops won't have separate inputs, so it technically won't be possible to connect your guitar, unless you have an external audio interface. But we'll get to that.
A regular desktop PC configuration will most likely have a sound card with a separate input, but you'll have to use a 1/4-inch to 1/8-inch adapter.
When connected to your computer, you can use direct monitoring through your sound card settings. However, if you're using a distortion pedal, it won't sound great. If you have a simple multi-effects pedal, you can use its headphones output when connecting to a computer and you'll get a better sound.
If you want a overall better experience or you'd like to record your music, it's always a better idea to buy an external sound card. This way, you'll get good sound quality and will be able to play and record music in real-time without noticeable latency or loss in quality, all while using specialized guitar software that emulates different guitar amplifiers and effects.
This method will require some research, but it's the best possible alternative to having an actual guitar amplifier. You can read more about this in our article: How to record guitar on a PC. We also have an article specifically on how to connect a guitar to a computer.
Connecting To A Smartphone Or Tablet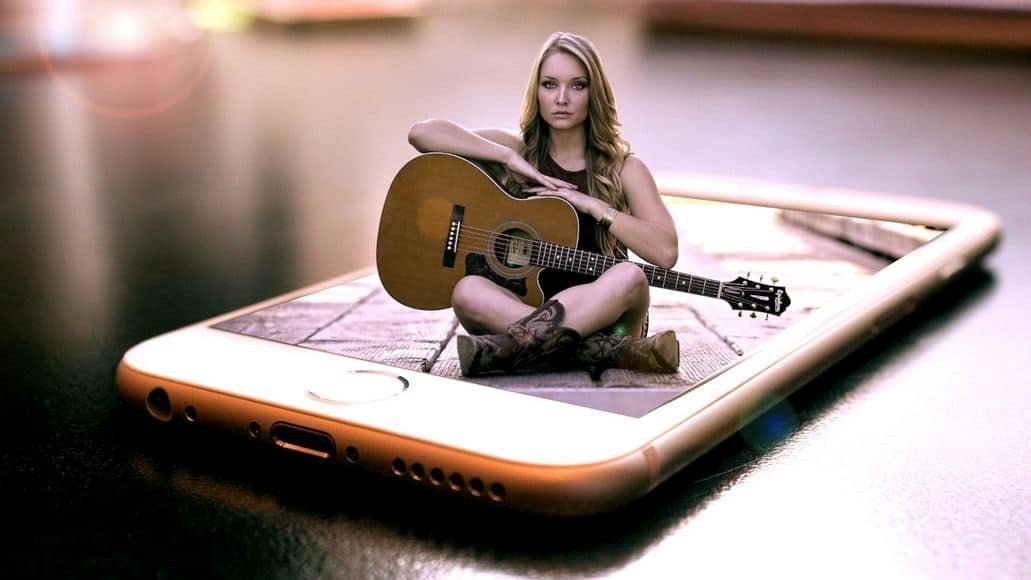 While it might seem unusual, there are actually methods to connect your electric guitar to a smartphone. After all, the phones that we use these days are pretty much portable computers with powerful processors and enough RAM memory to run demanding software.
But you'll need a specialized audio interface for smartphones. These days, there are plenty of devices that help you connect your electric guitar to a smartphone, and to use it as your amp modeler and as an effects processor.
These devices are pretty simple and compact and feature a USB connection, as well as a 1/4-inch instrument input and a headphone or speaker output. What's more, you can turn your smartphone into a recording station and do multi-track projects on your smartphone in real-time.
These same devices can also be used with regular tablets. What's more, some guitarists that perform live frequently actually prefer to use tablets and these simple audio interfaces.
Of course, there are devices that work with Android, iOS, or both of these operating systems. Additionally, some of them even feature combined instrument and XLR inputs, making it possible to connect microphones, too, via XLR connector. This particular method is becoming increasingly popular.
Connecting To A Home Entertainment System Or Any Other Hi-Fi System
Aside from your desktop computer, laptop, smartphone, or tablet, you can play your guitar through a standard home stereo, home entertainment system, or any other regular hi-fi system.
The process of connecting your guitar is pretty simple. In almost all cases, these systems or devices have designated auxiliary input for an external source.
In this case, the external source will be your electric guitar or an entire rig. However, just like with a regularly integrated soundcard, these inputs are 1/4-inch stereo ones. Therefore, you'll need a simple adapter for your guitar cable. It's available in any music or electronics store.
The simplest way is to just plug your guitar into the hi-fi system, turn it up and rock. But you won't exactly get the best tone since the guitar is intended for low-fidelity guitar amplifiers. This is especially the case if you're using a distortion pedal.
Due to different technology, your guitar with a distortion pedal going through a hi-fi system will sound too messy. It works and makes sense if you just want to get started right away, but it will result is a guitar tone that is far from desirable.
This can be solved using a DI box that emulates guitar speakers, a multi-effects guitar processor, or a guitar preamp before going into your home stereo.
These same exact methods work with any kind of a speaker system that has an auxiliary input. These days, we have Bluetooth speakers with separate aux inputs that can also be used for instruments, including electric guitars.
Going Directly Into A Mixer Or A PA System
A lot of guitarists these days are actually abandoning conventional guitar amplifiers. Instead, they prefer to go directly into mixing boards in studio settings or PA systems during live shows.
This makes the process more practical and simple, since miking (I looked up the spelling on this, but it looks weird to me) up guitar amps can be a very tedious process. Additionally, tube-driven amplifiers, which are still pretty popular, are pretty sensitive and can lack consistency in tone over time.
You can go directly into a mixing board, professional audio interface, or a PA system without any additional devices. As for studio settings, you'll be able to use different types of software that can emulate what guitar amps and effects are doing with extreme precision.
But if you're doing a live show or a band rehearsal, it's always a good idea to have either a preamp or a multi-effects processor with an emulated output, so that you can achieve a tone that's close to what you'd get with a conventional guitar amplifier.
If you plug in with regular pedals without a preamp or a DI box, you get a very unbalanced and messy sound that won't exactly be pleasurable to you or the listeners.
These days, so-called digital modeling amps are becoming increasingly popular. These are essentially devices that process your guitar's signal as digital information and tweak it in such a way that emulates guitar amplifiers. All of them, even cheaper ones, come with an abundance of different amp presets and come in handy for pretty much any style.
Using Guitar Headphone Amps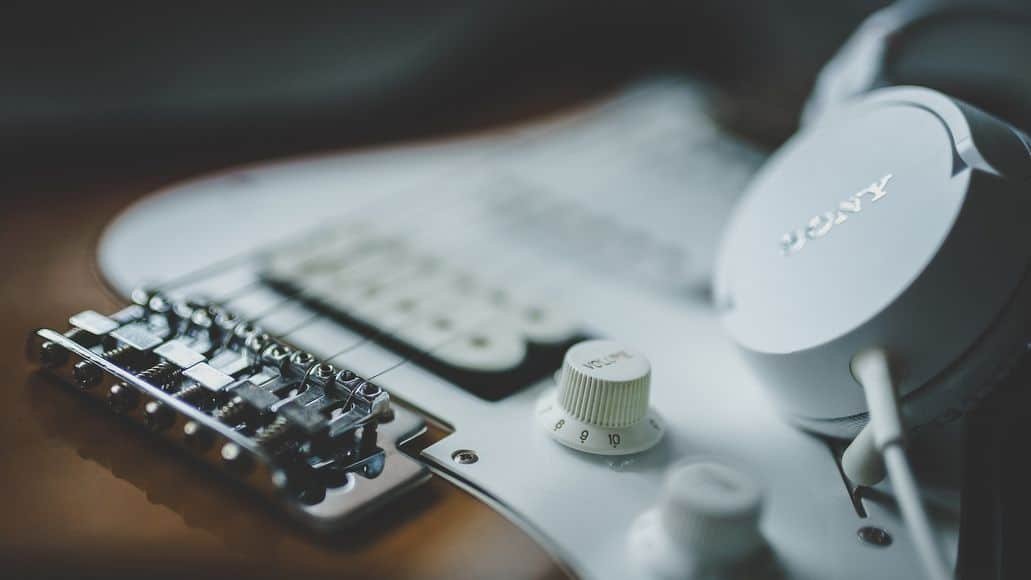 Many inexperienced guitarists wonder: can you plug headphones into a guitar and get the sound going without any hassle or delay?
The problem is that most guitars have passive electronics, meaning that there's no power source and that they're not actually picking up the vibration of the strings.
At the same time, most headphones are passive as well, meaning that there's no power in them either. But even if you're using a guitar with active electronics, or any kind of headphones with a built-in preamp, the sound would still be far from what you'd expect.
This is why many amp manufacturers make specialized headphone amps. On one side, they plug into the guitar, and on the other, they have a headphone output. They're not only useful for practice sessions, but they also provide you with a pleasurable tone that emulates what you'd get with a standard conventional guitar amplifier. What's more, they're very cheap and compact.
Electric Guitar Without Amplifier: Final Thoughts
It is certainly possible to play any good electric guitar without using an amplifier. You can even play it without anything at all, just like an acoustic guitar. But you can only do this if you're alone in a quiet room, since the volume is very low.
And honestly, why not just get an acoustic guitar, if you don't plan to get an amp? When it comes to what you need to play the electric guitar, you should consider the amp essential.
That said, there are a number of other devices you can use to get a sound similar to what you'd get from an actual guitar amp. Some of those devices have distinct advantages over an amp and may actually make more sense for your situation.
Hopefully this article helped you figure out which method is best for you. And if none of them appeal to you, perhaps you would be best off getting an electric acoustic guitar. Acoustic-electric guitars are acoustic guitars with an added pickup. You can play them amplified and acoustically and they sound the same both ways.