Perhaps someone recommended you get an acoustic-electric guitar.
Probably because they feel it perfectly meets a need you have.
It's a specialized instrument that combines the best of two worlds,
But it is very different from an electric guitar and can't replace one.
So what is an acoustic electric guitar exactly?
What are its big advantages and when does it make sense to get one?
Keep reading to learn all of that and more. We are going to cover everything you need to know about the electric-acoustic guitar. This will help you figure out if getting one makes sense for you.
What Is An Acoustic Electric Guitar?
Acoustic-electric guitars are acoustic guitars with integrated electronics. In most cases, these are acoustic guitars with piezo pickups and an active preamp powered by a 9-volt battery.
They can also include passive electronics, like a standalone piezo pickup or, in some rare instances, a magnetic pickup, just like the ones seen on conventional electric guitars.
Let's take a closer look at the acoustic electric guitar, starting with their history. Then we will get into the way they work and the advantages of this type of guitar.
Some History And Background
Ever since the modern acoustic guitar was developed in the 19th century, the instrument has struggled to achieve the necessary volume. Guitars were always outperformed in this regard by other instruments.
Larger bodies helped, along with some other design traits, but it was never enough to give them a sufficient boost. The percussion and horn sections, in particular, ate up the guitar in the mix.
At one point, electric guitars took over with their magnetic pickups. However, back in the 1930s, the concept was also applied to some acoustic guitars. Getting them straight into PA systems helped mitigate the issue.
These were some of the earliest examples of acoustic-electric guitars. Vivi-Tone was the first brand to offer pickups for acoustic guitars. In the 1950s, Gibson also came up with their own solutions, utilizing the P90 pickup.
Over the coming decades, piezo sensors found their way into the world of guitars. Although they are different than magnetic pickups, they proved incredibly useful for acoustic guitars, because the tone that they produced really resembled genuine acoustic guitars.
The most complicated thing about working with acoustic guitars was also using microphones, especially during live shows. An acoustic-electric guitar with integrated electronics makes things much easier. These days, such guitars are widespread and are used in a variety of genres.
What is especially great about these instruments is that, apart from the addition of the pickup, they are functional acoustic guitars. You can just as easily play them unplugged, without using the electronics. You can not play an electric guitar acoustically and still have it sound the same.
How Do Acoustic Electric Guitars Work?
Next, we will take a look at how acoustic electric guitars work. It all begins and ends with the electronics
The Electronics
The electronics in these guitars are more or less standardized. But there's still some variation. Specifically, they can have either active or passive electronics. However, active ones are far more widespread than passive ones.
There are also still acoustic-electric guitars with magnetic pickups. However, they are not common at all and they technically sound like your usual electric guitar.
There's is also a much higher risk of feedback, due to the pickups being placed right at the soundhole. But this is easily solved using any average soundhole cover.
Still, almost all acoustic-electric guitars have piezo pickups. These are based on the principle of piezoelectricity, which is used in a variety of different fields.
With musical instruments, we're talking about piezoelectric sensors. These sensors act as pickups, converting string vibration into electrical signals.
This signal is then passed on to other components in the signal chain. If the guitar also has an active preamp, the piezo sensor sends the information to this preamp, where it's further amplified and processed.
These preamps also have additional controls. The controls are pretty simple, but can include equalizers. In some cases, there are even more advanced controls, although this is not as common. The preamps are powered using standard 9-volt batteries.
There are also some instances of passive electronics in acoustic-electric guitars. These aren't all that widespread, though. These guitars require some sort of additional signal amplification to get things going.
On option is an external preamp, which can come in the form of a pedal. But you can also go straight into mixers or audio interfaces that include a phantom power function.
Piezo pickups are most often situated under the saddles of acoustic guitars. That's why they're also referred to as "undersaddle" pickups.
There are also contact pickups that are placed near the bridge, basically touching the body and sensing string vibration that way. Sometimes, these will be referred to as "contact microphones," although that's not a proper classification.
Different Variations
Acoustic-electric guitars come in many shapes and sizes. Interestingly enough, piezo pickups can be used for both steel-stringed and nylon-stringed guitars. This is another huge advantage of the piezo system, since nylon strings simply don't work with magnetic pickups.
Piezo pickups can also be used on some solid-body guitars, including your conventional electric guitars, and they'll produce this same acoustic-like tone.
There are the so-called "silent" guitars. They feature simplified solid bodies and piezo pickups, effectively serving like acoustic guitars in electric band settings or amplified solo performances.
Acoustic-electric guitars with much thinner bodies are also pretty common these days. Fender has their Acoustasonic line, which implements both piezo and magnetic pickups within the same instrument. You can even play these unplugged, since they have a body large enough to get your sound going.
Chet Atkins also had his acoustic-electric guitars back in the day. Most notably, Gibson produced some of his signature models for a while.
Advantages Of Acoustic-Electric Guitars
The biggest advantage of an acoustic-electric guitar is the ability to get the acoustic-like tone without bothering with microphone placement, be it in live or studio settings.
Additionally, you could combine the sound of piezo pickups and microphones for a mix in case you need to. In other words, you can play them plugged or unplugged, or combine the best of two worlds in a full mix.
They're particularly useful for live shows of electric bands when you need an acoustic guitar, either for certain songs or for a full set. Setting up mics on a loud stage would be a real challenge, and a simple piezo-loaded instrument does the trick.
Not To Be Confused With Semi-Acoustic Guitars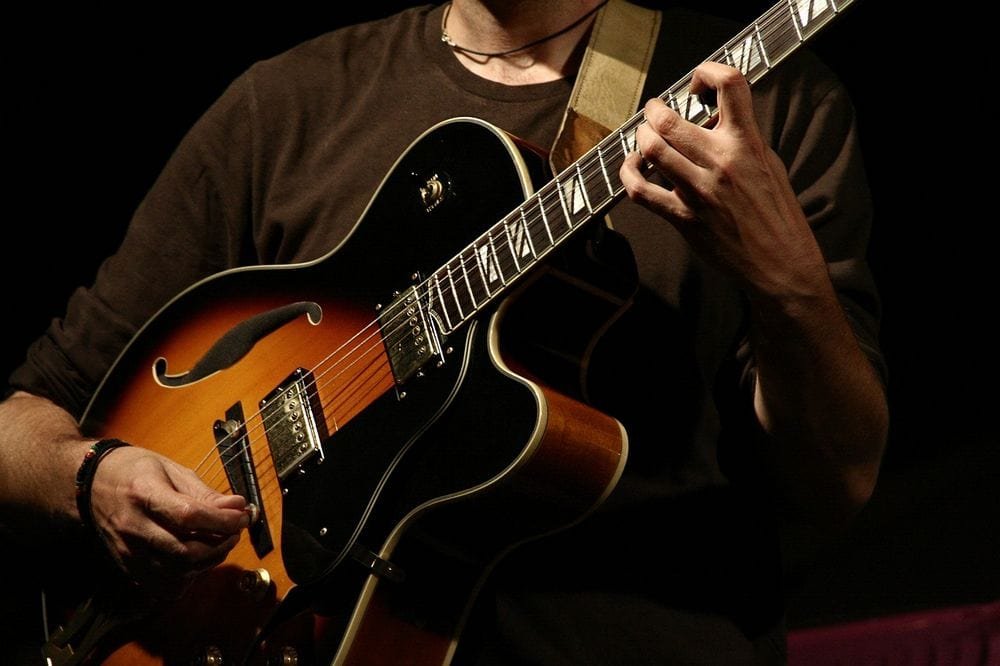 Things can get a little tricky in the world of guitar, especially with the weird nomenclature and terminology. In this case, you should bear in mind that acoustic-electric or electro-acoustic guitars aren't at all the same thing as so-called "semi-acoustic" guitars.
That particular term is reserved for hollow-bodied electric guitars, usually archtop, with magnetic pickups. They're also often referred to as jazz guitars.
What Is An Electric Acoustic Guitar: Final Thoughts
The electric acoustic guitar is an acoustic guitar with a pickup mounted on it (usually a Piezo pickup). This allows you to play the instrument both acoustically and amplified. And unlike standard electric guitars, the amplified sound from an electric acoustic guitar sounds very similar to an acoustic.
This opens up the possibility to get that acoustic guitar sound at a volume loud enough for live performances in an electric band. Of course, you could always just mic up a regular acoustic guitar, but that takes much more effort.