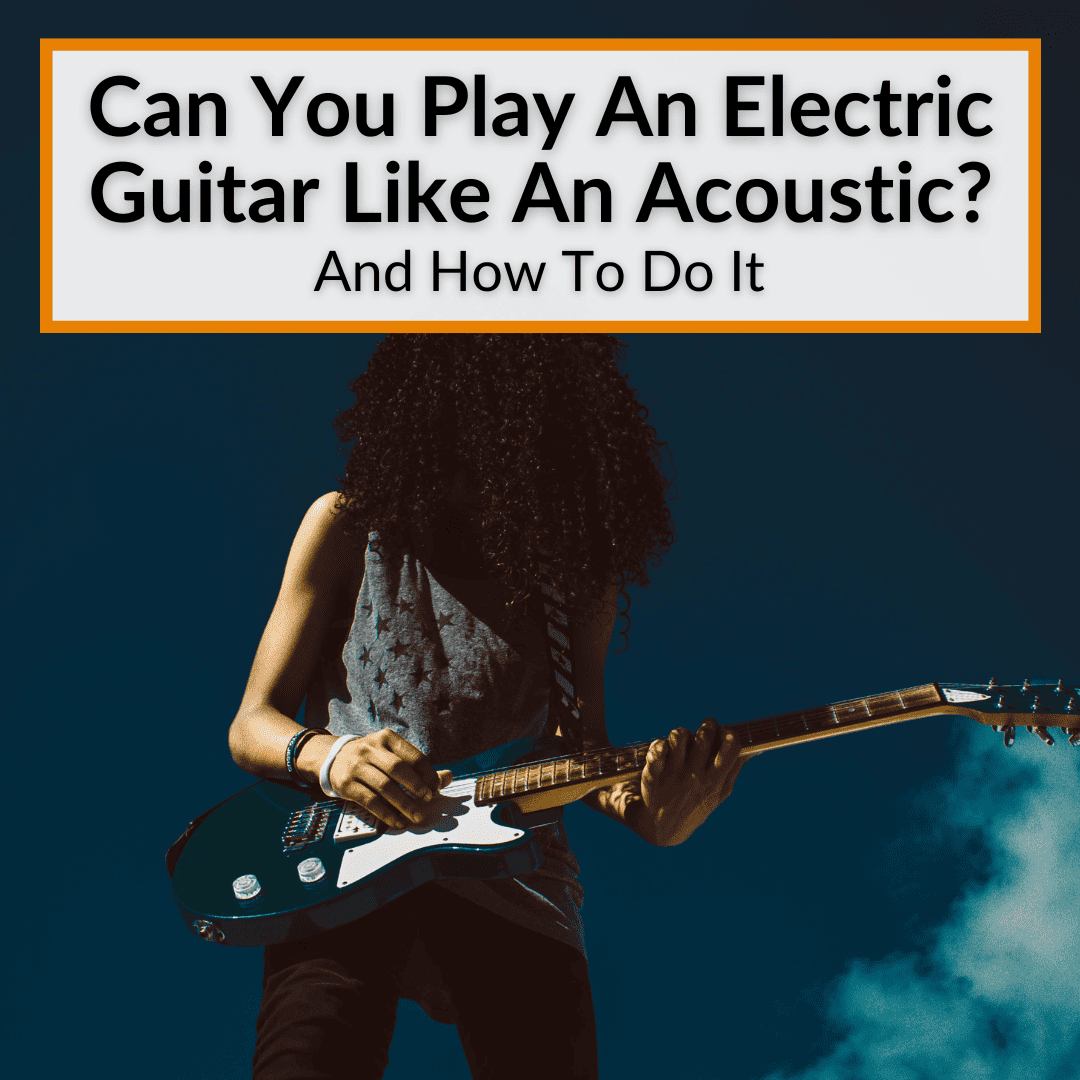 I own one acoustic guitar.
But I prefer playing my electric guitars.
However, there are times when I don't want to bother with an amplifier.
Maybe it's too loud and my neighbors hate me enough already.
Or I want to practice somewhere away from the amp and don't want to take it with me.
Is it possible to still use my electric guitar? Can you play an electric guitar like an acoustic?
You can. But also, not really.
Keep reading to learn exactly what that means. We'll also cover some alternatives that may be better options for you, along with a potential problem to be aware of if you often play your electric guitar acoustically.
Can You Play An Electric Guitar Like An Acoustic?
Yes, you can play any electric guitar acoustically, without plugging it into an amplifier or an audio interface. But it will sound very quiet. It will only be audible to you and people nearby, if there's no other significant noise around you.
Electric guitars are not designed to be played acoustically. They do not have hollow cavities in the body (most of them anyway) that amplify the sound and make it more audible. This is the key difference between an acoustic and an electric guitar.
The Key Difference Between Electric And Acoustic Guitars
Before we get into the details of how to play an electric guitar acoustically, it is important to first understand the main differences between electric and acoustic guitars. Sure, it might seem simple, but there are a few basic, yet essential, details to address.
As mentioned, an acoustic guitar has an entirely hollow body. Around the center of the front side, or the so-called soundboard, there is a soundhole.
In some rare cases, the soundholes appear in different positions and in various forms. Sometimes, they can even be like violin-style F-shaped holes, but these are less common.
Functionally, the hollow body serves as an amplifier of sorts. The correct term would be the "sound box." It's a chamber that helps push more air, making the sound of vibrating strings much louder.
Electric guitars have electronics. Most importantly, they have pickups. The pickups are the crucial components in the functioning of electric guitars, since they use the vibrations of the strings to create an electric signal, which then goes into amplifiers or any other suitable devices, which then output it as a sound through speakers.
I don't want to get into too many detail here. Basically, electric guitars are designed to work as a component of a system, rather than as a standalone instrument. In other words, they're not designed to be played on their own. But it is possible.
Playing An Electric Guitar Like An Acoustic?
Even though they are designed to play through an amplifier or audio interface, that does not mean that you can't play an electric guitar like an acoustic one. In fact, many people do it (myself included), mostly while they practice or just jam along at home or anywhere else.
But there are a few important things to consider. As we already mentioned above, electric guitars are supposed to be played through amplifiers or other devices. Most of the time, an electric guitar that sounds acoustic is a problem.
The strings simply do not vibrate enough (in most cases) to make a sound that's loud enough for a performance of any kind.
But it is loud enough for you to hear. That is unless you're in a loud setting. If you decide to practice or jam with an unplugged electric guitar, make sure that you're sitting in a relatively quiet room.
The average room noise is usually around 40 dB. As for unplugged electric guitars, they can vary. But overall, they can get louder than 40 dB.
And even if they're not much louder, you'll be able to distinguish all the notes as you're holding your guitar and playing it. But anyone further away might have trouble hearing you play.
In other words, playing an unplugged electric guitar has very little practical implementation. It is fine for some practice or occasional jamming. But other than that, you're going to want to play your electric guitar through an amplifier.
That said, some electric guitars are louder than others. The wooden body of the instrument and the guitar's hardware can help make the string vibration sound louder. But, again, their design is not focused on unplugged acoustic performance.
Electric Guitars That Are Louder When Played Acoustically
Of course, no two guitars are the same. This also goes for electric guitars. And some guitar models may sound louder than the others.
Obviously, hollow-body and semi-hollow-body guitar shapes sound louder if unplugged. In fact, some of the archtop jazz-oriented guitars that feature entirely hollow bodies can get close in volume to smaller-bodied acoustic guitars.
Just don't mix these up with today's "electro-acoustic" guitars, which are essentially acoustic guitars with specialized piezo-based electronics.
As for conventional solid-body guitars, they're much quieter. However, there are examples of somewhat louder ones. This usually includes guitars that have some sort of chambering within the body, like Gibson Les Pauls.
Having set-in necks can also help a little, but it's not certain to what extent.
Your average Fender guitars are usually quieter. This could be due to the body materials and the bolt-on construction they have with the neck.
One important factor that can help an unplugged electric guitar sound louder is also how they're set up. If the neck relief and string action are all in check, then you'll experience less fret buzz.
The strings won't be hitting the frets as much as they vibrate, and the notes will ring out clearer and longer. And, of course, it's also important that your guitar's hardware is in order.
A Word Of Caution
Unplugged electric guitars can be a great way to practice. However, since they're not loud enough, you may end up picking your strings much harder than usual, and maybe even pressing on too hard with your fretting hand.
For a beginner or an intermediate player, this could lead to some bad habits. Ultimately, your technique could suffer. If you go down this path, make sure that you do not pick too hard and that you playing as if you were plugged into an amp.
Other Options To Consider
There are plenty of other solutions to jam silently while not having to bother with a guitar amp, pedals, or anything else. The simplest one is getting a headphone practice amp, so you can play your guitar through headphones. Some of them are pretty great and come with a variety of options.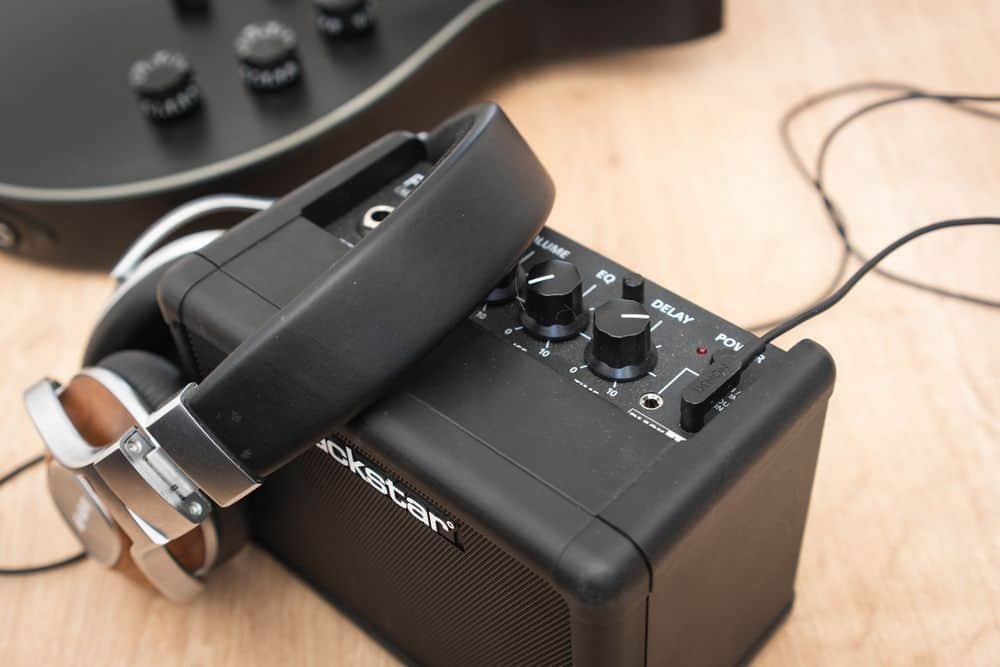 There are also practice guitars and travel guitars, even ones with pickups and electronics in them, that enable you to plug your headphones directly into the instrument.
Other solutions also include playing through an audio interface and connecting it to your computer or even your mobile phone. But that setup still requires some work. Again, the simplest option is to just get a headphone amp.
Playing An Electric Guitar Acoustically: Final Thoughts
I actually play my electric guitars like an acoustic quite often. I practice a lot in my apartment and I try to limit how much I disturb my neighbors, so I tend to just play without an amp when I am home.
At times when I want to hear what it sounds like amplified, I use headphones. But most of the time, I don't bother, since my place is quiet and I can hear my guitar just fine, even without any type of amplification.