Guitars are not complicated.
In fact, they are fairly simple instruments.
The electric version of the instrument is a bit more complex.
But only a bit. The principles are still the same and those are simple.
Not as simple as a drum, but far more simple than a piano.
How do electric guitars work then, if it is all so simple?
Keep reading to find out. We're going to cover everything you need to know about the way an electric guitar works to produce sound.
How Do Electric Guitars Work?
Electric guitars are string instruments that use electronic elements to reproduce the sound of string vibrations.
Pickups, which come in different forms, convert the vibration of the strings into an electrical signal that goes out of the guitar and into the amplifier, or any other device that reproduces it as the sound that we hear.
I realize that probably doesn't clear up much yet. We will go through everything step by step, which will help you understand exactly how electric guitars work. But first, we need to briefly examine how guitars work in general.
Understanding Guitars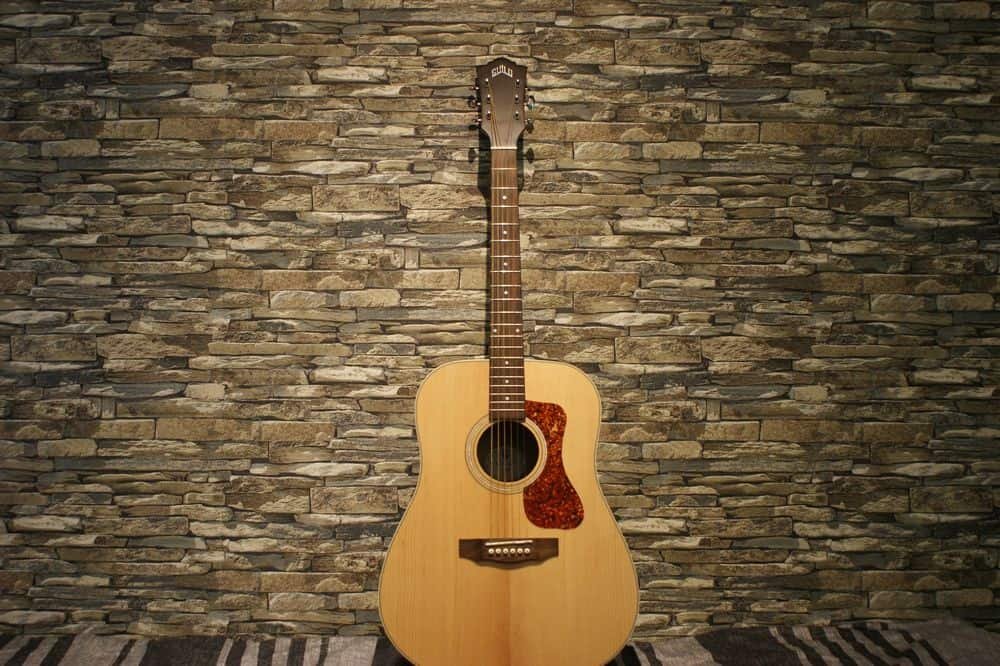 Before we begin, it is important to understand how guitars work as instruments. I mentioned this above and it might sound odd to say this, but the guitar is a fairly simple instrument.
You basically have strings suspended between two points. The way these strings are suspended adds tension. When combined with the different string thicknesses, this gives you different notes.
On one end, you have the tuning machines where the strings are secured tightly. Up next, the strings lay down on the nut, which serves as sort of a "starting point" for these strings. It is where the portion of the strings that vibrates begins.
On the other end, the strings lie on the saddles in the bridge. The functional part of the string is between the nut and that string's saddle.
Further on, the string may go through a tailpiece, through the body, or through a certain part of a tremolo bridge where its ball ends are lodged.
Add the fingerboard to that equation, and you've got a whole range of options. You raise the pitch by pressing a string against a fret on the fingerboard, shortening the length of that individual string. These same principles work with both acoustic and electric guitars.
It Starts With String Vibration
So that's where we start with electric guitars as well. Everything starts with string vibration. In order to have things working smoothly in this department, you also need to have a proper guitar setup that allows your strings to vibrate without any, or with minimal, fret buzzing.
This is crucial if you want to get the best possible tone and allow electronic components to do their thing. How your instrument's strings vibrate is what the pickups will be reproducing in the next step of the process.
This means you also need to know how to tune an electric guitar. Tuning is part of the setup, but it is something you will have to do far more often. You'll probably do it every time you pick up the guitar, or at least every few days.
What Guitar Pickups Do
The pickups are, essentially, the heart and soul of your electric guitar. Along with the strings, they define and determine the tone of the instrument.
Almost all electric guitars come with magnetic pickups. Piezo sensors are also used as pickups, but they're mostly present on acoustic, electro-acoustic, or, in some rare cases, regular electric guitars in combination with magnetic pickups.
How do acoustic electric guitars work? The same as other electric guitars, except you can also play them acoustically. Be they magnetic or piezo-based pickups, the principles are the same. The pickup acts as a sensor that picks up the vibration of the strings.
Magnetic pickups have a few crucial components. There are metal polepieces, magnets, and coils of copper wire. With Fender and Fender-style pickups, polepieces are magnets.
But in all other cases, magnets are at the bottom of the pickups and are in direct contact with polepieces. In some cases, we have "blades" instead of individual polepieces. They serve the same purpose but extend under all of the strings.
But what's same for all magnetic pickups is that polepieces are surrounded by copper wire. And we're talking about thousands of turns of copper wire, so it's really sensitive. The magnetic field of the pickups picks up (hence the name) the motion of the strings and then converts into an electrical signal.
There are variations to pickup designs. There are single-coils, humbuckers, "thicker" single-coil pickups like the P90s, pickups with one "blade" polepiece, or even pickups with adjustable polepieces. But no matter the design, the same electromagnetic principles apply.
The position of the pickup on your guitar is important. Pickups closer to the neck sound smoother and darker, while those closer to the bridge produce a brighter and sharper tone. Our article comparing neck and bridge pickups has more.
Controls, Wiring, And The Electronics Compartment
Now that the pickup has converted the motion of the steel strings into an electrical signal, it sends it through other components in your guitar. All of this is done through wiring that's inside your electric guitar's body and connected to potentiometers, pickup selectors, or any other additional controls. And, of course, there's also grounding.
Almost all electric guitars come with volume controls, tone or treble roll-off controls, and a pickup selector switch. The knobs that control these parameters are nothing but resistors.
Within the electronics compartment, you'll also find capacitors. Treble roll-off knobs work together with capacitors as low-pass filters. This means they can only pass off lower frequencies and cut higher ones, when you adjust them.
The electronics compartment within your body should have some form of shielding. Along with some other protective components, these serve as a Faraday cage.
Our surroundings include a lot of electronic interference of all kinds, and your guitar's electronics need to be protected from that. Otherwise, you'd experience a lot of buzzing, since your guitar would act as an antenna.
Signal Going Out Of The Guitar
Together, all of these components are connected to your instrument's output jack. When you plug the cable into it, the signal goes out to any device that you connect it to.
Guitar amps, pedals, audio interfaces, or any other powered devices will convert this electrical signal into a sound that, ultimately, goes through one or more speakers.
So your instrument isn't an isolated entity,. And neither is your amp. Together, they create a system that drives speakers and produces the sounds that we all love.
Active Vs Passive Guitar Electronics
Finally, it is important to note that electric guitars come with either passive or active electronics. Most electric guitars are passive, meaning there's no power source.
All that the magnetic pickups and electronic components do is pick up vibration and transport this electrical signal to your amp.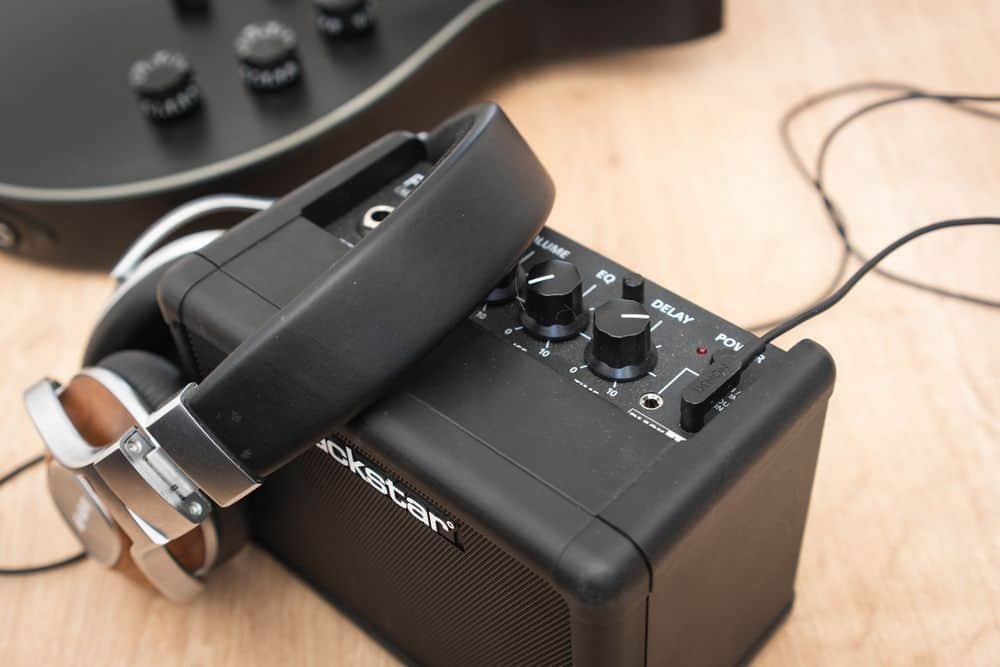 Guitars with active electronics come with a power source, most commonly a 9-volt battery. Additionally, they have a preamp in there.
Pickups on these guitars have fewer windings of copper wire. Their signal is actually weaker, but the preamp boosts it and further shapes the tone. In practice, guitars with active electronics have a much stronger output signal, which affects the tone.
How Electric Guitars Work: Final Thoughts
See, that wasn't so complicated, was it? Once you understand how electric guitars work and the mystery is removed, you realize how simple the instrument actually is.
It is basically just producing sound by vibrating strings. On the electric guitar, the sound from the strings is picked up by a pickup and turned into an electric signal that can be amplified. On the acoustic guitar, this step is missing. We hear the sound of the strings on its own, just amplified by the hollow body of the guitar itself.