I remember back when I was looking to buy my first electric guitar.
As I tend to do, I spent hours upon hours researching all the features I "needed."
The first big decision was the body type to go for. I had to look cool holding my guitar, after all.
The second big decision was the type of pickup(s) I wanted.
Of course, that meant first learning the different types of guitar pickups and the pros and cons of each.
That added hours to my research, which is why I'm writing this today.
Below, you'll learn what types of pickups are available and what each type offers, so you can figure out which type is right for you, without having to read 50 different websites to gather all the info you need.
Types Of Guitar Pickups
There are 4 different types of pickups for the guitar and they are all very distinct. This makes it easier to figure out which one is right for you. It's simply a matter of knowing what type of tone they produce and to what musical genre they're best suited.
Single-Coil
The earliest type of guitar pickup was the single-coil pickup. And this same pickup is still being used to this day, with most of the basic features completely unchanged.
These pickups consist of only one coil, featuring one magnetic pole for each individual string. The principle is pretty simple – a metal string vibrates and the pickup picks up (that's why they got the name) these vibrations using its magnetic field and translates it into an electrical signal. It then goes into an amplifier or any other device that processes the signal.
One of the main traits of single-coil pickups is their sharp high-end-heavy tone. This is what you hear with their very strong attack and that twang, something that guitars like Stratocasters and Telecasters are famous for.
Advantages Of Single-Coils
One of the most important characteristics of single-coils is that they're usually much clearer and have a better dynamic response. When paired with tube amplifiers, this makes them perfect for lead players who need to cut through the mix easily and who want to further enhance their dynamic response.
Their other advantages are the type of tone they produce, but this obviously comes down to personal preferences. Single-coils are really good for clean rhythm sections, especially in funk music. With overdrive and distortion, they'll give you that sharp and almost fuzzy tone.
Disadvantages Of Single-Coils
The biggest disadvantage is the noise that they make. You can't ever get rid of that hum. Sure, you can use noise suppressors, but these will only handle the hum while you're not playing. And the hum can come from the guitar amp, too, even when the guitar is not plugged into it.
Even the "noiseless" single-coil pickup models aren't exactly noiseless. They still produce some hum. The problem is that the single-coil pickup design results in it functioning like an antenna and, as such, it picks up electric interference.
While some love the single coil tone, there are also many guitarists who aren't fans of their "thinner" output. This is especially the case with heavier music, which is why you don't see many single-coils on guitars for metal and its subgenres.
Most Suitable Music Genres
Single-coil pickups find their way into pretty much all genres, even metal music, though they are not that popular in this genre. The genres that are most commonly-associated with single-coil pickups are funk and country music. They're also pretty common in blues, jazz, pop, and pretty much and style where guitars are present. It's just that they're more suitable for those crystal clear tones.
Guitar Models That Come With Single-Coil Pickups
The most common guitars featuring single-coil pickups are Stratocasters and Telecasters and all of their different variants and copies. Quite often, you'll find those "Super-Strat" kind of guitars that also feature one or two single-coil pickups. Plenty of Ibanez, Suhr, Charvel, and other guitars come with them.
Humbuckers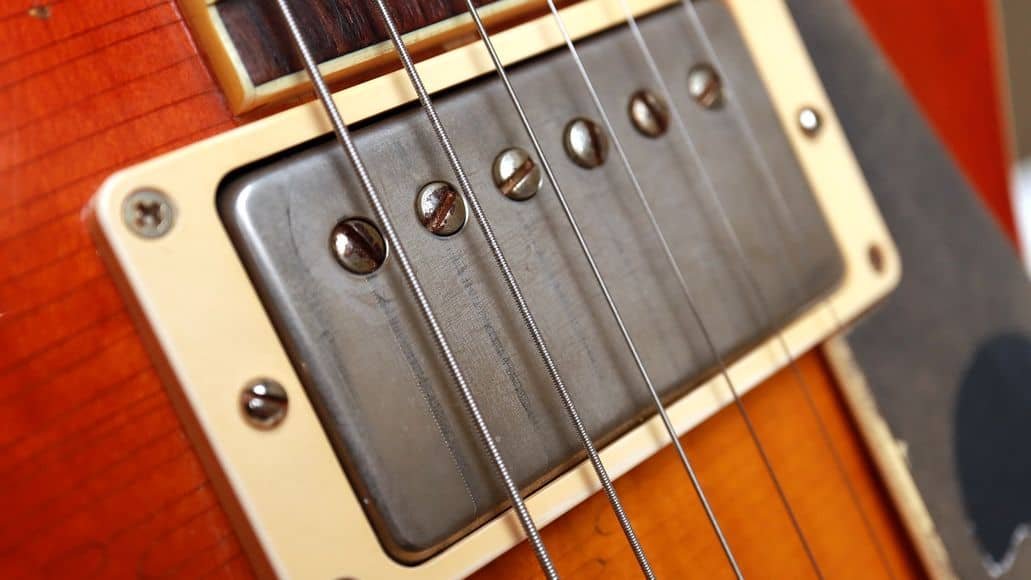 Although they rely on the same principles to reproduce sting vibration using their magnetic field, humbuckers feature a different type of construction. They have two coils instead of one, and are thus often referred to as dual-coil pickups.
The main idea here was to create a design that would cancel out the hum and other noise. In other words: they would "buck the hum," which explains their name.
The two coils are positioned so that the south and north poles are opposed to each other. When they're connected out of phase, the process called phase cancellation helps to significantly reduce all the noise, much more than simple shielding and quality components ever could with single-coil pickups.
But this kind of construction also results in a completely different kind of tone. Comparing humbuckers to single-coils, the tone of humbuckers is much less treble-heavy and mostly focuses on the mids and bottom-ends.
The tone is not only less sharp, but it has slightly less dynamic response, too. However, this brings a lot more control in some settings, especially if you play with a heavily distorted tone.
Advantages Of Humbuckers
The main advantage is that they produce way less noise. It's barely noticeable even at high-gain settings. Another great thing about humbuckers, which some may see as a downside, is that you have a dynamically more even tone.
Additionally, it's much easier to produce that smooth, dark, and muddy tone with them. One of their most common uses is for heavy riffing, which is where they perform much better than single-coil pickups.
Another great advantage is that you can always use coil-tap and coil-split features to still get the same crunchy single-coil tones. This allows you to get the best of both worlds. Our article on coil tapping vs coil splitting has more on the differences between then two.
Disadvantages of Humbuckers
While things always come down to personal preferences, a lot of guitar players just don't like the humbucker tone. And even those who love the tone have to admit it can be a bit too dull, square, or muddy for some particular settings.
Having less high-end also results in a significantly weaker attack, plus the dynamic response is not as good as single-coils.
Most Suitable Music Genres
Humbuckers are common with hard rock and heavy metal musicians, though we can see them in blues, blues rock, and jazz music, too. They're pretty useful for heavy riffing or any setting where you need a smoother or mellower tone without pronounced mids and with a weaker attack. It is impossible to imagine some more extreme metal subgenres without humbuckers.
Whether humbuckers or single-coil pickups are better is a never ending debate among guitar players and other musicians. The choice, in the end, comes down to personal preferences.
Guitar Models That Come With Humbucker Pickups
Although they weren't the first guitars to have humbuckers, Gibson Les Paul models were the ones that popularized them. Gibson's SG is another great example. In general humbucker pickups are found on metal and jazz-oriented guitars.
Almost all ESP and ESP LTD guitars come with humbucker pickups. They're also pretty common with most Ibanez and Schecter models, and the same could be said about B.C. rich guitars. Additionally, almost all SG and Les Paul copies and alternatives come with humbuckers.
P90 Pickups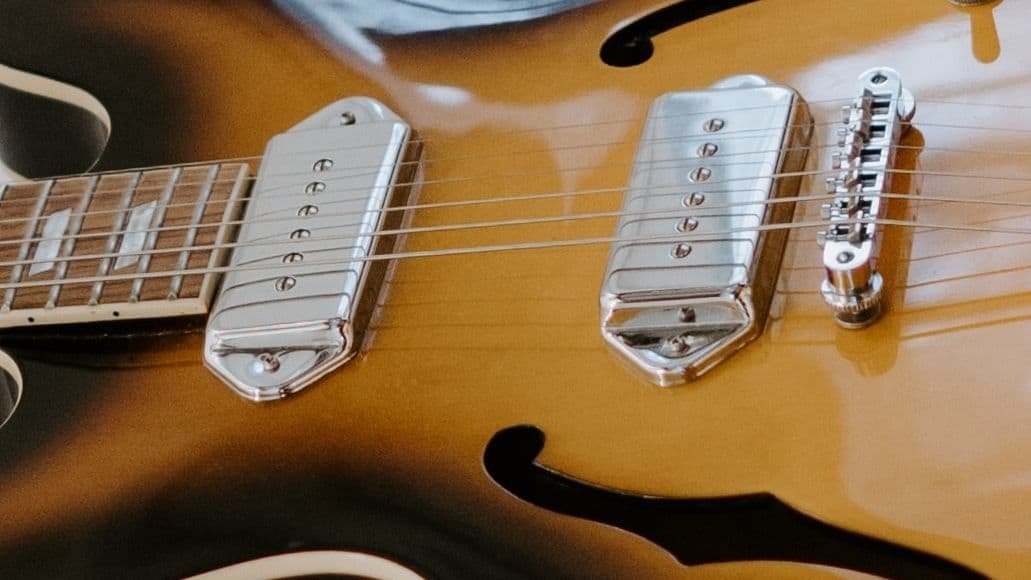 Although technically single-coils, P90 and P90-styled pickups are usually regarded as a category of their own (read our P90 vs single coil comparison for more). In some way, we could say that they're a compromise between single-coil and humbucking pickups.
What makes P90s so special is that they feature wider, but shorter, bobbins and implement a different type of winding. This results in a much thicker tone than regular single-coils.
And although you can still hear that attack and brightness, these pickups are not as sharp-sounding. They're also much wider and are actually designed to fit into humbucker-sized slots.
Advantages Of P90 Pickups
The much rounder and beefier tone of P90 pickups is why many guitarists favor them over classic single-coils. You still retain some of that strong attack and brightness, all while adding bottom-end to the output.
Disadvantages Of P90 Pickups
The only notable disadvantages are the same things we said about regular single-coil pickups. Being essentially single-coils in their construction, they still produce a lot of unwanted noise.
Most Suitable Music Genres
Did you know that P90 pickups were used by Tony Iommi of Black Sabbath on his old "Monkey" Gibson SG? Despite this association with the birth of heavy metal music, they are primarily popular with blues and jazz guitarists. Additionally, they're quite popular in punk rock and indie rock music. But due to their specific tone, they've found wide use in plenty of other genres as well.
Guitar Models That Come With P90 Pickups
The P90 pickups are commonly seen on Gibson's Junior series guitars. You also see instances of guitars with just one P90 pickup in the bridge position.
Epiphone also uses them for some of the models in their Special series, although we have them on some other of their guitars as well. Many jazz-oriented guitars, like Godin's 5th Avenue Kingpin, also come with P90s.
Piezo
Piezo technology also found its way in the music world, including acoustic and electric guitars. Instead of using a magnetic field, piezoelectric sensors capture mechanical vibrations.
This makes them a great choice for nylon-stringed acoustic guitars. And although they are mainly known for their use with acoustic guitars, they come with some electric guitar models as well.
Advantages of Piezo Pickups
What's great about piezo pickups is that they don't pick up electromagnetic interference at all. And they have a pretty narrow use, mostly in acoustic guitars, helping you reproduce that acoustic tone through an amplifier or a PA system. Their tone is really close to the actual acoustic guitar sound.
Disadvantages of Piezo Pickups
Piezo pickups sound thinner, they have a narrower scope of use, and they're not easily combined with all the same effects as other pickups.
Most Suitable Music Genres
You can use piezo pickups with pretty much any genre, especially if we're talking about acoustic guitars. As far as electric guitars go, they come in handy for some clean guitar sections, especially if you can blend the tone between a piezo and a magnetic pickup.
Guitar Models That Come With Piezo Pickups
A lot of Western-style acoustic guitars with steel strings come with piezo pickups and integrated preamps. However, there are some electric guitars (usually more expensive ones) that have an additional piezo pickup. This is the case with Ernie Ball Music Man's John Petrucci Majesty or ESP LTD's Ben Burley BB-600 model, which is our favorite baritone guitar for metal.
Types Of Guitar Pickups: Final Thoughts
Which type of pickup is right for you depends largely on the type of music you want to play and the type of tone you're looking to get from your guitar. If you can't decide, I recommend getting a guitar that has a combination of pickup types.
A good example of a budget guitar with two types is the Ibanez Gio GRX70, which has two humbuckers and a single coil. Coil tapping or splitting feature is great too. This allows you to get a single-coil tone from your humbucking pickups, opening up both worlds.
The ESP LTD EC-256 has two humbuckers with a coil tapping feature. That's one of the reasons we consider it the best sub-$500 electric guitar on the market.