The Telecaster and Stratocaster are two of the most iconic guitar designs ever.
Both are made by Fender and they have a number of things in common.
But it is the differences between a Telecaster and a Stratocaster that are most important.
Those differences make them two very different guitars.
Is one better than the other?
Yes, in most cases. But which one is better depends on your needs.
We will go over the differences and similarities of these two famous Fender models and help you figure out which one is better for you and your playing style.
Difference Between A Stratocaster And A Telecaster
We will begin our comparison of a telecaster vs a stratocaster by looking at each guitar individually and going over their advantages. Then we will compare the two directly and help you figure out which one is right for you.
What Is A Telecaster?
The Telecaster was designed by Leo Fender in the 1950s. It was the first successful model of an electric guitar that was sold massively all over the world.
The Telecaster is characterized by having two pickups and a unique body. There are a ton of Telecaster guitars that you can choose from. There are also many guitars that imitate the design, but do not bear the name.
What Is A Stratocaster?
In 1952, Gibson (the competition) came out with the Les Paul model with three pickups. So Fender had to respond with another type of guitar.
To achieve that, Leo Fender and his team designed the Stratocaster with three pickups and a futuristic body (for that time) in 1954. Not only did it have three pickups, it also had more combinations and tone control.
With the Strat, the same thing happens as with the Tele: since Fender has the patent, only they can distribute these guitars. Actually, in order for it to be an original Stratocaster, it has to be from the manufacturer Fender or Squier by Fender, like this Bullet Strat.
All others are just considered copies of these stratocasters. But that does not mean they are no good. There are many Stratocaster-like models from other brands that offer great value. Yamaha Pacifica guitars are a great example. The strat is a hugely popular guitar style. Perhaps the most popular.
Differences Between Stratocasters And Telecasters
There are a number of key differences between the Strat vs the Tele. This table summarizes the most important ones.
| | Stratocaster | Telecaster |
| --- | --- | --- |
| Release Year | 1954 | 1950 |
| Pickups | 3 | 2 |
| Mic Positions | 5 positions | 3 positions |
| Tremolo | Yes | No |
| Volume/Tone Control | 3 | 2 |
| Jack Location | Top of the body | Side of the body |
We're going to ignore the superficial and geometric aspects of the physical appearance here. The differences in the two electric guitar body types are easily visible to the naked eye. It is more important to focus on the functional and sound aspects.
Since the Stratocaster was conceived as an evolution of the Telecaster, we can say that it started with an advantage. It benefitted from previous experience.
For example, it has three pickups (one more than the Telecaster), and it also has a tremolo lever, a disruptive novelty that surprised many when the guitar came out in 1954.
On top of that came the news that Fender had bought Gibsby, a pioneer and reference company in tremolo levers, which was previously owned by Gretsch.
The Telecaster makes simplicity its major selling point: six strings, two pickups, and two knobs. It is worth highlighting its bridge pickups. They can deliver a very clean sound, but they can also give you a dirtier and very rocky sound.
The Telecaster has become a guitar with excellent features for rhythmic accompaniments, ideal for country or rock and roll. But it has also been widely used for blues (by Muddy Waters, to name one famous example) and jazz.
The Stratocaster is quite different. Thanks to its arrangement of pickups, it is a more versatile electric guitar and suitable for all styles. We especially want to highlight the crystalline sound you get with the neck pickup. You obtain this sound in positions 2 and 4 of the 5-position selector.
The sound that comes out of a Stratocaster has more possibilities for plucks and solos. That is why great blues masters saw it as their favorite option. Stevie Ray Vaughan is a great example.
But that does not mean that the sound of the Telecaster has less to offer and that it is not a good option for solo sections. Far from it.
Fender Stratocaster Vs Telecaster: Similarities
The most obvious similarity is that both guitars are made by Fender. Is Fender a good guitar brand? It is one of the best and enjoys a stella reputation.
Apart from that, these are both solid-body electric guitars. Both have 22 frets, are the same size, and are usually made of alder wood. That said, there are also versions of the Telecaster made with ash wood.
The neck of both guitars is usually made of maple, and the fingerboard of maple or rosewood. The necks of both models are generally made in the "C" shape.
The two models, in their American version, have a similar price of around $1,000). But there are also more affordable versions, such as those made in Japan or Mexico (the latter can be found for less than $500).
And there are also more exclusive and much more expensive models, of course, such as reissues designed for collectors. These can cost several thousand dollars.
Advantages Of The Telecaster
A notable difference in the Telecaster guitar is that the bridge pickup is mounted inside the metal bridge. This gives it a distinctive and powerful tone.
While the Stratocasters have more "versatility", the Telecasters stick to a more minimalist idea like "less is better," which is more common these days.
The Telecaster's tone is clean but crisp.
Telecasters have one tone and one volume potentiometer, which is quite simple to use.
The most famous Telecaster guitarists are Radiohead's Jonny Greenwood, country guitarist Brad Paisley, Keith Richards, Jim Root (who even has his own version of it), Andy Summers of The Police, and Keith Urban.
Advantages Of The Stratocaster
There are many Stratocaster variants with dual pickups and various modifications. However, it is rare to see a Telecaster guitar with modified pickups.
Most Stratocaster variants have a tremolo on the bridge. The tremolo is the lever for making vibrato. Thus, the Stratocaster has more versatility in tone and control. Read about the different types of electric guitar bridges here.
Stratocasters have two tone and one volume potentiometer.
The Stratocaster's tone is warm and bright.
Noted Stratocaster guitarists include Eric Clapton, Mark Knopfler, Jimi Hendrix, Stevie Ray Vaughan, David Gilmour, and John Mayer.
Why To Get A Telecaster
When deciding between the two, the most suitable answer is that it is a matter of taste. Not one model is better than the other. Be that as it may, Telecasters stick out due to their simplicity and distinguished tone, which makes them great for country, metal, heavy rock, and often jazz too. Many beginners love them.
Why To Get A Stratocaster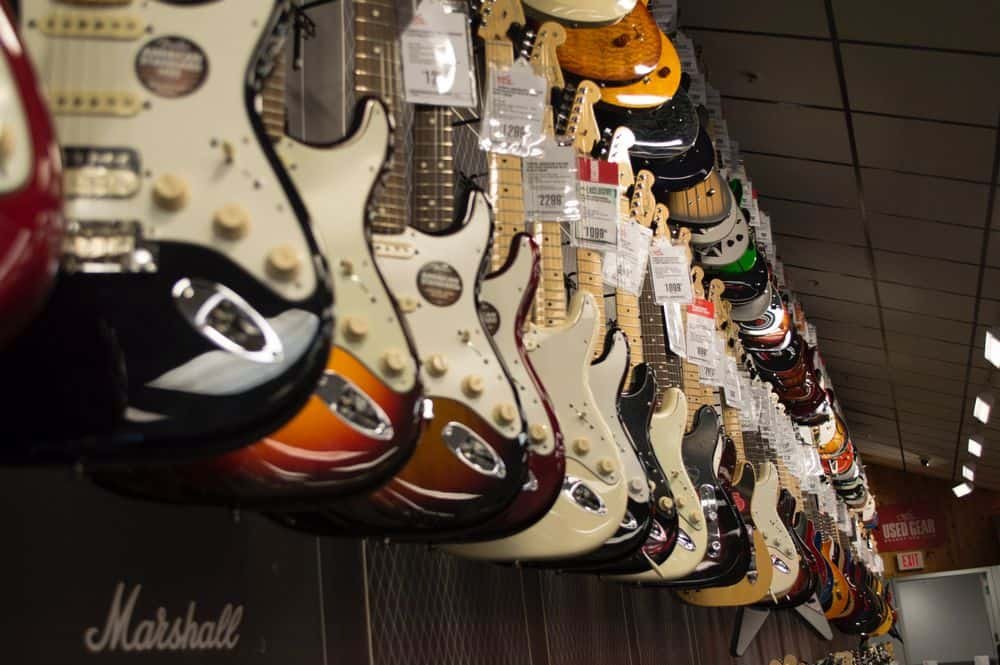 On the other hand, Stratocasters generally have more versatility due to more pickups and electronics. This makes Stratocasters perfect for blues, pop, and rock. While both guitars can be used for any style, guitarists generally prefer one guitar over the other depending on the style. Strats offer more room for experimentation.
Telecaster Vs Stratocaster: Final Thoughts
You can't go wrong with either guitar. Both the Stratocaster and the Telecaster are excellent and the two huge reasons Fender enjoys the reputation they do. Which one is right for you depends on the type of music you want to play and your playing style. The difference between a Stratocaster and a Telecaster means that for most people, one will be the clear choice.
Of course, both guitars are also quite expensive. Even the cheapest versions made by Fender are still in the $1000 neighborhood. However, Squier is licensed by Fender to make budget versions of their guitars.
Most of the Squier guitars represent excellent value for your money. They make a great option for those who don't have the budget for a real Fender. There is a reason two of their models made our list of the best electric guitars for your money.