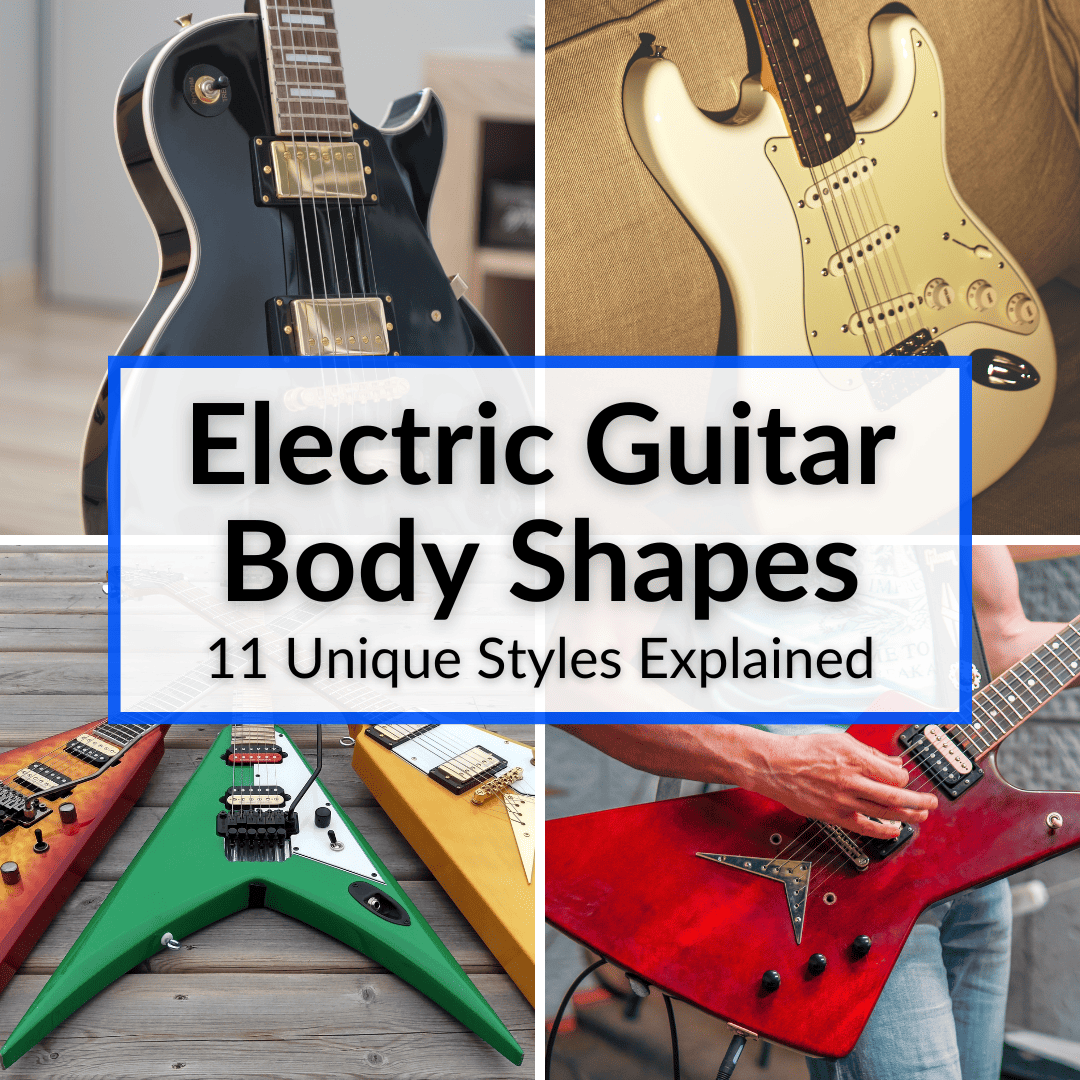 Two electric guitar body shapes dominate the market.
You probably know which ones I'm talking about.
They are the two best selling body styles on the market.
And it's not just the original two models, but also models from other brands that mimic the original designs.
And a whole host of more modern designs based off of the two.
But there are also some unique electric guitar body styles out there.
Keep reading for a rundown and explanation of all the various body types you'll find when shopping for electric guitars.
Electric Guitar Body Shapes Explained
Most modern electric guitar body types are based on a handful of original designs pioneered by Fender and Gibson. We'll begin our list with those, before taking a look at some other unique body styles.
Stratocaster Or S-Style
The first popularized and commercially successful solid-body electric guitar was the Fender Stratocaster back in the 1950s. We're looking at a double-cutaway body, with each of the cutaways having uneven depth and length.
Along with this, the guitar came with contoured edges and a slope where the picking hand should be resting.
There are some minor variations to the original 1950s design. But the same principles are still there, even with all the contours in the back of the body.
The body and neck joint is bolt-on, with a square-shaped heel. In some cases, these heels can have a slightly rounded and asymmetrical shape to allow more comfortable access to higher frets.
This is one of the most imitated shapes in all price categories, including so-called "Super-Strat" guitars that we'll also explain below.
Telecaster Or T-Style
The Telecaster is considered to be the earliest solid-body electric guitar, at least in the form that we know them today and with some commercial success. Initially, they were referred to as Fender Esquire.
The body features a single-cutaway design with asymmetric features. On the bass side of the body, in the upper bout, there's no cutaway, but it's still indented enough in the upper bout to allow for easier access.
The body isn't as contoured as with Stratocasters, but on modern versions, there are still some indents and softer edges to make the instrument more ergonomic. Our article comparing the Telecaster and Stratocaster has more on the differences.
Les Paul Or LP-Style
Les Paul was, and still is, Gibson's most popular guitar model and body shape. It's fairly simple, bearing a single-cutaway design while also retaining overall symmetry. It was initially done as a collaboration between jazz guitarist Les Paul and Gibson.
These guitars come with a glued or "set-in" neck. This gives a different feel when playing in higher-fret areas. Some cheaper LP-style alternatives have bolt-on necks.
These guitars come with 2-part bodies. The main part is usually mahogany and features some weight-relief methods, like hollowed-out chambers. The top part of the body is carved maple top, giving it that sleek look.
Les Paul Junior Or Special, Single-Cut And Double-cut
Les Paul Juniors are like regular Les Pauls, but with only the main mahogany part of the body and without the maple top. They're also usually simpler in terms of electronics hardware.
Most importantly, they're like lighter and more straightforward versions of the regular Les Paul. The same body shape is used for Les Paul Special models.
However, there are also Les Paul Junior Double-Cut models. Although symmetrical, these cutaways aren't like the SG (see the next shape below). It's as if they applied the treble-side cutaway to the bass side as well. Other than that, they also have set-in neck and body joints.
SG Electric Guitar Design
Initially labeled as a new version of the Les Paul, the SG (or "Solid Guitar") is another one of Gibson's popular models. It's a thin body, usually made out of mahogany, with a glued set-in neck. The two cutaways are much sharper in appearance than those on the LP Junior.
We can also notice its contours on the body edges, including the cutaways. This is both a stylistic and ergonomic feature. The perfectly aligned cutaways allow for a much simpler access to higher frets.
Initially conceived in the early 1960s, this was Gibson's answer to Fender's Stratocaster. The super-light body makes the guitar easier to use. However, this shape does suffer from the so-called "neck dive" issue. This happens because the guitar's weight center is out of place, making the neck effectively heavier than the body.
Super-Strat Body Design
So-called "Super-Strats" are modified body shapes based on the Fender Stratocaster design. They usually have sharper edges and sharper-looking cutaways. At the same time, the body adds some ergonomic features, including a softer heel, for easier access for higher-frets.
The trend of Super-Strats started sometime around the late 1970s, with Eddie Van Halen and his custom-made Frankenstrat guitar. Plenty of brands gave their spin on this design, with the likes of Ibanez and Jackson often leading the way.
Offset Fender Body Shapes
So-called "offset" guitars are those with an offset waist. The treble side and the bass side aren't aligned. Fender introduced the first such solid-body electric guitar in 1959 and called it the Jazzmaster.
Initially conceived as an instrument for jazz musicians who sit down while performing, it eventually became popular among indie rock players.
Other variants of offset-waist body include the Jaguar and Mustang models. Of course, plenty of other brands were also inspired to create such asymmetrical body shapes.
Other Gibson Body Shapes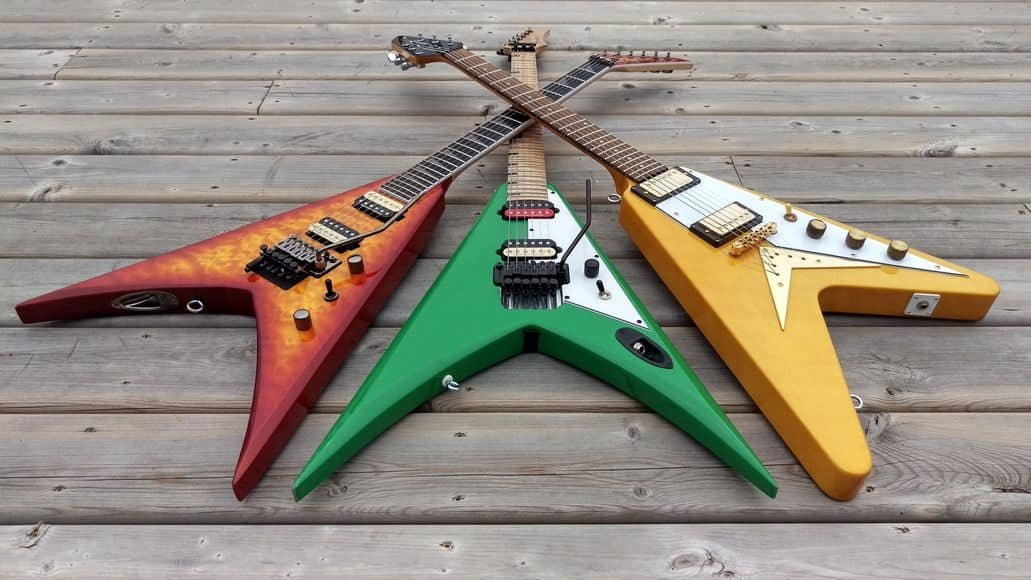 Apart from the usual Les Paul and SG bodies, Gibson also has other shapes as well. Similar to Fender's offset bodies, they're also unconventional but with a completely different approach. These guitars include the Flying V, Explorer, and Firebird.
The Flying V and Explorer models were initially made in the 1950s, but only became popular in the coming decades. The Flying V has a symmetrical shape resembling the letter "V."
The Explorer is somewhat "offset", but with a much sharper look when compared to Fenders. The Firebird is based on the Explorer shape, but with significantly softer edges.
Semi-Hollow-Body Shapes
Both Gibson-style and Fender-style guitars also have semi-hollow designs, although the Gibson ones are more famous. Guitars like the ES-335, and similar models, bear a dual-cutaway body made out of maple, with a maple centerblock. Fender also has their Telecaster-style "Thinline" guitars with semi-hollow bodies.
Hollow-Body Shapes
Gibson is famous for their hollow-body guitars, one example being the ES-175. It's a single-cutaway design with a robust and completely hollow body, a lot like conventional acoustic guitars, but with a cutaway.
A lot of other companies have made single-cutaway bodies, most notably Gretsch and Ibanez. The Gretsch Streamliner and the Ibanez Artcore are just some of the examples.
Hollow and semi-hollow bodies are also going to sound the best if you play them acoustically. Is it possible to play any electric guitar like an acoustic? It is, but they will sound very quiet. Ones with hollow bodies are not nearly as quiet.
Various Other Electric Guitar Body Styles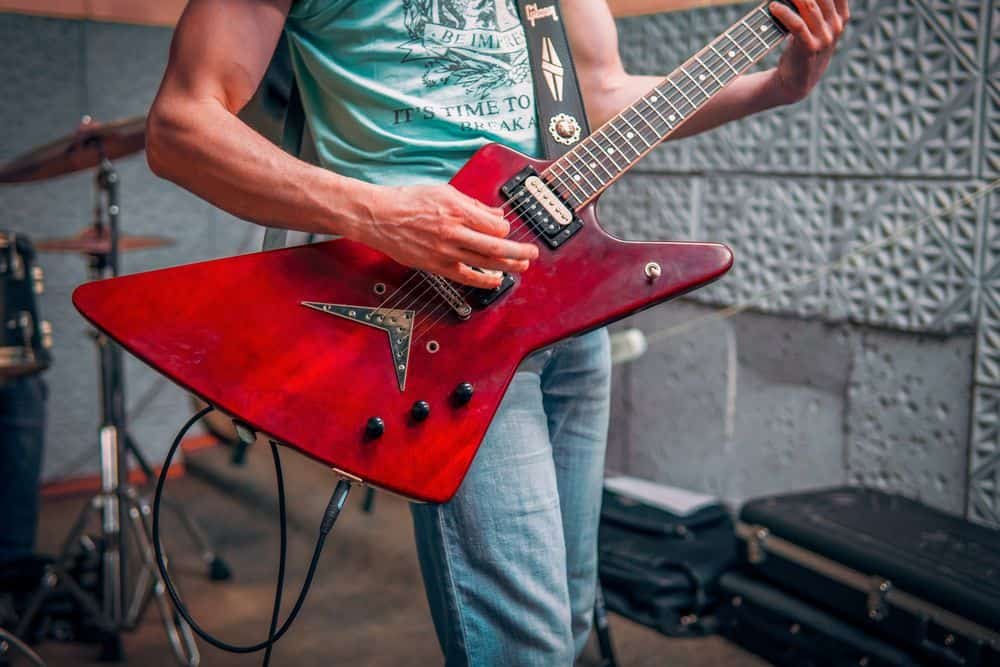 When it comes to unique electric guitar body types, the sky is the limit. Most shapes on the market today are based on old Gibson and Fender designs. But there are also companies like Rickenbacker, PRS, Jackson, Ernie Ball, and many others that have added their specific twists to solid-body and hollow-body instruments.
Electric Guitar Body Styles: Final Thoughts
The Stratocaster (by Fender) and Les Paul (by gibson) electric guitar body styles are by far the two most popular on the market. And have been since they were first introduced.
Not only are the original designs (with a few modifications) still the most popular body types out there, but many of the newer designs were based off of one of those two. That said, you can also find a few completely different and unique electric guitar body shapes.