A cutaway guitar is just what it sounds like: it's a guitar where part of the body has been cut away.
All modern electric guitars and many acoustic guitars have a cutaway shape.
That's because it provides one huge advantage.
The style of cutaway can differ greatly, as can the number of cutaways.
All of the most popular guitar shapes are defined by their cutaways: they are what give them their unique look.
Let's dive into the world of cutaway guitars and find out why cutaways have become the standard and take a look at the most popular guitar shapes, all of which are cutaway shapes.
What Is a Cutaway Guitar?
Be it acoustic or electric guitar, cutaways are one of the most common design traits on guitars.
A cutaway is basically an indentation in a guitar body's upper bout, right where the body meets the neck. Its main purpose is to allow your fretting hand to access higher fret areas more easily.
Virtually all solid-body electric guitars come with one or two cutaways, unless we're talking about some very specific or experimental examples.
Some particular body shapes, like the "Flying V," technically don't have any cutaways. But that's because the body shape will not get in the way of your fretting hand in the first place, so you have easy access to upper frets without the need for any indentations.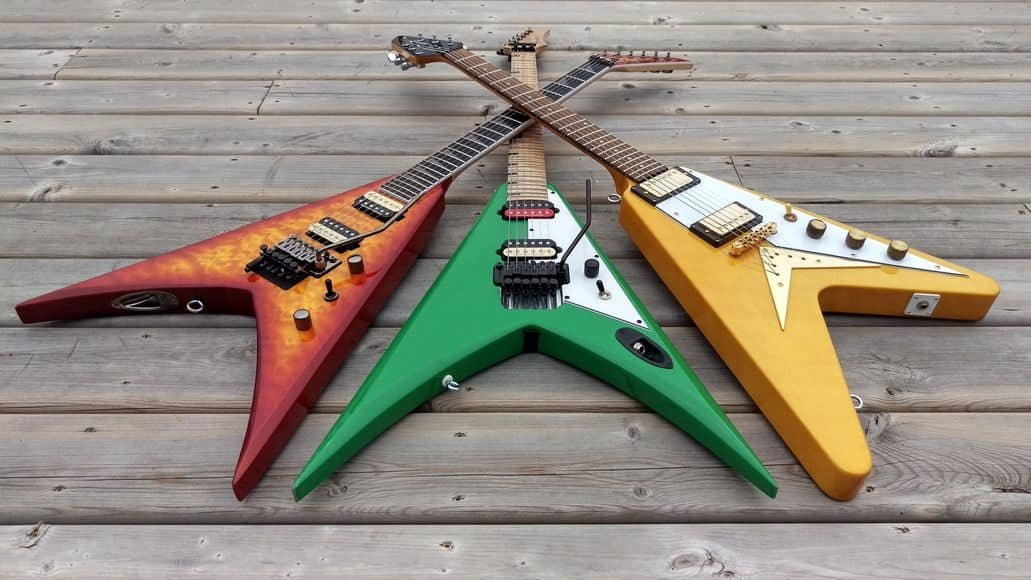 Acoustic guitars, be it classical nylon or "Western" steel-string ones, usually have no cutaways or one cutaway. Those with a single cutaway are usually intended for lead acoustic guitar players.
It's also important to note that there are different designs for the cutaway shape. The usual classification includes so-called "Venetian" and "Florentine" designs, where the Venetian is more rounded out, while the Florentine one is sharper. In some rare instances, you'll find square-shaped cutaways or other variations.
Electric guitars feature either a single-cutaway or a double-cutaway body design. The choice comes down to personal preferences, although double-cutaway designs are usually more popular with virtuosic players as these allow very comfortable access to higher frets.
History of the Cutaway Shape
The cutaway body design first appeared sometime in the mid-20th century. Interestingly enough, early electric guitars actually had the classic Spanish guitar body shape with no cutaways.
It's not clear when exactly the whole thing started and who was responsible for developing it. While some argue that it was Orville Gibson, the founder of Gibson guitars, who implemented it first with his mandolins, there have been other examples of cutaway body shapes over the years.
In the 1930s, jazz master Django Reinhardt used Selmer acoustic guitars that featured a rather unconventional "squared" cutaway in the upper bout. Produced between 1932 and 1952, these were pretty common among swing jazz players.
Aside from smaller custom instrument manufacturers, it was mainly Gibson that implemented cutaway body shapes on their acoustic and electric guitars. With the emergence of commercially available solid-body guitars in 1950, cutaways became an actual thing. "The Log," an early solid-body guitar made by Les Paul in the 1940s, is one of the very rare examples of this instrument with no cutaways.
The rise of Leo Fender's Esquire, later known as the Broadcaster and eventually the Telecaster guitar, brought a real change to this world. Gibson soon followed with their classic Les Paul model to which Fender responded with their extremely innovative Stratocaster with two uneven cutaways in 1954.
One thing led to another, and Gibson also introduced a double-cutaway guitar, initially known as a new version of the Les Paul and later renamed to SG (or "solid guitar"). After a while, the cutaway design became standard, even on acoustic guitars.
Common Guitar Styles That Use The Cutaway Shape
Les Paul, Telecaster, Stratocaster, and SG body shapes are the most widespread cutaway guitars, and they serve as a basis for all the other manufacturers. This article on the difference between a stratocaster and a telecaster has more info on two of the most popular cutaway shapes.
Sure, there are some other shapes, like the Flying V, that technically don't have any cutaways but still allow easier access to higher frets. Gibson's legendary Explorer and Firebird are also somewhat difficult to define, although they usually fall into the double-cutaway categories.
During the 1980s and the 1990s, we saw a rise of the so-called "Super-Strat" guitars, which further improved the Stratocaster concept, both in terms of the body shape and the instrument's features. A good example of this is the Ibanez Prestige RG5120M, which is our top guitar choice for metal.
Advantages Of The Cutaway Shape
The man advantage of having a cutaway is easier access to higher frets. And the closer they are to the end of the fretboard, the easier it should get to reach them.
Of course, it's usually the double-cutaway designs that make it way easier on electric guitars. However, some classic single-cutaway solutions also include an ergonomic heel, right where the neck meets the body.
While there are practically no commercially widespread solid-body electric guitars without cutaways, there are many acoustic guitars without them. Conventional acoustic guitar body shapes don't usually include a cutaway.
Many of the models produced these days are available with one cutaway on the treble side of the instrument's body. And this is exactly what an experienced lead player would need in order to have a more comfortable and effective performance in the higher fret areas.
Disadvantages Of The Cutaway Shape
A different shape and lack of wood can impact the tone. When it comes to solid-body electric guitars, this makes no practical difference as you won't notice any changes in tone.
But if we're talking about those old school high-end hollow-body guitars, removing a part of the resonant chamber can change the instrument's sonic output. And, as you might assume by now, this is an even bigger problem with acoustic guitars.
The good news is that modern guitars are designed so well, even in the lower-priced categories, that this shouldn't be an issue. Cutaways guitars today deliver great tone, even lower-priced and mid-priced models.
Overall, the cutaway on any guitar body is no longer considered a disadvantage in any way. There may be some acoustic guitar players who prefer to have full bodies, but that is just a matter of personal preferences, not an actual disadvantage.
Who Should Get A Cutaway Guitar
Guitars with cutaways provide an advantage when it comes to the performance in higher-fret areas. This makes them a much more suitable choice for lead players.
On the other hand, this might not always be the case, as it can all depend on your particular needs and the genre that you're playing.
Of course, as we already mentioned, solid-body electric guitars all come with some sort of cutaways or a design that keeps higher frets more accessible.
Hollow-body guitars might come without any cutaways, making their shape very similar to acoustic guitars. Once again, the same rule that we had for acoustic guitars applies here – cutaway designs work much better for lead guitar players.
Related Questions
Does a cutaway affect guitar sound?
When it comes to solid-body electric guitars, there's practically no impact on the tone, at least not a noticeable one. Their tone is not created by their body resonating, unlike hollow-body or semi hollow-body guitars.
With instruments that have resonant chambers and soundholes, you may notice a difference in their sonic output. Of course, this won't make them better or worse than guitars without cutaways, just different. It's up to you to find a hollow-body electric guitar or an acoustic guitar with a tone that suits your particular needs.
What does "double-cutaway" mean?
Electric guitars have either with a single or a double-cutaway body design. Single-cutaway guitars have just one indent in the body's main shape, located at the instrument's upper bout on the treble side. Double-cutaway guitars have two cutaways on the body: where it meets the neck on the treble side and the other one on the bass side.
Double-cutaway designs are common with all types of electric guitars, as the Ibanez Iron Label RGIB21 baritone guitar proves. On the other hand, you won't really find a double-cutaway acoustic guitar, unless we're talking about some rare or custom-made models that are available on the market.
What is a Venetian cutaway?
There are two main types of cutaway designs: "Venetian" and "Florentine." The Venetian cutaway has a rounder design, like you see with some jazz or blues-oriented hollow-body guitars. A Florentine cutaway is much sharper and pointier. This is what you see on most single-cutaway acoustic guitars.
These particular names have nothing to do with the traditional instrument building practices of Venice and Florence. The names are presumed to originate from Gibson. They are the terms that they used back in the first half of the 20th century.
Why do guitars have horns?
A "horn" or "horns" on any guitar's body are actually called cutaways. Both of these terms are acceptable, although calling it a "cutaway" instead of a "horn" is way more common among musicians and luthiers.
The main purpose of a horn, or a cutaway, is to allow a player's fretting hand access to higher fret areas more easily. Cutaways are located on a guitar's upper bout, right where the body meets the neck.
Any guitar can have one or two cutaways. However, the double-cutaway design (or two horns) is way more common with solid-body electric guitars, whereas acoustic guitars have one or no cutaways.
Hollow-body and semi hollow-body guitars are available with one, two, or no cutaways, as these traits are widespread in this category of instruments. Check out the Ibanez Gio GRX70 for an example of a guitar with two "horns."
Cutaway Guitars: Final Thoughts
Cutaway guitars have taken over and they're not going anywhere. Why should they? They make it much easier to access higher frets and their impact on tone has been minimized on acoustics and there never was an impact on electrics. Plus, cutaways make for a much cooler guitar shape, don't you think?