The Ibanez Prestige RG5120M is an expensive guitar.
But it is worth every penny. To the right player.
Most guitarists don't need an instrument like this and would be better off saving their money.
But if you want a virtuosic guitar that is incredibly diverse and can play in any genre, there is no better way to spend you money.
This is a metal guitar first and foremost and it will primarily appeal to metal guitarists. But metal guitarists who want the flexibility to dabble in any number of other genres and styles.
Read the rest of this review to find out what makes the Ibanez RG5120M such a special electric guitar.
Ibanez Prestige RG5120M Review: Overview And Features
Ibanez is just one of those guitar manufacturers you can't go wrong with, no matter the price range and your skill level. What's more, their guitars are usually pretty versatile, with the same exact model being used in metal, pop, jazz or any other genre.
And this is exactly the case with Ibanez's wonderful RG5120M, which is part of their Prestige series. We voted it the best metal guitar by Ibanez.
It takes no more than a glance to realize this is a high-end instrument. It's not only the aesthetic features, but also how this guitar feels in your hands and how amazing it is in reproducing different tones and being so dynamically responsive.
The only downside is that it's expensive. But you can't really expect anything else from such an amazing instrument and it's definitely worth this price.
Key Features
Classic "Super-Strat" double-cutaway body shape
Body made of African mahogany with ash on top
5-piece maple and wenge neck
Birdseye maple fingerboard
Dual-action truss rod
Bolt-on construction with specially designed joint
24 frets
Two Fishman Fluence active humbuckers
5-way pickup selector switch and a "voicing" switch
Lo-pro Edge floating tremolo and a locking nut, stays in tune even after heavy use
Schaller locking tuners
Very reliable
Design And Construction
It has a mahogany body with an ash top, all in the shape of a very stylish Super-Strat. The neck is a 5-piece combination of maple and wenge, and is attached using a bolt-on construction. The joint is designed in such a way to provide full comfort and easy access to higher frets.
It has two Music Man Fluence active humbuckers, along with some very useful controls. Aside from a 5-way switch, there's also a "voicing" control that lets you choose between a rougher, heavier tone and a more "thinner" and "crispier" one.
It's all accompanied by Ibanez's own Lo-pro Edge floating tremolo, locking nut, and Schaller locking tuners. You can rock that whammy bar without going out of tune. Combined with its 24 frets, this is a true shred machine for any genre.
The neck also features a double-actin truss rod. This enables you to do some very detailed adjustments, especially in combination with Lo-pro Edge and its amazing setup features.
Advantages And Disadvantages
Pros
Ergonomic design features make it very comfortable to play
Easy access to higher frets
Amazing and dynamically responsive pickups
Comes with a 5-way switch as well as a "voicing," both of which give a lot of tone-shaping options
Extremely versatile
Great design and aesthetics
Cons
Quite expensive, but definitely worth the price, if you can afford it
Ibanez RG5120M Prestige Vs Ernie Ball Music Man John Petrucci Majesty
While Ibanez's RG5120M model, and their Prestige series in general, are all incredibly impressive, you need to bear in mind that this is just the tip of the iceberg.
The world of "shred" guitars is way more complex than it seems at first. There are plenty of other amazing instruments for those who are focused on the technical aspect of playing, as well as the expressive qualities contained in a single 6-stringed instrument.
So let's compare the RG5120M to another pro-level guitar: the Ernie Ball Music Man John Petrucci Majesty signature model.
For quite some time, Dream Theater's John Petrucci had his signature models with Music Man. However, none of these instruments went into as many ergonomic and functional details as the Majesty guitar did. It is the ultimate shred guitar.
We've already explained how great the Ibanez RG5120M is, so let's look at what Majesty has to offer and how these two shred machines compare.
While both are conceived as Super-Strat kind of instruments, the Majesty's shape is "softer" with uneven horns. In addition, the cutaways go deeper towards the body, reaching the 24th fret at almost the same spot. This is common with the neck-through formation of this guitar.
Although the main body is made of African mahogany, the Majesty has a maple top. And since it's a neck-through construction, the neck is also mahogany.
The ebony fretboard has a radius of 17 inches, which is the same as the RG5120M. The frets on both guitars are made from quality stainless steel, but the Majesty rocks medium jumbo, while the RG5120M has jumbo frets. Both guitars have the same scale length of 25.5 inches.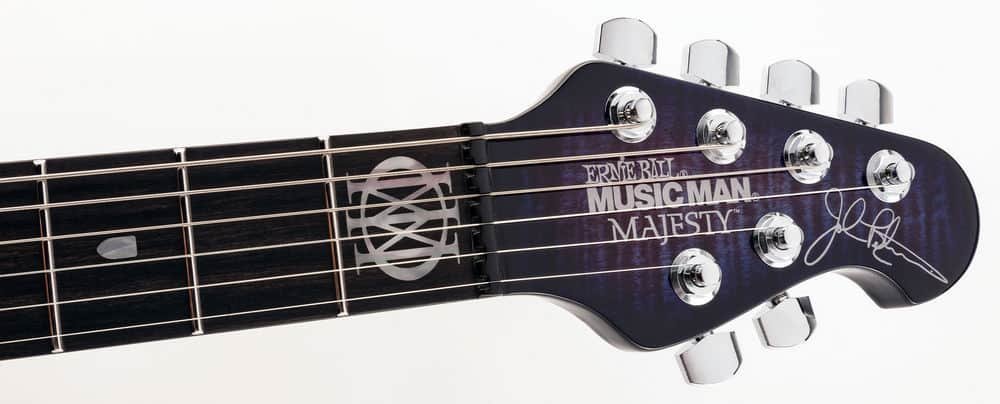 Looking at these traits, it's pretty obvious that these guitars are both designed to be the same type of shred machine. But the pickups and electronics with all the controls are different, so they are aiming for different sonic territories.
We mentioned the Fishman Fluence pickups on the RG5120M. The Music Man Majesty has a bit of a different setting. It has two DiMarzio humbuckers: the Dreamcatcher in the bridge position and Rainmaker in the neck position.
While they might have a bit of a "rougher edge" than the Fluence humbuckers on the Ibanez, the main selector switch on the Majesty is a classic 3-way switch.
It may seem like this guitar has fewer sonic-shaping options, but what makes the Majesty especially impressive in this regard is the addition of a piezo pickup in the bridge. There's also a switch that lets you use only magnetic pickups, only the piezo, or a combination of both.
And it doesn't stop there.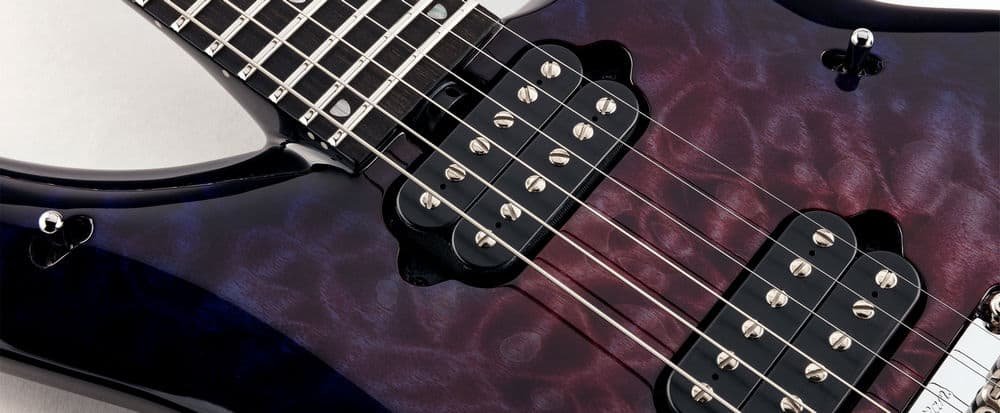 The tone pot has a coil tapping switch, and the volume control has a 10-decibel boost. The Ibanez RG5120M might be able to pull off some slightly more "crunchy" and "sparkly" tones, but the Majesty is clearly unlike any other electric guitar so far.
Nowhere else do you find such an abundance of controls and features on a single instrument.
Moving on to other features, the bridges on these two guitars are different, although both were clearly inspired by the good old Floyd Rose principles.
The Ibanez's Lo-Pro Edge resembles the classic style more, while the Majesty has a Custom John Petrucci MM Floating Tremolo. Its innovative design makes it smaller and it incorporates a piezo pickup in its construction. It also has completely active electronics, featuring an active preamp.
There is no locking nut on the Majesty, although the solution for the headstock is pretty innovative, with the strings going in a perfectly straight line from the tuners to the bridge. This is all thanks to its "4 + 2" headstock, compared to the Ibanez's classic "6-in-line" solution.
The Majesty also features a completely unique design. We don't remember even seeing a guitar like this anywhere else. But its not just about aesthetics. The design has some huge ergonomic advantages. The heel at the body and neck joint is designed in such a way that you don't almost don't notice that you're nearing the higher frets.
It's clear that Majesty is a more luxurious and diverse option. But it comes at a price. It costs over 50% more than the Ibanez, which is also an amazing instrument.
Is the Majesty worth so much more? That depends. For a full-blown professional virtuoso player, sure. For most of us, the Ibanez is already the ultimate dream guitar. And there is another option.
Sterling has a pared down version of the Majesty that sells for a MUCH lower price. You can check out our Sterling Majesty review for more.
Ibanez Prestige RG5120M Electric Guitar: Conclusion And Rating
No matter the genre or your skill level, you can't go wrong with the Ibanez Prestige RG5120M. The same can't be said for your budget, however. This guitar will cost you.
For that reason, we really only recommend it to proficient players who can take full advantage of its features, and not to beginners. A beginner would be spending a lot of money on features they would never use (or even notice).
If you're looking for a good beginner instrument, check out the Epiphone Les Paul Studio LT.
But if you're a more advanced player, this is an amazing all-round instrument. It is highly popular among metal guitarists, especially those who dabble in progressive metal music.
This is mostly due to its diverse electronics and pickups, which allow it to cover a lot of sonic territories. It will go anywhere, from standard classic old school metal tones, up to chugging heavy riffing territory. At the same time, it does an amazing job of covering those "crunchy" tones, that you often see with modern prog rock stuff.
But you can also play jazz and blues on this instrument. Although the overall look might not give off a jazz or blues vibe, this guitar is excellent at covering even those smooth tones. It even does a great job with that "ice pick" blues tone from the 1950s and the 1960s.
In short, if you're a metal player who also loves to have more diversity at your disposal, the Ibanez RG5120M Prestige is the perfect guitar for you. It is a very reliable instrument that covers many different musical styles.
Yes, guitar is expensive, but if you plan to make use of its diverse features and incredible versatility, it's well worth the price. And that is why we consider it the best electric guitar for metal overall and give it a perfect Musicaroo rating of 5 out of 5.