The acoustic vs classical guitar debate has no true winner.
But it has no loser either.
Either type of guitar is a great option for beginning and more advanced guitarists.
Both types have distinct advantages and disadvantages. If you are trying to decide between the two, you want to match the pros and cons to your needs and goals as best you can.
That is exactly what this article will help you do.
Classical Vs Acoustic Guitar
To the untrained eye, a classical and an acoustic guitar look remarkably similar, especially if both instruments have the same color. But the two are actually very different types of acoustic guitars.
They differ in build, in sound and in use or purpose of playing. If you are torn between the two, knowing as much as possible about each type will help you make the right decision for you.
What Is An Acoustic Guitar?
An acoustic guitar is a musical instrument that has strings and frets. It produces sound by the vibration of the strings above a hollow chamber in the body of the guitar.
These vibrations travel through the air and may or may not require electrical amplification. Keep in mind, however, that acoustic guitars that involve electrical amplification are categorized as electric guitars.
Musicians who play acoustic guitars produce sound using their fingers (for example, by strumming or plucking the strings) or using a pick. Playing type varies, depending on the genre of music and the player's personal preference.
What Is A Classical Guitar?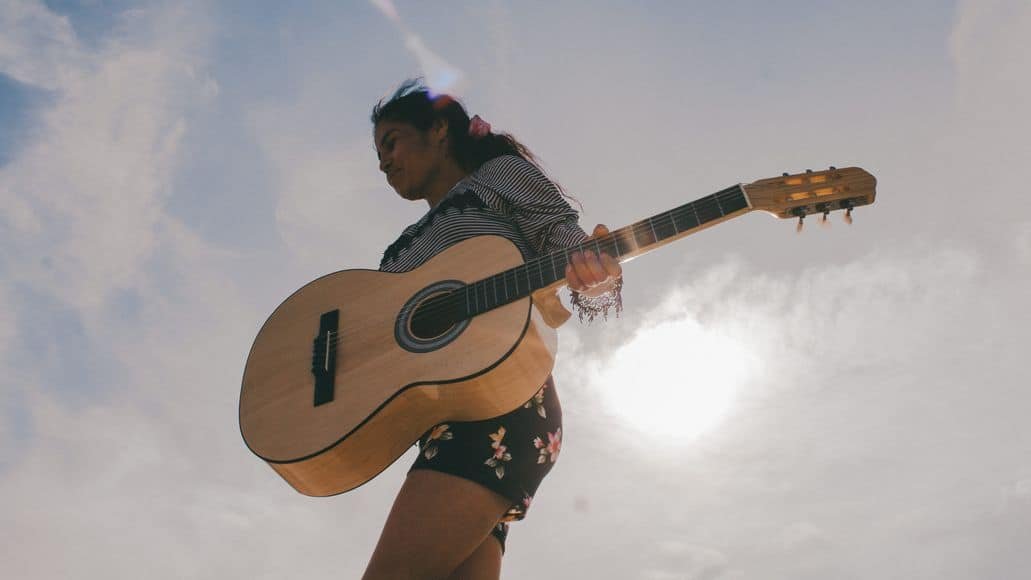 Classical guitars look similar to acoustic guitars at first glance. But if you look a little closer, you will notice a number of differences.
The most obvious is the decorative rosette design around the sound hole, though this obviously makes no difference in terms of the sound or playability. But it's usually the first first thing people notice.
What does impact the sound are the strings. Classical guitars generally use nylon strings, which produce a richer, warmer sound. In addition to the different strings, you might also notice the shorter neck and the wider fretboard. Let's take a closer look at all of the differences.
Classical Guitar Vs Acoustic: Differences
The following are all the ways an acoustic guitar and a classical guitar differ.
Body Size, Shape, And Weight
Acoustic Guitars
In general, acoustic guitars have a much bigger body than classical ones. Although you can find a few small-bodied acoustic guitars in some music stores (such as "folk" guitars or "parlor" acoustics), most acoustic guitars have a more rounded, thicker back and a wider guitar waist.
Bigger and wider sides, usually means that they are a bit heavier than classicals. Check out the Yamaha F335 for a good example of an acoustic guitar. We also have an article explaining acoustic guitar body sizes and shapes in detail.
Classical Guitars
Most classical guitars, especially concert ones, are full-bodied instruments. They do not have "cutaways", which make access to the guitar's upper frets easier.
Instead, to accommodate for the lack of easier access to the upper frets on classical guitars, modern luthiers (stringed-instrument makers) adopted new designs on classical guitars—including elevated fingerboards. Of course, Stauffer was already doing this on some guitars back in the nineteenth century.
Bridge Pins And Method Of Changing Strings
Another notable difference between acoustic guitars and classical guitars is how the strings are fastened at the end of the bridge.
Acoustic Guitars
On acoustic guitars, the strings are usually held in place using bridge pins, since the strings have little balls on the end. The bridge pins can make a difference in a guitar's sound.
Classical Guitars
On the other hand, classical guitars have strings that are tied at the bridge. As a result they require a very different method of changing strings.
Fingerboard Shape
Acoustic Guitars
Acoustic guitars have radiused fingerboards, meaning that they have a slight curve.
Classical Guitars
Most classical fingerboards are flat.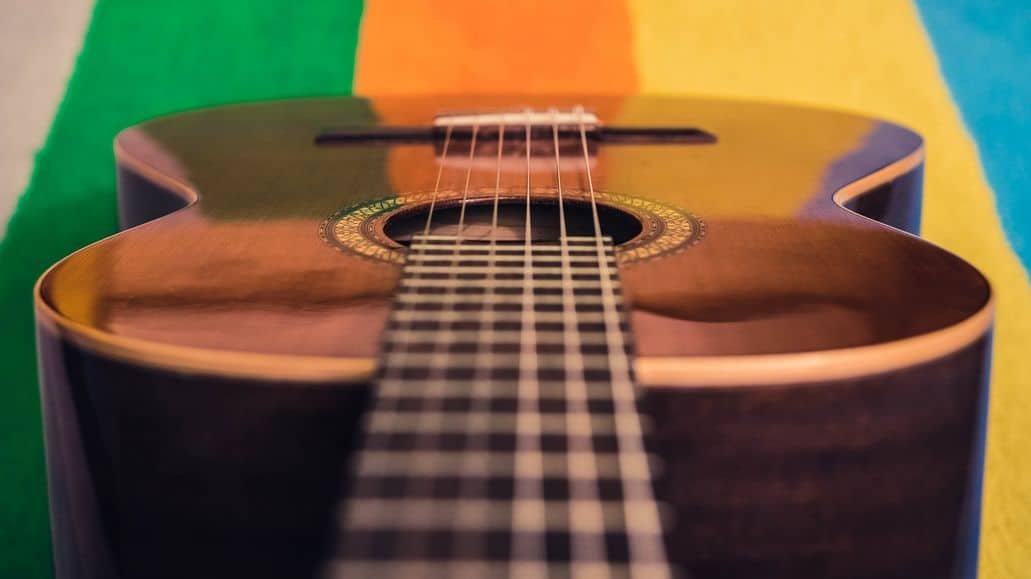 Fret Markers
Acoustic Guitars
If you have seen an acoustic or electric guitar, you may have noticed that there are dots on the fret board. These dots are called fret markers or fret inlays which serve as a visual aid and help guide your hand to the notes or chords you intend on playing.
Classical Guitars
Some classical guitars may have dots on frets seven and twelve (and in some exceptions, on areas on the upper side of the guitar's neck). But, in general, classical guitars usually do not have any fret markers on the fingerboard itself.
Headstock And Tuning Machines
Acoustic Guitars
Acoustic guitars have individual tuning machines that stick up through the headstock.
Classical Guitars
Classical guitars typically have slotted headstocks with in-line tuning machines.
This difference between acoustics and classical guitars means, once again, that changing strings requires a different technique for each type of guitar.
Neck Size
Acoustic Guitars
Acoustics have narrower neck profiles than classical guitars. A narrower guitar neck makes it easier for the fretting hand and fingers to get into various chord shapes.
Classical Guitars
Classical guitars have wider necks. This makes it easier to achieve accurate finger placement (especially all four fingers at once) on the fretboard when playing different notes in rapid succession.
Right Hand Use
In general, guitarists use different approaches when using the right hand to play the two types of guitar.
Acoustic Guitars
Guitarists who use acoustic guitars tend to play music using either a finger pick or plectrum.
Classical Guitars
Classical players do not use picks or plectrums but rely on using bare their fingernails to make music on a classical guitar. That is why many classical guitarists play guitar with long fingernails.
Which approach a guitarist uses to play the strings is basically dictated by the style or genre of music they play. That means that some musicians use a pick on a classical guitar, and there are also plenty of cases of musicians not using a pick on an acoustic.
Strings
Acoustic Guitars
Acoustic guitars use steel strings.
Classical Guitars
Classical guitars use nylon strings.
While we say that acoustic guitars use "steel" strings while classical guitars use "nylon" strings, the actual material is not always nylon or steel. It's just usually what we call these strings, because those are the most common materials used. If other material is used, it is one that sounds similar to nylon or steel.
And that is where the different material actually makes itself known. There is a significant difference in the way each type of string sounds. In fact, the strings are primarily responsible for the difference in the way each instrument sounds.
Let's say you put nylon strings on an acoustic guitar or steel strings on a classic (which you should never do because it might damage the instrument). The guitars would sound completely different than they do with their regular strings and they would, in fact, each sound closer to the other type of guitar.
Because acoustic strings are made of harder material, they require a lot more tension. The harder material also means they are harder on your fingers. The thicker classical strings need less tension. They are softer on your fingers, but they can still hurt them fingers when playing.
Volume
Because of the noticeable differences in string type and consequently string tension, acoustic guitars and classical guitars differ in their volume. Acoustics are generally much louder than classicals.
That said, modern guitar making techniques have vastly improved over the century, so the volume capability of newly built classical guitars has changed. But they are still generally quieter instruments than acoustics.
Similarities
We already know that an acoustic guitar and a classical guitar basically look alike at first glance. Obviously, they have a number of similarities. Most of them can easily be identified even by a new guitar player.
An acoustic guitar and a classical guitar have six strings
Both guitars are tuned to E A D G B E
They both have frets on the fretboard
Both have sound holes
Both have the same standard guitar anatomy
Both have tuning pegs, though they differ considerably
Both types generally have a round body
Advantages Of Acoustic Guitars
Acoustic guitars have a number of advantages over classical guitars.
Acoustic guitars necks are smaller making them easier to play, especially for people with small hands or short fingers
Steel-string acoustic guitars give you a brighter sound that resonates longer
Steel-string acoustic guitars are a great way to build up fingertip calluses
Acoustic guitars of all sizes, shapes, and styles are quite easy to find so you won't need to go to a lot of music stores or browse tons of websites to find a good one
Advantages Of Classical Guitars
Although classical guitars may be less popular than acoustic guitars, they are still a good option for those who are interested in learning the guitar. They are a great way for aspiring guitarists of any age or skill level to improve, work on, and master playing technique.
Here is a quick review of what's better about classical guitars.
Classical guitars are easier on the fingers
They produce a softer sound
Classical guitars tend to have smaller bodies
The nylon strings are less difficult for a beginner to adjust to
They are generally less expensive
Since the necks of classical guitars are thicker than acoustics, they can be more difficult to play for those with small hands and short fingers, so that is something to keep in mind. If that is not an issue, classical guitars are perhaps better for beginners, especially if on a budget.
Who Should Get An Acoustic Guitar (And Why)?
The strings on an acoustic are harder on your fingers, but the narrower fret board makes it easier to play for those with small hands. If your hands are small, you are probably better off with an acoustic. Otherwise it really depends.
If you eventually want to play an electric guitar, then starting on an acoustic makes more sense, since the strings are closer in sound and feel to an electric guitar. If you want to play many different styles, an acoustic makes more sense as well.
As a guitarist, if you prefer the modern type of feel when you play the guitar, you can go with an acoustic guitar, it will give you more opportunity to experiment with modern styles of playing and songs and try other new things.
Who Should Get A Classical Guitar (And Why)?
If you plan on playing classical styles, go with a classical guitar. That said, it is not used only for playing the classical genre of music. You do not need to play pieces such as Astor Piazzolla's classical Libertango or Johann Sebastian Bach's Bourrée in E minor on your guitar all the time.
You can use your classical guitar to play many different styles of music like jazz, pop, or rock. If you also want to learn traditional, Latin, or folk music without any additional modern-like sound effects, a classical guitar may provide a purer and clearer sound. That said, many folk rock bands, like Mumford & Sons, use acoustic guitars.
Finally, if you are on a strict budget, a classical guitar might be better, since they tend to cost less. How much do acoustic guitars cost compared to classical? The price difference is not huge, but you might pay $50 or so more for a comparable level.
Classical Guitar Vs Acoustic: Which Is Right For You?
After reading all of the basics of both acoustic and classical guitars, you have no doubt realized that there is no actual "best" choice. It depends on a number of factors.
If you can't decide between the two, weigh your options carefully and figure out which one offers more advantages. But don't overlook fun. Which type of guitar is going to make your playing more fun? That is often overlooked, but perhaps the most important consideration of all.
Your instrument should inspire you to pick it up and practice, if you ever want to successfully learn how to play the guitar. In the end, that's what really matters.