Sometimes a song just grabs you.
You don't know why, but the rhythm and melody just find their way into your soul. It's something about the combination of chords that just feels exactly right.
That's the kind of song you want to write. But how do you know what chords sound good together on guitar?
Is there a list to draw from, or is there some other trick?
It turns out, there is a list of commonly used chord progressions, that are commonly used because the chords work so well together.
And we have that list of chords that sound great together on the guitar right here. Keep reading.
Chords That Sound Good Together On The Guitar
NOTE: Any of the chord progressions we cover here are presented as Roman numerals, with each numeral representing the scale degree of the given chord. You can use it in any key.
I-IV-V (Major, Minor, and other Combinations)
Going through the history of modern music, we can find an abundance of songs that feature the I-IV-V chord progression. While it's associated with blues music these days, most commonly in the 12-bar blues formation, you'll find it in plenty of other genres.
It's not uncommon to hear it in folk and even pop music. It's a pretty easy one, especially because you can add a lot of different extensions to its chords and even play it in major or minor.
The easiest way to play the blues is if you play all three chords as dominant 7ths. For instance, in the key of G, you'd play G7, C7, and D7.
If you want a minor chord progression with some tension added at the end of each measure, you can play G minor and C minor and then play D7 or D7 with augmented 9th interval in the end. This chord progression is extremely fun and useful if you want to practice improvisation and just jam with your band.
I-IV-V-vi
But if you take this simple I-IV-V progression in major and add a minor chord, the iv chord in particular, then you get something very different. Instead of ending it on a fifth chord in the scale, the minor chord just makes it mellower and significantly less tense.
However, it still manages to finish it off while preparing both you and the listener for the next measure. It's not as common as some of the other combinations of these four chords, but it's still an interesting one and very fitting if you want to write a classic pop or rock song. Presented in the key of C major, this progression goes C major, F major, G major, and A minor.
I-vi-IV-V
Here we have an iteration of the previously mentioned progression. In this version, we have the V chord at the end, preceded by the IV chord.
This way, we have the same kind of tension build before the next measure as we had back with the I-IV-V chord progression. However, the first two chords here are the root major chord and the vi minor, entering into this row more calmly.
And this sort of a "contrast" is what makes it so appealing and enjoyable. Quite often, it's also referred to as the "1950s progression" due to its famous use in popular music during this decade.
It's also not that hard to improvise over it. If you play it in the key of C major, it goes C major, A minor, F major, and G major (possibly even G7 dominant if you want to add even more tension). By playing a standard A minor scale, you can get some really interesting solos going on over it.
I-vi-ii-V
Here we have another old school-oriented chord progression that's still quite common in some of today's music. In most cases today, this particular progression works in pop music.
Sounding pretty cheerful, these chords just flow into one another. Presented in the key of C major, you play it as C major, A minor, D minor, and G major. In some way, it feels as if it's bittersweet, making it a perfect choice if you're writing a simple little pop song.
First, it starts with a regular major chord, and then it goes into a minor iv and minor ii. With these two chords, you can feel it getting somewhat sad or melancholic. However, the final chord, the V which is dominant in the scale, adds just a little bit of tension.
This is especially pronounced because it goes from the ii-chord, which is a supertonic, right into the V chord. If you want to increase the tension and add more to this progression, you can try and play the dominant 7th as the last chord. In the key of C major, this would be the G dominant chord.
I-V-vi-IV (The Axis of Awesome)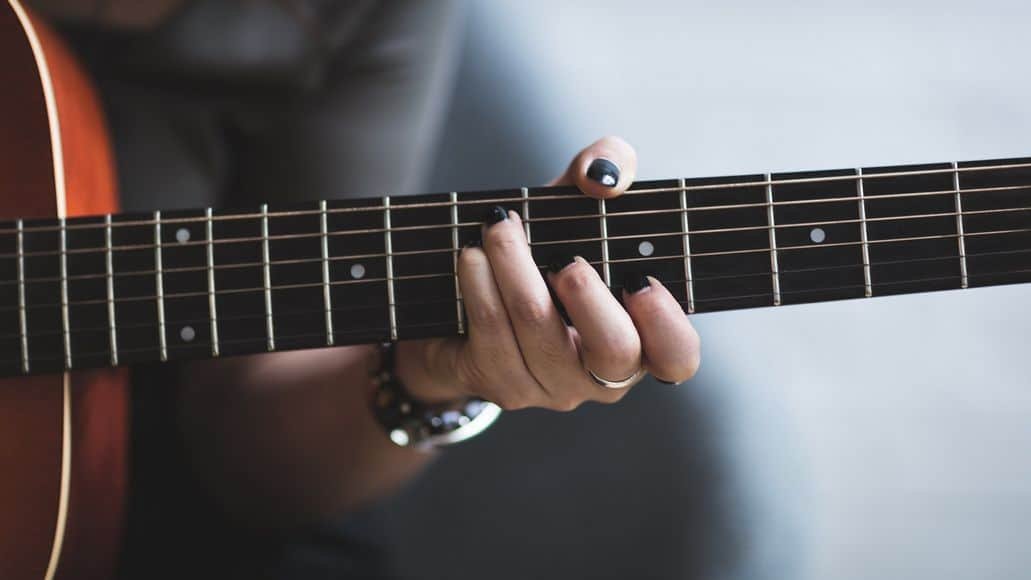 You've probably heard this one so many times. Another twist on some of the progressions that we mentioned above, I-V-vi-IV is often referred to as "The Axis of Awesome."
As this light-hearted name suggests, this progression brings out a very positive and optimistic vibe. It's commonly heard in pop music, but there are some cases where it works well even in genres like heavy metal.
For instance, Toto's Africa is a famous pop-rock song where it really hits the spot and serves its main purpose. Then we also have Ed Sheeran and his popular 2017 song Perfect and Lady Gaga's legendary Poker Face from her debut record, 2008's "The Fame."
On the other hand, there's Red Hot Chili Pepper 2002 tune Don't Forget Me and even a heavy metal hit Battle Hymn from Manowar's 1982 debut album Battle Hymns. As you can see, with the right arrangement, "The Axis of Awesome" chord progression does its job in many different styles of music.
i-VI-III-VII
If we switch these chords around and look at it from a minor key perspective, we get a bit of a "pessimistic" progression. We like to regard it as i-VI-III-VII, but presented in a major key, it goes vi-IV-I-V. And just like the previous example, it works for almost any genre that you can think of. Even completely different songs from various musical styles have it, so break out your Schecter and start riffing.
In this particular case, the distribution of chords creates a slightly melancholic vibe. This might seem a bit unusual since the progression has three major chords, but going from the VII chord and back to the i chord really does the trick for these settings. If you want to present it in the key of A minor, it goes A minor, F major, C major, and G major.
i-VII-VI-V (Or V7) (Andalusian cadence)
The Andalusian cadence is pretty common for flamenco music. However, plenty of different genres also use it to recreate these sorts of vibes. Also referred to as the "descending tetrachord," this progression goes down from the first minor chord and descends to the fifth major or dominant chord.
Although the minor chord would be more "correct" according to the basics of music theory, changing this particular chord makes it sound more "exotic." This is especially useful if you like to add the harmonic minor scale. One of the best uses of the Andalusian cadence can be heard in the mid part of Queen's Innuendo from the band's album of the same name.
i-VII-VI-iv (Comfortably Numb Progression)
If you play guitar, then you've definitely heard Pink Floyd's Comfortably Numb, along with its groundbreaking outro solo. But what makes this progression so unique is that there's almost no tension involved.
It's pretty similar to the Andalusian cadence, yet we have the IV chord as the last one. This way, the progression feels as if it could go on forever. You can use this set of chords if you need your song or part of the song to feel more mellow.
II-V-I (Both Major and Minor Combinations)
The II-V-I progression is pretty common in jazz and old school blues music. And it works great both in major and minor keys. It gets especially effective if you just want to jam, same as the I-IV-V progression.
In most cases, it's used with 7th chords. For instance, in the key of C major, you can play it as D minor 7th, G dominant, and C major 7th. In the key of C minor, you can play it as D semi-diminished, G minor or G dominant, and C minor.
Why Do Some Chords Sound Good Together?
The whole thing about chord progressions is about creating movement and something that just makes sense together. Most of the things have to do with creating tension and releasing it, one way or another.
For instance, going from a dominant fifth chord back to the minor first chord is an effective way to release tension. This is especially obvious to hear with the Andalusian cadence.
On the other hand, sometimes we want to diminish this tension and release effect, for a more mellow feel. This is the case with Pink Floyd's Comfortably Numb, arguably one of the best sounding electric guitar tunes ever.
In almost all cases, the notes in chords of these chord progressions are made up of scale notes. Although music theory is full of rules, you're not always supposed to follow them.
But thanks to the diatonic harmony, or notes relating to a certain key and each other, you get an impression of an "order" with a given set of chords. And when they move together, you can get different effects and moods that help you convey your artistic message better. And at the end of the day, that's the whole point of knowing music theory.
Guitar Chords That Sound Good Together: Final Thoughts
Hopefully this article has given you a lot of ideas. At the very least, it should have given you an idea for which chords might sound good together. And if it has left you with more questions about chords, you might also be interested in our article discussing how many guitar chords there are.