Are you just starting out on the guitar?
Does it seem like there are an endless number of chords to learn?
Well, I have some bad news for you. However many chords you think there are, there are far more.
Luckily, I also have some good news. You will never need the vast majority of them.
Most guitarists only ever use a small percentage of the total number of guitar chords in existence.
So how many guitar chords are there in total?
Keep reading to find out. We'll also cover some basic information about chords you need to know, as well as the 4 most important chords to learn on the guitar and how to play them.
How Many Guitar Chords Are There?
There are 2210 chords in total that can be played on the guitar. I know, that number sounds impossible. Naturally, most guitarists won't use the vast majority of those chords. Most use only the most basic and essential chords.
There is no need to learn all of the chords. In fact we recommend against it. You can safely ignore the vast majority of them. Just learn chords little by little, one at a time when you need them, and understand how they work.
What Are Chords Exactly?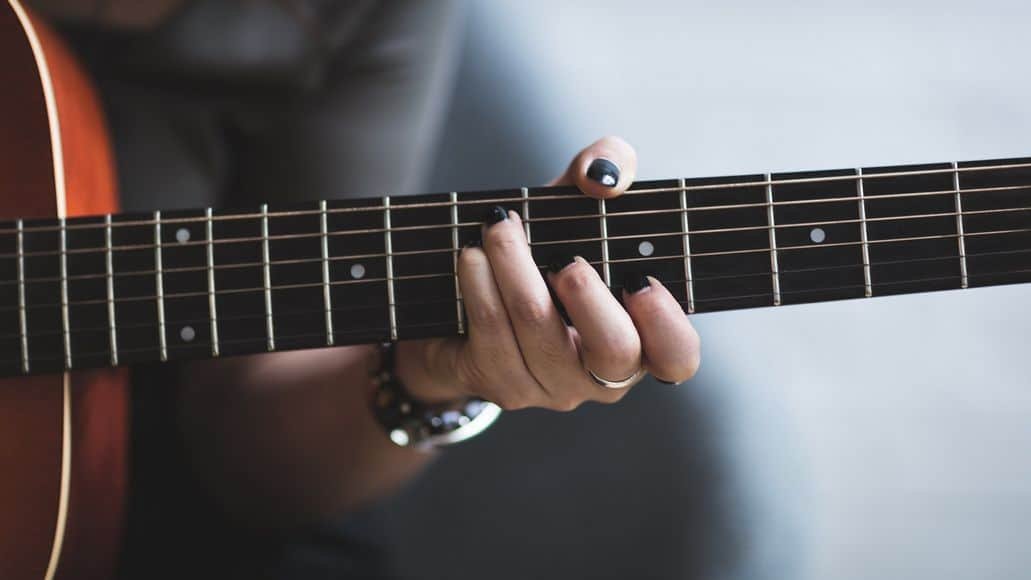 A chord is no more than a set of notes. That is, they are several notes that are played at the same time with an instrument, in this case a guitar. It does not matter if they are ordered or disordered, as long as you play more than two notes at the same time, it is a chord.
We have 12 notes in music. This means that we have an almost infinite number of different combinations for all those notes. This is why chords are formed, in general terms, following some rules and structures that we will look at below.
However, keep in mind that these rules are not law. It is always great to explore with the notes outside the rules, looking for sounds that you like for your compositions.
Many chords from musical compositions are improvised by ear. To that end, it is important to learn to be a little more flexible in this regard.
How To Build A Chord
To build a chord, all you need is the I (which would be the tonic, which gives the chord its name), its III, and its V degree. It's as simple as that. For example, if you want to make a C chord, you do it by playing the E and the G notes at the same time as the C.
This is very clear on a piano, because when you press the keys, you can see the distance between each one of them. It is easy to count 3 or 5 notes from the I.
The guitar is a more abstract instrument in that sense. You can not simply count to find the right notes. But the guitar also has something in its favor: you can play the same notes in many different positions.
This allows you to play the same chord with different fingerings and very different sounds, which is an incredibly interesting characteristic of the guitar. In this way, we begin to unify a series of rules that make our chords sound good. And then you need to find chords that sound good together.
Chord Types
You have probably already heard of major chords, minor chords, diminished chords, and so on. All of these chords are formed by deviating a little from what we explained above: using degrees I, III, and V to form chords.
This derivation is determined by the intervals that exist with respect to the III of the chord and the tonic. Its distance, with respect to the tonic, will determine if the chord is major or minor.
If it is two tones, it will be a major chord. Conversely, if it is a tone and a half away, it will be a minor chord. It is interesting to note that the distance between the I and the V is always the same: three and a half tones. We see all this with an example: let's form the A minor chord and the A major chord.
Minor Chords
As we have said before, minor chords have a distance of one and a half tones with respect to their III. If we take the note A as the tonic, the next thing we have to do is check what its III and V are: C and E respectively. If we count the distance between A and C, we realize that it is a tone and a half (A – B – C). So, in this case, we would form an A minor chord.
Major Chords
In this case, what should we do to make the third one greater? We have to increase the distance with the A by one semitone, and we do that with the sharp. So, the III major of A will be the note of C# and, with it, we form the chord of A major.
Consonant chords are made up of major and minor thirds, perfect fifth, major and minor sixth, and octaves.
Dissonant chords are those formed by the intervals of the minor second, major second, minor seventh, and major seventh as augmented, diminished, and containing the tritone chords.
Extended chords are formed when we add ninths, elevenths, and thirteenths.
Suspended chords are when we suspend the third degree and add a second or fourth degree.
Added chords are formed when we add a note to the chord that is already defined by its quality.
Altered chords are the ones that get angry about everything: when we alter some of their tensions by increasing or decreasing.
Mixed chords are when we have a minor chord but also a major one.
Main Chords
Let's take a look at the main chords on guitar. These are arguably the most important chords and often the first (or among the first) ones you learn.
C Chord
The basic C guitar chord is essential and will allow you to play any song you can think of.
Index finger: first fret of the second string
Middle finger: second fret of the fourth string
Ring finger: third fret of the fifth string
D Chord
The basic guitar chord is D is radiant, sharp, and somewhat effusive.
Index finger: second fret of the third string
Middle finger: second fret of the first string
Ring finger: third fret of the second string
A or A Major Chord
The A chord is much simpler.
Index finger: second fret of the fourth string
Middle finger: second fret of the third string
Ring finger: second fret of the second string
E chord
Last, but not least let's look at the E chord.
Index finger: first fret of the third string
Middle finger: second fret of the fifth string
Ring finger: second fret of the fourth string
How To Easily Learn Guitar Chords
The best thing you can do to learn anything easily and effectively is to avoid simply memorizing. Instead, it is better apply things in practice and gain an understanding of how and why it is done a certain way. In this way, you assimilate the concepts better.
It is much more effective than learning something simply because that is the way it is or because that is how someone explained it to you. In other words, know why you are learning a new chord. Don't simply learn it because someone, or some article, told you that you should learn it.
How Many Guitar Chords There Are: Final Thoughts
Did you know the total number of guitar chords was as high as 2210? Most do not realize just how many different chords there actually are.
Now that yo know, do not let that number intimidate you. As mentioned, you will never need the vast majority of them, so there is no need to learn them all. You only ever need to learn a handful.
And once you have the basic chords down, it is best to just learn new ones as you need them. Why waste time learning guitar chords you may never even use?