I have short, somewhat fat fingers.
I've always felt that made thing much harder for me with the guitar.
My fingers are too short to make barre chords easy and too fat to jump around the fretboard with ease.
I definitely found myself wondering: can you play guitar with small hands?
But I answered that question myself.
I managed to learn to play the guitar despite my unfortunate hand size and shape.
And so did Angus Young, Prince, Nancy Wilson, and Paul Simon. They did it much better than I did, of course.
In my case, there are a few tricks that really helped me out.
Keep reading to learn how you can make things easier for yourself when learning to play the guitar with small hands.
Can You Play Guitar With Small Hands?
Yes, you can play guitar with small hands. The length of the arms and fingers can certainly influence how easy (or hard) it is to play guitar, but even people with small hands can become pros.
The key is to choose the right type of guitar. That is much more important than having long fingers or big palms. Ideally, the neck diameter should be small enough for you to comfortably place your hand on it and reach all low E notes.
The size of other guitar parts can also influence your reach, speed, and comfort. There are many other ways to simplify playing the guitar, such as using a lower tuning or a guitar capo, but it ultimately all boils down to practice.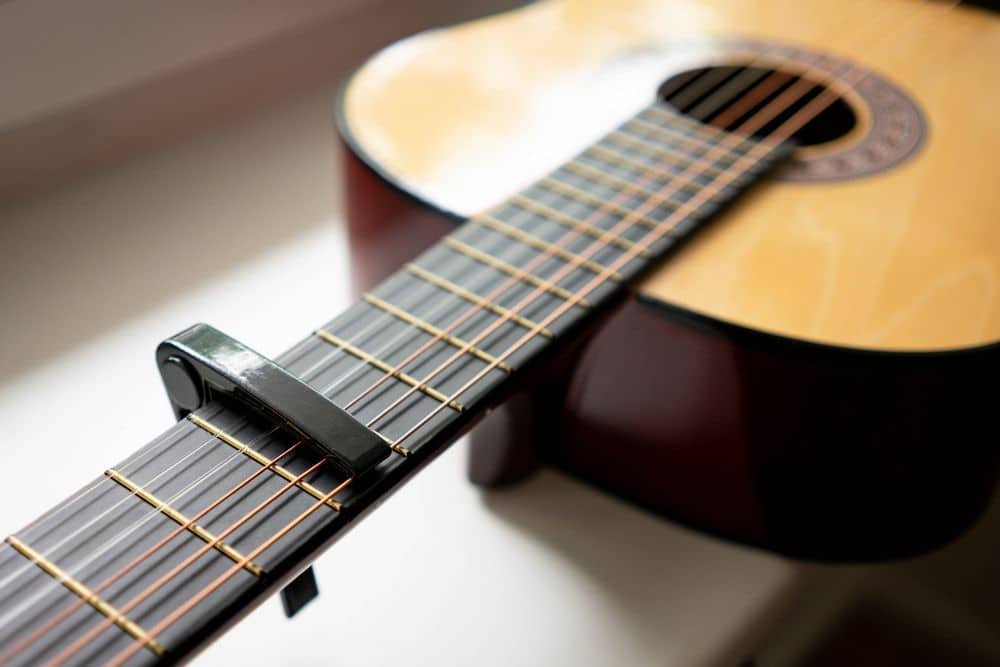 And let us remember that large hands also make it a bit more difficult to play the guitar. In fact, it's difficult to determine which predicament makes it harder – having hands that are too large to accurately press the notes on a guitar, or too small to reach all the strings.
The truth is, neither of these two cases needs to be an issue.
How To Play Guitar With Small Hands
Beginners usually aren't too familiar with the choices in front of them, so they buy whatever they can afford (or looks cool). It's also quite possible for you to wrongly believe that your arms are small and your fingers are too short, simply because you've bought a guitar that's much larger than average.
Assuming that you've done a bit of research and know the basics of guitars, we can begin dissecting today's topic and give you some tips on how to play guitar with small hands and short fingers.
Get The Right Type Of Guitar
Guitars come in various shapes and sizes, especially acoustic ones. From the student's 3/4 and Parlor to the hulking Dreadnought and Jumbo, different guitar types were invented to cater to the needs of different people.
Aside from size, other differences between these guitar types lie in sound and weight. Unless you are chasing a specific kind of tone, it would be much easier for you to start with a petite acoustic.
Playability-wise, electric guitars are typically measured by scale length rather than the full dimensions, but some are much bulkier than others (e.g. Les Paul guitars are known for their huge bodies).
If you have small hands and haven't bought your first guitar yet, consider buying a model with a shorter scale length. Our list of the best electric guitars here has a category for guitarists with small hands.
Lower Your Guitar's Action
High action is a fairly common issue. Regardless of how small or large your hands are, this problem can reduce your guitar's playability (or even make it downright unplayable). Budget guitars and neglected second-hand instruments typically suffer from this issue.
There are multiple ways to lower the guitar action. If your instrument has a truss rod (a little bar on the headstock nested above the nut), simply use a box wrench or a nut driver (0.25-inch) and slightly turn it a few times. But don't overdo it.
Many guitars, such as my B.C. Rich Warlock, do not come supplied with a truss rod. If that's the case, take a look at your guitar's saddle. There are button-shaped features called "action screws". Using an Allen Key, turn each screw clockwise several times to lower the action.
Switch To Light-Gauge Strings
There are tons of different string models, all of which play a certain role in the guitar's playability. If you've recently bought a guitar and noticed that the strings are a bit too heavy on your fingers, you may want to consider switching to lighter ones.
Musicians with small hands sometimes struggle with heavy-gauge strings for obvious reasons. These strings are much thicker and larger in diameter. To better understand this issue, let me briefly describe how string gauge works.
The gauge of guitar strings is measured in fractions of an inch (1/1000s, to be more precise). In essence, even though the difference between your average 10s and 14s may be just 0.002 inches, thinner strings can help you press the strings on the desired frets more easily.
On a side note, I don't recommend using the lightest strings you can find. They can be very sharp and playing can become painful. Experiment with different brands (Ernie Ball or D'addario, for example) until you find the model that fits your playstyle the best.
Try A Capo
Guitar capos are accessories that are commonly mistaken for "Beginner tools" (like training wheels on a bike). In fact, many professionals sometimes use capos to make certain chords and licks easier to execute.
You can place these pocket-sized clamps on any fret to emulate a bar chord. A person with very long fingers could effortlessly use a single finger to press all six notes on a single fret, while people with small fingers may find this challenging. Capos were invented so that anyone can do this without breaking a sweat.
The lowest frets are the widest and as such are the hardest to accurately press. If you're struggling to pull off chords or licks on a full-sized guitar, simply place a capo on the 4th or 5th fret, and you'll play on narrower frets. But you may need to drop your tuning a bit.
Try Playing In Dropped Tunings
Speaking of which, dropped tunings are perfect for guitarists with small hands. In case you don't know what drop tuning is, it's a type of tuning that "drops" the lowest string a full semitone relative to the standard pitch.
For instance, in Drop D all the other strings are the same (A, D, G, B, E) while the low E string is dropped to D.
This way, you won't have to use your index and ring finger to pull off power chords. Since the low E is now D, you can "bar chord" your way through power chords with just one finger.
All Standard tuning types have their dropped counterparts (Drop C, Drop A, etc.), all of which revolve around the same principles.
In case you dislike dropped tunings, it should be noted that lowering the entire tuning will also lower your guitar's action.
One of the best ways to combine some of the benefits discussed in the sections above is to lower your tuning two steps (to lower the action) and then use a capo on the 4th fret.
This way, you'll get the same notes as if you were in Standard E, and your strings will be much easier to fret.
Playing Guitar With Short Fingers: Final Thoughts
You can play guitar with small hands and short fingers. I do it. Yes, it can be a bit more challenging than if you had larger hands, and especially longer, yet slender, fingers.
But there are a number of tricks you can use to make things easier. And you can certainly become an exceptional guitarist, even with small hands. Small handed masters like Prince, Angus Young, Nancy Wilson, and Paul Simon are proof of that.