What do you do before walking into a used car dealership?
Hopefully, you do a bit of research, so you know what the type of car you want should cost.
It's the same when making any other larger purchase, like an acoustic guitar.
You want to have a good idea what you can expect to pay.
So how much is an acoustic guitar?
That depends very much on the level of quality you are looking for.
Keep reading to learn which quality level to avoid, and which is best for beginners. Of course, we will also cover what you can expect to pay and give you a few great models to look at as examples.
How Much Is An Acoustic Guitar?
An acoustic guitar can cost anywhere between $20 and several thousand dollars. The cheapest ones are made by unknown brands (which often sell a lot of other unrelated products), while the most expensive models come from established companies, such as Gibson, Martin, Yamaha, or Taylor.
The price of an acoustic guitar generally reflects its quality and build. Inexpensive instruments are usually made of cheap tonewoods and with basic techniques, while better ones feature exotic, rare woods and are either made in top-tier factories or by hand.
It's quite normal for new guitarists to be completely unfamiliar with the market prices and offerings. Even though it's easier than ever to find lists of thousands of models and compare their price tags, this abundance of information is hard to digest
Unless you know the basics, you'll probably be a bit confused about what to look for. Before getting into how much acoustic guitars cost at different price levels, we'll begin by describing what an "average" acoustic guitar is, so that we can use this average as a comparison with other alternatives.
How Much Does An Average Acoustic Guitar Cost?
The "average" acoustic guitar costs around $150 to $300 and is a functional instrument that doesn't excel in anything. If you line up 10 of these guitars, you'd have a hard time telling them apart visually or sonically.
However, what sets them apart from rock-bottom cheap acoustic or classical guitar models is that they stay in tune for more than a few hours. You also you won't have dead frets after a month or two, the action isn't set too high, and they rarely need extra setup in order to use them out of the box.
In general, the "average" guitar is a good choice for a beginner. They can come in a variety of acoustic guitar sizes and shapes, but what they have in common is that they are better than the cheaper entry-level alternative, because they don't have all the fatal flaws I just mentioned.
Poor playability, obnoxious de-tuning, and fret buzz are some of the main attributes of cheap guitars that are so frustrating they do not make the ultra-low price tags worth it, unless you're on a severely constrained budget and simply can't afford anything more.
Cheap Acoustic Guitars ($50 – $100)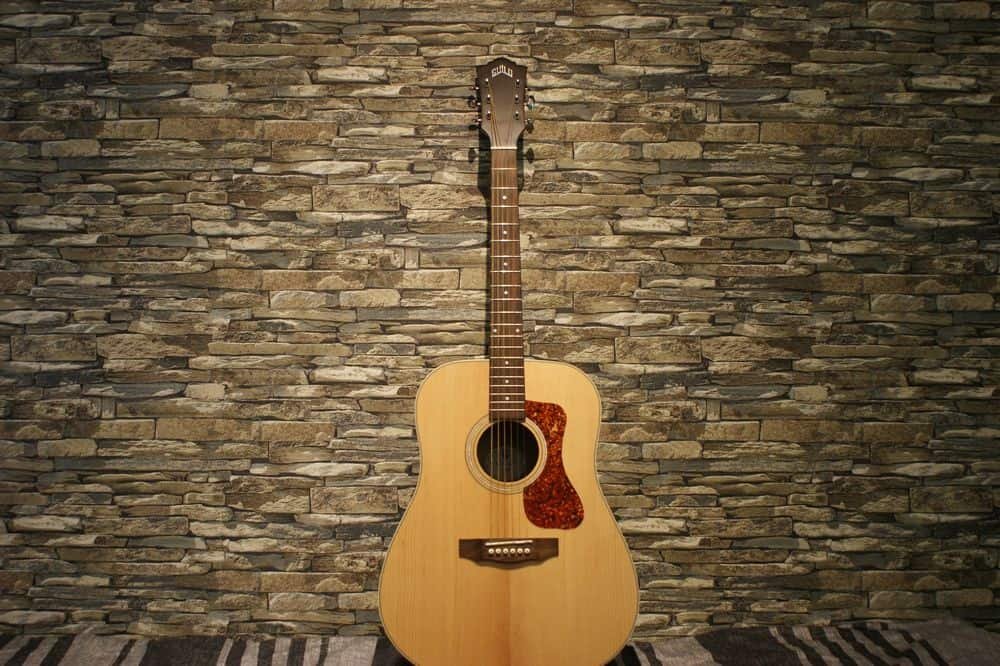 Low-cost acoustic guitars are often mass-produced as training tools and meant to help new players become familiar with the instrument.
You probably won't fall in love with music with one of these guitars in your hand, but you'll be able to learn chords and scales, as well as play cover songs (or even compose your own), without investing too much money.
The first thing you'll probably notice when you begin your search is that cheap guitars are often bundled with other guitar accessories like gig bags, capos, extra strings, picks, cleaning cloth, and tuners.
All of these items bundled together make up the final price, making them a bit more valuable. They do this, because the brand can't exactly use the quality of the instrument itself as a selling point, so they use all the extras you get instead.
Do you need those things? Most are useful to have, but they are not absolutely necessary. Even guitar picks aren't necessary, but you'll definitely want them, unless you only plan to play fingerstyle. No guitar pick alternatives cut the mustard.
Mid-priced Acoustic Guitars ($100 – $300)
With at least $100 in your pocket, you could find a decently good acoustic guitar that offers levels of durability, playability, and versatility that dwarf the performance of their low-cost counterparts.
For example, Jasmine's S35 is the ideal acoustic guitar to could cater to the needs of both immediate beginners and somewhat experienced guitar players.
Made of Eastern Mahogany and Spruce, it feels right, is sturdy enough to take a beating, and sounds fairly warm. Even though it can't compare to boutique guitars, the S35 has a distinctly strong sound that is almost good enough to be used on a record.
Many mid-priced acoustics are similar to this example, offering good tonewoods and hardware. They often even boast a simplistic finish to boost the guitar's aesthetics.
This price range also includes some amazing gems from the best acoustic guitar brands that are purposefully made simpler for newcomers, such as Epiphone's Starling, Yamaha's F335 or FG800, or Gretsch's G9500.
High-Tier Acoustic Guitars ($300 – $700)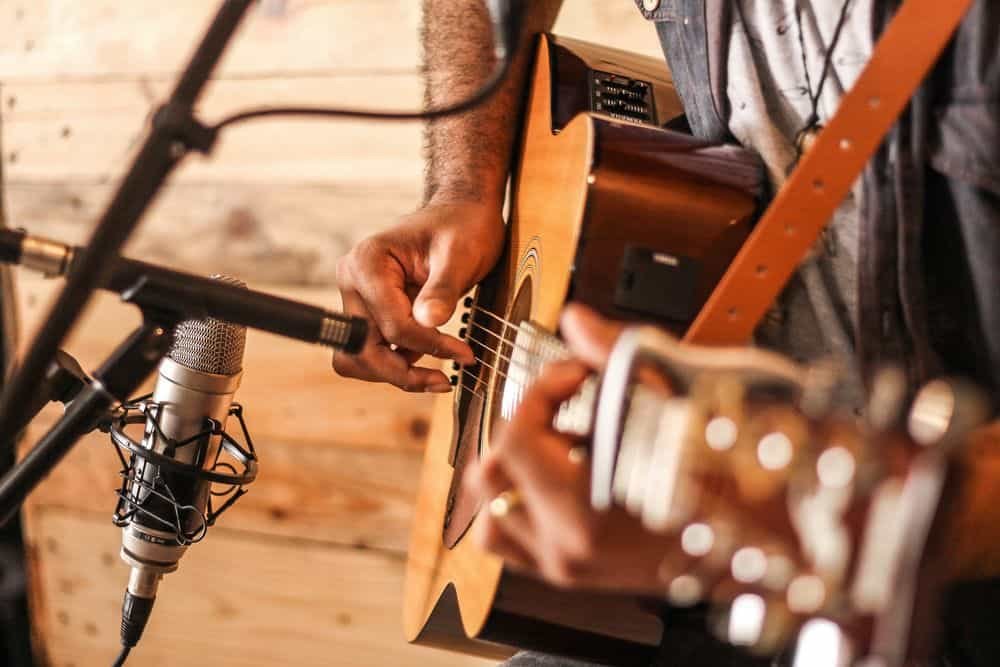 If a guitar costs as much as a 3-day vacation, you can be sure it's worth the money. High-tier acoustic guitars are gig, road, and studio-worthy instruments that are in a league of their own when it comes to sound, looks, and playability.
The first thing that sets these acoustic guitar types apart from cheaper alternatives is that they are often supplied with fine, sleek necks and fretboards. Even if you only have a couple of months of experience, you'll be able to tell the difference by simply holding one in your hands.
Sliding becomes effortless, tapping is much easier, and playing one feels as if you are suddenly more skilled than before.
This is not just my subjective take on high-tier acoustic guitars. They are equipped with better strings (although you can always replace them, even on low-cost models), feature more advanced neck setups, have more ergonomic designs, and most importantly, they sound incomparably better because they're made using superb tonewoods.
The first quality acoustic guitar I ever bought was Takamine's GD51CE, which is an all-Rosewood acoustic with a mahogany neck and a spruce top.
With a convenient cutout giving access to the higher frets and a velvety fretboard, I could barely feel a difference between soloing on it and soloing on my electric B.C. Rich.
Boutique & Vintage Acoustic Guitars ($1,000+)
Boutique guitars are the cream of the crop. They are often custom-made instruments designed to give the player the means to sound unique.
Typically used in recording studios, these guitars are usually made of the finest tonewoods available on the market, such as Spanish cedar, Zebrawood, premium sapele, or Bubinga.
It's also fairly common for high-profile brands such as Taylor or Godin to use relatively normal tonewoods, but to use cutting-edge technology, and even to assemble these guitars by hand.
Many of these guitars are made after custom specifications, often to match the sonic preferences of the brand's endorsed artist.
The main differences between boutique guitars and cheaper acoustic instruments revolve around sonic qualities.
The former offers unrivaled sustain, response, perfect intonation, and a broad palette of sonic colors to choose from. They are well-rounded instruments that professionals use when they are making the songs we love.
How Much Do Acoustic Guitars Cost: Final Thoughts
Now that you have a good idea what an acoustic guitar should cost at various price levels, you will be able to visit a guitar store with more confidence. You should also have a good idea of which price level is right for you.
As mentioned, the cheapest acoustic guitars are generally not worth buying, unless you simply don't have the budget for anything more. If you want a decent quality guitar, you will have to pay at least $100, and probably $150 to $200.