Are you looking to buy an acoustic guitar?
Or are you simply curious about the differences between various types?
Either way, you have undoubtedly noticed many different acoustic guitar sizes and shapes.
Figuring out the differences is not always easy.
That's what we are going to help you with today.
Keep reading for a brief rundown of the various styles of acoustic guitars.
Hopefully this will help you understand the differences and figure out which size and shape of acoustic guitar is best for you.
Acoustic Guitar Sizes And Shapes Explained
Steel-string acoustic guitars come in different sizes and shapes, which were standardized by some of the historical brands. These were initially loosely used as model names.
It mostly comes down to body dimensions but can also be about scale length or other features. Each acoustic guitar has its own name, and they differ in feel and sound.
Acoustic guitars aren't as simple as you may think. There is a lot more to it, apart from simply dividing them into nylon-string classical and Western-style steel-string guitars (see our comparison of classical and acoustic guitars for more on the differences).
In our discussion of acoustic guitar shapes, sizes, and styles, we are going to be talking about steel-string guitars.
As mentioned, all of the various body shapes and sizes have their own names. They were standardized by old companies, namely Martin, a top acoustic guitar brand even today , and were initially loosely used as model names.
That said, back in the 19th and early 20th centuries, the concept of a model was a little different.
These days, designated body styles or shapes are used for a variety of models. It's a simple way of categorizing guitars and knowing what to expect from a certain model, including their playability and tone.
This guide is also not definitive. There are some variations in the way people tend to categorize acoustic guitars. But we're going to cover what it is roughly about.
Acoustic Guitar Body Sizes And Shapes
The following are the common sizes and shapes of acoustic guitars. As mentioned, some people do categorize them differently, but we are going to follow the most common categorizations.
Parlour
If we don't count the modern travel-sized guitars, Parlour are the smallest of the different acoustic guitar types. They guitars have bodies that seem somewhat elongated. Although they are not considered travel guitars, they were once used as such.
The shape, which goes back to the 19th century, is about 8 and 15/16 inches wide in the lower bout, while the length is around 14 inches. The body depth is usually around 4 inches, but these dimensions vary.
Due to their smaller size, these guitars are somewhat quieter and thinner-sounding. That is where they get the name "parlour" or "parlor." They were commonly used for smaller performances.
o
The 0 style goes back to the 1850s and was introduced by Martin. They're relatively small but noticeably larger than Parlour guitars.
The width is usually 13.5 inches, they're over 4 inches deep, and the length of the body is just over 19 inches. Their sound is just slightly thicker and louder than Parlour models.
oo or Grand Concert
Although first introduced in the 1870s, the 00 shape is already more in the vein of contemporary acoustic guitars. Also known as the "Grand Concert," these instruments have bodies that are about 19.6 inches long and just over 14 inches wide at the lower bout. The depth is usually slightly larger than with 0-style guitars.
ooo
000 bears a similar shape as 0 and 00 but takes the size one step further. Introduced by Martin in the early 1900s, this acoustic guitar shape measures 15 inches across the lower bout with a depth of 4.1 inches and a length of about 19.3 inches.
The scale length of these guitars is 24.9 inches. These dimensions result it not only a louder, but also a deeper and more resonant tone than the previously mentioned smaller models.
OM

The OM guitar style is very similar to the 000 and is based on it. The most important difference here is that it has a longer scale length of 25.4 inches. But other than that, the body dimensions are roughly the same or almost identical.
There is also a so-called "Grand Concert" guitar, which was made by Taylor. These are also very similar to both the 000 and OM models.
But no matter the variant, all three of these are often considered to be the "ultimate" acoustic guitar shapes. They offer pretty decent volume and resonance and allow versatility in use, be it rhythm or lead playing or anything in between.
But they're mostly popular among rhythm players who are playing in ensembles and acoustic bands. Guitars are usually much quieter than many other instruments, like violins, wind instruments, and percussion. OM, 000, or Grand Concert models are pretty useful in these settings.
Dreadnought
The Dreadnought acoustic guitar style has become increasingly popular over the years, but it goes back to the first half of the 20th century. Although Martin is considered to be the first to offer this shape, there were some examples as old as 1912.
The main difference with Dreadnought guitars isn't just in dimensions, but in the shape. The earliest examples were a little different, but this model eventually became known for its sloped shoulders and a more "even" shape. The lower bout goes more evenly into the upper bout, giving it a different look and a waist that's not as pronounced.
There are two main versions. The usual one features a body that meets the neck at around the 14th fret, which is the case with most acoustic guitars. The other one meets it at the 12th fret.
The dimensions are similar between these two. The body is just under 21 inches long, about 15.6 inches wide at the lower bout, and around 4.75 inches deep.
Their overall design gives them pronounced and powerful bass, along with clear high-ends, which sums up in a slightly "scooped" kind of tone. A good example of this style is the Yamaha F335 acoustic guitar.
Grand Auditorium
The Grand Auditorium shape is a relatively new one. It was introduced in the mid-1990s by Taylor and is, in a way, a modification of the dreadnought.
However, the waist is more pronounced, and the body is relatively smaller overall. This gives is a "honkier" sound compared to dreadnoughts, with pronounced mids. In general, it is a versatile guitar with a flatter response than usual.
Jumbo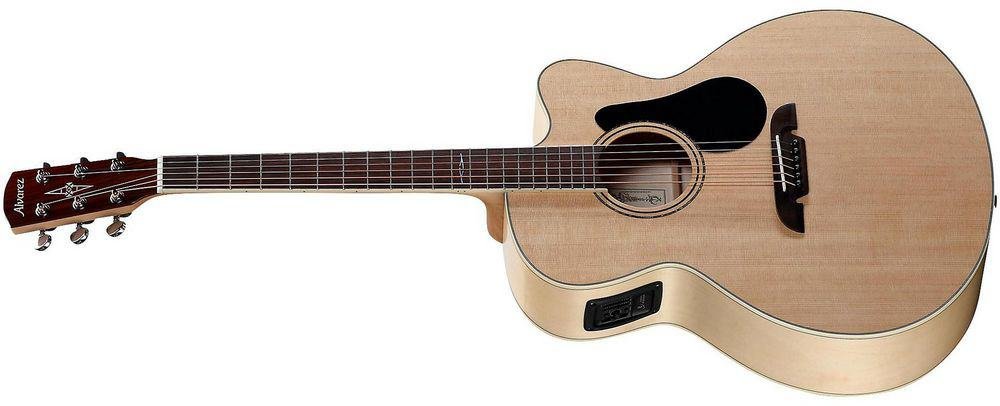 This is another acoustic guitar shape popularized by Martin in the first half of the 20th century. The Jumbo shape, as its name suggests, has a noticeably larger body than most other acoustic guitars.
The lower bout is about 22.25 inches wide, and the body is almost 5 inches deep. This makes them perfect for any setting where you need more volume, which is usually when playing with acoustic-based bands.
Acoustic Body Shapes And Sizes: Final Thoughts
The names of acoustic guitar sizes and shapes, as well as the way they are categorized, are not completely standardized. There are a number of different ways that people distinguish between different types of acoustic guitars, but the classifications above are the most common.