Yamaha has a reputation for making affordable instruments that outperform their price.
Basically, they make some of the best value options on the market.
And acoustic guitars are no exception.
The Yamaha F335 acoustic guitar is easily the best value available for beginning guitarists.
What makes it so good?
A number of things. But it also has some drawbacks. That should be obvious, given the price.
Keep reading this Yamaha F335 review to learn all about this guitar. By the end, you should have a clear idea if this is the acoustic guitar for you.
Yamaha F335 Acoustic Guitar Review
We'll begin our review of the Yamaha F335 acoustic guitar by taking a closer look at the main features of this instrument. Then we'll cover the pros and cons, before comparing it to another famous entry-level guitar model.
Overview And Features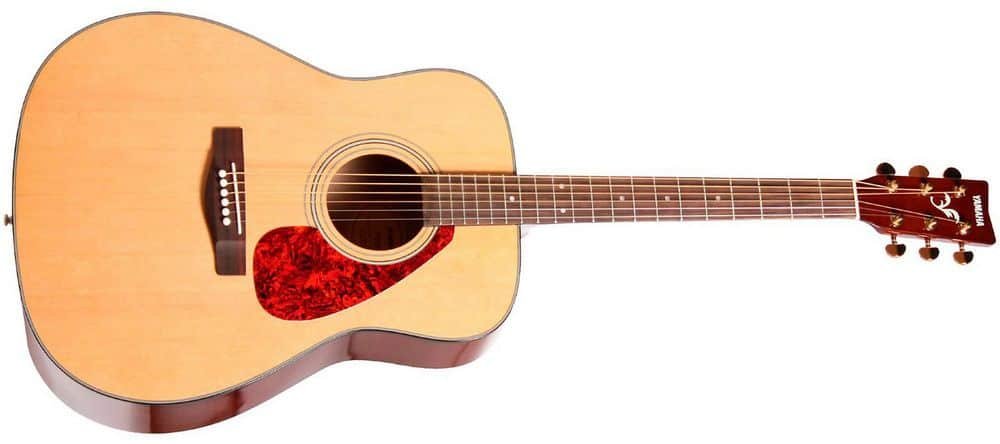 Yamaha has set out to make great instruments and that reputation extends to this collection of guitars. But just because they've done good things in the past, that doesn't mean everything they do is perfect, right?
To find out, we've taken a closer look at the F335. You'll learn about the most stand-out features of this guitar, as well as some negative aspects. Let us begin.
Key Features
Body Style: dreadnought
Top: laminated spruce
Back: meranti
Sides: meranti
Fingerboard: rosewood
Bridge: rosewood
No. of frets: 20, 14 free
Pickguard: tortoiseshell
Finish: gloss
Tuners: gold, die-cast
Price
The most attractive aspect of this guitar will probably be its price. Although there are certainly cheaper guitars on the market, they are probably not products you will want to use.
The price of the Yamaha F335 is the lowest you can expected for a guitar of this level. The great price makes it an attractive option for both beginners, and those looking for a pocket-friendly deal.
Aesthetics
Another nice feature that you get here is that the guitar looks good. With a Dreadnought acoustic guitar shape and an all-laminated design, this instument has a classic look that players of all levels will appreciate.
The design offers all the aesthetic benefits of a hardtop guitar, but without the high cost that is usually associated with hardtops.
Unfortunately, the similarities between it and a hard top are purely cosmetic. This instrument has all the limitations of a laminate, which we will talk about later.
The most beautiful element of this guitar is probably the rosewood neck. This is noteworthy because most guitars don't use a material like rosewood. Rosewood is a beautiful hardwood that usually lasts a long time.
Of course, a bit of Rosewood in the neck doesn't make up for a mostly laminated construction. Even so, it is a small consolation that also improves the life of the guitar.
Last but not least, you also have three color options to choose from with this model. First, you have the traditional finish. This is the look that truly embodies the quintessence of the acoustic guitar.
However, if you want to go a bit more stylish, there are also options for that. The F335 also has a black finish and a tobacco sunburst finish. Both are more visually appealing to some users. Three options is not as extensive as some guitar lines, but it is better than none at all.
Issues
For the most part, we found the problems associated with this guitar to be quite common. This is especially true when you consider the price. That being said, the guitar still sounds great considering its build and price.
There were a few things that we didn't like. The biggest problem are the materials from which it is made. Most of the guitar is made of laminate. This means that it will have a relatively thin sound profile.
This also means there will be some durability issues. Laminate is very susceptible to scratching. Of course, that is just a cosmetic issue that does not affect the way you play the guitar.
However, we have also found that it is prone to cracking. If you come across a crack, it will obviously have a huge impact on how you play the instrument.
These are, of course, problems you'll encounter with almost any guitar made from laminate. Hard top guitars sound much better. They also cost quite a bit more. But if you are careful and take good care of the F335, you won't have any problems with damage for a long time.
Another thing we could mention concerns the neck and fingerboard. Although the wood is very good, we found them very narrow for an acoustic guitar. Narrow necks are common on electric guitars, but not so much on acoustic ones.
This will not have a massive impact on the performance of the guitar, but it can be a bit confusing for people who are used to a more conventional setup. Those who mainly play an electric guitar will love the Yamaha F335 though.
Other than that, it's a good guitar that most beginners will appreciate. Many intermediate players will find it perfectly adequate as well.
Advantages And Disadvantages
Pros
Arguably the best entry level guitar
Attractive design
Rosewood neck
Multiple color options
Affordable price
Cons
Not very sturdy
Sound quality is not of the highest level
Yamaha F335 Vs Larrivée D-40
The D-40 is a revolutionary new guitar from Larrivée. This new model features Jean Larrivée's first new booster model in over 46 years.
The new "Hybrid Parabolic Boom" seamlessly fuses the punch, tonal balance, and clarity of Larrivée bracing, with the bass response, depth, and volume expected from a Dreadnought.
Made in the USA, the D-40 comes standard with an exceptional feature set similar to instruments from Yamaha, including the F335 model. The D-40 has a solid African ebony fingerboard and bridge, one-piece mahogany neck, and Canadian maple binding with checkerboard inlays.
Key Features
Top: solid Canadian Sitka spruce
Back and Sides: solid mahogany
Neck: one piece of mahogany
Fingerboard: African ebony
Bridge: African ebony
Body: rounded shape with the mother-of-pearl logo
Binding: Canadian maple
Pickguard: traditional tortoise type larrivée
Tuning Machines: grover 18:1 open back ratio
Bridge Pins: bone
Finish: durable acrylic satin
Which One To Buy
In terms of build quality, the Larrivée D40 is made of much better materials. Naturally, the price of this guitar is much, much higher than that of the Yamaha F335.
But in terms of sound quality, surprisingly, there is little difference. While costing around $1200 less, the Yamaha F335 produces sounds of almost identical quality, making it a much better buy overall.
Yamaha F335 Review: Conclusion And Rating
So there you have it! Is the Yamaha F335 acoustic guitar perfect? No, not quite, but it certainly gets a lot of things right. The biggest selling point will probably be the price. It is a quality instrument at a very reasonable price.
It looks good, it plays good and it's a great way for people to get good at the guitar. Experienced users may want to look for something with a richer sound profile. Other than that, it's a really great guitar at a very fair price.
Due to the amazing value, this acoustic guitar earns a Musicaroo rating of 4.8 out of 5.