An acoustic guitar is not just an acoustic guitar.
There are actually many different types of acoustic guitars.
And they can vary a lot.
Worse, there is no real standard for categorization.
So we will break them down in two different ways: by use and by shape and size.
And we will do so using the most common categorizations. But there are other ways do to it, too.
Keep reading for a breakdown and explanation of the various types of acoustic guitars, done in two different ways. You'll see why that makes sense in a minute.
Different Types Of Acoustic Guitars
As mentioned, we can break down the various types of acoustic guitars in several ways. We'll start by categorizing them by use. Below, we'll also break them down by body shape.
Guitar Types According To Use
When you break the types of acoustic guitars down by their use, you get XX different categories:
Classical Guitars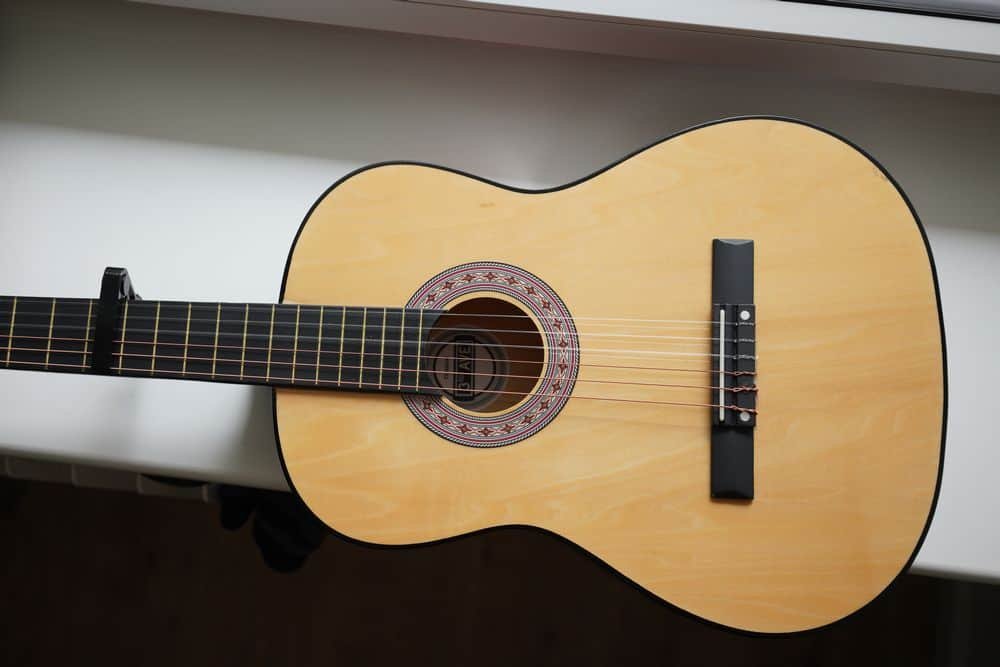 What we know as classical guitars today are standardized old designs from the 19th century, made especially for classical music. These guitars have relatively large bodies and almost identical body shapes.
Most importantly, they're nylon-string instruments. But before the development of nylon, they used so-called "catgut" strings that were fashioned from sheep or horse intestines. The tone of these guitars is soft and not as loud. They are mostly intended for classical solo performers.
Steel-String Or "Western-Style" Guitars
The conventional modern steel-string acoustic guitar traces its roots to the late 19th and early 20th century. They vary a lot in terms of shape and size, but are incredibly widespread in a variety of genres.
Their use isn't nearly as limited as classical guitars, and you can hear them in anything from country to pop and even heavy metal. Their tone also varies, depending on materials and body shapes.
Non-Classical Nylon-String Guitars
Not all nylon-stringed guitars are classical guitars. There are a variety of models with nylon strings that are oriented towards modern music. Their bodies feature completely different designs and aren't at all used by conventional classical guitarists.
There is also a lot of variety in this category. For instance, there are specialized guitars for flamenco, gypsy jazz to some extent, and even some electro-acoustic models.
Electro Acoustic Guitars
Speaking of which, electro-acoustic guitars are simply acoustic guitars with integrated electronics. In almost all cases, this is a piezo pickup with an active preamp.
These could be nylon-string or steel-string guitars. In some cases, we also have so-called "thinline" models with noticeably thinner bodies.
There are also so-called "silent" guitars. These are based on a solid-body design and come with piezo pickups. The tone they produce really resembles conventional acoustic guitars, so you could place them within this category.
Archtop Acoustic Guitars
Most acoustic guitars have a flat soundboard. For this reason, they are referred to as "flat top" guitars. These arched top models have a somewhat violin-like look, especially with the accompanying F-style soundholes.
They're far from common these days, but there are still some options on the market. For the most part, they are manufactured by specialized builders and smaller companies. Their components are also often unconventional. You can usually find stuff like trapeze tailpieces.
Resonator Guitars
The so-called "resonator" guitars are a very specific type of instrument. Their initial design came from the need for more volume, before guitar amplification was even a thing. However, they still remain in use due to their very specific tone.
There are a few different types of acoustic resonator guitars. The primary difference is the body material: there are wooden-bodied and metal-bodied versions.
Other than the material, they can also differ in form, like squared-necked that you play like lap steel guitars, or regular round-necked resonators that you play conventionally.
Most importantly, all of these guitars have metal cones that serve as resonators on which the instrument's bridge rests. There are a few variants of resonator cone designs, but their purpose is the same — physical amplification of your guitar's sound.
Wooden-bodied resonator guitars are sometimes referred to as "dobro." This is due to an old brand called Dobro that manufactured these guitars in the first half of the 20th century.
Guitar Types According To Body Shape
Body shape is probably the most important categorization. Of course, there's a lot of overlap here, since a guitar of a certain shape can also fall into another one of the categories that we mentioned above.
But when it comes to conventional steel-string acoustic guitars, the main categorization happens with the shape and size of the body, along with some other features, like the scale length.
The classification, however, is somewhat loose. While there are some common names for different body styles, it's not a super-strict and standardized classification.
Additionally, most of these body style names were initially defined by old and famous acoustic guitar brands, like Martin, which loosely used them as model names in the early 20th century.
Some of the most common guitar designs are:
Dreadnought
Parlour or Parlor
Jumbo
0
00
000
Grand Auditorium
Grand Concert
Of course, there are many other ways to classify them according to the design, but these are the most common classifications.
Other Acoustic Guitar Types
In addition to the types of acoustic guitars already discussed, there are also a few other types that are quite specialized. Mainly, we are talking about smaller or lighter instruments, like travel guitars and student guitars.
Travel Guitars
A travel guitar is any acoustic guitar with a compact design that takes up the least possible amount of space. They come in different forms, and it's a somewhat loose category. The bodies are usually entirely different. In some cases, they have shorter scale lengths as well.
In recent years, they've been becoming more popular, just like their electric counterparts. So much so that there are perfectly functional designs with detachable necks, making them much easier to handle for traveling.
Body shapes are often significantly adjusted. In some instances, these acoustic guitars come without the usual resonating chamber body design. They just have a flat solid body, giving them a design that's similar to the "silent guitar" concept.
Student Guitars
What people often refer to as "student" guitars are actually just instruments of smaller size. This means both the body and the neck size, with a significantly shorter scale length. An alternative term is also "short-scale" guitars, or, in some cases, ¾ or ½ guitars.
These are usually budget-friendly guitars that are designed for younger players or anyone who prefers smaller-sized instruments.
Acoustic Guitars Made Out Of Alternative Materials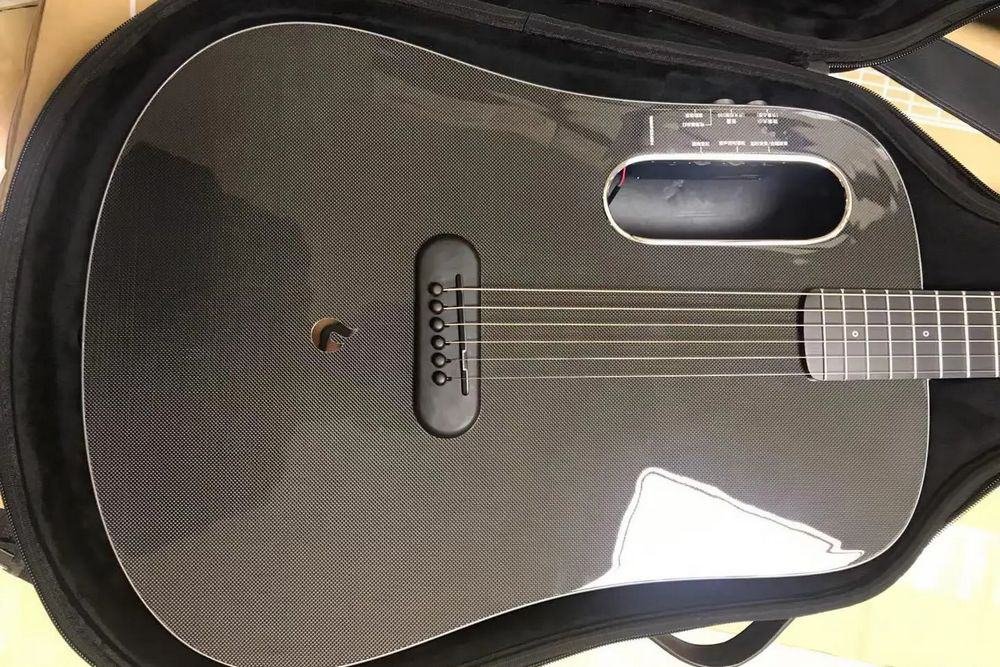 Another important category that's becoming popular is guitars made from alternative materials. Instead of using the usual tonewood, some manufacturers also make acoustic guitars from carbon fiber.
The famous brand Ovation also uses their patented material Lyrachord, similar to fiberglass, for the rounded backs of their instruments.
Types Of Acoustic Guitars: Final Thoughts
As you can see, there are quite a few different types of acoustic guitars available and no real standard for classifying them. That is why we first divided them by their use, which is generally the easiest way to distinguish among the different types.
But we also wanted to classify them by size and shape. While there is no standard here either, it is somewhat common to use old brand designations to group the various guitar types.