You might not even know what they are.
You may have even picked up and played around on an acoustic guitar and not paid them any attention.
Unless you own an acoustic guitar and have had to put new strings on it, there's a good chance you've never even noticed them.
They are the bridge pins.
Electric guitars and classic guitars don't have them. But on acoustic guitars, the bridge pins perform a vital function. The bridge pins may also have an impact on the sound of your guitar.
Let's take a closer look and find out what exactly they are, what they do, and what effect different types of bridge pins can have on the tone of your instrument.
Do Bridge Pins Make A Difference?
Bridge pins are used to hold down the strings on steel-string acoustic guitars and keep them in place. This can have an impact on the tone depending on the bridge pins' properties.
Although they are not vitally important in the whole tone-shaping process, they are in contact with the strings and can have some impact on the audible frequency spectrum, especially in the higher end. They can also impact the overall volume and sustain.
Background
Regular steel-string (or Western-style) acoustic guitars come with bridge pins that hold down the strings on their ball-ends in the bridge. While they are a small component, you can't really play any standard acoustic guitar of any size or shape without them.
Of course, that brings up the obvious question: do bridge pins affect the sonic output of steel-string acoustic guitars? But before we get into that, let's first explore what bridge pins actually are along with some of their properties and variants.
We can divide bridge pins according to the material that they're made from. The most common materials include bone, ebony, rosewood, brass, and plastic. Less common materials are ivory, buffalo horns, walrus jawbone, or some other "unconventional" synthetic ones like zirconium alloy.
Almost all bridge pins today have a "flute" or a channel on one side. This is where the string fits inside the pin. It should be turned towards the sound hole.
When pushing the string on the ball-end down the bridge, it curves down over the bridge's saddle and is safely secured in this position. Of course, if the pin is not pushed properly down the individual hole in the bridge, the string and the pin can slip from their place. In some cases, the pin can jump out and get launched out of its hole in the bridge.
Danger Of Worn-Out Bridge Pins
Everything wears out, including bridge pins. How long they last depend in large part on the material
Despite their small size worn-out bridge pins can cause some trouble. If the bridge pin breaks, or if it just wore out over time, the string may lay deeper in the bridge plate and cause it to break. In some extreme cases, this can cause even more serious damage to your instrument's construction, including the bracing and the body.
It's also not that uncommon to have a bridge pin stuck inside the bridge. Most often, all you need to do is to loosen the string in question and push it further in the hole. After that, the pin will loosen up and you'll be able to pull it out.
If this method doesn't work, you can loosen the strings, put your hand through the instrument's sound hole, and push the pin from the inside of the guitar.
How Bridge Pins Make A Difference In Sound
Depending on the material they're made from, bridge pins can affect the sound of your acoustic guitar. By holding down the strings, they also transfer vibrations to the bridge and ultimately the instrument's body. In this section, we'll explore how different types of bridge pins can have an impact on your guitar's sonic output, as well as some other aspects of your instrument.
Bone
Bone pins are pretty common with steel-string acoustic guitars. They can be different types of bone, though that won't cause much difference in the final result.
Bone is a cheaper material, but it can add some nice clarity to the tone. They give an accent to the higher end of the spectrum and they can even increase the overall sustain.
This can give provide advantages in the lead sections, or it can serve as a sort of a "treble boost" for mellower-sounding guitars made of mahogany. They're also praised for their looks.
Brass
Bridge pins made of brass, on the other hand, add some presence in the tone, or the higher mids. They're also much heavierthan other types of pins and thus add more mass to the bridge.
This is especially useful for guitars that are bass-heavy. Brass pins generally last longer than any other types of pins, though you need to take care not to damage your instrument with them.
Ivory
Ivory can be a useful material for acoustic guitar bridge pins. Aside from making your instrument look nice, similar to bone pins, ivory pins affect sustain and add some lower mids and basses to the tone. Because they add this "warmth" in the mix, they can be useful for guitars that are lacking in this part of the spectrum, or if you just prefer to have a smoother guitar sound.
Plastic
Plastic bridge pins have little to no impact on your guitar's tone. They're also the cheapest and most available type. On the other hand, they're pretty susceptible to damage and should be replaced more often than other types of pins. They're usually the "stock" pins that come with your typical acoustic guitar.
Wood (Of Various Types)
Pins made from different types of wood can be beneficial to your sustain. They're available in any average music instrument store, but they can be a little expensive. If you decide to go with wooden pins, you'll most likely have to make additional adjustments to your bridge. This might be a little impractical, but it doesn't stop those who are willing to go to further lengths to have a better tone.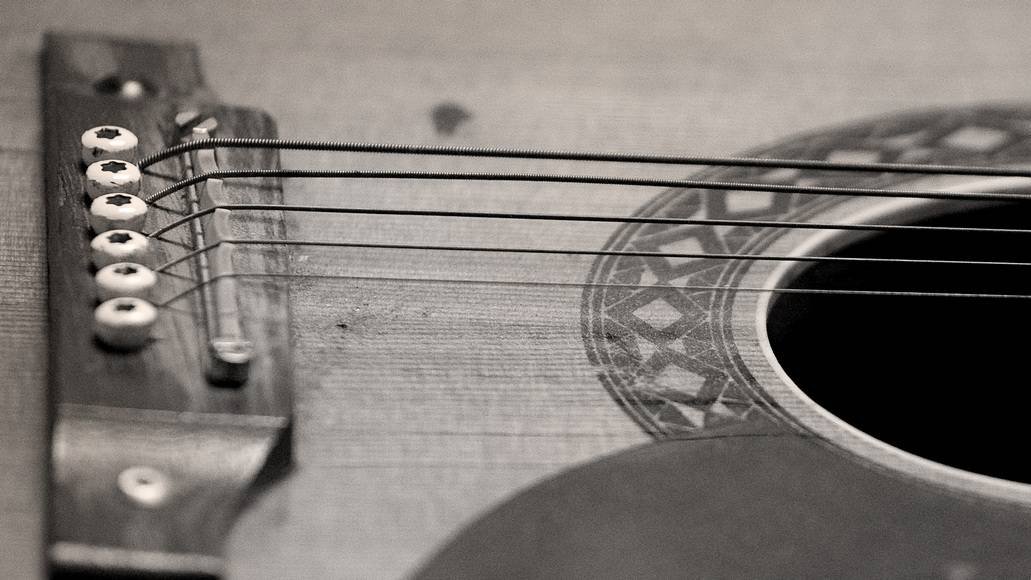 Fossilized Walrus Jawbone
Fossilized walrus jawbone pins are pretty interesting, although they're not nearly as common as other materials mentioned here. Needless to say, they're pretty expensive, but have their own unique way of affecting the tone. Though they can improve your tone, it's questionable whether they're worth the price.
Changing Properties Over Time
But things aren't always that simple. It's not just about how different pins affect the tone when you first get them. The physical properties of different materials can also change in the long-term.
The advantage of harder materials, like bone, ivory, and brass, is that they're not affected by external factors. This means that they retain their properties over time and won't expand or shrink due to temperature or humidity.
If you tend to have issues with extreme temperatures, extreme humidity, extreme aridity, or any combination of temperature and humidity, you'll probably want to go with harder materials as they are more reliable and consistent in the long run. After all, you don't want to have your tone changing over time.
FAQ
How do I stop my bridge pins from popping out?
One of the most common problems for acoustic guitar players, especially beginners, is the popping out of bridge pins. The best way to avoid this issue is prevention, i.e. the proper placing of the string and the pin inside the hole.
The first thing you'll need to do is to put the string in the hole and gently place the pin over it, without yet pushing it all the way in. The second step is to pull the string up slowly until the ball hits the bottom of the pin.
It is only then that you can push the pin all the way down while slightly pulling the string in the opposite direction. In this whole process, it is important that the canal of the pin faces the sound hole. It may be a little tricky to get this right the first time ,but you'll get the hang of it over time.
How do you remove bridge pins without tools?
Stuck bridge pins can be a real nuisance for acoustic guitarists, and it's not uncommon to have this problem. But don't make the common mistake guitar of trying to pull them out by force using pliers or other tools. With such an approach, there's a risk of damaging not only the stuck pin, but also your bridge, or even the guitar's body along with it.
What you should do in the case of a stuck pin is to unwind the string and carefully push it towards the bridge and further down the hole. This way, you'll be able to loosen up the pin and then pull it out.
If this doesn't work, you can unwind all of the strings to clear out the way for the soundhole, put your hand into the body, and slowly and carefully push the pin from the inside of the body. If this method doesn't work either, we'd advise you to consult a professional instead of experimenting on your own. Any wrong moves here drastically increase the risk of serious damage to your instrument.
Bridge Pins: Final Thoughts
You need bridge pins in order for your acoustic guitar to work. But before you go buying any old pins, think about the material they're made from. It does have an effect on the tone your guitar emits. And if it came with bridge pins, but you're unhappy with the sound, don't think twice about replacing them. Many beginning guitars come with cheap pins.