Some people might tell you to just count.
But since you're asking the question in the first place, you're undoubtedly aware that the answer is not quite so simple.
Theoretically, you could count the strings on 5 different guitars and come up with 5 different numbers.
That's because different guitars can have different numbers of strings.
But there is a standard and there are common variants. We'll cover them all below.
How Many Strings Does A Guitar Have?
Most commonly, guitars have 6 strings. That's standard. But 6 is definitely not the only number of strings a guitar can have. It can range from 4 all the way to the ridiculous. Guitar makers continue to innovate and experiment with the number of strings on guitars.
We say ridiculous, because guitar designers have brought some insane stretches of the imagination to life. For example, YouTuber Jared Dines had an 18-sting guitar. And even he was two-upped by another YouTuber, Stevie T, who boasted a 20-string behemoth.
You can watch the two of them battle it out for the "most metal" on their crazy guitars in the video below.
Most Common Number Of Strings On A Guitar
As mentioned, the most common number of strings is 6.
But why?
As a result of evolution. The guitar as we know it today is not the guitar that first graced audiences' ears.
Historians believe the first guitar was played in Spain in the 1500s. It most likely had 4 strings. As it got more and more popular, people wanted more out of it – they wanted more notes.
A 5th string was added. Eventually, the need for an even more expanded range saw the addition of the 6th string in the 1700s. And, for the most part, people seem to be happy with 6 strings.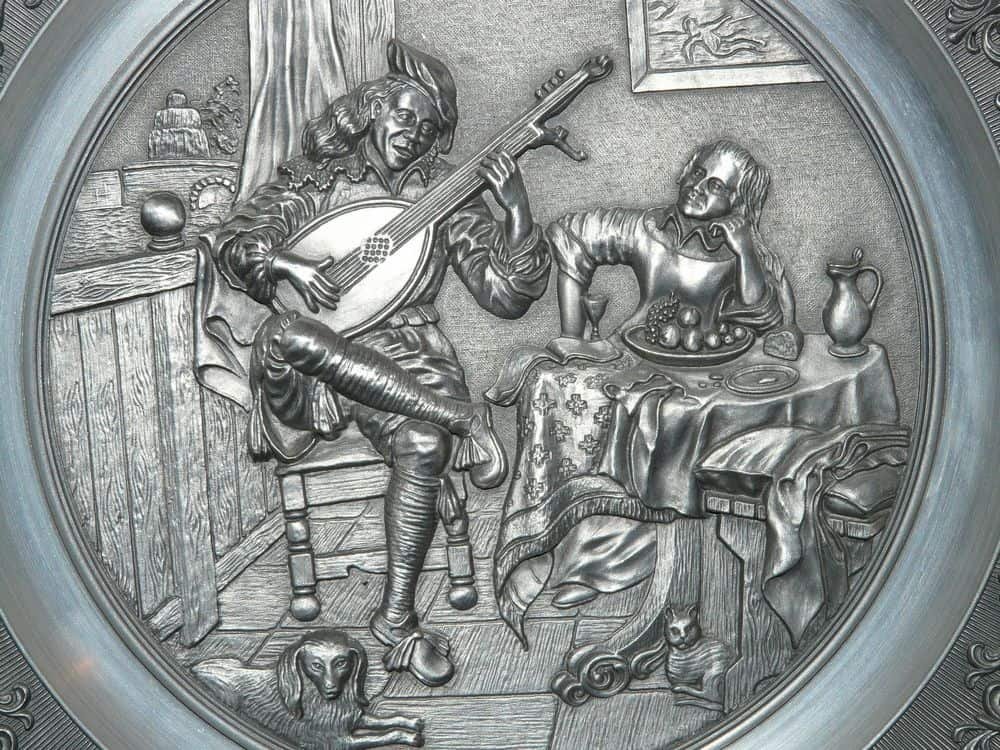 Six string guitars have a large enough range and make it pretty easy to play the many common chords (around 100 in total) quite comfortably. When tuned in standard tuning, the 6 strings are tuned to E A D G B E.
And just like the progression in guitar playing saw the advent of the 6th string, so has it giving birth to the many other types of guitars that exist today – guitars with many different numbers of strings.
Other Common Numbers Of Strings
The most well known variant is probably the 12-string guitar. If you haven't seen one, these guitars basically have two sets of 6 strings. The first set of strings are the standard gauges (or thicknesses). The second set is a much thinner gauge.
And that's because of the tuning. With the standard tuning, the top 4 strings (E A D G) of the second, thinner set are tuned to standard, but an octave higher than the first set. The bottom two strings (B and E) are the same gauges for both sets, so they're tuned to the same octave as each other.
While the 12-string guitar gives you a higher pitched edge over the standard 6 string, the 4 string bass guitar (arguably the second most common after the standard 6 string) rumbles in with the low end.
Built with longer scales to accommodate the hefty, meaty strings, bass guitars fill the space at the lower end of the spectrum. In standard tuning, they're tuned to E A D G.
But just like guitars, 4 isn't the only number of strings that basses come with. Danny Hauser, bassist of progressive metal band Veil of Maya, uses a 7-string.
There are also 12-string options out there that are built very similarly to 12-string guitars. The difference is that each of the 4 standard bass strings have an extra 2 strings that accompany it, rather than an extra 1. You can see one in action in the following video.
Growing in popularity, are guitars with 7 strings and up. In fact, the first mass-produced 7-string guitar was released in 1990 by Ibanez – the Universal UV7 – which they designed with maestro Steve Vai.
These beasts give the player more range towards the low end – the added strings are thicker, and deeper in pitch than the low E string on standard guitars. In standard tuning, these guitars are tuned like this:
7-string: B (7th string) E A D G B E
8-string: F# (8th string) B E A D G B E
9-string: C# (9th string) F# B E A D G B E
These guitars are often used in metal, as they allow players to really harness the heaviness of the lower tunings. Big proponents of these instruments are bands like Tool, Deftones, Korn, Dream Theater, Periphery, Animals as Leaders, After the Burial and honestly, the list goes on and on.
The reason these guitars can physically hold these extra strings is because they have longer scale lengths than standard guitars. Advances in guitar building have even brought about the invention of multiscale (or fanned fret) guitars that are built exactly as they sound. These instruments have multiple scale lengths. The lower the string, the longer the scale is for that string.
But what about other guitars with longer scale lengths to accommodate a lower standard tuning, like baritone guitars?
Baritone guitars are, by their nature and given away by their name, built for a lower range than standard guitars – the baritone range. The guitars, in their standard tuning (B, or baritone, tuning), are tuned to B E A D F# B.
Notice any similarities between this tuning and that of a 7 string guitar?
The 6th string is tuned to the same tuning as the 7th string on 7 string guitars. Another common baritone guitar tuning is A D G C E A.
Even though the point of baritone guitars is to give you a lower range, much like 7-string-and-up guitars, there are also 7-string baritone guitars. The 7th string on these monstrously low-tuned guitars reaches bass guitar territory – they're tuned to either F# or E (which is literally in bass guitar territory).
Advantages And Disadvantages Of More Or Fewer Strings
One advantage of a 12 string guitar is that it gives you the ability to play octaves of just about every note the guitar offers you. It gives you a fuller sound, and one that kind of imitates the chorus effect.
However, the transition from playing a 6-string to a 12-string might not be the easiest, especially for newer players who haven't quite stretched their fingers enough yet.
The neck is obviously thicker, in order to accommodate the extra set of strings. And by virtue of that, the neck is heavier too, so it might not be as comfortable as a standard 6-string.
But in terms of how you play a 12-string, and not necessarily its actual playability, the transition is relatively simple – in standard tuning, the chord shapes are exactly the same as the ones you'd make to play a 6-string, and its just as easy to answer "Where is middle C on guitar?"
As for 7, 8, or 9-string models, the one obvious advantage of having more strings is that it gives you an increased low range. And because of that, having more strings allows you to open creative doors you just wouldn't be able to with 6-strings.
Another thing that's pretty great, and will help new players, and players who are thinking about transitioning over to the extra-stringed guitars, is that you can play 6-string songs on these guitars too.
And that just progresses with the more strings you have – you can play 7-string songs on 8-string guitars, and so on.
Something that's quite interesting, is whether the size of the neck for these extra-stringed models is a disadvantage or an advantage. It really depends on how comfortable you are with the wider neck.
Some people find that it is actually easier for them to play 7-strings than 6-strings, because the neck on the 6-strings just don't allow them to move around the fretboard very easily – it's simply too skinny.
Other people find that the bigger neck on 7-and-up strings are quite difficult to play, as your fingers have to do a whole lot more stretching to reach the top strings than on a 6-string.
There does seem to be one overarching disadvantage that used to plague these 7-and-up varieties – the lack of hardware. It seems like it was quite difficult to find variety when it came to actual models of guitars and pickups.
However, in the modern era, this has definitely changed, with guitar companies like Ormsby and Mayones building many 7-and-up-string models, and professionals, like the guitarists from the band Periphery, working with companies like Seymour Duncan and Bareknuckle to create pickups specifically for these guitars, in order to get insane tones out of them.
And finally: the bass guitar. These guitars are built for the low end, and they fulfil their role perfectly. It's hard to find disadvantages for these beasts, because they're perfectly adapted for their role.
You would have to look at the particular instrument in question to find disadvantages. Okay, to be fair, basses that have more than 4 strings would definitely take some getting used to. The necks become quite thick and the added strings need to be a heavy gauge.
You would definitely need some practice to feel comfortable playing bass guitars with more than 4 strings. But we will stand by this: if you have issues with bass guitars, it's probably because you're not built to play them, and not because they have an inherent design flaw.
How Many Strings On A Guitar: Final Thoughts
It turns out the answer to our question could be any number between 4 and 20. And who knows, it can probably be even more than 20 someday. For now, the main thing to know is that a standard guitar (be it electric or acoustic) has six strings, a standard bass guitar has 4 and the most common variant of the standard guitar has 12.
And if you are wondering what strings to get, two of the best are D'Addario and Ernie Ball. We did a detailed comparison of D'Addario vs Ernie Ball strings here.