You may have heard the term "baritone guitar", but you're not exactly sure what a baritone guitar is.
How does it differ from a regular guitar?
The word "baritone" suggests it is lower, and that is indeed the case.
But is that the only difference?
And how is the baritone guitar used? Is it used like a bass guitar or more like a regular guitar?
We will answer all those questions and more. But let's begin with the most basic one.
What Is A Baritone Guitar?
The baritone guitar is a guitar built for low tunings. Thanks to their 27 inch or longer scale necks, these guitars are capable of stretching strings enough to allow you to tune them super low.
Baritone guitar tuning generally means either B standard (B-E-A-D-F#-B), appropriately known as the baritone tuning, or A standard (A-D-G-C-E-A), which is even a step lower.
Baritone guitars are extremely useful, versatile instruments, used in a whole assortment of genres. Let's find out a little more about them.
Baritone Guitar Vs Standard
Everything on a standard guitar is built to have its standard tuning as E. Everything on a baritone guitar is built to have its standard tuning as B. So if you think about it like that, there is a lot that's different, but also a lot that's the same.
They've got similar shapes, except for the longer scale on baritone guitars. The scale, for those who are unsure, is the distance from the nut to the bridge, measured in inches.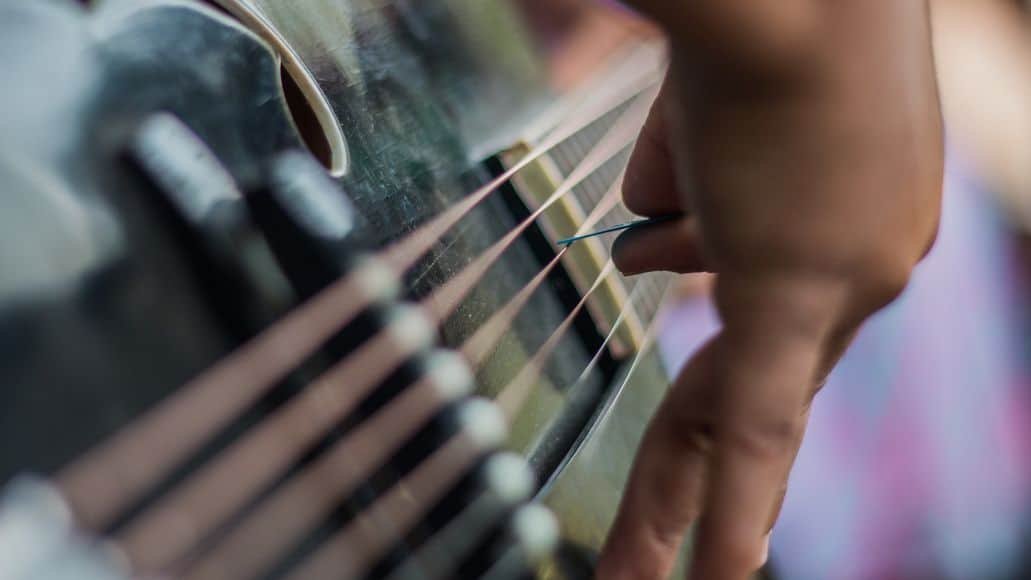 Baritone guitars have scales that range from 27 to 30 inches. Standard guitar scales vary too, depending on the type of guitar. They range from 24 inches to around 25.5.
The longer scale length on baritone guitars allows you to tune your 6 strings to B or A standard – 4 and 5 steps lower than standard E tuning. The extra length means your strings have to stretch further. As a result, they won't become slack when you drop the tuning so low.
If you try tune that low on a standard guitar, your low string won't be taut at all and it will sound horribly muddy. The intonation will also be off, meaning it'll go out of tune and stay that way. The lowest you'd want to go on a regular guitar is drop C.
As a matter of interest, 7-string guitars have a scale of around 26.5 inches. The 7th string on those guitars, when they're in their standard tuning, is B. This gives them the same tuning as baritone guitars, but with an extra high E string.
The sound a baritone guitar produces is very cool and quite unique. It is what they are known for and they produce this sound from the first to the third fret. Chords on the baritone guitar will be lower and darker, if played the same way as on a standard guitar.
You can hear the distinctive baritone sound in the lower notes of the intro riff for Dance, Dance, Dance, by the Beach Boys, one of the most famous songs with baritone guitar in them.
But when you start playing notes from the fourth fret and higher, the tone is quite similar to that of a standard guitar. Of course, the baritone guitar sounds a bit fatter, in comparison to the the standard guitar's brightness.
Advantages And Disadvantages Of Baritone Guitars
The first thing we should mention is not really a disadvantage, but something that you should keep in mind. When using baritone guitars, make sure not to overload the mix with too much low end.
If your mix is made up of a standard guitar, baritone guitar, and bass, you could end up with a muddy mess of low end, with the bass and baritone fighting for the limelight. Not mixed properly, even the smattering of standard guitar thrown in will cause the sound to be abrasive, which isn't really what you want. Unless, of course, you're experimenting and trying to create weird and wonderful sounds.
If they're used appropriately and well, and mixed properly, baritone guitars can offer you a whole different dimension, opening up your playing and style to new, interesting sounds.
Baritones can fill the space between standard guitars and basses, giving your mix a bigger, deeper, moodier sound. We have an entire article on the pros and cons of baritone guitar.
Possibly the biggest advantage of baritone guitars is that they're extremely versatile. From surf rock to country, heavy meal to jazz, the baritone guitar is suited to providing a little bit of panache to just about any genre that uses guitars.
And while you might not personally own a baritone guitar, you'll find that most recording studios have one in their repertoire of axes. If you're in studio, and there's one available to use, try it out. You might find that your sound now has a completely new edge to it that you wouldn't have even thought of incorporating in the past.
Baritone guitars have been introducing new and interesting sounds to music ever since the first electric one was released in the 1950s. And speaking of…
History Of Baritone Guitars And Guitarists Who Used Them
It is speculated that the first baritone string instruments came about 1700s. The baritone guitar as it is known today was likely inspired by the guitarrón, that huge, 6-string, bassy guitar used in mariachi bands.
But they didn't stop at the baritone acoustic guitar. In 1956, guitar manufacturing company Danelectro released the first electric baritone guitar. And while it wasn't an immediate hit it did eventually catch on a bit and become more popular. But it never reached the heights that its shorter-scaled cousin has.
But that's not to say it isn't, or hasn't ever been, well-liked.
When it was introduced in the 1950s, it became a crucial part of Duane Eddy's rockabilly arsenal. It featured prominently on his album, The Twang's the Thang, which he released in 1960.
And later, as we saw above, the Beach Boys' guitarist Brian Wilson made great use of the baritone guitar, and is probably responsible for its increased use in Californian surf rock.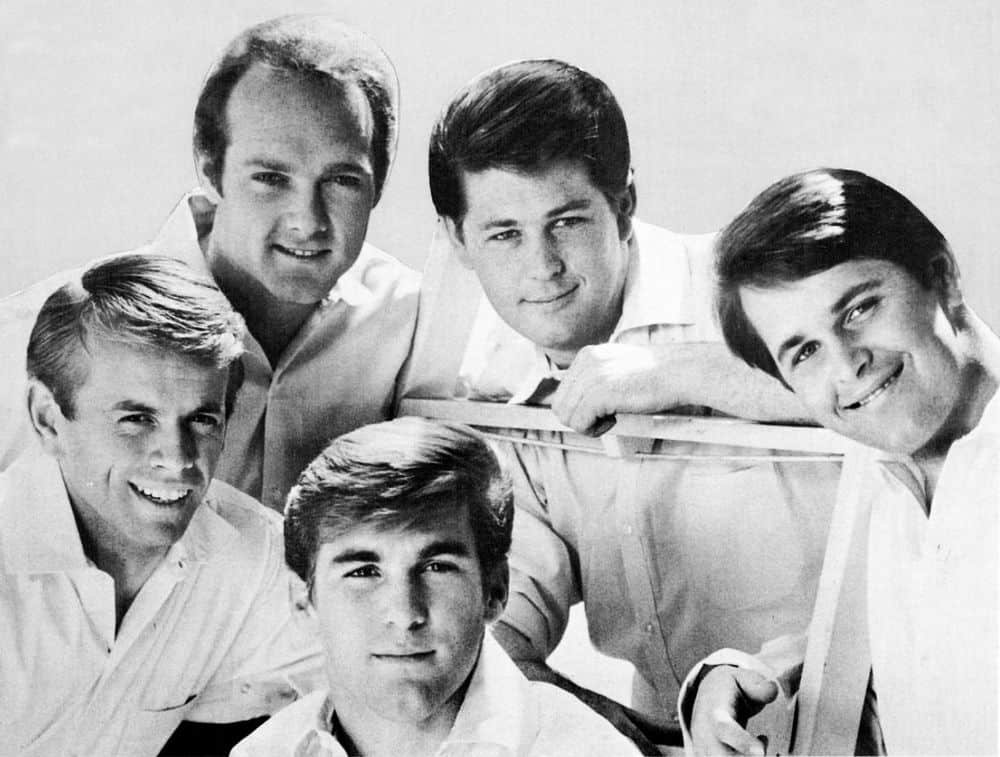 For country music, the baritone guitar was instrumental (pun intended) in the creation of the 'tic-tac' sound. Because of the baritone guitar's unique, twangy sound, it created an interesting harmony when played along with the bassline to double up on it. A large proponent of this sound was Patsy Cline, especially on her song Walkin' After Midnight.
Baritone guitars were also extremely popular in spaghetti westerns, like The Good, the Bad, and The Ugly. Even if you aren't a spaghetti western fan, you have definitely heard the iconic rolling riffs at one point or another in your life.
That specific reverby twang that is so associated with these soundtracks is attributed to the low end baritone guitars afford their players. They were using acoustic baritones, with a set of thick acoustic baritone guitar strings.
These days, the baritone guitar's sound is a major player in funk, metal and ambient music. Its deep, heavy sound has the ability to add so much to these genres and it has led to many baritone guitar players playing these styles of music.
Mark Lettieri, a funk/jazz/world/extremely talented musician who plays in bands Snarky Puppy, Vulfpeck, and The Fearless Flyers, uses the baritone guitar for the variety that it gives him. He has even released a solo album, called Deep: the Baritone Sessions, that is built around the baritone guitar to show off just how wonderful an instrument it is.
In metal, the baritone guitar lends a crushing, hard-hitting low end. Metal guitarists have the proclivity to down tune their guitars to achieve the "heavy" part of metal, making the use of baritone guitars a no-brainer.
Think of James Hetfield from thrash pioneers Metallica, John Petrucci of prog-metal giants Dream Theater, or musical mastermind Devon Townsend in his extreme metal band Strapping Young Lad, and also The Devon Townsend Project.
Possibly the more surprising of the genres that make use of baritone guitars is ambient music. It relies on these instruments to form the spines of songs.
Similar to how country music uses the baritone to walk alongside the bass guitar, so does ambient music. Besides the entirely different playing styles, ambient music guitarists add a layer of reverb over the baritone guitar sound to give it the iconic sound so closely associated with this emotional genre of music.
Baritone Guitar Brands
Although Danelectro originally developed baritone guitars, they are far from the only brand to make them today. Brands like Gretsch, Fender, Gibson, Ibanez, ESP Guitars, Paul Reed Smith Guitars, Music Man, Schecter, Jerry Jones Guitars, and Burns London, among many others, all make their own versions of baritone guitars.
And just like with standard guitars, each is different, and offers their own unique tone, so it's not an easy task recommending the best baritone guitar. The 8 baritone guitars reviewed in this article are all worth checking out.
If you aren't into these guitars, and are more set on the classic reliability of Fender, you're in luck. From 2000 and 2002, they made the Sub-Sonic Baritone Stratocaster; 2005 to 2010 were the Jaguar Baritone Special HH years; and from 2012 until the time of writing, they offer the Blacktop Telecaster Baritone.
However, you may have heard of one of their instruments called the Fender Bass VI. This 30 inch scale 6-string instrument is sometimes confused for a baritone guitar and used as such, but the brand themselves have stated that this instrument is in fact a 6-string, short scale bass. It even uses strings especially designed for it, instead of traditional bass strings.
For something unique and exceptionally high quality, check out the PRS SE 277. It is not cheap, but is worth the money. Why are Paul Reed Smith guitars so expensive?
Because PRS guitars are good. Very good. There are many reasons the high cost is justified, like hand craftsmanship, quality components, and attention to detail, among many others.
Baritone Guitars: Final Thoughts
Baritone guitars are made for low tuning. They are built for standard tuning in B, instead of E like regular guitars. They achieve this with a longer scale length.
Baritone guitars give you a twangy sound and are great for low crunchy riffs, too. They are incredibly versatile and have seen use in every genre of music.