You know the baritone guitar has a longer neck.
You also know it sounds deeper and darker as a result.
What effect does that have on baritone guitar chords?
Do chords sound different on a baritone guitar?
And do you play them differently?
The answer to both of those is 'yes'. But it can also be 'no'.
Confused? I don't blame you.
But it's actually quite simple. Keep reading for a full explanation of how chords work on a baritone guitar.
Baritone Guitar Chords
The chords on a baritone guitar require the same finger positions as any other type of guitar (electric or acoustic).
However, baritone guitars are tuned differently and feature different scale lengths than standard guitars. This means that if you play standard chords on a baritone guitar vs standard guitar, they'll produce a deeper sound.
It is possible to eliminate pitch-related differences between baritone and "normal" guitars by tuning the former to Standard E. This way, the chords will sound the same, but the string tension will skyrocket, reducing the playability.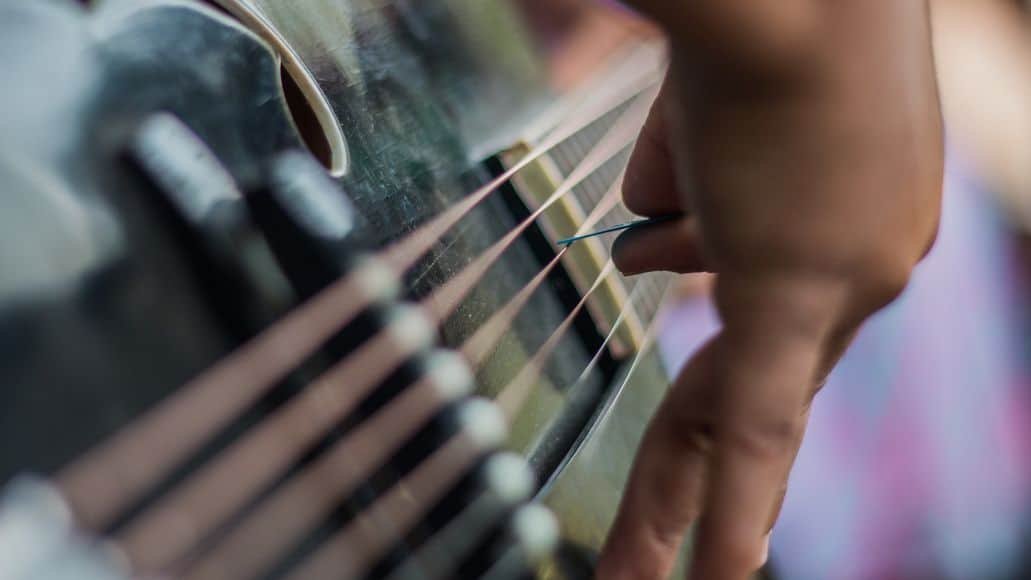 Personally, I never knew I needed a Baritone guitar until I fell enamored with a few bands that use ultra-low tunings. The Black Dahlia Murder, Kataklysm, and Vehemence, to be more specific.
These bands play in Standard C so smoothly, and I always wondered how their guitarists could shred so fluently, thinking that their strings must be dangling from the fretboard.
I discovered that baritone guitars are, by default, tuned to B Standard, a tuning that is 2.5 steps down relative to the Standard E tuning.
With a baritone, you don't have to trade playability, use guitar capos, or buy special strings to play low-pitched chords in a "standard" fashion.
In today's article, I'll help you understand what Baritone chords are, how they compare to standard guitar chords, and how to play "with" rather than "around" these chords in various settings.
What Are Baritone Chords?
From a technical standpoint, there are no differences between baritone and standard guitar chords. If you already know how to play, for example, A Minor and D Major on a normal guitar, you can translate that knowledge onto a baritone guitar without making any modifications or learning any new skills.
Sonically, though, baritone chords are deeper and darker, because this type of guitar uses a different tuning.
As mentioned, you could tune your Baritone in E Standard. But unless you don't have any other guitars, there is no good reason to, because the playability will suffer.
Let's switch gears for a bit and turn to the scale length of a Baritone guitar. Not only does it dictate its tuning, but it will also explain why Baritone chords are slightly different to play.
Scale Length Of A Baritone Guitar & How It Affects Chord Play
Baritone guitars are bigger than standard guitars, with longer necks. More importantly, they have longer scale lengths, which typically range from 26.75 inches to a whopping 30.5 inches.
In comparison, the scale length of an average guitar is around 25 to 25.5 inches. The longer scale length is both an advantage and a disadvantage of baritone guitars.
This essentially means that the strings on a baritone guitar have a broader range of vibrating parts. More importantly, the fret spacing on long-scale length guitars is also wider. That way they can have the same number of frets as standard guitars.
The frets are always the widest near the guitar nut, meaning that the already-wide frets on a standard guitar are even wider on a baritone. When it comes to playing chords, this means that fretting chords on a Baritone is generally easier.
Finally, the longer scale length of a Baritone makes its string tension higher. That is the reason you can tune this guitar lower, remain in tune in lower strings for longer periods, and almost completely ignore the adverse effects of said tunings (e.g. flappy strings). Assuming you get the best strings for baritone guitars and not ones made for a standard guitar.
The Tuning Of A Baritone Guitar: B Standard
The majority of guitars are normally tuned to Standard E. Starting from the lowest string, this tuning features E, A, D, G, B, and E as "starting notes".
Because of their longer scale length (and usually much thicker strings), most baritone guitars are tuned down by 2 ½ semitones.
This tuning is called Standard B, and it features B, E, A, D, F#, and B as its open notes. Because of this, you can't play the chords you used to play on a standard guitar in the same positions, if you want them to sound the same.
For example, playing a D Minor on a standard guitar begins with an open D string, 2nd fret on the G string, 3rd on the B string, and 1st on the high E string.
Assuming that you want to play the same D Minor on a baritone, you'd have to move those positions by 2 ½ semitones up (5th fret on D, 7th on G, 8th on B, 6th on high E). Or you could simply use a capo.
Either way, it is possible to play all the same chords that also sound the same, if you don't mind playing on the higher frets.
Tuning A Baritone To Standard E: Same Sound, Lower Playability
Some guitarists may have bought a baritone as their first guitar and want to play along to their favorite songs, compose music, or join bands, but the Standard B tuning is hindering their progress.
Retuning a Standard B baritone to the Standard E tuning is quite simple. Simply turn the tuning pegs two-and-a-half steps up. Now you simply have a somewhat taller (and possibly heavier) "normal" guitar in your hands.
This way, you won't have to use a capo or chase standard guitar chords on the higher frets, but there are a couple of negative side effects that you need to know about.
First and most importantly, when you tune a baritone guitar up so high, the strings become very tense. It's even possible that the highest strings could snap. To ensure this doesn't happen, use heavier gauge strings.
Even with the thickest strings, the action will inevitably rise, since the baritone's B tuning is its "standard" tuning. You can play any chords this way, but you'll need a bit of extra force to press the frets.
Electric & Semi-Acoustic Baritones Are The Solution
If you're a beginner and don't want to go through the trouble of re-tuning your baritone guitar or using a guitar capo, but you want to play it as a normal guitar, you're in luck if you own an electric or semi-acoustic baritone.
Unlike acoustic baritones, you can use guitar pedal effects with electric and semi-acoustic instruments. For instance, you could get a DigiTech Drop pitch-shifter to transpose your guitar's signal to Standard E pitches.
You could also use a variety of other effects like EQs, compressors, or reverbs to somewhat soften the dark tone of your baritone guitar when playing chords.
Baritone Guitar Chords Chart
This first baritone guitar chord conversion chart shows you what each E standard chord is transposed to in B standard, using the same shapes on the same strings and frets.
| E Standard Chord | Transposed B Standard Chord |
| --- | --- |
| A | E |
| A# | F |
| B | F# |
| C | G |
| C# | G# |
| D | A |
| D# | A# |
| E | B |
| F | C |
| F# | C# |
| G | D |
| G# | D# |
This second baritone chord chart shows the same thing for A standard tuning.
| E Standard Chord | Transposed A Standard Chord |
| --- | --- |
| A | D |
| A# | D# |
| B | E |
| C | F |
| C# | F# |
| D | G |
| D# | G# |
| E | A |
| F | A# |
| F# | B |
| G | C |
| G# | C# |
Playing Chords On Baritone Guitar: Final Thoughts
Playing baritone guitar chords is exactly the same as on a standard guitar, but the chords will sound different, due to the different tuning. If you want them to sound the same despite standard B baritone tuning, you have to play the chords on higher frets, 2.5 semitones up from the normal notes.
The other options are to use a capo, an electric baritone with pedals, or to tune your guitar to E. The last option results in extremely tense strings, so make sure you are using heavy gauge strings if you choose this route. But why even buy a baritone guitar, if you want to play in standard E tuning?