Most people can't tell the difference.
If they see or hear a baritone guitar, they are unlikely to realize it is not a regular guitar.
That tells you the difference between a baritone guitar vs normal guitar is not huge.
But there is a difference. And it makes a big difference.
When you compare a baritone guitar vs regular more closely, you quickly realize that the baritone is a specialist for certain, specific applications.
What does the baritone guitar do well?
Keep reading to find out. We will compare baritone guitars with standard ones in detail and help you figure out if you are better off with a regular or a baritone guitar.
Baritone Guitar Vs Normal Guitar
We will begin our comparison of the baritone guitar vs regular models by looking at each type of guitar individually, before comparing them directly. Then we will examine the advantages of each and go over the reasons you might favor one over the other.
Baritone Guitar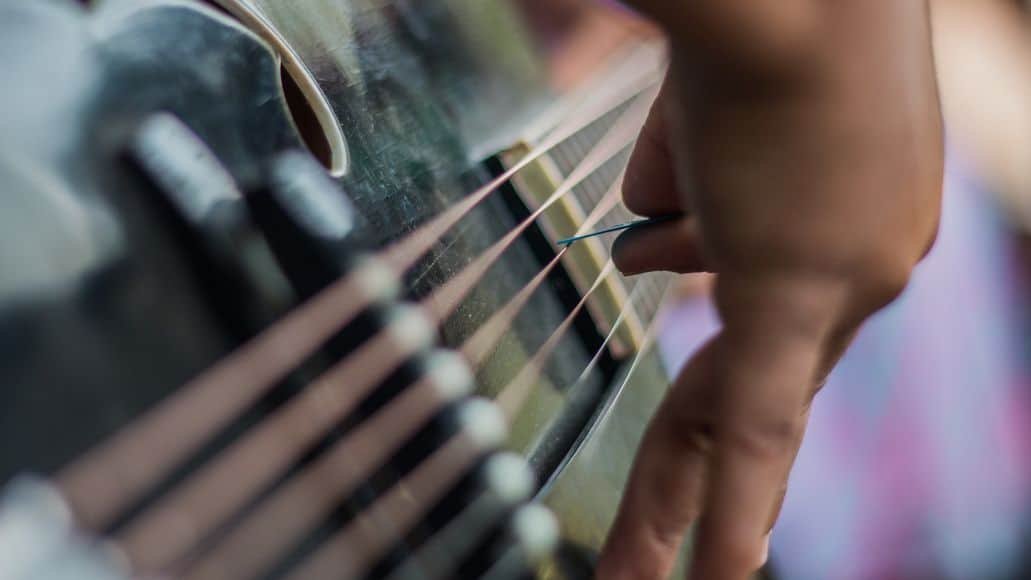 Let's say you entered a music shop, and hundreds of guitars are on display as soon as you walk in. In most shops, there's at least one row of guitars that are taller, wider, and overall larger than the rest. Unless they're custom-made, these guitars are probably baritone guitars.
Baritones guitars usually feature a scale length spanning from 26.5 to 30.5 inches, they're tuned to B Standard, equipped with heavy-gauge strings, and rock very wide frets.
That's not to say that Baritone guitars are simply larger than their normal counterparts. Baritone guitars have a distinctly warm tone. They are much better suited for deeper tunings, and certain techniques are much simpler to perform on them.
But they are not as large and they do not sound as low as the bass guitar. They sit in the middle. The baritone compared to the bass guitar is smaller and tuned higher, but it is larger and tuned lower than a standard guitar.
Baritone guitars usually feature six strings. There are models with fewer strings (e.g. baritone ukuleles have 4–see our comparison of baritone ukuleles and guitars for more), just like there are baritones with 7, 8, or 12 strings. Just like normal guitars, they can be acoustic or electric.
Normal Guitar
A "normal" guitar is any guitar that fits the standard specs, meaning a scale length of around 25.5 inches, a full-length body of around 38 inches, six strings, moderate spacing between the frets, and a balanced tone.
The thing is, we have so many guitar manufacturers today that defining a normal guitar is becoming increasingly harder. Let's recall the situation where you've just entered a music shop.
I'd wager that the term "normal guitar" could describe nearly all models that look similar to you. For the lack of a better word, normal guitars are not supposed to be flamboyant. They are not supposed to overperform in any area.
Normal guitars should feel comfortable and familiar to you, which is the reason all famous guitar brands have at least one series of classic models comprised of instruments that resemble each other, but provide variance in small details (e.g. unique finishes, special pickups, and such).
Difference Between Baritone Guitar And Standard
The most notable difference between a baritone and a normal guitar is the size. Baritone guitars are larger in all directions: length, width, and depth. This usually means that they are also a bit heavier, although this is not a rule.
More importantly, Baritone guitars feature a scale length of 28+ inches, whereas normal guitars have a scale length of roughly 25.5 inches. This is the vibrating length of the strings. There are also tiny sections near the lower and upper end of your guitar's strings that do not produce audible vibrations.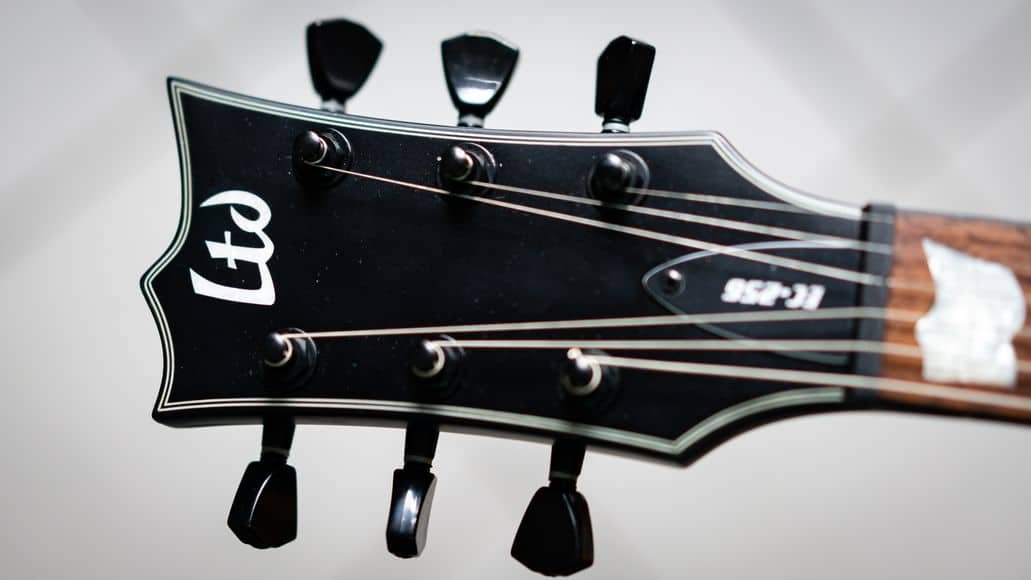 Let's briefly talk about the physics of these guitars. Scale length dictates string tension. So let's imagine each string is a bridge. A short bridge can be held in place by thin beams and a few wooden supports.
To ensure a long bridge won't fall, you'll need thicker beams with higher supportive strength. That explains why baritone guitars are commonly equipped with special heavy-gauge baritone strings.
Most importantly, the tone of a Baritone guitar leans heavily toward the warmer end of the sonic spectrum. Even though tonewoods play a huge role in determining the sound of each guitar, normal guitars tend to be far more balanced, even if they are made from a single type of tonewood.
Similarities Between Baritone Vs Standard Guitar
Both Baritone and normal guitars are guitar-type instruments. They usually have six strings and a similar (if not identical) body shape. The difference in their tone is in small details. To most beginners, the differences in the sounds of these guitar are not readily apparent.
Furthermore, both baritone and normal guitars can be electric, acoustic, or semi-acoustic guitars. Both can feature six or more strings and whatever you can play on a normal guitar, you can also play on a baritone guitar.
Advantages Of The Baritone Guitar
The first and most notable advantage is that baritone guitars can reliably sustain dropped tunings. After all, the normal baritone guitar tuning is Standard B (2.5 semitones below Standard E).
Since their tone is warmer, deeper, and arguably darker by default, baritone guitars are absolutely fantastic for heavier genres of music, especially metal (Cannibal Corpse, Machine Head, Korn, Fear Factory, Dream Theater, Metallica, etc. have all used baritones in some of their songs).
Advantages Of The Normal Guitar
Standard guitars are a blank canvas. They're considerably more versatile than baritone guitars, meaning that if you found a model that looks and feels right, you can easily shape its tone to your liking with effects and pedals.
Furthermore, since they're usually tuned to Standard E, you can pick and choose which tuning to use with more flexibility (although baritones are much better for ultra-low tunings).
Reasons To Get A Baritone Guitar
If you're looking for a guitar with a big, full-bodied, predominantly warm sound, you're looking for a baritone guitar. They are also ideal for guitarists with big hands, since the spacing between each fret is considerably wider than on a normal guitar.
In my humble opinion, baritones are decently beginner-friendly, although I somewhat struggled to pull off more complex chords the first time I played one. They're certainly not ideal for solo guitarists, although even shredding on a baritone is manageable with sufficient practice.
Who should Get A Regular Guitar?
Every guitarist should own at least one normal guitar. They are better-rounded than any other guitar type, meaning that you won't find a field of performance in which they lag behind. As mentioned, you can "fix" any normal guitar that has an unimpressive sound with a pedal or two.
Playability-wise, regular guitars have "normal" frets and they use "normal" strings. If you're in the market for one, it's critical that you find a model that feels right, because there aren't many things that you can do to correct that issue (besides maybe lowering the action and using different strings).
Both immediate beginners and seasoned professionals use normal guitars. If you've just enrolled in a music school, chances are that you'll play on one there.
They are good for recording, great for live concerts, and Jacks-of-all-trades. But sadly, most budget models are also masters of none, so make sure you know which electric guitars are best. There are a few excellent budget guitars on the market.
Baritone Guitar Vs Regular: Final Thoughts
When comparing a baritone guitar vs regular, they seem identical at first glance. Most people won't even be able to tell the difference between the two, be it the way they look or how they sound.
But there are key differences between a baritone guitar vs normal guitar, most notably in size. The baritone guitar is larger all around and, most importantly, has a longer scale length. The result is a different tone.
If you are trying to decide between a baritone guitar and a standard guitar as your first instrument, only go with a baritone if you specifically want its unique tone and you only plan on playing in lower tunings. Otherwise, get a standard guitar. You can always add a baritone later, which is what most guitarists end up doing.