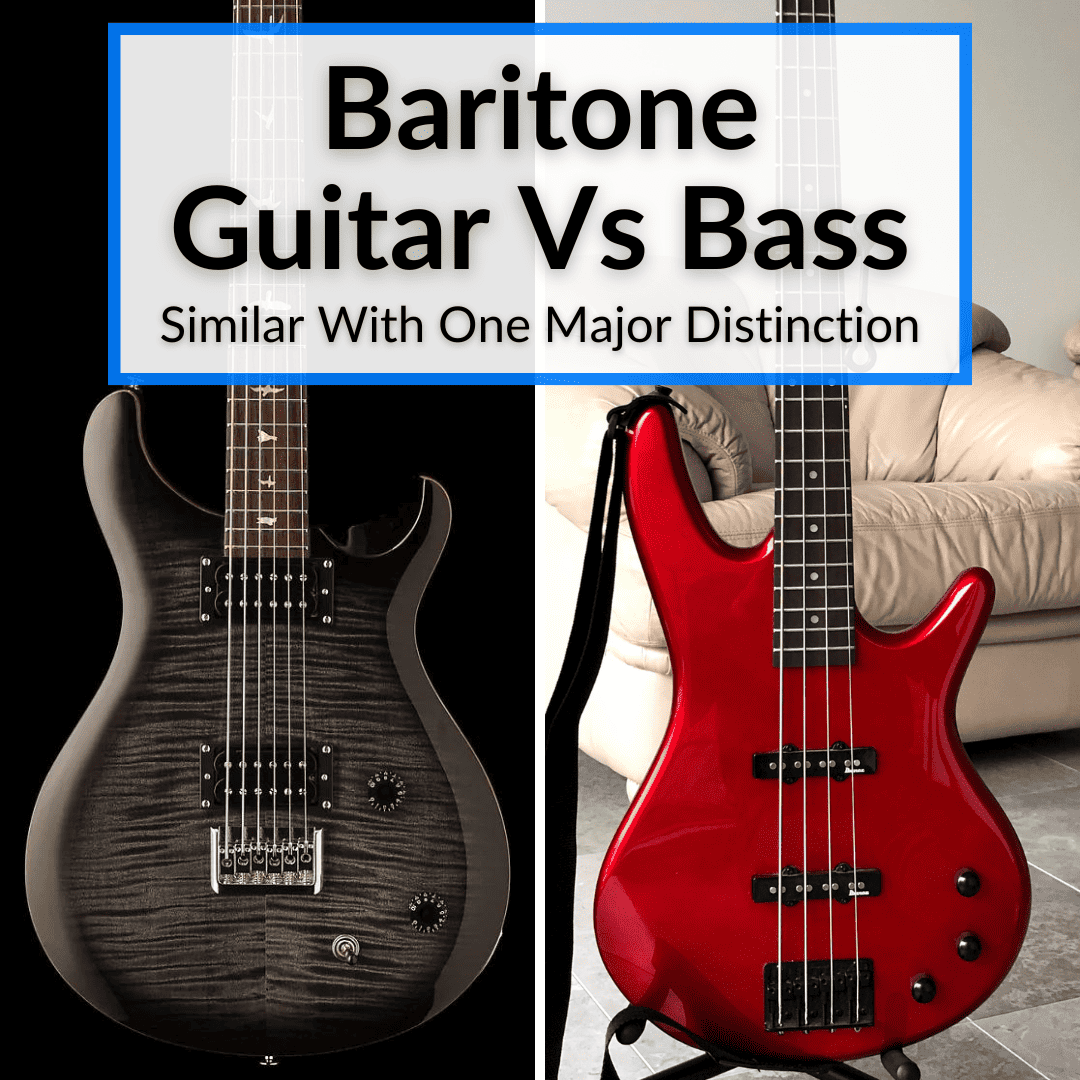 You probably know one thing.
Both the baritone and the bass guitar sound lower and deeper than a standard guitar.
Does that make them more or less the same thing?
No. They are two very different instruments.
And when you compare the baritone guitar vs bass guitar directly, you quickly realize they are designed for different functions.
What are those functions and could you use them interchangeably if you wanted to?
Keep reading to find out those answers and everything else about the similarities and differences between a bass guitar and a baritone guitar. This will help you figure out which one is right for you.
Baritone Guitar Vs Bass
We will begin our comparison of the baritone guitar vs bass guitar by looking at each instrument individually, before comparing them directly. We will dive into the advantages of each and finish by giving you the main reasons to go with one or the other.
The Baritone Guitar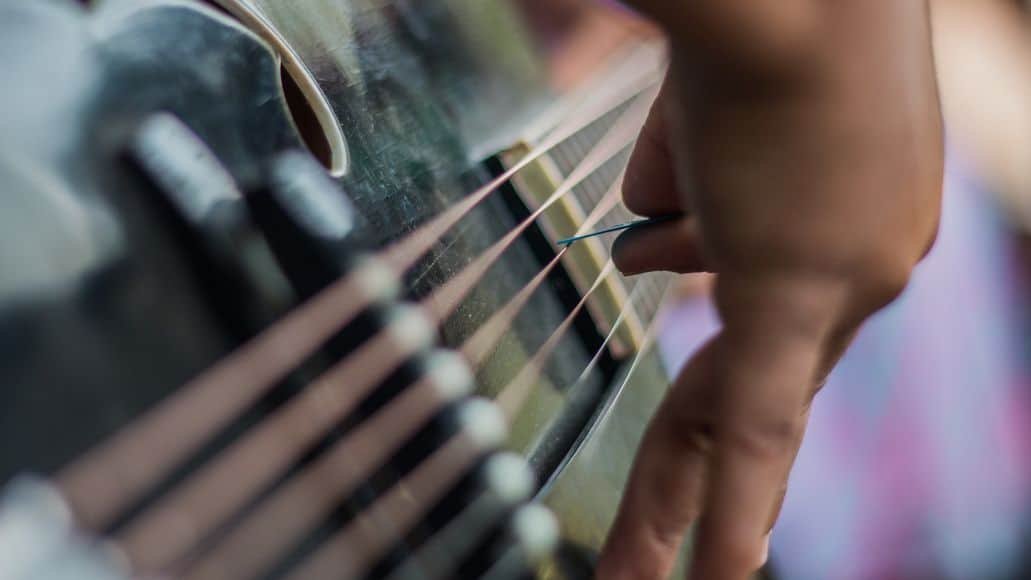 Baritone guitars are similar to typical guitars in that they are equipped with the same parts: a body, neck, headstock, nut, saddle, strings, and so on. What makes the baritone guitar vs regular different is that their necks are considerably longer.
Consequently, a baritone guitar has a longer scale length, rocks a higher level of string tension, and is typically tuned differently (in B Standard).
Baritones can be acoustic or electric. Furthermore, they can feature 6, 8, or 12 strings in both acoustic and electric variants.
Another important characteristic of a baritone guitar is its oversized body. This is especially important for acoustic baritones, since it makes the sound rounder, louder, and more full-bodied.
Even electric baritones tend to be more manageable when it comes to their volume, allowing you to utilize guitar pedal effects more flexibly.
The Bass Guitar
A bass guitar is typically a 4-string instrument equipped with heavy-gauge strings. Like most contemporary instruments, it can be fretted or fretless, acoustic or electric, or even semi-acoustic (acoustic, but with the capability to connect to an amp via guitar cable).
Bass guitars are tuned almost the same as guitars, minus the upper two strings (meaning that the Standard E tuning for basses is E-A-D-G). The neck of a bass is typically longer than that of a standard guitar, and usually even longer than a baritone's neck.
These instruments are primarily used by the rhythm section players, although many virtuosic players (like Flea from RHCP, Les Claypool from Primus, and Geddy Lee from Rush) use them more like regular guitars.
As far as the number of strings is of concern, basses can have more than four. I own a 5-string Ibanez GIO, but there are also 6, 7, and even 8-string bass guitars that can fulfill various roles, be it rhythmic, lead, or something in between.
Difference Between Baritone Guitar And Bass
The first notable difference between a Baritone and a bass is in the tuning. Baritones are normally tuned to B Standard while basses are tuned to E Standard.
As noted a second ago, both baritones and bass guitars can feature as many strings as a regular guitar (or even more), but basses are commonly equipped with 4, while baritones usually have 6 strings.
In terms of scale length (the length at which the strings effectively vibrate), the baritone usually beats standard guitars by a couple of inches (on average, a baritone guitar's scale length is around 27″ but it can be as high as 30.5″). The average scale length of a bass guitar starts at a whopping 34″.
Baritone guitar strings are longer and thicker than the strings on a regular guitar, but bass strings are eve longer and thicker than baritone ones.
Similarities Between Bass And Baritone Guitars
You can play both baritone guitars and basses with a pick or fingerstyle. When it comes to string thickness and how easy these instruments are to play, I'd say that they are remarkably similar, especially when we're comparing a standard Baritone to a bass with 5 or 6 strings.
Furthermore, baritone guitars and basses have much wider frets. This means that certain chords and riffs will probably be easier on either of the two than on an electric/acoustic guitar.
But then again, it also means that shredding is a bit more complicated. This applies to both baritones and bass guitars in almost equal measure.
The tone of baritone guitars is closer to the tone of bass than any other instrument. Dark, deep, and with a heavy emphasis on the lowest frequencies, the sound you'll get from a standard Baritone is very bass-like, even when picking the higher frets and notes.
Advantages Of Baritone Guitars
The capability of a baritone guitar to reliably sustain tunings that are far below the standard E is one of its strongest advantages. It has others. You can learn all of the baritone guitar pros and cons here.
On a normal guitar, you'd have to use very specific heavy-gauge strings and tone the action down significantly, if you wish to tune your guitar to Standard C or B. That's the default tuning on a baritone guitar, although it could be tuned up or down as and when you wish.
Other than that, it's got the same features as a regular guitar, so people with at least some experience in guitar playing could whittle a tiny bit off the learning curve and get good at playing the baritone guitar fairly quickly.
Advantages Of Bass Guitars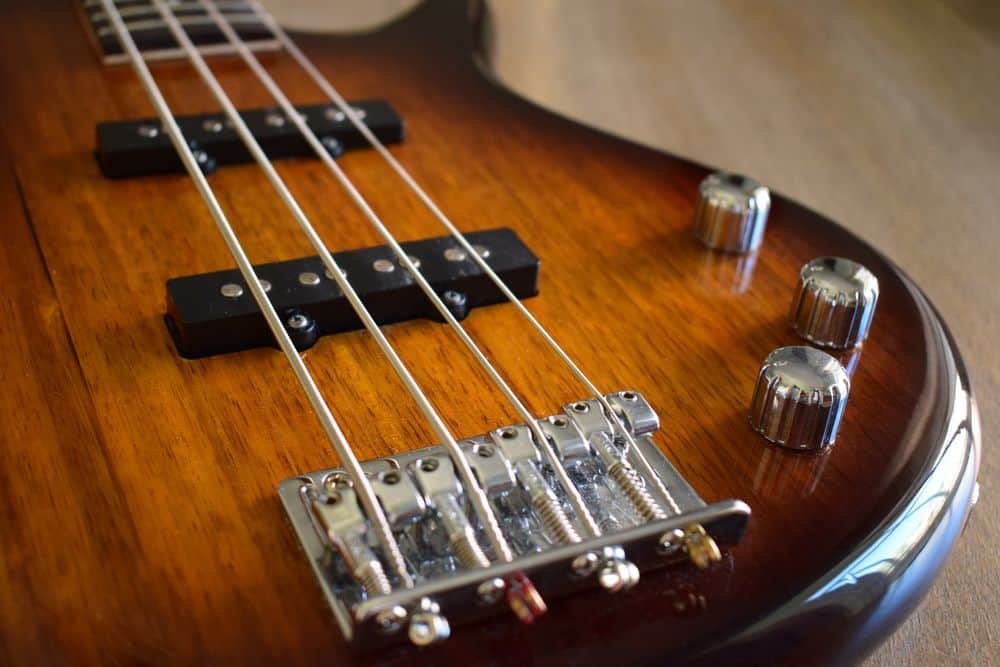 Bass is an instrument category of its own. Its low-end frequencies are incomparably deeper than any guitar can produce (electric or acoustic). Its frets are much wider, and its strings are much thicker even when compared to a baritone guitar, let alone a standard one.
In other words, I'd be bold to say it is easier to play than any guitar as far as the basics are of concern. Bassists also have access to several techniques that guitarists rarely perform (unless you're Tosin Abasi), such as popping or slapping.
Another big advantage bass guitars have over baritone guitars, at least for beginners, is that they have fewer strings. When I was learning how to play this instrument, I didn't have to devote as much time to becoming familiar with and figuring out which tones each string can produce, how they interact with each other when riffs are played, and more.
Reasons To Get A Baritone Guitar
Baritone guitars are great at everything except shredding and playing certain chords. They're amazing for beginners (wider frets are easier to press), and they're the perfect choice for dropped tunings.
Tonally, Standard B tuning coupled with the baritone's innate warmth and dark timbre isn't for everyone, though. It's great for orchestral music and some genres of heavier rock (e.g. hard rock and metal, for the most part), but it falls short in the pop, R&B, and even blues departments. You'll find few, if any, baritone guitarists in any of those genres.
Reasons To Get A Bass
While choosing a baritone-style guitar is more of a personal preference, nearly all compositions and bands require a bass. It's a core instrument, not a version of an instrument. As such, it is supposed to fill a crucial role in any tune.
If rhythm and groove resonate with you more than melodies, harmonies, guitar licks, solos, and even chords, pick the bass guitar. You won't regret it. This article lists the best basses for beginners.
Baritone Guitar Vs Bass VI By Fender
The Fender Bass VI and a baritone guitar are two different instruments, though they may look similar at first glance. The Bass VI is a six-string short-scale bass guitar that uses guitar strings and has a scale length of around 27 inches. That is in the middle between the standard scale lengths for a guitar and a bass guitar.
A baritone guitar is slightly larger than a regular guitar, with a wider fretboard and a longer scale length. Baritone guitars almost never use standard guitar tuning. They are tuned lower, usually B standard tuning.
In other words, the Fender is a six-string bass guitar, albeit one with a short scale length and guitar strings. And when you compare a baritone guitar vs six string bass, you quickly see the two are not interchangeable.
Bass Guitar Vs Baritone: Final Thoughts
When you compare the baritone guitar vs bass guitar, you obviously notice the lower tone most of all. That is the main thing they have in common. And having both in a band, along with a regular guitar, can lead to a muddled mess if you do not mix them correctly.
But you can use all three, because they do play in different ranges. They are all different instruments. That said, the bass guitar is an instrument all to itself and one you find in almost any band.
The baritone guitar is a different version of another instrument. That is the primary difference and the one that will dictate which type of guitar is right for you.