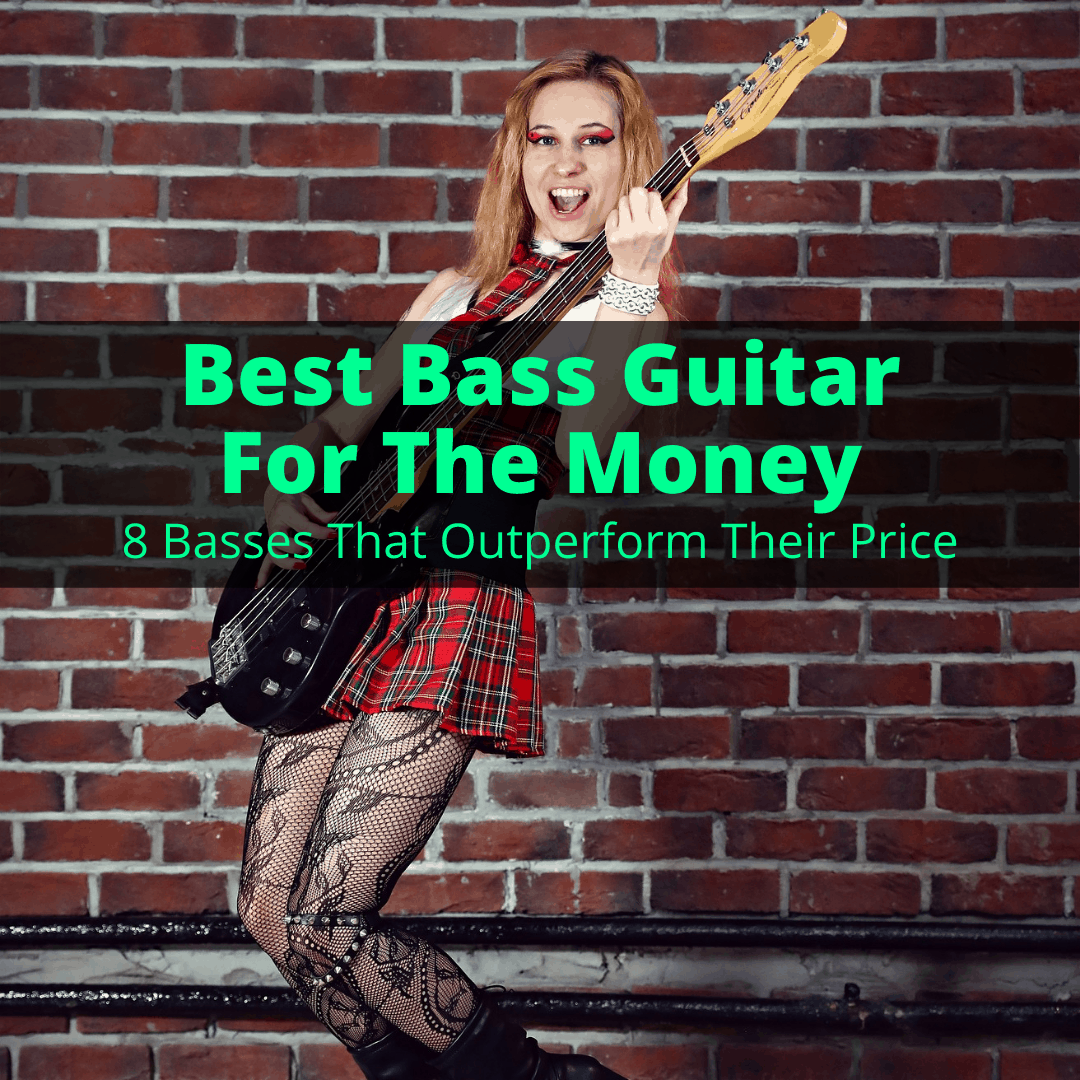 Getting a good bass guitar doesn't have to be expensive.
Obviously, you can't buy the cheapest model on the market and expect amazing things.
But you can get some amazing instruments for a great price these days.
You just have to weed through all the crap that's on the market.
That's what we did for you. The result is this list of the best electric bass guitars for the money.
While the price and quality vary greatly, all of these basses far outperform their price level.
Keep reading to figure out which bass guitar is best for your needs and budget.
Best Bass Guitars Compared
09/25/2023 07:54 pm GMT
Top Electric Bass Guitars Reviewed
The following electric bass guitars are all great for their price. Of course, the budget models won't give you the same sound and creative freedom as the more expensive models.
But if you're just starting out, that's not generally an issue. Even the cheap models made our list of the best bass guitars for a reason.
Best Bass Guitar All-Around: Fender American Performer Precision Bass
Fender American Performer Precision Bass
Pros:
Great build quality

Amazing P bass tone and versatile tone-shaping options

Very balanced all around with all necessary frequencies covered nicely

Greasebucket circuit for better tone shaping

Great design
Cons:
It might be a bit expensive for some, though it's an amazing value for what you get
View on Amazon
Our Review
We earn a commission if you make a purchase, at no additional cost to you.
09/25/2023 07:54 pm GMT
Whether we're talking about guitars, basses, amps, and even pedals – few brands come close to Fender. When it comes to basses, both their Fender Jazz Bass and Fender Precision bass are world famous.
The American Performer Precision model strongly stands out. It is a favorite among bass players.
The Fender Precision Bass has a classic Strat-shape and some awesome qualities. It has an alder body and a maple neck that forms a standard bolt-on construction with the body.
Of course, it also features the standard maple fingerboard, giving it that "snappy" feel, just like you get with their standard 6-string guitars.
The American Performer Precision Bass has 20 medium-jumbo frets and a total scale length of 34 inches.
It has a "Modern C" neck profile, which makes for a comfortable playing experience. The fretboard radius is 9.5 inches, which gives it somewhat of a vintage feel.
This p bass's other basic features are also rather vintage-oriented. This goes both for its bridge and the electronics.
It is a 4-saddle vintage-style bridge, just like the one you see on those old basses from the 1950s. Then you have a single-coil Yosemite Jazz pickup in the bridge, plus a split-coil pickup in the middle position.
These awesome pickups are accompanied by individual volume controls for each pickup and a master tone control.
You also have the Greasebucket tone circuit which lets you roll off the high-ends without taking away from the output and power of the p bass in the bottom-end.
Finally, you have the wonderful finish variants for a full, luxurious package. This is one of the rare basses that can cover almost any genre that comes to mind.
It can give you vintage and modern tones and works great for all playing styles. That's why it is not just one of the best bass guitars available, it is the best period, in terms of value for money.
Our detailed review of the American Performer Precision Bass has more.
Best Beginner Bass Guitar: Squier Bronco Bass
Squier by Fender Bronco Bass
Pros:
Really simple, perfect for beginners

A reliable instrument; can even come in handy for live gigs

Maple fretboard, which is rare on a cheaper instrument
Cons:
It could use at least one more pickup
View on Amazon
Our Review
We earn a commission if you make a purchase, at no additional cost to you.
09/25/2023 08:04 pm GMT
Fender instruments are great, but they're expensive and primarily meant for experienced musicians. However, if you want an affordable bass guitar that still retains some of the great qualities of Fender basses, Fender's budget subsidiary Squier has you covered.
They make somewhat stripped down versions of Fender guitars that sell for much less. A great example for beginners is the Squier Bronco bass guitar.
It features a straightforward design, with the classic double-cutaway body shape. But this one has its own twist.
The "Bronco" shape is like a slightly morphed Strat and pretty similar to the Mustang models. In some ways, it's a tribute to the old Fender Bronco bass that was produced from the late 1960s, up to the early 1980s.
This is a fairly simple j bass guitar, with an Agathis body and a maple neck. The instrument also has a maple fingerboard, which is not common on cheaper guitars or basses.
Other than that, it has 19 medium-jumbo frets and a fretboard radius of 9.5 inches, with a standard "C" neck profile.
These specs tell you that this is yet another vintage-oriented bass with a classic vibe.
You also see this with other specs, like the instrument's 2-saddle lock bridge and the inclusion of just one Special Design single-coil pickup placed in the middle position.
It's not a fancy instrument, but that makes it a great option for beginners. That and the low price.
And because it's well-made and sounds great, you can continue playing it, even when you reach the intermediate level.
It is obviously not one of the best bass guitars on the market as a whole, but once you take price into consideration, the incredible value makes it one of the best bass guitars.
Learn more about our favorite first bass guitar in our full review of the Squier Bronco.
Best Cheap Bass Guitar: Jackson JS1X Concert Bass
Jackson Concert Bass Minion JS1X
Pros:
Great deal for low price

Reliable

Simple to use

Versatile p bass; can be used for plenty of genres
Cons:
Nothing for this price level
View on Amazon
We earn a commission if you make a purchase, at no additional cost to you.
09/25/2023 07:39 pm GMT
Jackson is famous for making some pretty awesome, but cheap, instruments. They have been doing this for a long time and the JS1X concert bass is no exception.
Looking at its specs, you'll be surprised that this instrument is that cheap. Despite the low price, it's more than just a regular entry-level bass. It can serve you well for rock, hard rock, metal, and even some other genres.
This P bass has a poplar body, neck made of maple, bolt-on construction, amaranth fingerboard, 22 jumbo frets, and a relatively flat radius of 12 inches.
One thing that really surprised us was the graphite reinforcement in the neck. Along with this comes a shorter scale length of only 28.6 inches. This also makes it a great choice for younger players, or just those who prefer smaller basses instead of regular-sized ones.
The smaller size has absolutely no negative impact on the performance or tone. The bass comes with the standard P/J pickup configuration, with a split-coil in the neck position, and a standard single-coil in the bridge.
They are Jackson's stock pickups, but they do a surprisingly great job, delivering some awesome tones and a warm sound.
You also have a nice 4-saddle HiMass bridge that makes the JS1X really easy to set up. If you're looking for a reliable budget option, you're not going to find a better one.
This P bass even has a pretty nice design, if you're looking for one of the best bass guitars with a rock-oriented aesthetic.
Best Bass Guitar for Small Hands: Fender Geddy Lee Signature Jazz Bass
Fender Geddy Lee Signature Jazz Bass Guitar
Pros:
Thin C neck profile makes it really easy to play

Amazing Jazz Bass single-coil pickups

Great-looking and balanced design

Done according to Geddy Lee's bass specs
View on Amazon
We earn a commission if you make a purchase, at no additional cost to you.
09/25/2023 07:49 pm GMT
A common concern among small-handed bassists is finding the right instrument to accommodate their smaller hands. Bass guitars usually have long scale lengths, thick strings, thick necks, and overall wide frets, which can make them tough to play.
If you're looking for a fully professional bass guitar that's easy to play with smaller hands, we highly recommend Fender's Geddy Lee signature model.
Of course, this instrument is great for any bassists, but it's the perfect choice for those who have smaller hands.
You might expect a shorter scale length, but it has the regular scale length of 34 inches. It is a full-sized bass guitar.
So why do we recommend it for small-handed bassists?
Because it has a perfectly designed neck for those with smaller hands, with a "Thin C" profile. This is perfect for virtuosic players as well.
It has a standard configuration with an alder body in a traditional Jazz bass shape and a bolt-on maple neck with a maple fretboard. The neck joint is sturdy.
This is also followed by a vintage-oriented fretboard radius of 9.5 inches and a total of 20 medium-jumbo frets. What's more, the fretboard comes with black block inlays that go perfectly with this instrument's design.
This wonderful 4-string also has two single-coil Jazz Bass pickups. These are passive pickups, making this a passive bass.
Using the individual volume controls and a master tone knob, you can go anywhere from super bright piercing tones and to those "muffled" smooth dark sounds, making it great, whatever your musical style.
Best Bass Guitar Under $1100: Sterling by Music Man StingRay Ray34
Despite all the advancements in the world of guitars and basses, it's still hard to find a great deal on a high quality instrument. It seems that all of the best go way past the $1000 mark.
But what if we told you that there are a few really awesome basses out there below the $1000 level? Top on that list of the best bass guitars under $1000 is the Sterling StingRay Ray34.
Sterling is a subsidiary of Music Man, so you expect excellence. From the very first glance, you can see this is one of the finest basses you'll find on the market today.
But its greatness is not just skin deep. It goes past the aesthetic qualities. The design is based on the classic Music Man StingRay model and features the classic double-cutaway shape, a solid mahogany body, roasted neck of maple, roasted hard maple fretboard with 21 medium-jumbo frets, and a full-sized 34-inch scale length.
But what's also really awesome is that this Music Man bass comes with its own integrated active preamp, meaning you can plug it directly into a mixer and make it sound as if you're playing through an actual amp.
The Music Man Ray34 model comes with only two H-1 Alnico humbucker pickups, allowing for that tighter and more controlled tone. The active preamp also comes with a 3-band EQ, which opens up some great tone-shaping options.
In short, this is an all-around wonderful bass that can serve you in pretty much any setting, no matter your playing style. Read our full review of the Sterling by Music Man StingRay Ray34 for more.
Best Bass Guitar Under $500: Yamaha TRBX504
Yamaha TRBX504 Premium Electric Bass Guitar
Pros:
Really good deal for the price

Controls bring a lot of tone-shaping options

Choose between active and passive electronics

Ergonomic and eye-pleasing design
Cons:
Nothing at this price level
View on Amazon
Our Review
We earn a commission if you make a purchase, at no additional cost to you.
09/25/2023 07:44 pm GMT
No matter the type of instrument, Yamaha always finds its place on any "top" list. On this list of the best bass guitars, it's the TRBX504. This particular bass sells for just under $500, and is a shockingly good electric bass guitar at that price.
Yamaha's basses are known for looking great and being very comfortable to play. This one is no exception. This bass guitar has a mahogany body, which is not something you see that often.
The body is accompanied by a 5-piece bolt-on maple and mahogany neck equipped with a rosewood fretboard. The joint is designed in such a way to allow comfortable performance in higher-fret areas of the rosewood fingerboard.
Speaking of, the instrument comes with 24 frets, which makes it a great choice if you also play bass lead sections.
When it comes to the electronics, this is an active system, powered by a standard 9-volt battery. The Yamaha TRBX504 comes equipped with two H5 Alnico 5 humbuckers which deliver a massive tone that is great for slap bass.
This is all accompanied by a master volume knob, a 3-band EQ, a balance control, and a switch that toggles between active and passive electronics.
In short, this reliable bass has it all. And it falls under the $500 mark, making it a really good choice for bass players of pretty much any genre. Check out our detailed review of the Yamaha TRBX504 to learn more.
Best Bass Guitar Under $300: Gretsch G2220 Electromatic Junior Jet Bass II
If you want a cheap bass, but don't want to drop down into the super-cheap category, you don't have many good options. But there is one great one: the Gretsch's G2220 Electromatic Junior Jet Bass II.
Just like some of their 6-string guitars, the Jet body shape resembles a classic single-cutaway Les Paul. However, it's sort of a "mutated" Les Paul shape, meshing it with some of Gretsch's design qualities.
This particular budget guitar model is well-known for its somewhat shorter scale length. Measuring at 30.3 inches, it can come in handy for those who prefer to play smaller basses over ones with a long scale neck.
The G2220 model features a somewhat vintage-ish design, with a basswood body and a maple neck. It also has a walnut fretboard with 20 medium-jumbo frets and a flatter radius of 12 inches.
It has a classic easily adjustable 4-saddle bridge, along with die-cast tuning machines. All have a chrome finish.
The G2220 comes with two Gretsch mini-humbuckers in the bridge and neck positions, although the neck pickup is a bit closer to the middle position than you usually see.
There are basic controls for volume, tone, and one 3-way pickup switch, just like you'd find on 6-string guitars with two humbuckers, making it a rather unique bass.
It's a decent bass that becomes one of the best bass guitars available, when you factor in the budget price tag.
This great instrument especially useful for classic rock and hard rock settings. Read more about it in our detailed review of the Gretsch G2220.
Best Short-Scale Bass Guitar: Ibanez GSRM20
A common issues some bass players have is finding a proper piece with a shorter scale length. For those looking for a bass with a shorter neck, we recommend the Ibanez GSRM20.
It is quite a bit shorter than regular basses, measuring 28.6 inches. That is around the size some 6-string baritone guitars have.
What's more, it is a rather cheap bass, with basic features and controls at a very low cost. It has a poplar body, a standard maple neck with a jatoba fretboard, and 22 medium-jumbo frets.
This is accompanied by a decent 4-saddle bridge and a P/J pickup combination. It's a rather simple instrument that can also come in handy for beginners or intermediate players. Our full review of the Ibanez GSRM20 has more.
Bass Guitar Buying Guide
When you are shopping for a bass guitar, the different options and features can become overwhelming. This buyer's guide will help you make sense of it all and figure out exactly what you need (hint: don't fall for extras lie a gig bag).
Here are the most important features you should take into consideration when deciding which of the best bass guitars is right for you.
Body And Neck Build
Almost all of the best bass guitars come with a bolt-on body and neck configuration. We also have a plethora of body tonewoods, with each bringing its own twist into the mix.
But what's most important are the body shapes and their ergonomic qualities.
If you're looking to play at higher-fret areas, look for shapes that allow easier access to higher frets. This is mostly the case with brands like Yamaha or Ibanez.
Necks are usually made of a single piece of wood, although you can find 3-piece or 5-piece ones. Some even feature graphite reinforcement which can ensure stability in the longer run.
In most cases, basses come with maple necks. This is true for both cheaper and more expensive ones. But those higher-end basses have better wood, making it easier to set the truss rod tension.
It's also important to note that almost all bass guitars feature solid bodies. There are some hollow-body basses out there, but they're not common and are usually more expensive.
Number Of Strings
We mentioned only 4-string basses above, because they're the most common. But there are also 5-string and 6-string bass guitars, and even some with more strings.
A five string bass comes with an additional bottom string, allowing you to go even deeper. In standard tuning, this would be a B string. Our article comparing 4-string vs 5-string bass guitars has more.
With 6-string basses, you get an additional string below E, as well as a higher string, which is tuned to B in the standard tuning, two octaves above the bottom one. Basses with more than 6-strings are highly advanced instruments and are usually experimental and quite expensive.
Extended-range basses have become pretty popular among modern metal musicians. However, it's also not uncommon to see a 5-string bass in any other genre. How many strings a bass has is only important if you actually plan on needing those extra strings.
Active Or Passive Electronics
A lot of basses come with active electronics. The main traits of active basses include a more powerful output, as well as the ability to plug directly into a PA system and get a good amp-like tone. They're also known for having a stronger and "sharper" attack.
On the other hand, passive electronics come with a reduced output signal strength and have a smoother attack. Neither of these setups is considered better or worse. It just comes down to what individual players prefer.
One "advantage" of passive basses is that you don't have to replace the battery. Some basses have the option to blend or switch between active eq and passive tone, giving you a lot of tone-shaping options.
It's also not unusual to see basses with only one pickup.
Such instruments usually have the pickup in the bridge position, but there are some cases (like the Squier Bronco mentioned above) with pickups placed in the middle or neck position.
Although this might be limiting, it doesn't mean that these bass guitars are bad. That's why some even made our list of the best bass guitars.
Pickups And Controls
While single-coils and split-coil pickups are more common, some basses have humbuckers. Just like with regular electric guitars, two single-coil pickups bring a sharper tone and stronger attack, while humbuckers are somewhat softer but have a more "robust" and powerful tone for that punchy sound.
When it comes to different musical styles, we'd recommend humbuckers for hard rock and metal music, while single-coils have more widespread use.
Almost all basses come with volume and tone controls. Some have individual tone controls for each pickup. A few electric bass guitars also have pickup selector switches.
When you have active electronics, or active preamps, in bass guitars, they're often accompanied by a 3-band EQ, which allows you to do more detailed tone shaping. A two band EQ is also not uncommon.
No matter the type of electronics, it's usually standard to have individual volume potentiometers for each pickup or a blend knob that lets you balance between two pickups.
Scale Length And Neck Profile
Scale length is the distance between the nut and the bridge. Having a longer scale length allows you to use lower tunings while retaining more tuning stability. These basses can also have a more pronounced sustain.
The standard scale length measures 34 inches on a 4-string bass guitar, which is 86 cm. 5-string bass guitars most often come with a 35-inch scale length.
There are some basses with an extra-long scale length of up to 36 inches. Shorter scale lengths, which are around 30 inches, are common for some smaller or beginner-oriented best bass guitars.
A Short scale bass is easier to handle for smaller people. Smaller hands just have an easier time with short scale basses.
Best Bass Guitar For The Money: Final Thoughts
We wanted to make sure to include a large variety on this list of the best bass guitars, so that you can find the perfect bass guitar for you, whatever your budget.
Obviously, the more you pay, the more you get. But even the cheapest bass on this list is pretty good.
And all of them, from the cheapest to the most expensive, are incredible values. Each one is the best electric bass guitar for your money at its price level. No matter which one you choose, you get far more than you pay.