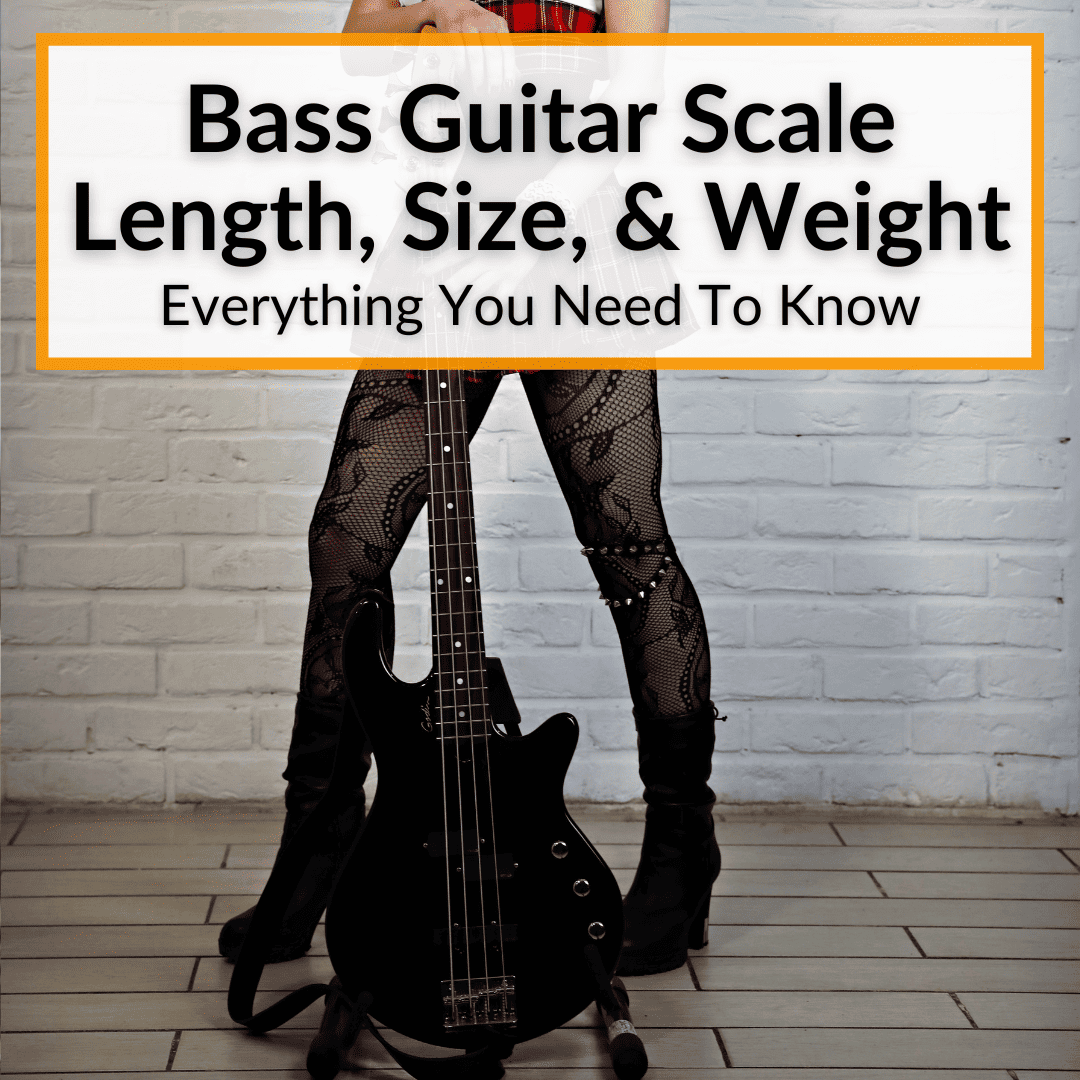 The bass guitar is a relatively simple instrument.
But it plays an important role in modern music.
As such, the bass has become fairly standardized.
Almost all basses share the same standard features. And one of those is the bass guitar scale length.
Unlike the regular guitar, there is a standard scale length with basses. But there are still variations.
And when it comes to the overall bass guitar size and weight, there is quite a bit of variation.
Keep reading to learn all about scale lengths of bass guitars, as well as the overall lengths, weights and sizes. We will cover everything you need to know.
Bass Guitar Scale Length, Size, & Weight
The "standard" average 4-string bass guitar is about 46 inches long, with a scale length of 34 inches. Weight varies a lot, depending on tonewoods and other materials used. The average is around 8 to 9 pounds.
Of course, bass guitars come in different shapes and sizes, with some scale lengths going to 37 inches. Obviously, there are differences between 4-, 5-, and 6-string basses, and there are also basses with seven or more strings.
But apart from chunkier necks and more or less bigger bodies, these extended-range basses usually still have the standard scale length of 34 inches.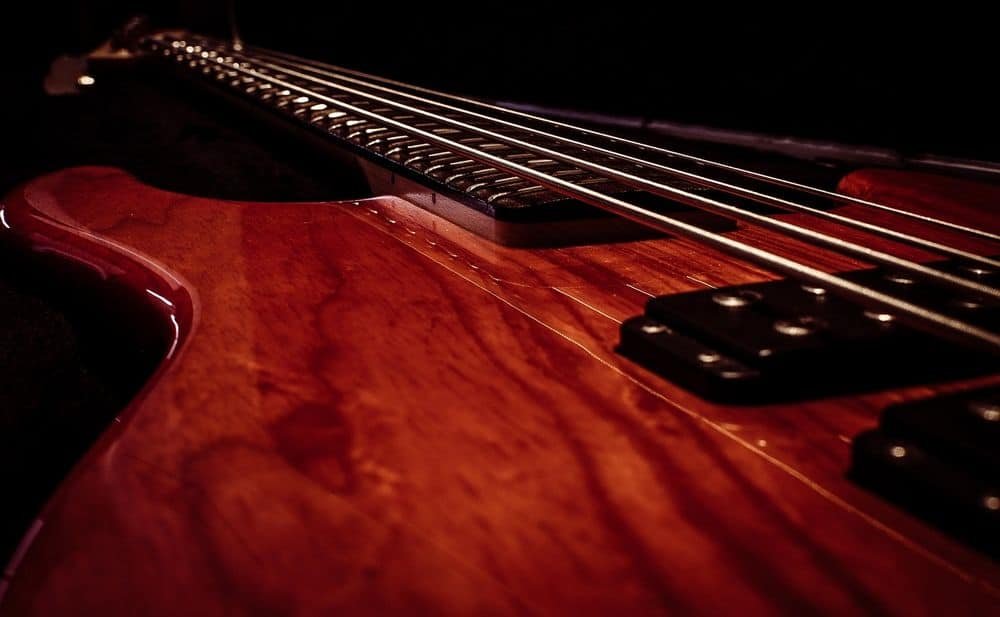 That said, there is definitely still some variation, and the topic is worth exploring in more detail. We'll begin by distinguishing between the scale length of a bass guitar and the instrument's overall size and dimensions.
Bass Guitar Length
One thing to point out is that scale length shouldn't be confused with the total length of your instrument. The length is measured from the very top of the headstock to the very end of the body, basically the opposite end.
For the most part, standard bass guitars are slightly over 46 inches long. In some instances, we have basses much shorter than average, that still keep the usual scale length of 34 inches.
This is the case with so-called "headless" bass guitars, instruments that come without a headstock. A good example are Steinberger's Spirit basses, which are 38.5 inches long. Basses like these are not that common, though.
How To Measure Bass Guitar Scale Length
While the overall length measures from the top of the headstock to the bottom of the body, scale length is the distance between the nut on the bass guitar and the point where strings touch the saddles on the bridge.
In other words, it is the usable length of the string on your instrument, or the part that rings out when you play your open strings. However, it's not that simple.
You see, the saddles on your bass guitar's bridge aren't all perfectly aligned with one another, making the scale lengths of individual strings different.
That's why there is another way to define the scale length. In fact, it's the official way to measure it. We take the distance between the nut and the 12th fret and then double it.
No matter how many frets your bass has, the 12th fret will always be exactly one octave higher than your bass' open strings. It's the perfect center of the usable part of any of your strings.
Although rare, there are also bass guitars with fanned frets and multi-scale designs. They rely on some of the same measurements, so you'll often see one specific scale length in the specs. However, these instruments are a whole different story and a deviation from basic rules.
Standard Scale Length Of A Bass Guitar
The scale length on bass guitars is one of the crucial defining traits of these instruments. Getting those low notes isn't just about having thicker strings than regular 6-string guitars. The longer scale length adds tension and achieves those lower notes.
As opposed to guitars, basses have one standard scale length and a few other variations. For almost all 4-, 5-, and 6-string basses, it's 34 inches, or 864 millimeters. This scale length can even handle lower tunings with the right setup and thicker string gauges.
Guitars usually have scale lengths of 24.75 or 25.5 inches. Those are the two standard options. Apart from that, you'll also find short-scale guitars of about 24 inches and baritone guitars that are usually 26.5, 27, or more inches.
Short Scale Basses
There are some cases of short-scale bass guitars. These are usually cheaper beginner-friendly instruments, although there might be some other options for players who just prefer overall smaller bass guitars.
For most, the primary advantage of a shorter scale length is that the instrument as a whole is also smaller. Some players prefer to have a smaller bass.
Short-scale basses come in different forms, but they usually have scale lengths that are around 30 inches. However, in some instances, scales can be as short as 20 inches, which is the case with some ukulele basses.
Apart from beginner basses, like Squier's Bronco, there are also some higher-end options, like the Gibson SG Bass. The legendary Höfner basses also have short scale lengths, usually 30 inches.
Fender and Squier VI Bass models also have 30-inch scale lengths. However, although they can functionally serve as bass guitars in some settings, they could also be defined as baritone guitars.
Long Scale Basses
Long-scale basses aren't as common, although there are some options on the market. They are not much longer, though. You can generally find instruments with scales lengths up to 37 inches.
These are all higher-end instruments that are popular among players who use lower tunings. You'll also find these longer lengths with custom-made extended-range basses that come with six or more strings.
Bass Guitar Weight
It is a bit tricky to calculate the average weight of bass guitars since their weight varies a lot, depending on the materials used. Overall, we're looking at weights between 7 and 10 pounds, or between 3 and 4.5 kilograms.
This is around the same weight as your average conventional solid-body electric guitars.
Obviously, on the lower end of this weight span, we have the short-scale basses. On the other hand, some old-school Fender basses can go over 10 pounds.
However, no matter the scale length, the body shape, or the full size of the instrument, brands and manufacturers today are doing their best to keep the instrument weight within reasonable limits. This is usually within the said 7 to 10 pounds.
Standard Bass Guitar Scale Length: Final Thoughts
The standard bass guitar scale length is 34 inches. Most basses have this scale length. There are some with shorter or longer scale lengths, but unlike with regular guitars, most basses do adhere to the standard.
This is true even if the overall bass guitar length is longer or shorter than average. Various bass guitar sizes all tend to still have the same scale length. Bass guitar weight can vary greatly, however.