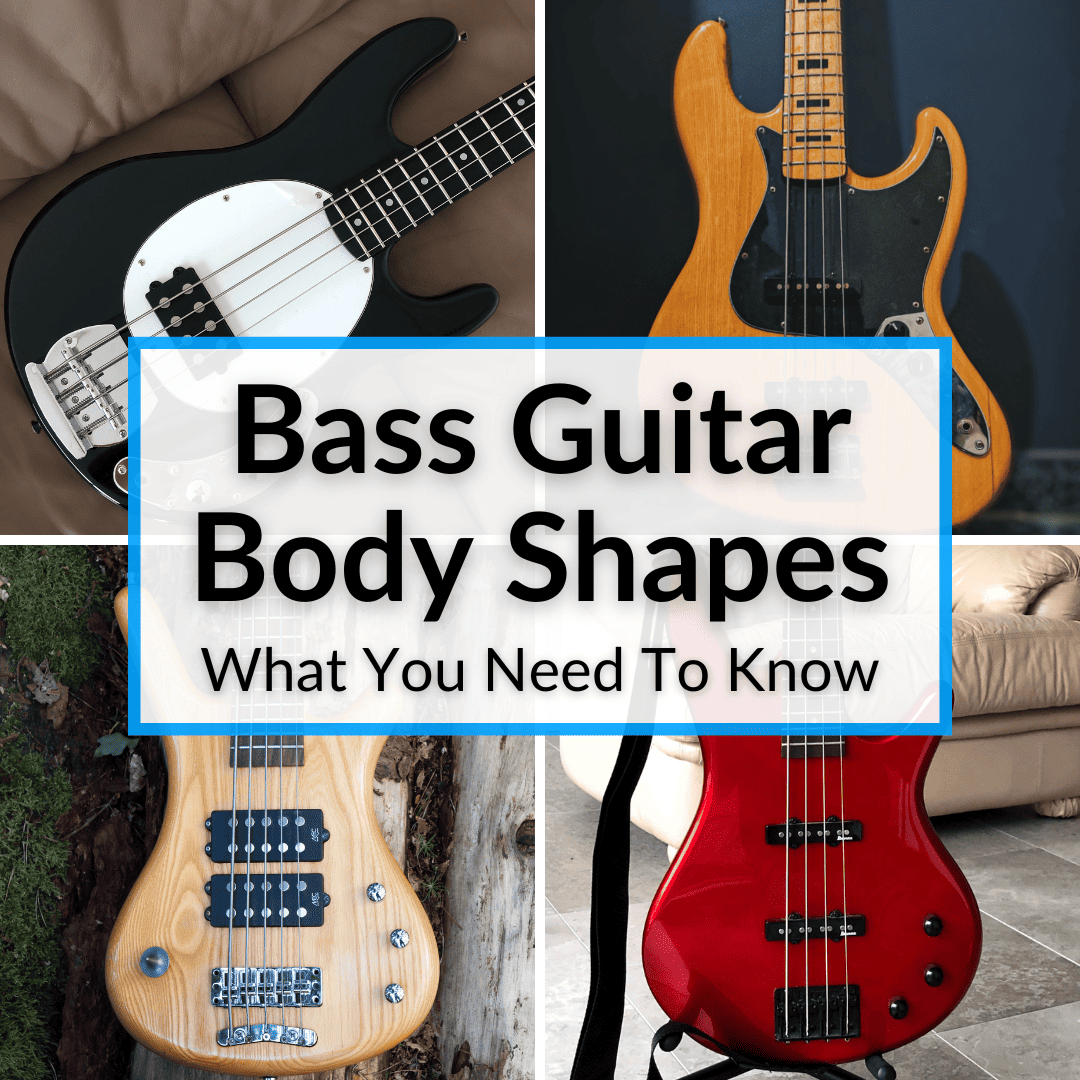 There are a lot of different bass guitar body shapes.
And some definitely look cooler than others.
But it's not just about aesthetics.
The shape of a bass guitar body also affects how the instrument feels and plays.
For most bassists, that is far more important than the look.
So what are the main bass guitar designs and which is right for you?
That's exactly what we are going to help you with below. Keep reading for a rundown of the most important bass guitar shapes and how each affects playability.
Bass Guitar Body Shapes
Each of the following bass guitar designs has become iconic for a reason. They have been proven over periods of many years, in the hands of some of the most renowned bassists of all time.
Fender "Strat" Or "P-Bass" Shape
Stratocaster basses are incredibly widespread today, which shouldn't come as a surprise since this design is almost a century old. While many musicians assume that Fender simply copied the all-popular body design of a Strat guitar onto a bass, it was actually the other way around.
They first implemented this shape on the P-Bass in 1951, a few years before they made the great Stratocaster electric guitar.
As for why the original design has endured so long without any major tweaks, the answer is quite simple. This is arguably the best-rounded body shape with minimal drawbacks.
First of all, the P-bass body shape is a tad smaller than average. Its top wing was deliberately cut off to enable the player to reach higher notes. By eliminating this obstacle, Fender also reduced the size and weight of this bass guitar's body.
The lower part of the body of a P-bass is the golden standard. The wide sides and round bottom give a perfect working surface, not to mention that this particular combination is quite a looker too.
Think of any prominent bass player, and there's a good chance they played and/or owned a P-bass. The famous Sting has an arsenal of original vintage Precision basses, as well as a signature model made by Fender (the MIJ 2010 Sunburst).
The late great John Entwistle used to play on a '66 P-bass, which he sometimes used when he wasn't playing on his famous Rickenbacker. And we chose a P-bass by Fender as our favorite bass guitar value on the market.
Gibson "SG" Shape
Whenever you hear an AC/DC tune, you probably think of Angus Young and his iconic SG Guitar. Gibson basses also came in this shape, although they originally bore the title "EB-3" when they were released.
Famous for its horned wings, the SG shape is one of the few bass guitar shapes that are entirely symmetrical. Its bottom part is slightly heavier than average. The middle part is just slightly curved while the top wings are quite short.
From a technical standpoint, the SG bass guitar shape had little advantage over the competing alternatives. With more wood being used to make them, these basses were usually slightly heavier and easier to bump into unsuspecting band members if the band performed on a smaller stage.
This body shape looks as if it was specifically made for R&R and metal folks. The iconic cherry sunburst finish that graces most of these bass guitars is the identical finish to the ones Gibson SG guitars have.
Jack Bruce, the legendary bass player from the mighty Cream, was among the first to pick up this SG-shaped Gibson bass. Uriah Heep's bassist Trevor Bolder and Mike Watt from The Stooges, as well as Glenn Cornick from Jethro Tull have also played the EB-3 at one point.
The "Rickenbacker 4000" Shape
Rickenbacker existed for nearly three decades before they decided to start making bass guitars. It's one of the handful of brands that reached almost instant success with their first series of basses, capable of dancing with more established brands right out of the gate.
More importantly, Rickenbacker based its first series (the 4000) on the same design and simply introduced minor tweaks and upgrades to models that came after the first, hence the "Rickenbacker shape".
These basses became immensely popular because they sounded good. Even though it didn't look as flashy as the SG or Thunderbird, the body design of Rickenbacker 4000 basses was remarkably practical.
This shape is the first that purposefully separated the wings even further away from the centerpiece. This way, there was no need for cutouts since the player could easily reach any string or note from any angle they wanted.
The heads of the wings were also a bit thinner than usual, which can give the impression that they're longer than they actually are.
Another crucial part of this design is the sunken top side. While most guitars feature symmetrical rounded sides that protrude upward, Rickenbacker curved the top downward. This way, if you wanted to rest your hand on your guitar, it wouldn't slide down as easily.
Nearly all the big bass players played a Rickenbacker on stage at least once. The world-famous Jaco Pastorius, Geddy Lee, and Chris Squier, as well as the late greats like Lemmy Killmeister and George Harrison, come to mind.
Gibson "Thunderbird" Shape
Gibson launched the Thunderbird bass in 1963, only a few years after they launched the infamous SG to the public.
The story behind the creation of this bass (and its shape) is quite interesting. Even though Gibson had a team of talented luthiers and innovators, they enlisted the help of Raymond Dietrich, a retired automotive designer and owner of Dietrich Inc. coachbuilder.
As the story goes, Raymond retired to the city in which Gibson was headquartered: Kalamazoo, Michigan. Knowing that they had to reinvent the wheel with non-traditional building methods, Gibson higher-ups called upon Raymond's auto-designing skills. And that's how the Thunderbird came to be.
The Thunderbird shape has four rounded edges and wings that are significantly shorter than average. This leaves the entire top end of the fingerboard unobstructed. But unlike the Stratocaster, it does not feature a bottom cutaway.
The main benefit of this body shape is that it's almost solely focused on practicality. Whether you want to play the bass rested on your lap, play from a seated position, or rock out while standing or moving, you'll be comfortable and look cool while doing it.
One of the most famous Gibson Thunderbird players is KISS's Gene Simmons. He has a signature model with Gibson called G2, and it stands as one of the finest high-end basses on the current market. Another remarkably famous bassist who frequently played a Thunderbird is UFO's Pete Way.
Gibson "Les Paul" Shape
Les Paul guitars and basses are as popular today as they were throughout the '60s and the '70s. What I found extremely interesting is that this company changed its original LP bass shape so much throughout the years that I didn't even recognize the progenitor of this series.
Imagine a standard LP guitar, but give it four control knobs in the spots a Strat would usually have them, a single cutaway on the bottom wing, and a glossy finish. That's what the first Gibson LP Standard looked like in '69.
In two short years, Gibson realized that its LP basses weren't gaining much attention. They simply looked too bulky and unwieldy. Even though professionals warmly appreciated their sound, Gibson had to think of a way to make the Les Paul bass look and feel a bit more interesting.
In '73, Gibson launched its freshly redesigned LP Signature. Now featuring dual cutaways and an increased scale length, this bass looked far more regal and elegant. To this day, the modern LP bass shape is hard to discern from the LP guitar shape.
The first musician to ever play the LP bass was its creator, Les Paul himself. Other notable players include Pal McGuigan, Alex James, Frank Infante, and many others.
Dean "ML" Shape
Another bass guitar shape that was popularized by a guitar player, the Dean ML shape is something that most metal fans would instantly recognize. The quirky cut-out star design you often saw in Dimebag Darrell's hands was a Dean ML.
Featuring a top cutout and elongated wings, this body shape made waves when it came out in 1977. What made this bass guitar shape stand out from the classics like Stratocaster, SG, or Thunderbird was the asymmetrical design.
Its ends are differently sized and angled, but only by a small bit. You generally won't even recognize the difference unless you pay attention. I can only hazard a guess that this design almost invites a bit of chaos, so no wonder it appealed to the kings of groove metal.
One of the most popular versions of the ML bass is the Dean Metalman ML. Surprisingly, it's among the cheapest bass guitar models out there, so I don't believe too many professionals have one at home.
Yamaha "Attitude" Shape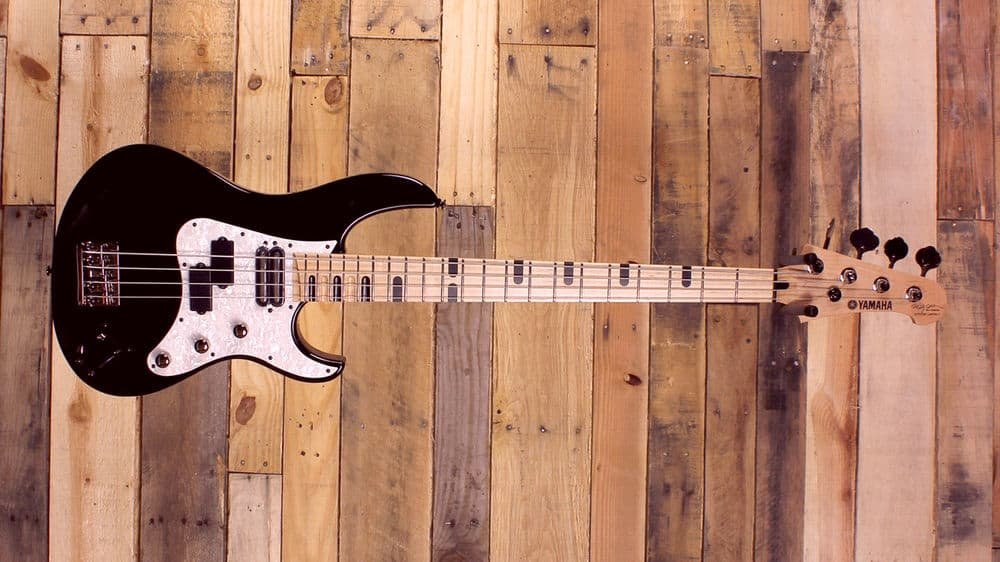 Most bass guitar makers would trim the top wing of their instruments as much as they could. The Thunderbird barely features one while the SG has a tiny but mischievous one. Yamaha went in a different direction with its Attitude line, which was largely popularized by the famous Billy Sheehan.
Launched in the early 90s, the Attitude brought a bass guitar with ultra-long sides to the stage. The rest of its body was perfectly normal and barely any different from your average Stratocaster bass.
With a deep cutout on the lower wing, all the high notes are easy to access. However, the top wing goes all the way up to the 12th fret, which makes tapping maneuvers a bit more difficult than they should be.
In my opinion, "Attitude" is the ideal name for this bass body shape: playing with a deliberate handicap is a true sign of skill and showcases your attitude perfectly.
Bass Guitar Designs
All of the bass guitar body shapes above are hugely popular. Many professional bass players have used them to great effect over the years. In fact, most bassists own several different types of basses and switch them out as needed to take advantages of the strengths and weaknesses of each bass guitar shape.
As for which bass shape is right for you, that depends on your playing style. Hopefully the breakdown above has helped you narrow it down to one or two designs. If you can't decide between two or three of them, I'd make my final decision based on which one looks the best to me.