Are you thinking about getting a bass guitar?
Then you may have noticed all the dirt cheap models on Amazon.
Are those any good?
No, they are not. They are terrible.
You do not need to pay a fortune for a good bass, but you do need to pay more than the absolute minimum.
Many of the best bass guitar brands have great beginner models that sell for a good price.
In fact, the upper end of the budget range generally represents the best value for money.
So which bass guitar brands should you be looking at? Keep reading to find out.
Best Bass Guitar Brands
All of the following bass guitar brands have models in almost every price range. No matter what price level you are looking at, you will find some excellent instruments from these bass guitar manufacturers. And if you're curious about the bass guitar brands to avoid, read this article.
Fender
Fender is a brand without which we probably wouldn't have bass guitars as we know them. Fender led the bass revolution and continues to be among the best bass guitar brands to this day.
Fender is the longest-running manufacturer of modern bass guitars, with a track record of almost a century. They started building basses in the early 1950s.
Fast-forward to today, and some of the earliest Fender models have seen countless re-launches, with the most prominent being the infamous P-Bass (Precision Bass). It is my favorite bass and I have a full review of it here.
A smooth neck, unrivaled intonation, and superb playability are just some of the qualities that grace all Fender basses. Even though I only got to borrow a few Fender electric bass models, they're the only ones where you instantly feel the difference. The sound, the sleek design, and the gorgeous aesthetics make Fender basses unique.
And then there are vintage, limited-edition, and artist-signature Fender basses like the 1960 Vintage II, the Gold Foil, and the American Professional Jazz Bass. Made from incredibly hard-to-get tonewoods and engineered with surgical accuracy, these basses are hard to beat in any field of performance.
Warwick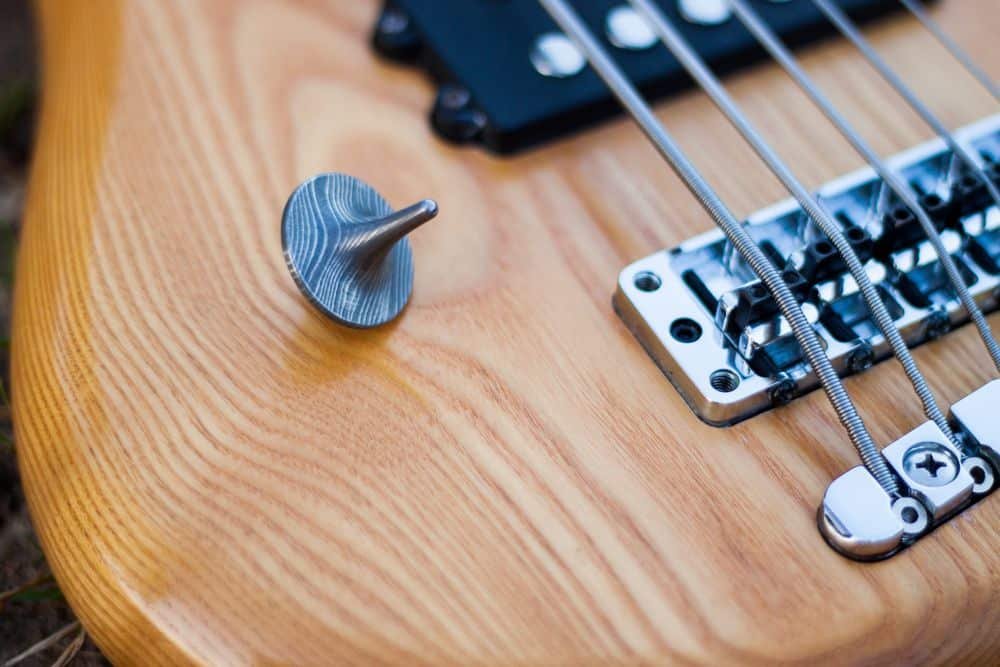 I'm slightly (positively) biased toward Warwick ,simply because their Fretless Corvette Rock Bass has been my go-to for years now. Based on the indescribable performance of this mid-tier active bass, I thoroughly stand behind the entire brand.
Founded in 1982, this company brings the finest German engineering to the world of music. First and foremost, Warwick basses are built to withstand practically anything. It is easily my favorite of the European bass guitar brands.
I moved at least 5 times within the course of a year during the pandemic and the Corvette survived a barrage of dings, road bumps, and temperature shifts, while offering the same level of performance afterward.
Another thing that I love about Warwick bass guitars is that they have a very unique tone. Of course, each model boasts a different set of tonewoods. Some models slightly favor the warm end and some the bright end of the spectrum, but my fretless Corvette can be either of the two when needed.
These versatile basses are made so they can complement any playing style or genre. Even though I primarily use my Warwick for metal, I have also played it in a few rock and jazz cover bands, and it exceeded all expectations.
Ibanez
Ibanez is the "Jack of All Trades" in the bass guitar world. They have cheap beginner "Jumpstart" kits, Les Paul lookalikes (AFB & AGB), modern designs with angled frets, and classics. So take your pick.
My story with this brand began when I bought a second-hand RS Gio 5-string from a friend. Even though this model belongs to the upper bracket of the entry-level Ibanez basses, it consistently delivered the same level of performance for about 6 to 7 years (before I upgraded).
Curious about what Ibanez offered in terms of better bass guitars, I took to their online shop and discovered that they offer one of the most comprehensive catalogs I have seen. Ibanez is definitely one of the top bass guitar companies
I was particularly impressed by the EHB series (especially the outlandish EHB 1506 MS), which houses headless electric basses with wonky necks and probably more strings than I could handle.
In terms of classic electric basses, I recommend checking out its Talman series. Iconic pickguards, the "golden standard" dual humbucker setup, firm frets, and sleek fingerboards are just some of the features I adore in Ibanez basses from this generation.
I can only hazard a guess that Ibanez Artcore basses are as exquisite as they look, but my experience tells me that hollow-bodied Les Paul-style basses can't be bad.
Its representative, the AFB 200, has a shorter-than-average scale length, sophisticated magnets, and one of the most gorgeous maple bodies I have ever laid eyes on.
For a great entry-level model, check out my review of the GSRM-20 bass.
Yamaha
Yamaha has existed for more than 135 years. It's a brand that makes music equipment, musical instruments, and motorcycles. But because they make anything and everything that makes or plays music, you might be tempted to ask: are Yamaha bass guitars good?
They are. This brand excels everything it does. Nearly all of its bass guitars feature at least a handful of custom specs that can give you a different flavor from what you'd normally expect.
I'd be remiss if I didn't start by saying that its BB Series of Basses is as great as Ibanez's RS series, if not better. Classic 6-bolt necks, bodies made of alder or maple, custom-wound magnets, and special bridges ensure these instruments have a rock-solid tone and intonation.
To compete with more modern designs that are popping up on the market, Yamaha has been consistently updating its TBRX series with models that look as great as they perform. I'm especially fond of the TRBX 500, which offers an expanded selection of onboard tonal controls, custom H5 pickups, and hybrid circuitry.
The most exquisite Yamaha models belong to the TRB series. Cheaper than Fender while offering similar performance, these bass guitars boast custom EQs, ultra-long scale lengths, and bodies that can withstand decades of use thanks to their 5-ply construction.
Music Man
Music Man is a relatively young American manufacturer of premium quality basses, guitars, and guitar strings. Founded in 1974 in California, it quickly soared to the upper echelons by delivering quirky designs that resonated well with both old-school and emerging players.
Starting with the Stingray Special, it's easy to see that Music Man builds basses differently. From the guarded 4-band EQ circularly placed near the bottom wing to the gorgeous aesthetic details, the Stingray Special is a great example of Music Man's vision – to bring bass players an instrument that is both practical and stylish.
The Darkray 5 left me speechless. Music Man worked with Darklass Electronics to give this bass a unique light effect on the control knobs, a unique pickguard, and a stunningly beautiful neck.
Performance-wise, all Darkray models have ebony fingerboards and an exceptionally full-bodied tone. But they do cost a small fortune.
Nearly all of Music Man's bass guitars follow similar principles while utilizing slightly different specs and color styles. From the iconic Sterling collection and Mike Herrera's signature basses to the classy (and somewhat simpler) Joe Dart electric basses, Music Man has found the right formula and keeps upgrading it.
Bass Guitar Manufacturers: Final Thoughts
Whatever your skill level, the companies above make an instrument for you. They are the best bass guitar companies for a reason: they offer incredible value, above all.
As mentioned, the best bass guitars are not necessarily the most expensive. They are the ones that give you the most value for your money. And most of the time, you get that from the upper budget and the mid-range guitars.
If you are in the market for a new bass guitar, I highly recommend any of the brands above. Take a look at their collections and see which offers the best instrument for you. If you need a place to start, I'd go with Ibanez or Yamaha if on a budget, or Warwick or Fender if you can spend a bit more.