Buying a bass guitar?
Then you've got a few key decisions to make.
One of the most important is choosing between an active vs passive bass guitar.
This refers to the pickups, as in active vs passive bass pickups.
So obviously, you can always just swap out pickups down the road.
But it's is always better to choose the type of pickup that is best for you right from the start.
Which is best? It depends on your needs and playing style. Keep reading for a detailed comparison of the two types of pickups and some help in figuring out which one is better suited for you.
Active Vs Passive Bass
We will begin our comparison of passive vs active bass guitar pickups by looking at each pickup type individually, before comparing them directly. We'll examine the advantages of each and help you choose the best type for you.
What Is An Active Bass Guitar?
Active bass guitars feature "active" pickups. What makes them different from passive pickups is that they rock a small preamp that is usually powered by a battery.
The main characteristic of all active basses is that you get to choose how these pickups behave. When they're turned on, active pickups significantly enhance the volume and gain of the instrument's tone.
Basses with stronger active bass guitar pickup types won't ever need a distortion, especially if their innate tone was already gritty and heavy on the lows.
One of the things that may confuse newbies is that you can only play an active bass as long as it has a functional battery. If it's been pulled out of the socket or it runs out of juice, you'll no longer be able to play your active bass as an electric instrument.
I've been in multiple situations when I thought the battery was dead and was surprised that my bass still worked, but in actuality, the battery still has some strength left. Once the battery level of an active pickup drops below a certain threshold, you'll notice that your tone will become messy and almost incoherent.
In worst-case scenarios, when the battery is almost completely depleted, this type of bass will start to stutter, i.e. lose and regain electricity rapidly in short intervals.
What is A Passive Bass Guitar?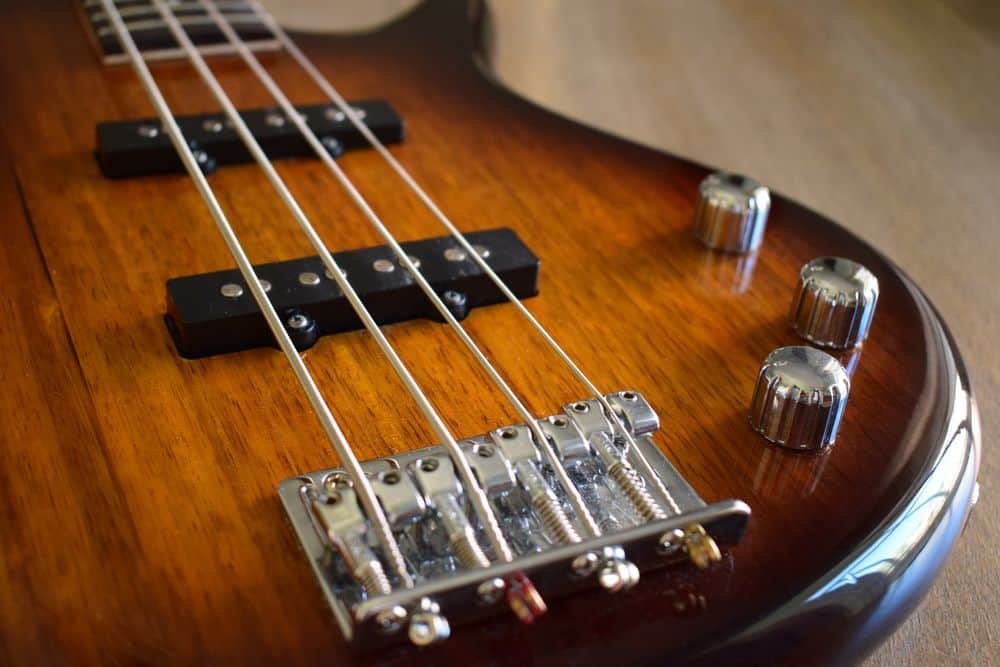 Passive basses are electric bass guitars with standard pickups, i.e. simple ones that serve as low-pass filters that cut out the high frequencies and give the bass a firm, rounded tone with a heavy emphasis on lows and mids.
When electric basses were invented back in the 30s, they introduced the first passive bass pickups. Since an alternative didn't exist for roughly half a century (when EMG Inc. came around), passive bass pickups were simply called "pickups".
Passive basses are far more widespread for several reasons. First, they've been around much longer, and most beginners don't even know that they have another option. Second, passive basses are a bit easier to handle and are usually cheaper.
Differences Between Active And Passive Basses
As someone who owns and plays both, I think there are more differences than similarities between active and passive pickups.
First, passive basses offer a steady performance, meaning that you'll reliably get the same tone, volume, and punch. You can fine-tune the tone of a passive bass to a degree using the control knobs, but without special amp settings and effect pedals, it will mostly sound and behave the same.
Active basses, on the other hand, are either tame and sonically weak when their pickups are off, or loud, sharp, and remarkably strong when the pickups are on.
After years of playing Gio and Corvette basses, I realized that the type of pickup a bass uses influences how the tonewoods react with the electronic components to produce sound.
As a passive bass, my Ibanez Gio always has a balanced tone, because its overly-bright Maple neck pushes the overly-warm Mahogany back to the center of the sonic spectrum. Passive pickups allow the tonewoods to color the tone the way they were meant to.
On the opposite end, my Warwick Corvette barely benefits from the tonewoods, regardless of whether the pickups are on or off. In the first case, the ultra-strong MEC humbuckers overwhelm its naturally warm tone.
When turned off, the tone is so weak and the volume so low that you have to spend a lot of time playing this bass to notice its warm undertones.
Another difference between active and passive basses lies in maintenance. Passive basses are fairly easy to care for. You just have to clean the bass guitar, re-string it every couple of weeks, and make sure the hardware is in good condition.
The maintenance process of active basses features an extra step: active electronics. Now, the simplest way to ensure you can always reliably use your EMGs, MECs, or whichever brand active pickups you're using, is to either carry a portable battery charger at all times. Or use a battery adapter.
Personally, the latter has helped me a lot. When I go on small tours or perform out of town, I have an adapter handy and leave one slot in the power supply unoccupied.
This way, even if the battery is dead, it works as if it was full. I should note that this may not be the case with all active electronics, so ensure your guitar's battery is charged or buy a new one before your gigs or rehearsals.
There's also the issue of upkeep. The only things you'll need to buy to keep your passive bass working are sets of replacement strings and possibly replacement hardware (e.g. new tuning pegs, pickguard, screws, etc.). For active basses, you'll need to buy replacement batteries, since they eventually lose their power.
Similarities Between Active And Passive Basses
Both active and passive basses are still bass instruments. Their sonic signature sits in the same range, although active basses don't cut out the highs as much.
They can both be electric or semi-acoustic basses. Additionally, both passive and active basses can be fretted or fretless and feature 4, 5, 6, or possibly even more strings.
Additionally, any passive bass can become an active bass if you upgraded to active pickups, or vice versa.
Specs-wise, these instruments can be identical. The size, weight, scale length, strings, and hardware of any bass model are completely unaffected by which pickups you're using.
Advantages Of An Active Bass
The capability to transform the tone of your bass is accessible with a pull of a switch and allows you to instantly change your role as a bassist, from working in the backlines on keeping the groove going, to taking the spotlight with a roaring gain-heavy sound.
Active basses have stronger gain than most amps. Most mid-tier models I've played offer a surprisingly articulate form of distortion, meaning that you won't need any pedals to sound great while playing hard rock or metal.
One of the biggest advantages of active basses is how loud they can be. I've learned to appreciate the volume boost when playing with hyped drummers who couldn't control their volume, but this boost truly shines during gigs where the band doesn't have on-stage monitors.
Advantages Of A Passive Bass
A passive bass is the "Jack of all trades". You can do pretty much everything on a passive bass, from playing basic licks and riffs to weaving complex fills to soloing.
They may not have the punch or the volume of active basses, but they have the grit and the groove you'll need to play virtually any genre of music.
From my experience, passive basses give a better sonic canvas to paint on. It's far easier to fine-tune their tone with proper distortion or overdrive pedals, which is especially true when compared to low-end active basses. They also work better with more complex pedals, like pitch shifters, heavy delays, and loopers.
Reasons To Get An Active Bass
I've spent years in hardcore and death metal bands that featured only one guitar player. Without the extra guitar to keep the overall tone chunky with palm-muted power chords and make the fills more flamboyant, the active Warwick Corvette enabled me to fill this gap without a hitch.
I warmly recommend bassists who want to stand out more (when warranted and necessary) to use an active bass. The extra volume and gain-on-demand are excellent tools to have in rock, metal, punk and heavier styles of music.
Active basses will also help you have more fun and control during shows when you're not playing on your own amp. It pays off to be prepared to perform on a small 20-watt off-brand practice amplifier and still have the tone you want.
Reasons To Get A Passive Bass
The versatility of a passive bass makes it incomparable to active basses. There are simply too many scenarios in which active EMGs aren't needed (and would downright hinder the overall tone of the band or recording).
Alternative rock, pop, blues, jazz, and dozens of other music genres require your bass tone to be clear, accurate, and steady. That's simply too hard to achieve when your bass is overflowing with gain.
Another major reason you should at least consider having a passive bass in your arsenal is to record music. While it is perfectly viable to record songs on an active bass, it's better to have a more controllable tone, so that the audio engineer can help you find the right frequencies, effects, and settings.
Finally, if you're a beginning bass player, you should start with a passive bass, so that you learn how this instrument works. Noticing mistakes on an active bass is a bit more difficult, and learning on one could hinder your progress.
Active Vs Passive Bass Guitar: Final Thoughts
The main difference between active vs passive bass pickups is that active pickups are powered, while passive are not. This makes them louder and more powerful, but also less versatile.
Whether an active or passive bass guitar is right for you depends entirely on your needs and your playing style. There are great basses on the market of each type: active and passive.
Many bassists have at least one of each, so that is always an option, too. Another option are active pickups that also function as passive pickups when you turn the power off. That gives you the best of both worlds.