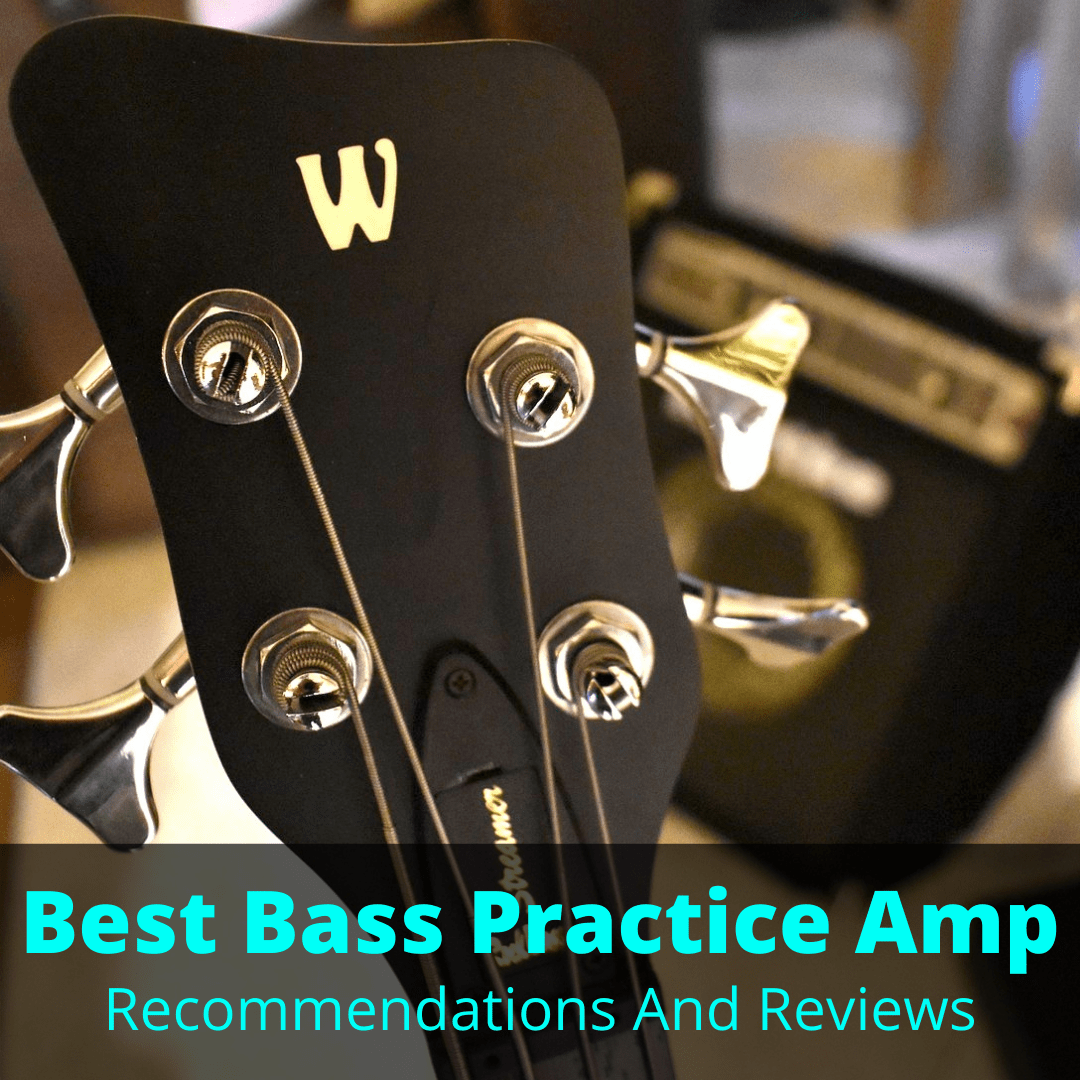 Bigger is not always better.
When it comes to the best bass practice amps, smaller is where it's at.
For practicing, you want good sound quality, but you don't need the best.
Compactness and a lower price are more important.
Why spend a ton on something you only use to practice, after all?
I realize it sounds a bit like we're telling you to settle for a low-quality practice bass amplifier.
That's not the case at all. Every model listed below gives you great sound quality. They don't come close to a full-sized amp, but for the size and price, they sound amazing.
And that makes them perfect for practice sessions. Let's take a look.
Best Small Bass Amp: Comparison Table
11/27/2023 10:24 pm GMT
Best Bass Practice Amplifiers Reviewed
Each of the following practice bass guitar amplifiers is excellent. They are all great value for money, but they are also quite different. We wanted to include various options, to make sure there is something for every need.
Best Practice Bass Amp: Blackstar Unity Bass U60
Blackstar amps are usually more popular among guitar players. But they make some awesome bass-oriented stuff as well.
If you want a great amp for practicing at home that can also handle band rehearsals and even some smaller gigs, Blackstar's Unity Bass U60 model is perfect for you.
As the name suggests, it gives you 60 watts of output power. This all goes through the amp's single 10-inch speaker.
The amp offers a lot of tone-shaping features. Aside from the basic controls for the 3-band equalizer, you can even choose the peak frequency for the mids.
There are three voicing modes that technically imitate three different channels. There are also onboard chorus and compressor effects.
What's also interesting is that you can use the amp's line output to go directly into the mixer, or use it with headphones for silent practicing
Another great thing about Blackstar's Unity Bass U60 is that it features an XLR output as the line output alternative, and there's even a separate XLR as a cabinet link output that's specially designed for Blackstar's active cabinets. This does mean you will need an XLR cable.
Overall, this is easily the best bass practice amp that money can buy. It can come in handy even for the most experienced bassists.
Best Beginner Bass Amp: Fender Rumble LT25
Fender Rumble LT25 Bass Amplifier
Pros:
Compact

Really easy to use

Comes with a lot of presets and 15 amp models
Cons:
It could use a specialized line output for live settings
View on Amazon
We earn a commission if you make a purchase, at no additional cost to you.
11/27/2023 10:24 pm GMT
With their reputation among bass guitarists of all musical styles, it comes as no surprise to see a Fender bass amplifier on this list. If you need a practice amp that's super-useful for beginners (or intermediate players), we highly recommend Fender's Rumble LT25 model.
The LT25 belongs to Fender's budget series of amplifiers, but it comes with some surprisingly awesome features.
Sure, you can't expect a super-professional tone from it, but it comes with 15 digital amp models, and gives you the option to choose from 50 different factory preset tones and 30 user-made ones.
You might think this could be too complicated a feature for a beginner, but the amp controls make it simple to use.
There's the standard 3-band EQ, along with a simple rotary switch that lets you choose any of the presets. What's more, by pressing the switch, you can also edit each of the presets and customize it according to your needs.
The amp has 25 watts and one 8-inch speaker, which is perfect for practice sessions. By using its headphone output, you can also connect it to a PA system.
However, this doesn't give you nearly as good results as you'd get with regular line outputs. But it's not a big deal, since the amp's main focus is on home practice or jam sessions. And you can even use it as an audio interface for your computer.
Best Small Bass Amp: Blackstar FLY 3 Bass
Blackstar Fly 3 Bass Combo Amplifier
Pros:
Really compact and practical

Comes with a decent amount of controls for an amp of its size

Can be powered using six 1.5-volt batteries

Can be paired with a specialized extension cabinet
Cons:
Not powerful enough for live shows
View on Amazon
We earn a commission if you make a purchase, at no additional cost to you.
11/27/2023 10:04 pm GMT
When it comes to practice amplifiers, be it for bass or guitars, one of the most important issues is the overall size, and thus the practicality.
With this in mind, many manufacturers began focusing on small-sized guitar and bass amps. But no brand can match what Blackstar has achieved with their amplifiers.
If you're a bassist in need of a compact practice amp for either home, backstage or studio use, the Blackstar FLY 3 Bass is the way to go.
It is one of the smallest amps out there, but it still manages to keep the sonic qualities that you'd want to have with a bass amp. The FLY 3 Bass has 3 watts of output power and just one 3-inch speaker.
The controls are simplified, but they still allow you to do some interesting tone-tweaking. There are controls for input gain and output volume, the "depth" knob which is essentially like the tone control, and even a dynamic compression control.
Additionally, you can also use its overdrive circuitry and the "sub" control that adds some of those tight bottom-ends for a more efficient punch.
FLY 3 Bass amps are very useful for practices, not only because of their compact design but also because they can be powered with simple 1.5-volt batteries. They also let you plug in your phone or any music player that supports the 3.5 mm jack.
Right next to the 2.5 mm jack is a headphone jack. That allows you to connect your headphones to your guitar. You can't plug them directly into the guitar, but you get the same thing when you plug them into the amp.
Finally, it's also important to note that Blackstar also makes extension cabinets for the FLY amp series. These come with an integrated network cable, which can be plugged into the FLY 3 Bass amp.
This allows for a stereo setup and a much fuller sound, turning your practice into a more engaging and entertaining experience.
Best Budget Bass Practice Amp: Joyo MA-10B
Joyo MA-10B Mini Bass Practice Amp
Pros:
Really cheap

Easy to use

Can be great for just playing music from your devices

Really compact considering its output power
Cons:
Not that flexible or versatile
View on Amazon
We earn a commission if you make a purchase, at no additional cost to you.
11/27/2023 10:19 pm GMT
One of the best things about Joyo and their products is that they're not only affordable, but they even outperform their price tags.
You can't go wrong with any of their stuff, but if you want a decent bass practice amp at a ridiculously low price, then you need to check out the MA-10B.
It is a mini-sized amplifier in a plastic casing that delivers some pretty surprising performance qualities.
The main idea was to have a super-simple bass amp that you can take anywhere with you, and still have enough output power for a nice jam session.
Although small, this unit packs 10 watts of power, along with simple speakers designed to cover the full range of the audible spectrum. This gives the amp more of a hi-fi sound.
That's exactly what the manufacturer was aiming for, especially with the inclusion of a 3.5 mm jack to plug in a phone or any other device that can play music. In fact, the MA-10B amp can serve you well for other instruments or just as an active speaker for your devices.
The amp's features are pretty simple. It comes with simple controls for volume, gain, and tone, as well as an integrated overdrive circuit.
It's not as versatile as some of the other reliable bass practice amps mentioned here, but considering its price, you get way more than you can expect.
Best Bass Amp Under $150: Hartke HD15
Hartke HD15 Bass Combo Amplifier
Pros:
Simple to use

Fairly compact

Decent tone for the price

Cheap
Cons:
Not that versatile due to its limited controls
View on Amazon
We earn a commission if you make a purchase, at no additional cost to you.
11/27/2023 10:09 pm GMT
Hartke's HD15 is another fairly cheap amplifier. Knowing the company's reputation for making some of the best bass and keyboard amps, it's not a surprise to see one of their models on this list.
It is small, the HD15 packs a punch. In fact, it's a fully-functional amp designed for bass guitars. It is not just another multi-functional device that has been designated as a practice bass amp, but isn't really one.
Although it comes with 15 watts of output power and just one 6.5-inch speaker, the amp is designed to bring the best possible performance for bass guitarists.
There are four main things that make it a viable choice for a practice amp.
First, it has a lower power rating.
Secondly, it's fairly compact, making it useful for any practice setting.
Third, the amp's controls make it really simple to use, with only volume and 3-band EQ controls.
Fourth, the amp has the additional auxiliary input (3.5 mm) for playing backing tracks, plugging in a metronome, or anything else that you need.
It's simple, it's cheap, and it will serve you well for any practice or jam settings.
The only downside is that it is somewhat limiting with its controls. As mentioned, this makes it easy to use, which is great for a practice amp. But more advanced players will prefer at least a few more controls and features.
But we don't want be too nitpicky. You can't expect anything better than this amp below the $100 mark. For practice purposes, this is as good as it gets within the price range.
Best Bass Combo Amp Under $300: Ampeg BA-110V2
Ampeg BA-110V2 Bass Combo Amplifier
Pros:
Fairly compact considering its output

Very versatile bass amplifier

Comes with a 15 dB pad on the input

Features a very interesting distortion circuitry
Cons:
Nothing at this price level
View on Amazon
We earn a commission if you make a purchase, at no additional cost to you.
When there's a talk about bass guitars and the best bass amps, there's you can't avoid mentioning Ampeg. They're one of the oldest brands that specializes in bass amplifiers and have become popular among bass guitar players of pretty much all genres today.
As far as practice bass amps below the $300 mark go, we have to single out Ampeg's surprisingly awesome BA-110V2. The amp can actually do a lot more than just practice sessions, although this is its main purpose.
The Ampeg BA-110V2 is a fairly compact 40-watt bass amplifier, bearing one 10-inch speaker. Compared to other amps here, its circuitry is designed in such a way that puts it a step or two closer to more advanced amps.
Aside from the basic controls for volume, bass, middle, and treble, the amp also has a separate input level control for the auxiliary input. What's more, the aux input can handle both 3.5-millimeter and 1/4-inch jacks.
But what makes the amp really interesting is the addition of the "scrambler" circuitry, as well as the 15 dB pad on the input.
The "scrambler" is essentially a distortion that gives just enough punch to your bass tone to let it shine. It comes with two controls: one for the amount of distortion and the other one for blending it with the original clean signal.
Such a formation may seem simple, but it actually provides you with more tone-shaping options than regular distortion circuitries.
The 15 dB pad on the input is turned on with a simple switch. Its main purpose is to control the stronger output signals of active circuitries in basses, making this amp really useful for such settings.
By toning down the signal on the input, you'll avoid getting those unwanted distorted tones, all while keeping some of the sonic qualities of bass guitars with active preamps.
Overall, this fantastic bass amp blends simplicity, practicality, and some pretty interesting advanced features that you'd find on pro-level amps. Above all, you can get some surprisingly true bass sound out of it, even do a smaller live gig with it.
Even better, there is a larger 75 watt version available that also still comes in under $300, though we would not call that one a practice amplifier.
Mini Bass Amplifiers Buying Guide
There are a few important things you need to consider before deciding on a bass guitar practice amp. After all, the idea is to get the best out of your money and not end up with a model that doesn't suit your particular needs.
When buying a practice amplifier for bass guitars, you'll need to think about the output power, preferred kind of tones, the size, tube-driven or solid-state circuitry, effects or amp modeling features, and some additional functionalities and features.
Output Power
The output power is one of the most factors when buying any bass amplifier. If you are buying an amp specifically for practicing, you don't need one with a ton of output power.
In fact, you probably want one with a bit less power, to keep it from getting too loud and to keep it compact.
That said, bass amps usually need more power than electric guitar amps, because the bottom-end frequencies of a bass guitar don't seem as loud as other instruments.
For your standard bedroom practice, it's okay to go with about 10 to 15 watts. A model like the Blackstar FLY actually delivers the goods at only 3 watts, but it is an exception.
If you want something that could also work for band practices or even smaller gigs, while still keeping it at safe levels for home use, you can go up to 50 or 60 watts. Anything over that would just be too much for a practice amplifier.
Tube Or Solid-State?
One of the most common questions among bass and guitar players is whether they should go for tube-driven or solid-state amps.
As far as practice amps go, it's usually recommended that you go with solid-state amps. They're not only cheaper but are much easier to maintain and can withstand rougher handling, which you'll need in a practice amp if you plan on taking it on the road.
If you really like tube amps, it's okay to have them for practice purposes. Just bear in mind that tube bass amps with lower output power are not that common and can get a bit pricey, especially high end bass amps.
Size
Along with the output power, size is one of the main factors to think about when buying a bass practice amp. The main rule is simple – the smaller the better.
However, smaller size means that you get a smaller speaker, which can negatively impact the tone quality. This can be compensated to some extent, but smaller amps can sound a bit weird when you're talking about basses.
If you need something to take on the road, then there are mini practice bass amps that are perfect. If you'll be using it at home or for band practices, then you can go with a slightly larger one.
Just remember that having a combo amp is much simpler than an amp head plus cabinet formation.
Can It Run On Batteries?
Another important thing to know is whether it can run on batteries. For some bass players, this would be important as they'd like to have a practice amp "on the go." And if it's battery-powered, it makes things much simpler.
On the other hand, you can't expect to get more than 10 watts of output power with amps running on batteries. So this feature is pretty much limited to only the smallest amplifiers on the market.
Preferred Tone
This may be a bit tricky, because every bassist likes a different kind of tone. But generally speaking, it is much more difficult to get a good bass tone with amps that have smaller speakers.
The smaller the speaker, the less pronounced the bottom-ends get. If you're not certain what you're looking for, it's always a good idea to get an amp with a lot of tone-shaping options.
Additional Effects And Digital Amp Modeling
And while we're at it, some amps come with additional digital processing units integrated into them. These are becoming more and more common, especially with solid-state amplifiers.
Many of them have some pretty convincing digital amp models, replicating some of the most famous bass tones of all time.
Of course, all of this works hand-in-hand with effects. As far as bass guitars and practicing goes, having a compressor or a limiter can be of great importance, because these are the effects that you'll be using a lot as part of the rhythm section.
But then we're presented with a question of whether it makes sense to have so many detailed tone-shaping options and effects if you're looking for just a simple practice option.
These are certainly welcome additions, but they're far from being crucial for practice purposes.
Thar said, an amp with detailed digital processing can be fun to use and somewhat interesting to beginners who are just learning about this aspect. Additionally, you can also use them for recording and get some decent tones out of them.
Additional Functionality
You'll have to remember that practice amps for basses are not just your regular old amps. Although fairly simple, they should include some additional stuff: mostly headphone jacks, line outputs, and auxiliary device inputs. This way, you can have more options for your practice sessions.
At times, these features can get more interesting, especially if you have a way of controlling the aux input volume level.
And as we've mentioned with some of the amps above, there are plenty of other functions and features, like the line output for PA systems and separate cabinet outputs that come in handy for live gigs.
When it comes to the input signal, you can also see whether the amp has an option to keep it under control. By cutting down on some decibels at the input, you can make more of your bass if it has an active preamp circuitry in it.
Price
Finally, we should note that you shouldn't ever spend large sums on practice bass amps. There are certainly some models that come with interesting features and thus get up their in price.
But keeping it within reasonable limits, as we've done with this particular list, is the way to go.
This should primarily be a practice amp for you to play on at home, backstage, or for travels. Spending a huge sum wouldn't really make sense as this is not supposed to be an amp that sounds amazing.
It just needs to sound good enough for practice and have the essential features that you need for practice sessions. Just dial in the tone, play around with it for a few minutes, and jump straight into it!
Spend you hard-earned money on your real amplifier. The one you use for live shows. Save money on the one you just use for practice.
Best Bass Guitar Amplifier For Practice: Final Thoughts
A good practice amplifier for bass guitars is compact, reasonably priced and it has basic tone shaping features. You probably don't need more than that.
Most models also offer presets, amp modeling and other additional features. Unless you need them, there is no reason to pay much more for these.
Get the best possible amp you can afford, but don't pay more for features you don't need. Follow our recommendations to make sure you pay for sound quality, not gimmicks.