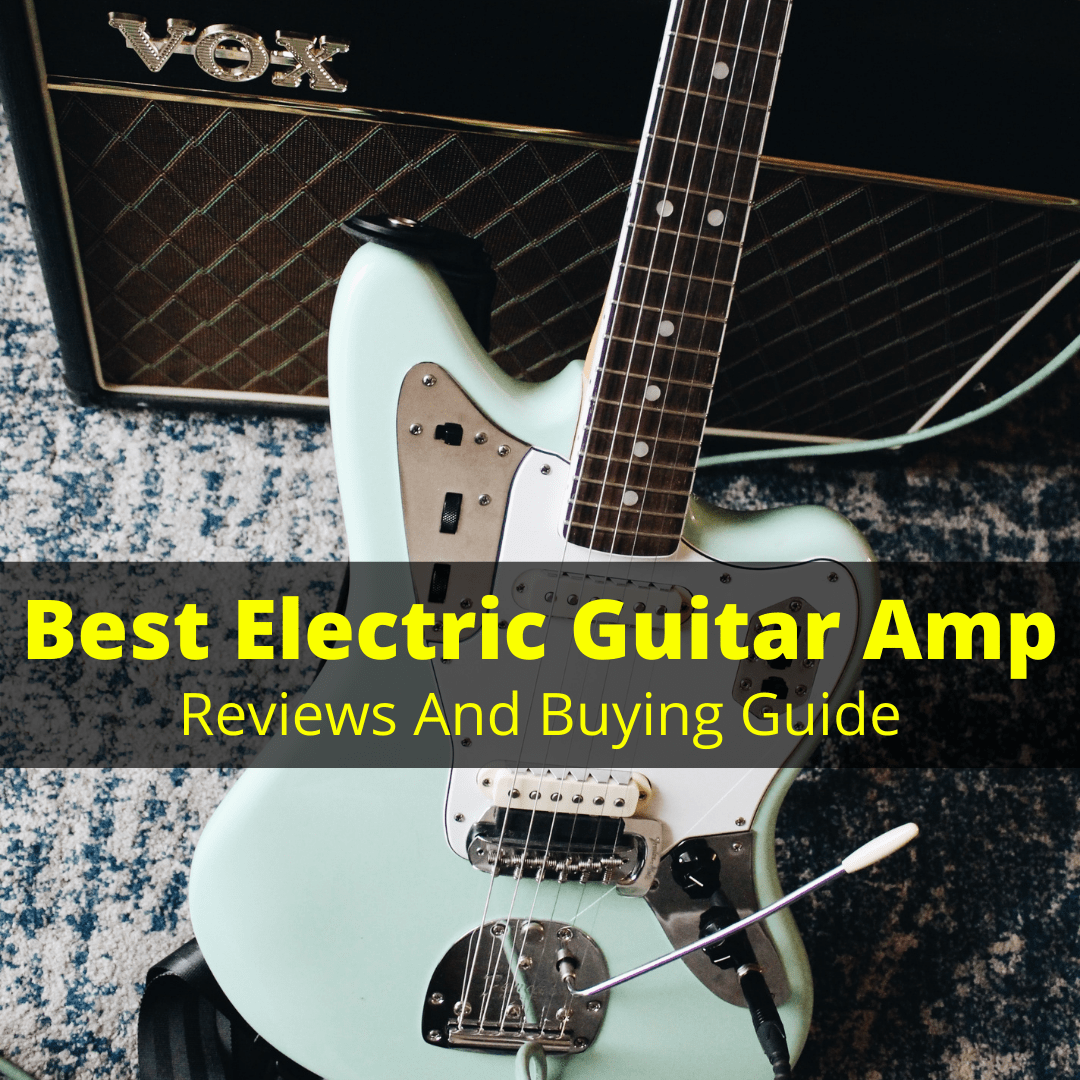 Electric guitars are nothing without a good guitar amp.
In fact, the amplifier plays a larger role in the sound output that the guitar itself.
The best electric guitar amplifiers can make even budget guitars sound great, while a low quality amp will make even the most expensive guitars sound bad.
But you don't have to spend a fortune to get a great-sounding amplifier.
If you know what to look for, you can find amps that deliver a beautiful tone at very affordable prices.
Take a look at our favorite amps for electric guitars below. We've included models for every budget, skill level and style, so there's sure to be one that's perfect for you.
Best Electric Guitar Amplifiers Compared
11/28/2023 01:54 pm GMT
Best Electric Guitar Amps Reviewed
The following are the best guitar amps for electric guitars, along with a brief review of each. We made sure to include models in all price ranges and skill levels.
Best Electric Guitar Amp Overall: EVH 5150 III (EL34 Tubes)
EVH 5150 IIIS EL34 100-Watt Tube Head
Pros:
Amazing tone, especially for high-gain settings

Extremely versatile

Very easy to use and dial in different types of tones
Cons:
It could use a power attenuation setting
View on Amazon
Our Review
We earn a commission if you make a purchase, at no additional cost to you.
11/28/2023 01:54 pm GMT
Some might consider tube-driven amplifiers a somewhat "outdated" or "archaic" technology at this point, but they are still highly sought-after by guitar players of all skill levels and genres.
They're more expensive and more complicated to maintain, but they provide you with a warmer and more pleasing tone, as well as a great dynamic response.
And looking into an amp like the EVH 5150 III, it becomes obvious why they're so popular. EVH is Eddie Van Halen's company, so it comes as no surprise that all of these amplifiers are top-notch and bring a lot of qualities in the high-gain settings.
The particular model comes with EL34 valves in the power amp section, which results in a tone that's just a bit heavier in the mid-section of the audible spectrum.
This valve amp head holds two EL34 valves, as well as seven ECC83 valves in the preamp, which are interchangeable with standard 12AX7s.
This absolute beast of an amp head has a total power of 50 watts and three separate channels. Even with all that power, it's surprisingly compact, which can come in handy for those who are gigging frequently and are constantly on the go. It's not just a studio amp.
But it is just the amp head, so it does still need a cabinet. And it is very expensive. Our comparison of the best combo amps for metal has some good alternatives for those on more of a budget or those who don't want to lug around two pieces of equipment.
The first two channels – the clean and crunch – have shared controls for volume, gain, and a standard 3-band EQ. Then there's the third high-gain channel that has these same controls but as a completely standalone section.
The tone can be shaped further using the presence knob. What's more, there's a resonance control on the back side, allowing you to adapt the amp head's tone to different cabinets.
You can also use the amp's preamp output and pair it with any other amplifier's power section, or just use it as a direct output into a mixing board or an audio interface.
Although focusing mostly on the high-gain settings, this is one fairly versatile amp that comes in handy for pretty much any genre that comes to mind. It could use an additional power attenuation control, but it's still an awesome amp.
Our full review of the EVH 5150 III has more information.
Best Budget Electric Guitar Amp: Peavey Vypyr VIP 2
Peavey Vypyr VIP 2 Guitar Modeling Amp
Pros:
Great combination of price and quality

Comes with 36 different models and 25 different effects

Comes with an integrated audio interface

Compact and simple to use
Cons:
The footswitch is sold separately
View on Amazon
Our Review
We earn a commission if you make a purchase, at no additional cost to you.
11/28/2023 12:09 am GMT
If you're in search of a cheaper, yet still good, amp, those are not easy to find. But it's not impossible to find a good budget option.
Our favorite is definitely the Peavey Vypyr VIP 2. The Vypyr series are known for their versatility and a surprisingly great tone, as well as their reasonable price. The VIP 2 model just takes this to a whole new level.
This solid-state combo amp boasts 40 watts of power and has a lot of tone-shaping features. Just like most solid-state guitar combo amps, it has an integrated processing unit for digital amp modeling, providing guitar players with a lot of different sonic options.
In fact, this one comes with 36 different amplifier models and a total of 25 effects. And as if this wasn't enough, the amp has different modes of operation, allowing you to plug in basses or acoustic guitars with a piezo pickup.
When it comes to basic controls, it has a 3-band EQ, pre-gain, post-gain, and master volume knob. But what's rather exciting is that it also has an integrated audio interface, meaning that you can connect it to your computer and record music in real-time, as well as edit different presets using Peavey's special software.
You can also store 16 different presets and call them in at any time using a footswitch that's bought separately. With all of these options and 40 watts of power, it outdoes most modeling amps and can come in handy for some smaller or mid-sized live gigs as well.
Read our full review of the Peavey Vypyr VIP 2 for more information.
Best Electric Guitar Amp for Beginners: Line 6 Spider V 20 MKII
Line 6 Spider V 20 MKII
Pros:
Surprisingly cheap for the features and qualities that you get

An abundance of amp, effect, cabinet, and microphone models

USB connectivity for home recording purposes

Simple and fun to use, making it perfect for beginners
Cons:
Not all presets sound great
View on Amazon
View on Guitar Center
We earn a commission if you make a purchase, at no additional cost to you.
When talking about the best guitar amps on the market, we need to include a beginner-friendly model as well. If you're in search of a great electric guitar amplifier for beginners, we recommend Line 6 and their amazing 20-watt version of the Spider V.
For many years now, Line 6 has been developing the Spider series, and they stepped up their game quite a bit with the fifth generation.
Just like the other versions, this little amp comes with its own digital modeling unit, providing players an abundance of different amp emulations, and even cabinet and microphone models.
What's also very useful is that the amp has different modes of operation and can also handle acoustic and bass guitars. Along with an abundance of integrated effects and stompbox emulations, you can create over 200 different presets for pretty much any genre that comes to mind. It also has a USB connection, so you can use it for home recording purposes and to create different presets.
Other than that, the amp has all the standard controls and features, including a headphone output. Although small and simple and pushing its 20 watts through a small 8-inch speaker, this amp is surprisingly versatile and could serve you well, even past your beginner phase.
Read our full review of the Line 6 Spider V20 to learn more.
Best Electric Guitar Amp Under $500: Fender Super Champ X2
The guitar as an instrument wouldn't be what it is today if it weren't for Fender. Aside from some of the best electric guitars we've ever had the chance to try out, the company is also known for making some of the most important tube-driven amplifiers.
Of course, they're generally all quite expensive, but Fender did manage to make one decently-priced tube amp model that still sounds pretty good.
With the Super Champ X2, you'll be able to cover a wide variety of genres, although the amp mostly focuses on the bluesy stuff. And with 15 watts of output power with a tube amp, it comes in handy even for live gigs.
This simple and compact amp pulls all that power through one 10-inch speaker. As far as its valves go, we have one standard 12AX7 in the tube preamp section and two 6V6 valves in the power amp section.
This classic combination, which is common with Fender amps, is enhanced using other technologies. The amp comes with 16 different voicings for its second channel. It goes from all the classic "twangy" tones and up to mid-heavy metal tones.
It also comes with an integrated audio interface. This means that you can pair it up with your PC for real-time recording and use its entire tube-driven circuitry for some warm and dynamically responsive tones.
And as if this wasn't enough, we even have effects onboard the amp, along with a tap feature for some of them.
If you're looking for a cheap quality tube amp, this is one of the best guitar amps you'll find, especially at this price. It is great for all playing styles.
Read out full Fender Super Champ X2 review to learn more about this great amp.
Best Electric Guitar Amp Under $200: Fender Mustang LT-25
Fender Mustang LT25 Guitar Amplifier
Pros:
Cheap but outperforms its price category

Large variety of digital amp models and effects

Integrated audio interface
Cons:
Might take some time to learn how to use all of the features
View on Amazon
Our Review
We earn a commission if you make a purchase, at no additional cost to you.
11/27/2023 11:44 pm GMT
Given how awesome Fender stuff is, we decided to include yet another of their more affordable models on this list. We often see the $200 mark as an important milestone, especially for those who are looking for simpler and affordable solutions.
In this particular category, Fender's Mustang LT-25 strongly stands out. Despite its small size and a cheap price, it has quite a punch. It has a total of 25 watts of output power, all driving through one simple 8-inch speaker.
This solid-state amp also comes with an integrated digital processing unit and all the important accompanying features. It has all the standard basic controls on it for gain, volume, bass, treble, and master volume.
However, the amp's true power shows with its unusually flexible tone-shaping features that include 20 different amp models and 25 effects. All these could be used to create 50 different presets.
For clearer and easier operation, it has a simple little display that shows the name and designated number of the currently selected preset. It might take some time to get used to it and create presets. But once you get a hold of it, it will work like a charm for you, no matter the musical styles you're aiming for.
This electric guitar amplifier is one of the best guitar amps for practice sessions, band rehearsals, and even home recording sessions, since it comes with an integrated USB audio interface.
As far as live performances go, it can work for smaller and quieter club gigs, but isn't powerful enough for anything larger than that
Our detailed Fender Mustang LT-25 review has more on this model.
Best Small Electric Guitar Amp: Bugera Infinium V5
Bugera V5 Infinium Tube Combo Amp
Pros:
Compact and relatively cheap for an all-tube amp

Great deal for the price

Pretty simple to use
Cons:
It might be somewhat limiting if you want heavier tones
View on Amazon
Our Review
We earn a commission if you make a purchase, at no additional cost to you.
11/27/2023 11:34 pm GMT
When they first appeared on the market, Bugera amps shocked everyone with their low prices and surprisingly great amp tones.
At this point, the brand is well-known among guitarists of many different genres for making some of the best guitar amps at a low cost.
If you're looking for a smaller amp, we recommend their Infinium V5. Despite its size, this tube-driven amplifier delivers some of the best tones you can imagine. With 5 watts of output power in a tube amp, it can also come in handy for some live gigs.
The entire Infinium series features amps that are mostly vintage-oriented, especially if you're into classic blues and jazz stuff. But if you take some time to work around the Infinium V5 controls and add some pedals here and there, it becomes a real workstation for diverse tones, even some heavy metal guitar stuff.
After all, it's designed to "break" its tone when you push it over the limits using overdrive and distortion pedals. The secret lies in its circuitry and valves. It has one standard 12AX7 in the preamp section and an EL84 in the power amp section.
You can notice a slight punch in the mid-section of the audible spectrum, making this amplifier suitable for all lovers of blues-rock and other related genres.
Additionally, you can "soak up" its output power down to 1 watt and even 0.1 watts which is extremely useful for quiet practice sessions. This way, you can use its full potential at a lower volume.
Other than that, it has the standard controls for volume, tone (essentially treble roll-off), and gain, as well as an intensity control for its integrated digital reverb effect.
It's one of the cheapest and most compact tube amplifiers you can find on the market today. If you want a low cost tube model, this is the best amp for you.
Read our complete review of the Bugera Infinium V5 for more.
Best Practice Amp For Electric Guitar: Yamaha THR10II
Yamaha THR10II Desktop Amp
Pros:
Very compact desktop amp

20 watts of power

Also works for acoustic guitars and bass guitars

Features stereo effects

Surprisingly great guitar tone
Cons:
Bluetooth connection can drop at times

No real cons, given the incredible price
View On Amazon
View on Guitar Center
We earn a commission if you make a purchase, at no additional cost to you.
11/28/2023 01:29 am GMT
Looking at the entire music instrument industry, things just wouldn't be the same without Yamaha. This also goes for electric guitar amplifiers, since this well-known company has managed to create some very reliable and great-sounding power amps.
For all those looking for a nice practice solution, look no further than Yamaha's amazing THR10II. This lunchbox-sized device is packed with all the essentials and even brings enough power for some smaller live performances or anyone looking for a nice busking amp.
Although fairly small, it's packed with 20 watts of output power, all driving through two 3-inch speakers. This configuration also allows stereo operation, which can be pretty interesting if you're up for some experimentation.
Even better, the amp can also be used for basses, acoustic guitars with piezo pickups, as well as microphones or any other devices. It works great for clean tones and distorted tones.
As you'd expect, this little home amp comes with its own audio interface. Just plug it into your computer through a simple USB connector, open up the DAW of your choice, and you're all set to go.
This is great for practicing, because recording yourself is one of the most effective practice methods and can significantly improve your playing skills.
Learn more in our Yamaha THR10II review.
Electric Guitar Amp Buyer's Guide
Before you decide to go out and buy an amplifier, you should be familiar with some of the essential traits and features of the best guitar amps.
It's only then that you'll be able to make the right choice for your needs. Here are the most important features to consider.
Tube-Driven Vs. Solid-State Amps
One of the main things to think about is whether you want a tube-driven amp or a solid-state power amp. The main reason to go with a tube amp is the overall warmth and power in tone, as well as dynamic response.
You don't only get a great sound out of it, but it also "breaks" more the harder you play. Of course, tube amps are more expensive, require maintenance, and are more delicate. Despite the drawbacks, most guitarist prefer them over solid-state ones, due to their sound.
On the other hand, solid-state amplifiers are "cleaner" in their tone. That said, their tone is too sterile and they usually have very little to no dynamic response.
The main reason guitar players decide to go with them is that they're much cheaper and are quite simple to maintain and carry around. There are also guitarists who simply prefer this type of tone over the tube-driven tone.
We included some of each type in our list of the best guitar amps for this very reason.
Output Power
The overall output power is one of the main factors to look into when buying a guitar amp. One important thing to be aware of is that power tubes sound way louder than solid-state amplifiers at the same wattage.
If you need something for home use and practice, solid-state models up to 20 watts will be more than enough. As far as tube amps go, you'll need something that can attenuate power down to 1 or 2 watts.
This way, you'll be able to push the volume up higher, use the amp's full sonic potential, and play. You can't just use a 20-watt tube amp at a very low volume as its tone and sustain will suffer greatly, resulting in poor guitar amplification sound quality.
As far as live shows go, you'll need to look at solid-state amps that go past 25 or 30 watts or tube-driven amps that have 15 or more watts. If we're talking about metal music or larger venues, then you'll probably need more power: at least 50 watts for tube amplifiers and over 70 for solid-state ones.
On-Board Effects And Digital Amp Modeling
Plenty of amps these days have on-board effects. Of course, this does not make them "better" or "worse," but it definitely makes things more interesting.
Vintage-oriented tube models that focus on the "organic" tone that breaks when you push the volume usually come with only a reverb effect or with no effects at all. Interestingly enough, cheaper modeling amplifiers usually come with an abundance of different effects emulations.
What's more, these lower cost amplifiers often even have integrated digital amp modeling units. This way, they manage to replicate the classic tones of some of the well-known amp models, both old school with a vintage vibe and modern.
Of course, these digital amps are usually not that convincing, but some of them can truly do a great job at this, even replicating a fraction of the dynamic response that some tube amps have. In some rare cases, you'll also find tube amps with some digital modeling features.
Additional Features
Modern guitar amps are not as simple as they were back in the day. In almost all cases (an exception being some old-school-style tube amps), they're more than just the combination of a preamp, power amp, and a speaker cabinet.
You'll usually see the best guitar amps having additional features, most notably an effects loop. This is a section of the amp between the preamp and a power amp where you can put some of your effects pedals, namely modulation and atmospheric effects. An actual looper pedal goes elsewhere in the signal chain.
Another useful thing can be the headphone output. This is not only useful for silent practice sessions but also if you want to plug the amp directly into a mixing board or an audio interface.
However, this kind of output should not be confused with a speaker output that's supposed to be plugged into a specialized guitar cabinet.
While we're at it, many amps these days also come with a USB connection and an integrated audio interface. Using this technology, you can connect them to your computer and either shape different presets or record music in real-time using a DAW of your choice.
Other than this, amps can also include an onboard guitar tuner, an auxiliary input, or even an option to attenuate power and bring their overall output down to lower wattages.
Price
You should always think about the price level you're aiming for. With pretty much anything guitar-related that you plan on buying, you should always have a set budget in mind. Basically, it's likely to be the biggest filter for you, when buying a guitar amplifier.
Desired Genres
It's important to always think of the musical styles you're into. Cheaper amps for beginners or intermediate players are usually designed to cover different genre settings.
On the other hand, more expensive tube-driven amps are usually specialized. The best guitar amps cost a lot more, but they do a tremendous job at making great tones for a more narrow scope of genres.
Best Amplifier For Electric Guitars: Final Thoughts
Which electric guitar amplifier is best depends very much on your specific needs. You need to consider your budget, the genres you primarily play, the type of tone you want and whether you want access to different effects and/or emulations.
We tried to include a large variety of models above, so that you can find the best guitar amp for you, no matter your specific requirements.