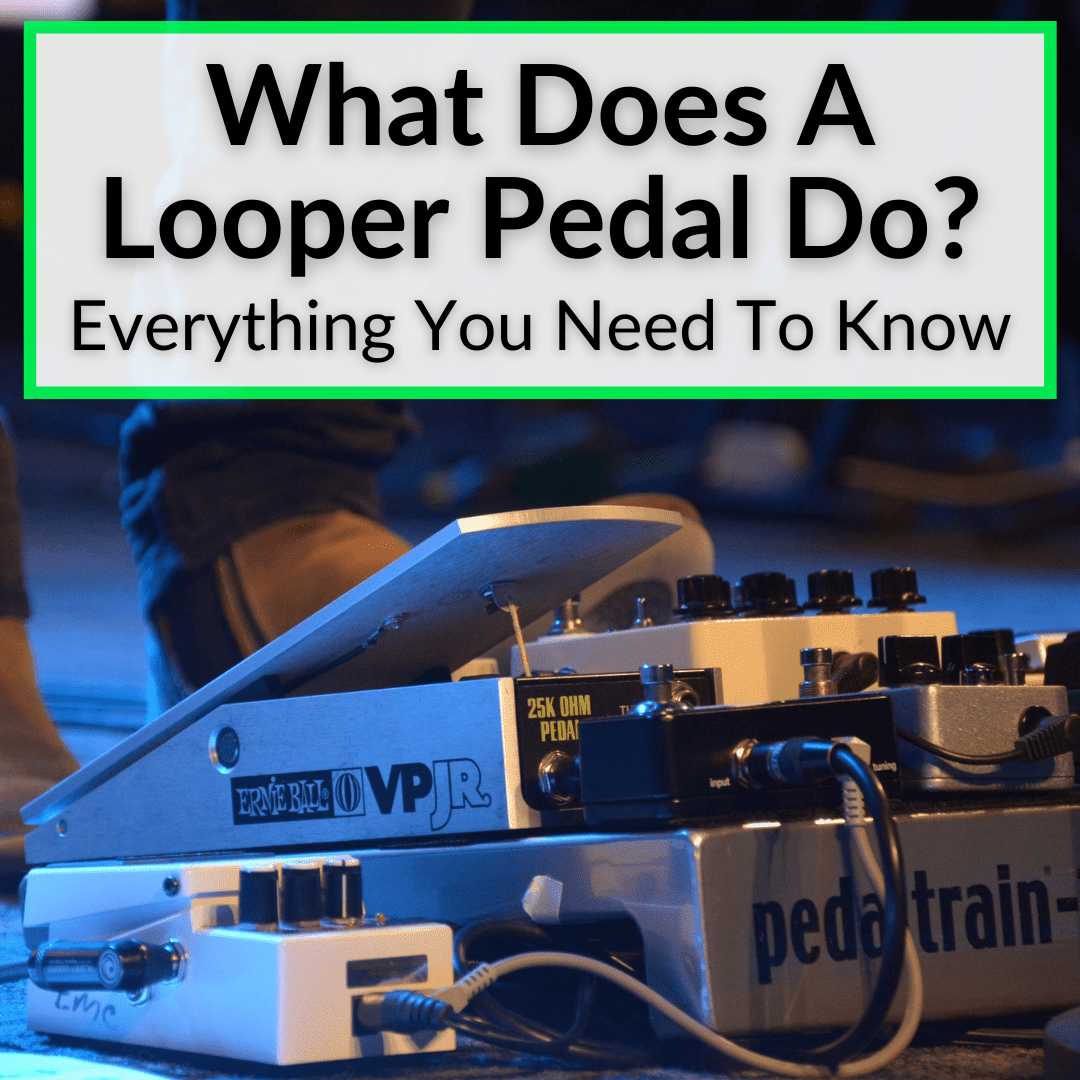 Maybe you've heard that every guitarist should have a looper pedal.
And you probably even have an idea what one might do, based on the name.
But what does a looper pedal do exactly?
It "loops", but what does that mean?
And does it have any additional functions, or is "looping" the only thing it does?
Keep reading, for a complete rundown on looper pedals. We'll cover what exactly "looping" is, everything these pedals do, and the numerous benefits they provide you as a guitarist.
What Does A Looper Pedal Do?
Looping means recording some musical phrase and making it a continuous flowing phrase that repeats itself over and over again. Guitarists usually use looper pedals to achieve this effect but it can be done with samplers or plugins as well.
Below, we'll take a closer look at looper pedals and some of the major reasons to use one. But before we get to that, we should briefly discuss what a loop actually is, in terms of music production.
What Is A Loop In Music Production?
Let's begin with the basic meaning of loop: literally translated it means "continuous cycle". You may have come across it in music players below a circle symbol that, when pressed, repeats the playlist indefinitely, until stopped.
Speaking of music production, this term indicates the recording of an audio track: this recording is constantly played several times. Looping can be done using a dedicated device such as a loop pedal or other devices.
The "Sound-on-Sound" style consists of recording other additional audio tracks to superimpose them on the original. With this technique it is possible to create complete songs. It also allows the single musician to produce elaborate music without a band or backing band.
Looping was born as a result of several experiments on tape, which took place in the early 1950s. The name of this technique derives from its realization: in the past, it was necessary to join the two ends of a tape to create a closed loop, without a beginning or end.
At first, the technique was used by early electronic music composers, but it soon became part of a larger and richer environment. In fact, in the 1960s it was used in both pop and rock. From that moment on, the loop became a fundamental pillar in music production.
Pedals are one of many devices to familiarize yourself with this technique and understand how to use it. Some pedals are integrated with dedicated inputs for microphones. In this way it is also possible to add vocal audio.
Looper Pedals
Loop pedals (also known as loopers or loop stations) are pedals that record audio tracks and play them back in a loop. They are especially useful for trying out chord progressions and adding layers (arpeggios, solos, phrases, details, and embellishments of any kind) without the need for other musicians.
That is, with a guitar looper, a single guitarist can record harmonic and melodic layers that loop as they are recorded.
In general use, you don't need a lot of features in your loop pedal to get the most out of it. Sure, having the ability to slow down tracks on the fly or easily transfer them to your computer is very useful, but it's not necessary.
In the end, most loop stations on the market are going to perform basic looping functions pretty well. And as long as you buy a looper with a well-built chassis (the pedal case), it should serve you well for a long time.
Live performances with a loop station are very different from playing alone in your bedroom, because you need more capabilities. This could include tempo matching, stereo output, and more.
If you play acoustic or electric guitar, a loop pedal can be one of the most valuable purchases you'll ever make. A looper can help you practice the technique by slowing down or speeding up pieces of songs you're trying to master, help you create elaborate layers to build songs like Ed Sheeran or Damien Rice, or use it in a limited way as an effect for sonic backgrounds.
Why Use Looper Pedals?
Each loop pedal is a world and although they may present important technical differences, the basis of their operation is always the same: with each step a new loop is recorded.
There are many positive aspects to using loop pedals, which is why I consider them one of the guitar pedals every guitarist should get. Here are the most notable benefits of a looper pedal.
Excellent Tool For Practicing
Have you found yourself in the situation of wanting to play something that needs accompaniment but you are on your own?
Almost certainly. All guitarists have been in this situation. Well, you can make sure you are never in that situation again.
With a looper pedal, you can play a riff or chord progression and make it sound like a backing track, while you improvise on it. It will improve your timing and encourage you to play perfectly.
Can Make Your Live Presentation Better
Great solo musicians in history have used a looper pedal in their live performances. How do they use it and what for?
They use an accumulation of phrases on the pedal to serve as accompaniment and give the sensation of being with a band or another guitarist.
Some looper pedals have much more professional features, like an expression pedal and other ways to edit and configure your sounds.
Another advantage is that you can go from one recorded progression to another, from verse to chorus, in a structured way. The end result is a more natural-sounding song made up of multiple phrases.
Can Improve Your Creativity When Composing
With a looper pedal, you can discover that there are ideas that are excellent together, riffs that sound incredible together with a progression, etc.
It will make all your creativity fly, being able to play solos or phrases with your own background sound. You are the owner of the entire song, and you can manipulate it as you want and like.
You can also save your ideas, if you want a break, and continue later where you left off.
Has The Potential To Record
You can dive deep into the looper's capabilities while it's recording. Imagine that you are building a building. The same happens with a song, in this case, because there are a lot of layers of sound in it.
With the looper, you have the possibility to edit each one of those layers, even going down to the first one, or whichever one you want to modify.
The recording is also where other effects and your looper's built-in tricks come into play. You don't have to play nonstop to make an interesting song. Sometimes it's worth keeping the loop repeating while you experiment on top of it.
Can Use As An Independent Effect
You may not be able to use an effect like reverb or delay with your looper, but some of these pedals have unusual effects that you can play around with.
Pedals like the Chase Bliss Audio, MXR, TC Electronic, and Boss can alter the speed, decay, and modulation of your loops, and even put them in reverse. They are not full multi-effect pedals but more than an individual pedal.
What Looper Pedals Do: Final Thoughts
Hopefully you now have a good idea what a looper pedal can do and what benefits there are to using one. The bottom line is that they are great tools to have in your arsenal. Every guitarist will eventually run into a situation where they want one.
So go ahead and get one of these looper pedals. At the very least, you will have a lot of fun and learn a lot, too. An who knows? Perhaps your masterpiece may even come out, thanks to your looper.