When I first got a guitar and a small practice amp, I expected it to sound like my favorite guitarists.
I had no idea they used specific amps and multiple effects pedals to fine-tune their sound.
I couldn't even get my guitar to sound distorted!
Basically, I quickly learned that I would need some effects pedals.
But what guitar pedals do I need to get the sound I want?
That obviously depends on what you want your sound to be.
But there are a few pedals that every guitarist will want in their arsenal.
Keep reading for a rundown on the most important guitar effects pedals you should get.
What Guitar Pedals Do I Need?
Technically, you do not need any guitar pedals. You can just use a modeling amp to replicate the effects of various pedals. However, using actual pedals sounds more natural. And just a few of them can make a big difference.
Of course you can also get a multi-effects pedal that can do several things at once. It eliminates the need to buy many pedals. But, as you can probably guess, using individual pedals gives you a better sound and also much more control. Our article comparing individual pedals with a multi-effects pedal has much more on this.
Now, not every guitarist should get every single one of the effects pedals listed below. But most will want a few of them. It really just depends on the type of music you play and the sound you want to achieve.
EQ Pedal
The EQ (equalizer) pedal is more about nuance, as opposed to far more obvious tone-changers such as distortion, crunch, or overdrive. However, this type of pedal will allow you to fine-tune your tone to perfection if you know how to use it.
These pedals recognize the frequencies your amp and your guitar are making and enable you to boost or weaken their presence. In other words, EQ pedals are a godsend for guitars that have inherently pronounced bass, mids, or highs.
In all other scenarios, having the ability to cut or boost the frequencies you're lacking in any given room can completely change your tone.
My first EQ pedal was EX's 7-band Mini. If you never owned an equalizer effect before, you'll probably love its affordability and simplicity. It's reliable, the sliders are very responsive, and it's remarkably easy to use.
Distortion Pedal
Most guitarists will tell you that a good distortion is all you need to make it through any gig. I agree with that assessment, mainly because a good distortion can transform a budget steel-strung plank into a decently good-sounding guitar.
This effect will clip your guitar's sound waves and alter its tone, even on the lowest of settings. Distortion pedals typically feature a small selection of knobs, including tone, volume, and gain.
Cranking them all up is a shortcut to creating undistinguishable noise, so a dose of balance is needed, even if you're into the most brutal death metal.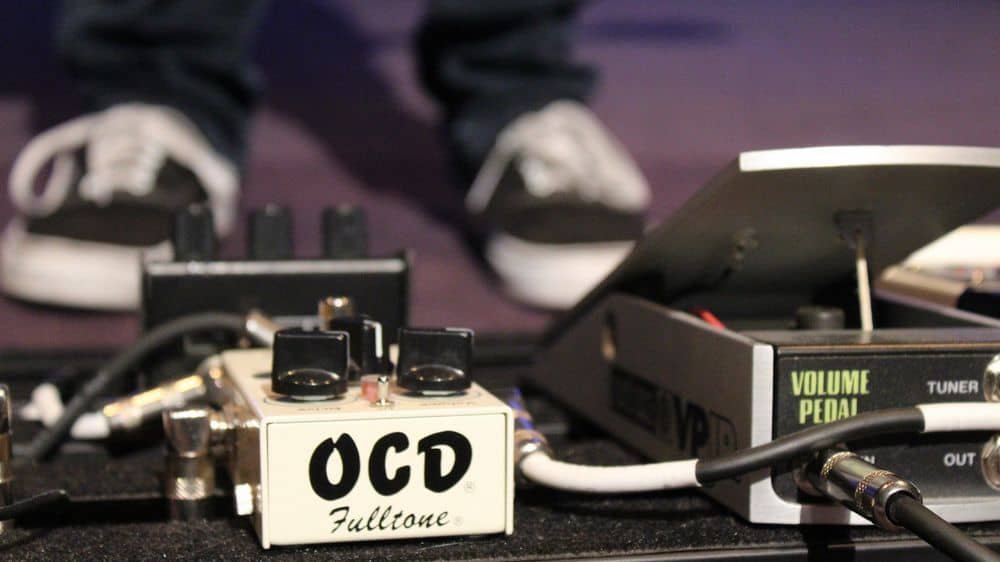 When using a distortion, it's important not to crank the amp's gain stage to the max. These two rarely work well together. In fact, it's preferable to have your amp produce tones that are as clean as possible for the distortion to reach its peak potential.
The first distortion I ever owned was Boss's ML-2 Metal Core. Similar to EX's Mini, the ML-2 is a no-nonsense pedal with simple settings: level, low, high, and distortion.
Its sound signature is beautiful and so versatile that it got me through dozens of bands that played everything from soft rock ballads to authored symphonic death metal, so I'm sure it can fit into any rig.
Reverb Pedal
Have you ever played a show where your guitar sounded bad no matter what you did? There are times when that will happen, even if you are playing on a top-quality rig, especially if you're performing in a small but jam-packed venue with poor acoustics.
Thankfully, smart people realized that this was a big problem decades ago and invented a reverb pedal. These effects were meant to emulate the type of reverberations (hence the name) you'd get if you played in a specific room. Hall, and chamber reverbs, for example, are famous for giving you that big, rounded sound even if you're playing outdoors.
I won't recommend a single reverb since the best way to find one that will suit your needs is to experiment. There are at least five categories of reverb pedals, although we can also divide them into two broad categories: digital and analog. If you've saved up some money, go for analog reverbs, since they usually give your tone a more authentic feel.
Looper Pedal
The term "loop" has the same definition in music as it does normally: it's a repeated pattern of notes that can be licks, riffs, or a combination thereof.
A looper pedal does a lot. The practical applications of "loops" in guitar-drivecann music are too many to count. You can loop an entire track for the rhythm guitar and play lead over it. You can play harmony licks over your leads, and so on.
The best way to use a looper pedal, in my humble opinion, is to experiment. Whenever I have an interesting lick and don't have time to record it, I simply "loop" it and play the other parts, and sometimes even other instruments above it. It's not only fun but it also aids my songwriting process.
Boss's RC-1 Loop Station is one of the most sophisticated looper pedals I've had the pleasure of using, so I warmly recommend it, even though it may cost a couple of dollars more than Donner's budget ones.
Pitch-Shifter Pedal
Not all guitarists use pitch-shifters, but this pedal can be a game-changer for musicians who want to completely change their tone with a tap on the stompbox. In simple terms, pitch-shifter pedals are ultra-heavy distortions coupled with old-school "screamer" pedals.
With a pitch-shifter, you can change the tuning, harmonize, or even emulate idiosyncratic tremolo effects on your guitar.
Contrary to what some people may think, pitch-shifters are not "exclusive" to metal musicians. They could fit well into any music genre if you know how to properly utilize them. This effect is best suited for lead guitarists who want to make their licks and solos more interesting.
Overdrive Pedal
There comes a time in every guitarist's life when they have to choose left or right: distortion or overdrive. Will you "clip" your tone or simply stuff it with as much gain as possible?
Overdrive does the latter. This type of pedal effect was invented when gain-tweaking knobs weren't a thing, so that guitarists could still benefit from the same result.
Modern-day overdrive pedals are more sophisticated and can work with amp-based gain stages rather than going against the grain. In layman's terms, overdrive will give your guitar tone more attack, a heftier bass, and more low mids.
It's the kind of tone-shaping effect that is perfectly suited for classic rock and punk, as well as any genre that doesn't welcome the aggressiveness of a distortion pedal.
Wah-Wah Pedal
A wah-wah pedal effect picks up your guitar's EQ settings and rapidly tangles them up when the foot pedal is pressed. It alters the frequencies in the signal to such a degree that it sounds as if a human was speaking.
The main reason I believe all guitarists should at least try a wah-wah pedal is that it can help you express yourself more. It won't reshape your tone the way a distortion/overdrive would.
It also won't necessarily improve it like reverb or EQ. But it will give you access to sound shapes that you normally wouldn't be able to use.
Essential Guitar Pedals: Final Thoughts
You obviously do not need guitar pedals to play the guitar. You only need three things to play an electric guitar. But effects pedals allow you to shape your tone and get the exact sound you want.
As mentioned, you can certainly use a modeling amp for that, but it just doesn't sound the same. Modeling amps are good when practicing, but at a gig, you'll want actual pedals. And the above list is a good place to start for most guitarists.