One thing is true of almost all guitarists.
They are either better suited to playing lead or rhythm.
Personality type and the way you learn things has a lot to do with it.
Whether you are better suited to rhythm guitar vs lead, or vice versa, does not matter.
Neither is better than the other. And both perform vital roles in music.
Nevertheless, common misconceptions remain. And they generally favor the lead guitar.
That changes now. Keep reading for a detailed comparison of the lead guitar vs rhythm guitar. You will see they are quite different, but that both are equally rewarding and important.
Rhythm Guitar Vs Lead
We will begin our comparison of rhythm vs lead guitar by looking at each individually, before comparing them directly. After that, we will go over the advantages of each and help you figure out which is better suited to you.
Rhythm Guitar
Guitarists that play the backing role (alongside the drums and bass) often support the song with chords, simple riffs, and easy patterns. However, the traditional understanding of what a rhythm guitar is has somewhat changed with the advent of progressive music, especially in the metal genre (e.g. Animals as Leaders, Ne Obliviscaris, King Crimson, Dream Theater, etc.).
Usually, the rhythm guitar plays the parts that tend to be simpler and easier to digest. This could be an easy pattern of open notes (like the "gallop" in most Iron Maiden songs), chords (or chord progressions), or simple riffs that repeat throughout the song.
For bands that heavily utilize guitar harmonies, especially bands where the guitarist also sings, the rhythm guitar plays the easier parts while the lead plays the harmony parts.
Lead Guitar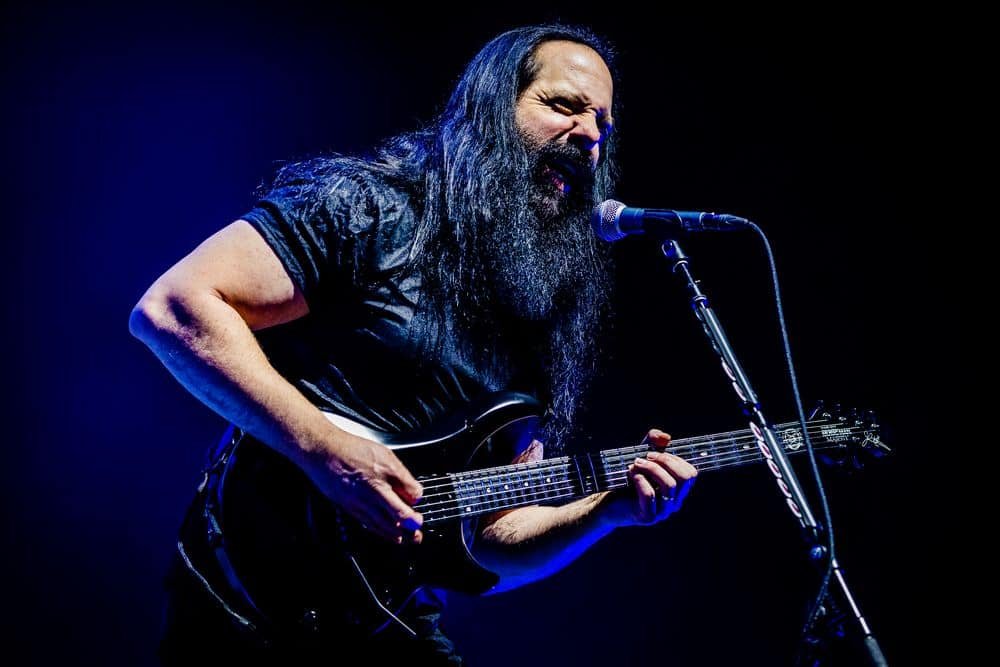 The term "lead guitar" can refer to the only guitar in bands that have just one, or the guitar that plays all those juicy licks, solos, and memorable riffs that make the tune more delicate and complete.
Lead guitarists are not necessarily always solo guitarists as well, but they often do play solo parts. Most non-musicians believe that lead guitar is more technically demanding to play. In many cases that is true, but not always.
For example, in many thrash metal bands (like Megadeth, Slayer, or Anthrax), rhythm guitarists have just as much work, while their lead guitarists often play the same parts with them in unison.
Lead guitarists, unlike rhythm guitar players, usually perform subtle accents to spice their lines up. These accents can be anything from changing the lick just a bit so it doesn't repeat, performing a vibrato to emphasize a certain part, or doing a mini solo when they have the space to do it.
Difference Between Lead Guitar And Rhythm Guitar
Rhythm guitars are meant to be played percussively, with a stronger emphasis on the rhythm. They create a firm foundation for the melody and the main licks, often performed on the lead guitar, to shine their brightest.
In contrast to rhythm guitars, the purpose of a lead guitar is to accentuate certain notes by making them stronger and more expressive. Lead guitars often "shred" (perform arpeggiated scales and use sweep-picking techniques) to make the piece a bit flashier.
From a technical standpoint, rhythm guitarists rarely use complex guitar techniques. They usually rely on chords, gallops, and syncopated riffs while following the drums and the bass.
Lead guitar players, on the other hand, employ a wide range of skills and techniques. They will employ anything that gives the guitar's sound more presence. Whether it be finger tapping, divebombs, arpeggios, or tremolos, lead guitarists often try to make their lines stand out.
Another important distinction between rhythm and lead guitars is which pedal effects the guitarists use. For instance, rhythm guitar players rarely use too many pedals in their chain: a bit of distortion, an EQ, and a compressor is all they need to get the job done.
Lead guitarists are known for owning and using a host of different pedal effects, often even multiple versions of the same type. They'll shift between overdrive, crunch, and high-gain distortion to make their licks sound different. They'll use a pitch shifter or a phaser to give a different feel to certain riffs. And so on.
Similarities Between Lead And Rhythm Guitar
Both rhythm and lead guitars are guitars. They can be acoustic, electric, or semi-electric, depending on the band's (and the player's) preferences.
In many cases, both lead and rhythm guitar players play the same parts (which is especially common in heavy and thrash metal).
Even though rhythm and lead guitar players often search for models that can cater to their style and needs, any guitar can fit the role of a rhythm or lead guitar with the right pedals and amp settings.
Advantages Of Rhythm Guitar
Generally easier to play than lead, meaning a narrower learning curve.
The band's sound would be much thinner and weaker without it.
Generally fun to play since people can cover the rhythm parts much faster than the lead parts.
Doesn't require a lot of pedals to work well.
Advantages Of Lead Guitar
Almost always takes the spotlight.
Demanding but rewarding to master; lead players are often just as great rhythm players.
Good solos, sweeps, and arpeggios always receive good reactions from the crowd
Allows you to fully express your playing style, making it perfect for songwriters.
Reasons To Play Rhythm Guitar
"People who can't play lead play rhythm" is a massive misconception. Musicians who prefer to rock out and enjoy the moment will find a rhythm guitar much more rewarding than the lead guitar.
It's ideal for people who don't want to bother memorizing hundreds of solos, the timings for dozens of licks, and accents in every song they play.
It is also more beginner-friendly. Chords, rhythmic single notes, and simple progressions are considerably easier to master than, for instance, the sweep-picking technique.
This does not mean that the rhythm guitar is easier than the lead guitar in all respects. Unlike lead guitarists, rhythm guitar players are meant to play non-stop (singer-guitarists who play lead often take breaks mid-song). In certain genres, especially rock or metal, you need high levels of stamina and endurance to maintain the picking speed and accuracy on a rhythm guitar.
Reasons To Play Lead Guitar
People who have the talent, skills, and desire to enrich the songs they cover or create with their bands are best suited to be lead guitar players.
Lead guitarists are often supposed to have a varied skill set. Even though not all of them know how to play arpeggiated scales or perform rapid finger-tapping techniques, they should at least be able to perform pinch harmonics, vibratos, and hammer-ons/pull-offs.
Musicians with good memory retention skills won't find learning all the hardest solos note-for-note a chore. Some people have a knack for finding logic in what would seem like random numbers and letters to others, and those people make great lead guitar players.
Is Lead Guitar Harder Than Rhythm?
Lead guitar is usually harder than rhythm guitar, but this is not always the case. It depends very much on the song in question.
Lead Guitar Vs Rhythm Guitar: Final Thoughts
The common misconception that lead guitar is somehow "better" than rhythm needs to end. Yes, lead is more immediately noticeable in a song, but rhythm guitar actually play just as important (if not even more important) a role.
Hopefully this comparison of rhythm guitar vs lead showed you that both are equally important and both players can be equally skilled, though lead guitar does require more specialized playing skills on average.
Hopefully we also helped you figure out which style of playing is better suited to you. Some personality types need the spotlight that comes with lead guitar, while others are happy to be a vital cog in a well-oiled machine.