The world of electric guitars has seen some important technological advancements.
But many guitarist still prefer old-school tech.
This is especially true for tube-driven amplifiers. Their warm tone and dynamic response still capture the hearts of musicians and audiences alike.
And the EVH 5150 III is considered one of the best.
Is this tube-driven electric guitar amplifier really as good as they say? Or are you better off spending your money elsewhere? Read the rest of this review to find out.
EVH 5150 III EL34 Review: Overview And Features
The classis 5150 III model from EVH is an absolute beast. This version has EL34 tubes in the power amp section and is a continuation of the legendary 5150 model that Eddie Van Halen did with Peavey.
Now in collaboration with Fender, the EVH brand takes it to a whole new level, especially with this particular model. It delivers a classic British sound and has three channel options: clean, crunch and lead. It also looks stunning with the elegant black and gold design.
But it is only the amp head and it is very expensive. If it's not within your budget or you need something more compact, check out our rundown of the best combo amps for metal.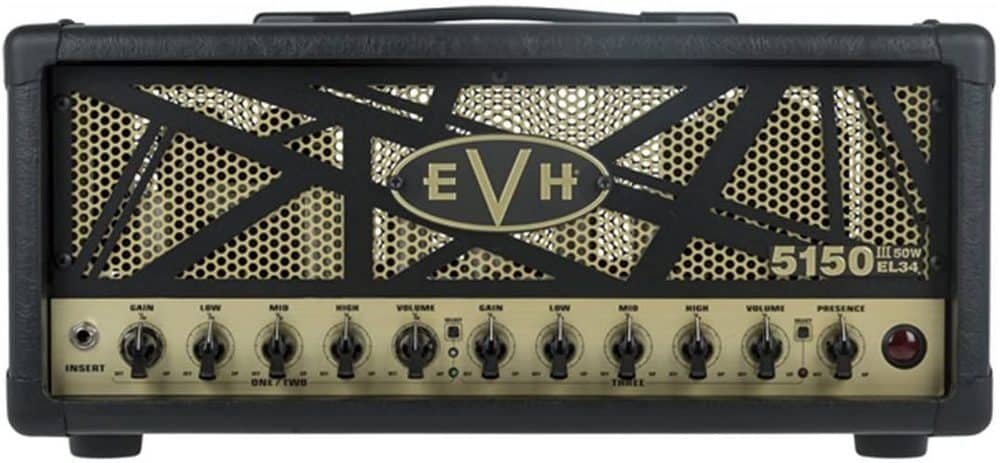 Key Features
Three channels: clean, crunch and lead
Compact high-gain amplifier
EL34 power tubes deliver a British tone
Resonance control dials the amp into different cabs
Global presence control and shared 3-band EQ for channels 1 and 2; independent EQ for channel 3
Effects loop allows you to integrate your pedalboard and other processors
Headphone jack for private practice
Preamp output so you can connect to another amp or mixing console
MIDI In so you can connect to a foot controller for channel selection and effects loop bypass
Design And Hardware
This amp head is fairly compact and it's noticeably smaller than other amps of the same power. It features 50 watts of power and has two EL34 tubes in its power amp, as well as seven ECC83 tubes in its preamp section.
The inclusion of EL34 tubes is pretty interesting since it adds a slight boost to the mids in the tone. This makes the amp quite useful for metal players, especially lead guitarists who like to cut through the mix more easily.
It helps you get a great metal sound from your electric guitar, and sounds great for those crunchy drop D, or even drop C, tunes as well.
Channels And Controls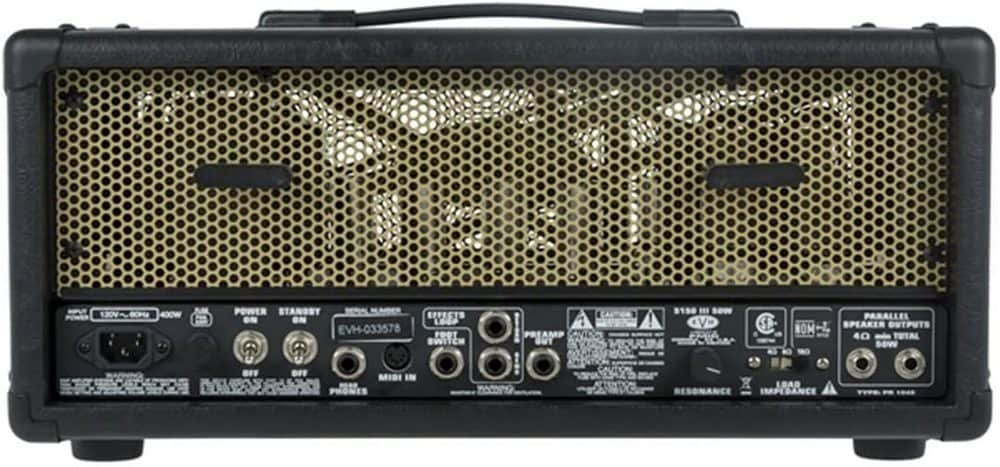 The EVH 5150 III has three channels. However, the first two channels have shared controls. These are standard parameters for gain, a 3-band EQ, and the standard volume control.
The first channel is clean, although it breaks nicely with an overdrive or a boost pedal in front of it, or if you push the gain and volume controls way up high.
If you need more than just a crispy tone, you can add a rather nice-sounding crunch with the second channel. It can even drive into some nice hard rock or classic metal territories if you set it the right way.
The third channel is a whole different story. It features the same controls as the first two channels, but they're separate from the other two. This channel takes you into high-gain territory, which is useful for both heavy riffing and soaring leads.
The whole offering is rounded out nicely with the presence control, as well as the resonance knob on the backside that helps you adapt the tone to different types of cabinets. Overall, it's a pretty versatile amp, though it mostly focuses on heavier tones.
Advantages And Disadvantages
Pros
Amazing amp for heavier tones
Pretty versatile and can come in handy for other genres
Simple, straightforward controls
Separate preamp output
Cons
A bit expensive for many guitarists
Lacks a power attenuation feature
EVH 5150 III EL34 Vs Fender Super Champ X2
The world of tube amps is pretty diverse. When looking for the perfect amp for your needs and your budget level, it can be hard to figure things out.
And the EVH 5150 III is not exactly the cheapest model on the market. Plus it's an amp head, so it requires a cabinet. It's not in everyone's budget, that's for sure.
If your budget can't quite accommodate the EVH 5150, Fender has a good alternative: the fairly cheap, yet versatile Super Champ X2. Sure, it's a much smaller amplifier with only 15 watts of output power. But as a tube amp, 15 watts is likely more than enough, even for live gigs.
The Super Champ X2 is a combo amp, which is yet another thing that makes it simpler and more budget-friendly. This little beast comes with one Fender Special Design 10-inch speaker. It's good, but can't touch the EVH 5150.
Compared to the EVH, the Super Champ X2 is somewhat of a "toy amp" since it comes with additional effects and amp emulation models. Don't get us wrong, it doesn't make it bad at all, but it's not as "focused" and high-end as the 5150 III.
Fender's Super Champ X2 has two channels. The first one is just a simple clean channel. The second one has a "voice" switch that lets you select 16 different tones. These are essentially different amp emulations that can help you add a different twist to your tone.
The amp comes with two 6V6 power amp tubes and one 12AX7 preamp tube, which is a typical "American" formation that usually sounds smoother than "British" amps with EL34 valves. However, the voicing switch can help you out in adding some heavier tones with pronounced mids.
Overall, these are two completely different tube-driven amps. The EVH 5150 III EL34 is the ultimate high-gain monster and is quite popular among metal players, or just those who like high-gain stuff. It is especially great for making already good EVH guitars sound even better.
Fender's Super Champ X2 is a far cry from that, but it is still a solid and pretty diverse alternative that costs much, much less. You won't go wrong with it, but it's far from a professional-level tube-driven guitar amp like the EVF 5150.
Learn more in our Fender Super Champ X2 review.
EVH 5150 III EL34: Conclusion And Rating
To put it simply, anything that results from a collaboration between Eddie Van Halen and Fender is bound to be excellent. And that holds true here. The EVH 5150 III EL34 is the best amp you can find on the market.
Of course, it's a little expensive, but it's far from unobtainable, if you're serious about getting something really good. Of course, as we already explained, this amp focuses mostly on heavier tones, with its third channel being the highlight.
But this amp is capable of more than just that. Sure, it's adored by heavy metal guitarists of many different subgenres, but you can use this amp even for sparkling bright clean tones. The second channel is also very useful for crunchy blues-rock tones. You can even go into smoother territories, like jazz music.
The only downside is that there's no power attenuation feature. But since this amplifier is intended for serious live or studio settings, this is unlikely to be a problem.
This is easily the best electric guitar amp overall and it earns a Musicaroo rating of 5 out of 5.