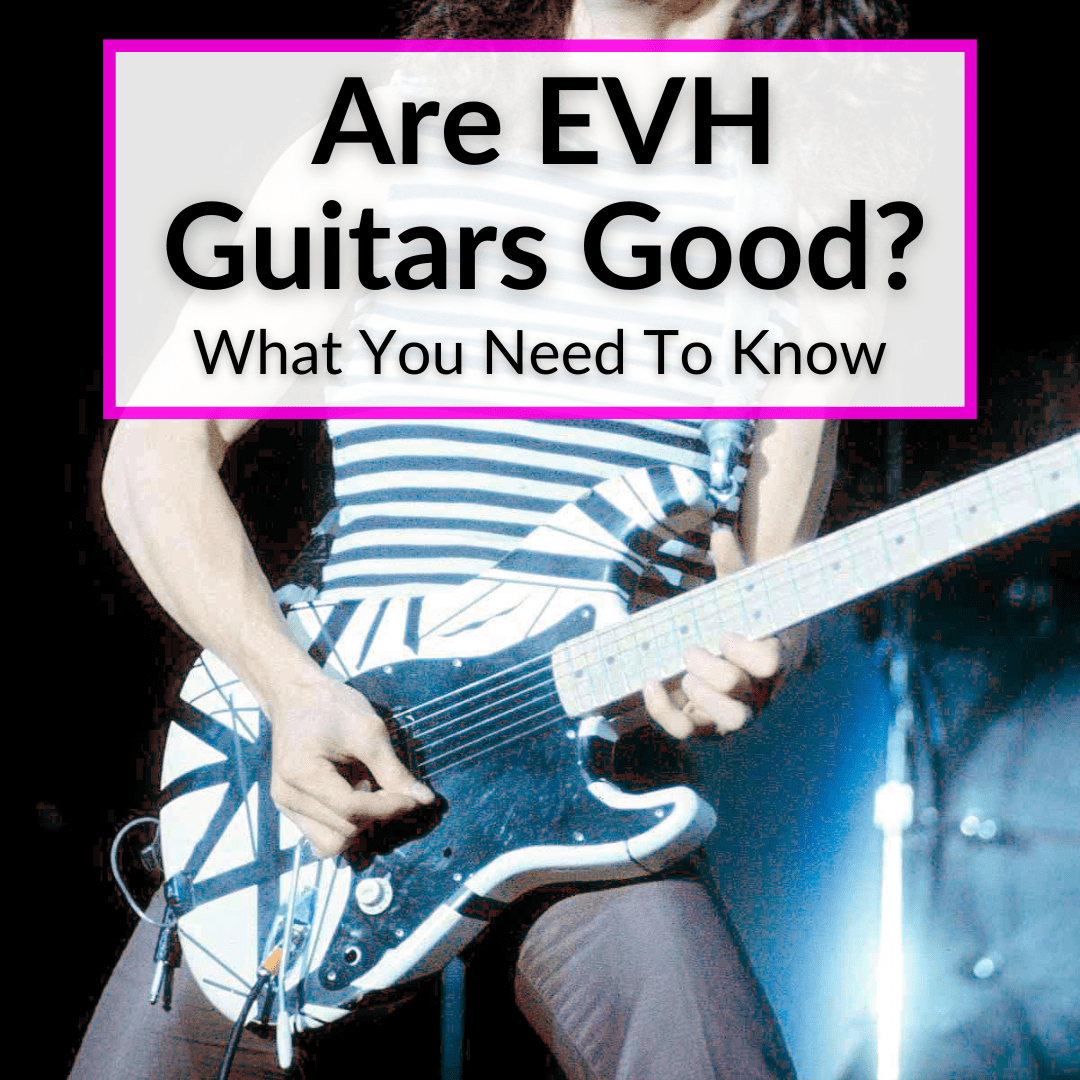 Eddie Van Halen was one of the best guitarists to ever live.
We all know that.
But he was also a notorious tinkerer.
He modified his guitars beyond recognition to get them to do what he needed and to coax the best possible sound out of them
It only makes sense that he got his own brand of guitars.
Of course, not every good idea pans out. Are EVH guitars good, or is this one of those cases where a good idea on paper just doesn't translate to reality?
Keep reading to learn if EVH guitars are actually good. We will cover everything you need to know about this guitar brand carrying the name of the legendary Eddie Van Halen.
Are EVH Guitars Good?
EVH guitars are great. They are some of the best guitars for rock, metal, and heavy music in general. Named after the founder, the late great Eddie Van Halen, EVH Guitars uses exceptional quality tonewoods and makes their guitars in well-equipped US factories.
Most rock and metal guitarists who own an EVH guitar love the flexibility and pronounced attack these instruments provide. These qualities are present across all price ranges in the EVH catalog, with the boutique-level models offering an even grittier tone, better sustain, and almost unparalleled durability.
What Makes EVH Guitars So Good
Eddie Van Halen is widely recognized as one of the most prolific and innovative guitar players (and tinkerers) of all time. He had a habit of customizing his guitars to the point that they were completely different from the original.
Fender noticed his craftsmanship and outstanding success with his band and proposed a partnership between the two parties. That's how the EVH company came to be.
Even after Eddie's tragic passing, the brand lives on and follows the same ideals: making premium quality guitars that Eddie would be proud of.
Origins aside, there's more to EVH Guitars than just a name. The company is famous for using rare ebony and maple as its core tonewoods, and state-of-the-art technology to ensure each EVH guitar is built to last.
In the following sections, we're going to touch on some of the reasons EVH guitars are exceptionally valuable.
Gorgeous Designs
A boutique guitar should look the part, and EVH Guitars understands this perfectly well. Even some of their most simplistic designs, such as the Wolfgang Special, look absolutely stunning.
Exquisite finishes, that you'll rarely see other brands deploy, are a mainstay in EVH's catalog. From the grainy Poplar Burl and the "bare bones" 5150™ Ash Deluxe to the flamboyant 5150™ Deluxe QM and even the vintage Striped '78 with the same design as Eddie used for the legendary song Eruption, it's quite easy to recognize class in EVH guitars.
The company's catalog features a couple of relatively minimalistic designs as well. For instance, the solid 5150™ Standard Maple and Wolfgang WG Standard aren't as flashy as the models I just referenced, but they're still as elegant as can be.
To top it all off, many EVH guitars come in dozens of unique color styles. Arguably the best example of a perfect guitar for players with a keen eye for aesthetics is the aforementioned Wolfgang WG Standard, which comes in black, red, gray, white, green, polar white, and other styles. It is a guitar every guitarist should own.
Distinct, Impactful Tone
If there's one thing EVH Guitars was focused on from the very beginning, it's making guitars that sound different. Throughout his career, Eddie used and modified guitars in such a way that he could seamlessly shift between a chunky rhythm tone and ultra-bright, expressive sounds when he was soloing. He was always excellent at both lead and rhythm guitar parts.
That's the main principle behind EVH Guitars: create a solid sonic foundation so that the artist can flexibly change the tone as, and when, needed.
To do this, EVH Guitars uses a special blend of tonewoods. Basswood, maple, ebony, and mahogany hailing from exotic corners of the world are the primary materials used in the construction of the most up-to-date EVH guitars.
Superb Playability
Since Eddie was always more interested in music than looks, all EVH guitars are, first and foremost, remarkably playable. As just mentioned, these axes do look fantastic, but great design is simply a welcome bonus to what EVH actually strived for: highly versatile guitars meant for professionals that even beginners could pick up in a flash.
Surgically-precise cutouts make access to the highest notes a breeze. Perfect spacing between frets makes playing riffs and chords easy, while the pickup selector switch is high above the neck pickup to ensure you don't accidentally toggle it.
Endorsed by Prominent Guitar Heroes
Just like EVH came to be as a part of an endorsement deal between the legendary Fender, countless top-tier contemporary guitar players are now proud endorsers of the EVH Guitars brand.
The brutal deathcore band Suicide Silence got its tone from EVH Guitars, since both Mark Heylmun and Chris Garza use the brand's equipment for their hellish riffs.
Joe Duplantier and Christian Andreu of Gojira, another iconic duo of guitarists that largely define the sound of their band, also use EVH gear.
If you attended a Judas Priest show recently, you had an opportunity to spot Andy Sneap using EVH's 5150.
Probably one of the most famous endorsers of EVH Guitars is none other than Eddie's very own son, Wolfgang Van Halen.
Many signature models (aptly named "Wolfgang") in EVH's catalog were designed according to his specs, and he uses them to both record his songs and perform live. A quick fun fact: Wolfgang started Mammoth EVH and debuted the album with the same name a little over two years ago.
Unparalleled Amps That Work Best With EVH Guitars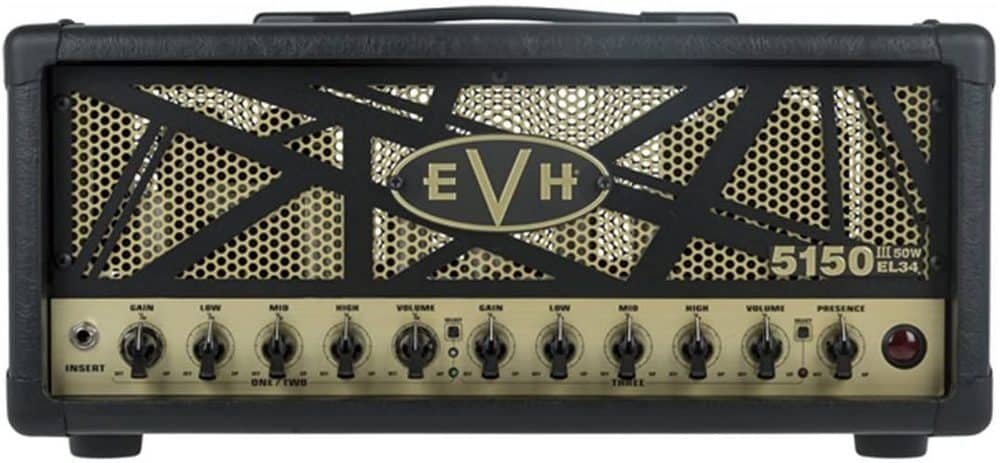 In collaboration with Peavey, Eddie made one of the most famous guitar amplifiers of all time, the iconic Peavey 5150.
A loud, reliable, and remarkably great-sounding tube amp, the Peavey 5150 was the foundation for future customizations that would eventually become "sequels" in a long line of high-end amps.
Even though EVH guitars sound amazing on any amp available on the current market, they sound the best when used with gear made by the same brand. Notoriously versatile and louder than life, EVH amps are designed to enable all EVH guitars to reach their full potential.
Whether it be in a rehearsal studio or in a jam-packed arena, EVH guitars roar with power when plugged into any 5150 amp.
Surprisingly Affordable For Boutique Guitars
Even though EVH Guitars specializes in creating high-end instruments and amps, their products are actually not too expensive compared to alternatives.
For instance, the basswood-made Wolfgang Standard is under a grand while several limited edition models are under two.
EVH's catalog does not offer much to guitarists on a cash-strapped budget, but professionals seeking dependable guitars won't have to break the bank buying one.
Who Makes EVH Guitars?
The EVH Guitars brand is owned by Fender Musical Instruments Corporation. They make all EVH guitars.
Where Are EVH Guitars Made?
Fender uses three main factories to produce EVH guitars. Top of the line models are built in Corona, California. Soma are also manufactured in nearby Ensenada, Mexico.
The short distance between the two cities allows Fender to closely inspect all models made in Mexico, ensuring top quality. However, the models made in Mexico do have a lower price than those made in the USA
Finally, the lower-budget EVH models are made in Indonesia.
Who Owns EVH Guitars?
As mentioned above, Fender owns EVH Guitars. Unlike previous arrangements with guitarists, where the guitarist got to design a single signature model, or perhaps a line of guitars, Fender gave Van Halen an entire brand.
Are EVH Amps Good?
As mentioned above, EVH amps are great. They are the best amp to pair with an EVH guitar, to get the most out of it. We also chose the EVH 5150 as the top pick in this list of the best electric guitar amplifiers.
EVH Guitars Are Excellent: Final Thoughts
EVH guitars are excellent. There is no denying that. What's more, they also look amazing. And, to top it all off, they are surprisingly affordable.
Of course, no one will call them cheap. These are not low budget guitars for beginners. Don't get me wrong, they are great for beginners, but they are not priced for beginners. Even the cheapest models cost over $500. But for what you get, all the EVH models cost less than you would expect.
Title photo by Carl Lender.