So you're looking for a practice amp.
Then you've probably realized something.
Most practice amps are really just watered down versions of larger amplifiers. In other words: they don't sound great.
The Yamaha THR10II is different. The THR series amplifiers were designed from scratch to be practice amps. There is no larger full-powered version.
Does this make them the ideal amplifier for practice sessions?
Read the rest of this review to find out.
Yamaha THR10II Review: Overview And Features
Yamaha is well known for making quality products that sell for reasonable, even budget, prices. And the their line of THR amps, like this THR10II, is no exception.
We voted it the best practice amp for electric guitar for a reason. As mentioned, it is not simply a smaller version of a larger amp, but a new type of practice amp that was designed specifically for the purpose.
At 20 watts, it is not powerful enough for most gigs, apart from busking or other small live performances, but the compact size and excellent tone make it ideal for practice sessions. The speakers are only 3 inches, but there are two of them, so you even get a stereo sound.
This amplifier is quite versatile. It has an auxiliary input and a headphone output on top and it can be used for electric guitars, basses and acoustic guitars.
It also has an integrated audio interface, which allows you to connect to a PC using a USB cable, so that you can record your music using any DAW. This is another thing that makes it a good practice am, because recording yourself playing and then listening to it is a great way to hone your craft.
Key Features
20 watts of power
Two 3-inch speakers for a stereo effect
Virtual Circuitry Modeling (VCM) technology realistically emulates famous tube amps
15 guitar amp models and 8 effects
Extended Stereo Technology creates a wide, spacious stereo sound with amazing depth
Integrated USB audio interface
Works for basses and acoustic guitars as well
THR Remote editor/librarian app for desktop and mobile devices
Great sound
The THR10II delivers great high-fi sound by driving its 20 watts of power through two 3 inch speakers. The speakers are housed inside a specially designed enclosure that optimizes sound both for guitars and general audio playback.
This amplifier uses Yamaha's Extended Stereo Technology, which creates a spacious stereo sound that you'd never guess is coming from this lunch box sized amp. Studio quality reverb further adds depth to your sound.
But the best feature is the modeling capability. Yamaha's patented Virtual Circuitry Modeling technology recreates realistic simulations of classic boutique tube amplifiers. It does an amazing job of capturing their unique sound and feel.
In total, the THR10II delivers 15 guitar amp models, 3 bass amp models, 3 mic models for acoustic guitars with piezo pickups, plus flat voicings that work for everything else.
Versatile
As mentioned, the Yamaha THR10 V2 works just as well with bass guitars and acoustic guitars, making it an excellent option if you have several instruments.
It also has an integrated integrated audio interface that makes it possible to connect directly to a computer using a USB cable. This allows you to record your playing to your PC in your favorite DAW.
We already mentioned the sound versatility. In addition to the 15 guitar models that range from clean sounds to bluesy overdrive to heavy metal power, it also has 2 circuits that provide 8 natural, ultra-musical effects. One of the circuits handles stompbox type of effects while the other one does reverbs and delays.
Wireless Capability
The Yamaha THR series guitar amplifiers all have Bluetooth capability. You can use it to play audio files from a Bluetooth capable source like a phone, you can use it to connect to the "THR Remote" mobile editor app, and you can use it for third-party footswitch controllers.
The "THR Remote" app lets you control your amplifier from your smartphone. You can shape the sound from a distance and there are also versions of "THR Remote" available for both Mac and PC.
Advantages And Disadvantages
Pros
Fairly compact
Great variety of amp models and effects (15 guitar amp, 3 bass amp, and 3 mic models)
USB audio interface makes it useful for home recording purposes
You can also use it for basses or acoustic guitars with piezo pickups
Built-in rechargeable battery lets you play anywhere
Remote operation for a smartphone or Bluetooth-capable computer
Amazing price
Cons
Bluetooth connection can drop at times
No real cons, given the incredible price
Yamaha THR10II Vs. EVH 5150 III EL34 Tubes
This is an interesting comparison, because these two guitar amplifiers are quite different. That actually makes it an easy decision, because they fulfill two complete separate needs.
The Yamaha amplifier is built for practice at home. It can work for small gigs, but its primary purpose is as a practice amp. It is very versatile, so you can use it with several different instruments and you can emulate a number of different amp tones.
The EVH 5150 III with EL34 Tubes is obviously a tube amplifier. That alone makes it vastly different from the solid-state Yamaha.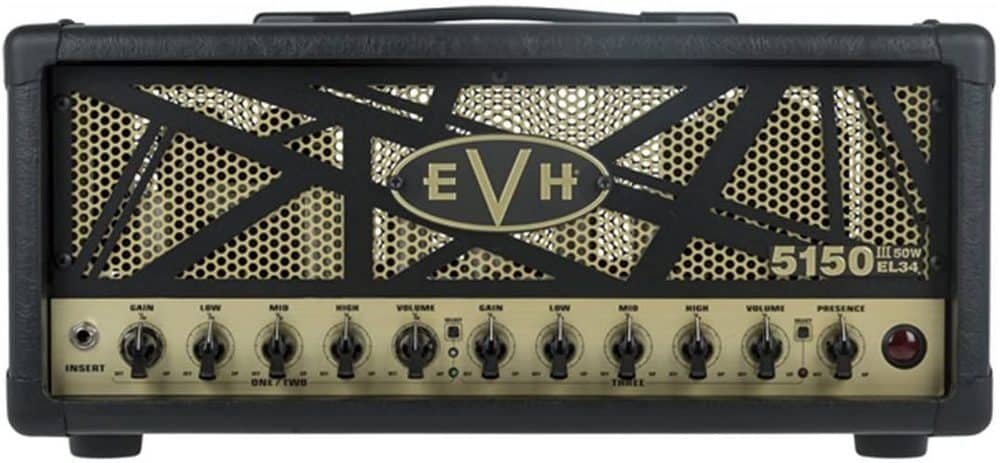 As a tube amplifier it obviously costs a lot more. And believe me, the price difference is significant. It also takes more work to maintain. And it is not versatile at all. The EVH amp is meant for heavy metal guitar music. Sure, it can work for other styles, but its tone is meant for metal.
And that brings us to its one big advantage. Even the best amp emulators can't match the unique, warm, powerful tones of a classic tube amplifier. The EVH blows the Yamaha out of the water, in terms of sound.
It generates that sound from 50 watts of power and seven ECC83 valves in the preamp and EL34 valves in the power amp section. It has 3 separate channels: clean, crunch and high-gain. The first two share controls for volume, gain, and a standard 3-band EQ. The third channel has its own controls.
The EVH 5150 is a monster amp for any heavy metal player. It is not a practice amp and is meant for live gigs. And it has a price to match. Plus, it is only the amp head, so you'll still need a cabinet to go with it.
If you're looking for a practice amp then you definitely want the Yamaha, not the EVH. Same if you're on a budget or you want an amp that can adapt to many different styles.
Learn more in our EVH 5150 III review.
Yamaha THR10 V2: Conclusion And Rating
The Yamaha THR10II is the ideal practice amp. Sure, it costs a bit more than many so-called practice amps, but there's a good reason for that. It is far better.
It is not just a watered down version of a larger model like most "practice amps." Instead it was specifically designed for the purpose. It brings a ton of versatility, both in the instruments you can use it with and the tones it can emulate.
The wireless feature is also great when practicing at home, as is the integrated audio interface that lets you record your playing on a computer.
If you want an amp to play live gigs, this is not your best bet, unless you only play small gigs or busk. But if you need something for practicing, it is perfect. That is why it gets a Musicaroo rating of 5 out of 5.