At some point, every guitarist wants to record some music.
But who can afford time in a recording studio? And setting up your own studio at home is even more expensive.
Both only make sense for professional musicians who know they can sell their recordings and make a living from them.
Luckily, modern technology has made it possible for the rest of us to record our guitar playing, too. All you need is a computer.
Of course, simply recording your guitar to your computer won't result in the best sound quality.
But it doesn't take much more than that to improve the quality. It's certainly a lot cheaper than setting up a full studio, or than renting one. Let's find out what you'll need.
How To Record Guitar On PC
There are a few different ways you can record your guitar playing to the computer. The simplest is to use your computer's integrated audio interface. So let's begin there.
Using Your PC's Integrated Audio Interface
Most laptops don't have a separate input for a microphone, but a regular desktop PC configuration will have an audio interface on its motherboard that features a dedicated input for this purpose. It's usually a red or pink-colored 1/8-inch stereo jack.
As you may already know, a regular instrument cable is 1/4-inch. This means you'll need a simple 1/4-inch to 1/8-inch adapter which you can get in any music or electronics store.
The next thing you'll need is some kind of software that can record your guitar. The simplest sound recorder, which usually comes bundled with the operating system, can be enough for a single-track recording.
You can use your pedals to add distortion and other effects with this, but it will sound unbalanced or just too muddy. If you're doing it this way, we'd recommend that you either have a DI box, a preamp, or a regular multi-effects processor before going into your PC. Another method is to use your guitar amp's headphone or emulated speaker output, if it has one.
Digital audio workstations (or DAW for short) are another option. These allow you to record multi-track projects in real-time. However, these require more processing power and better audio interfaces, if you want to have unnoticeable latency and better sound quality.
Recording Your Guitar Using An External Audio Interface
And now we come to the main part of this guide. An external audio interface is the best way to go in order to hook up your guitar to a computer. Essentially, these are sound cards just like the one integrated into your computer's motherboard, but more advanced and featuring more processing power.
Every audio interface, whether it's an integrated or an external one, converts your guitar's analog signal into digital information, processes it, and then converts it back into an analog signal before sending it to the speakers.
This process is somewhat complex and can cause noticeable delays. But these specialized audio interfaces for recording music are designed to maintain excellent sound quality, while allowing you to play and record your instrument or vocals without any noticeable latency.
These devices have been perfected over the years and many have a high resolution (up to 192 kHz sample rate and 32-bit depth) for the purpose of converting your guitar's signal to digital information.
They feature simple instrument inputs that allow you to plug in your guitar and record multi-track projects in the DAW of your choice. Additionally, there is an abundance of plugins you can use to add amp simulations and effects without needing other physical devices like pedals or processors.
What's more, you can have virtual instruments and create drums, bass, or keyboard tracks, and record over them in real-time with no latency, while hearing the full mix at the same time.
If you were to try doing the same with your PC's integrated audio interface, it would be impossible to record anything due to extended signal latency times and a significantly reduced sound quality.
In some cases, your DAW won't be able to record at all, or it could even just crash. This is why specialized external audio interfaces are important, if you're serious about recording your guitar on your computer. This is also a great way to play an electric guitar without an amp.
Using Microphones For Acoustic Guitars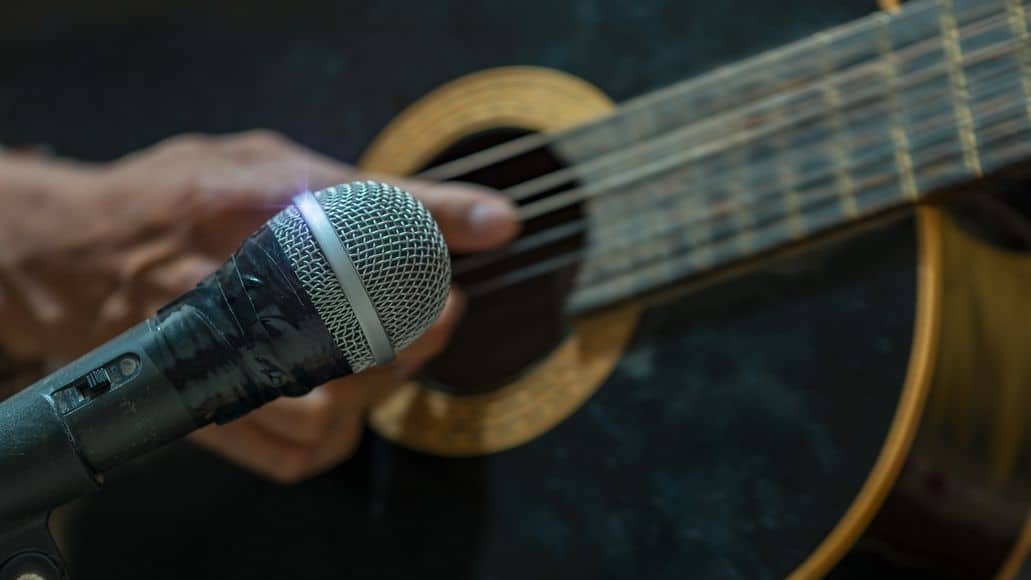 You can also record your guitar using microphones. Whether you're going with an integrated or an external audio interface, you can use a good studio microphone to record your acoustic guitar.
Of course, this particular method is a bit more demanding, so we'd advise you to go with an external audio interface with a regular XLR microphone input.
If you have good semi-pro or professional-level microphones, like the Shure SM7B or the AKG C414, you'll be able to capture your acoustic guitar's tone with great quality.
You'll also need microphone stands and some sound-isolating materials around you. The microphone should be placed near the sound hole.
If you're using two microphones, you can put one near the guitar's 12th fret and record them as two separate channels. This way, you get a lot more options to tweak and shape your guitar tone with two completely different sources.
If your acoustic guitar has a piezo pickup, it would be much easier to just go straight into an audio interface. That said, nothing can compare to what you get with microphones. You could also use both a microphone and a piezo pickup with a 2-channel audio interface, and blend these two tones in the final mix.
Using Microphones for Electric Guitar Amps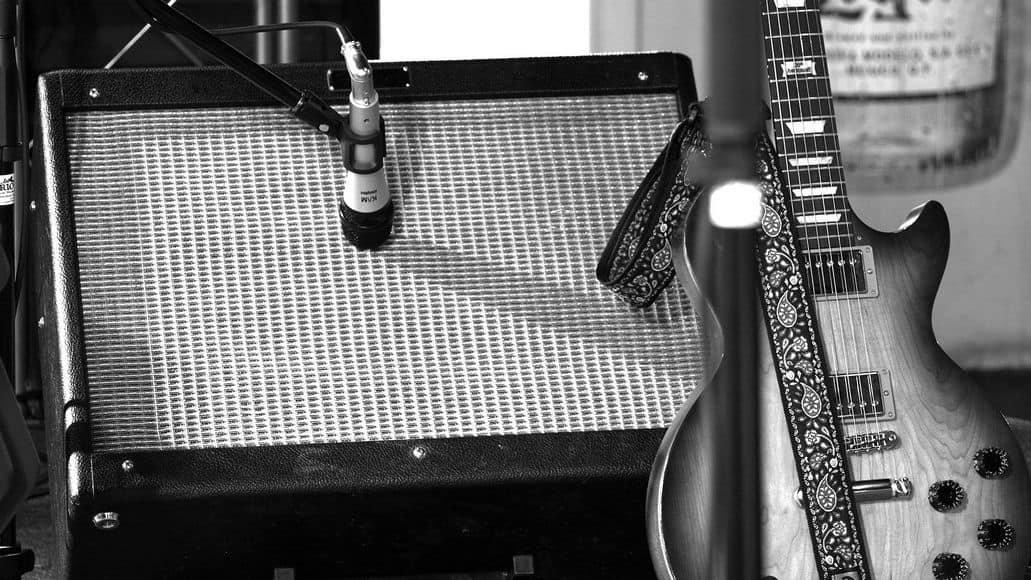 Recording guitar amps with microphones is a pretty old studio practice that's still in use even to this day. And just like with acoustic guitars, you can use this method with your computer's integrated sound card or with an external audio interface. We definitely advise you to go with the latter.
All guitar amplifiers have speakers, or a separate speaker cabinet. The simplest way to record the amp is to put a microphone near the center of the speaker, facing it directly. This way, you'll get a sharper tone that's heavier in the higher-ends.
The further you go from the speaker center, the more the tone gravitates toward the low-end. Some kind of sound isolation would also be good for this setting, preferably a completely isolated room with no exposed hard surfaces.
Recording with two or more microphones via individual channels on your audio interface would bring a lot more options for shaping the tone the way you want. In fact, this is the way professional studios record electric guitar amps.
To really get the most out of this configuration, go with one dynamic and one condenser mic. You can see our comparison of condenser mics vs dynamic mics here.
Just bear in mind that the process of setting up everything takes some time and research and that you'll need to make sure the microphones stay in place. Of course, your audio interface should also have XLR inputs and preferably have quality mic preamps.
This means you also need an XLR cable. What is an XLR cable and connector? Read that article. It covers everything you need to know.
USB Microphone
The methods described might be a little too bothersome if you're simply looking to record some guitar from the comfort of your bedroom. Obviously using your PC's integrated audio interface is as simple as it gets, but that doesn't really yield good results.
If you want your guitar recordings to sound good, but you don't want fuss around having to hook up a bunch of different equipment, a good USB microphone might be just the thing.
These microphones are technically a USB audio interface and a microphone in one. The best part is that many of them feature "plug and play" operation, making them simple to work with. There is no need to install special drivers and additional software.
Of course, having a DAW is still much better than using a simple sound recorder. And it's still easy to set up. You just have to map the device in the DAW of your choice and you're ready to go.
While you'll be able to record multi-track projects in real-time, you won't exactly get the best sound quality. In most cases, USB microphones are designed for podcasts and simple one-channel voice recordings.
But if you're trying to keep it as simple as possible, a USB mic is a simpler and cheaper alternative to buying and setting up an audio interface and XLR microphones. You can just set it up in front of your amp or your acoustic guitar, plug it in, and rock out.
Guitar Amps With An Integrated Audio Interface
Knowing that the music industry keeps integrating and fusing different technologies, it was only a matter of time until we saw electric or acoustic guitar amplifiers with integrated audio interfaces. And it's not just the cheap practice solid-state amps that have this feature these days, but also some of the tube-driven ones.
And this is a great technological advancement. At the end of the day, this could be the simplest and most economical way for a guitarist to record music at home.
These amplifiers often come with their own software that you can install on your PC or laptop and even allow you to create your own presets that you can call in at any time when playing a gig. Additionally, this comes in handy for recording in any DAW of your choice. The best part is that these amps keep getting better and cheaper.
Record Guitar On PC: final Thoughts
It sounds like a cliché at this point, but computers and other modern technology have definitely made our lives easier by. For musicians, this means we can record, produce, mix, and master our own original music from the comfort of our homes.
This is especially useful if you're a guitar player and just want to jam out and record some of your stuff at home. You can simply use your computer, but there is a little more to it than that, if you actually want it to sound good. But not all that much more. As a result, any one of us can lay down a professional sounding track.