The word "dynamic" sounds cool.
But is it a good thing when it comes to microphones?
The answer is vague: sometimes it is, sometimes it isn't.
A dynamic mic is better for some applications, but not for others.
We will look at various situations where a dynamic mic is preferable and others where you would be better off with a condenser mic.
But first, we'll start at the beginning, with a definition of the phrase "dynamic microphone" and an explanation of how one works.
After that, we will look at the differences between a dynamic and a condenser mic and situations in which one is better than the other.
What Is A Dynamic Microphone And How Does It Work?
A dynamic microphone contains a thin diaphragm, usually made of mylar, that is attached to a coil of ultra-thin copper wire. The coil floats inside a magnetic field, leaving it free to move.
When sound waves enter the microphone, they hit the diaphragm, which then vibrates in tune with the waves. That movement also moves the attached coil inside the magnet, which creates electrical current. In that way, sound waves are translated to an electrical signal.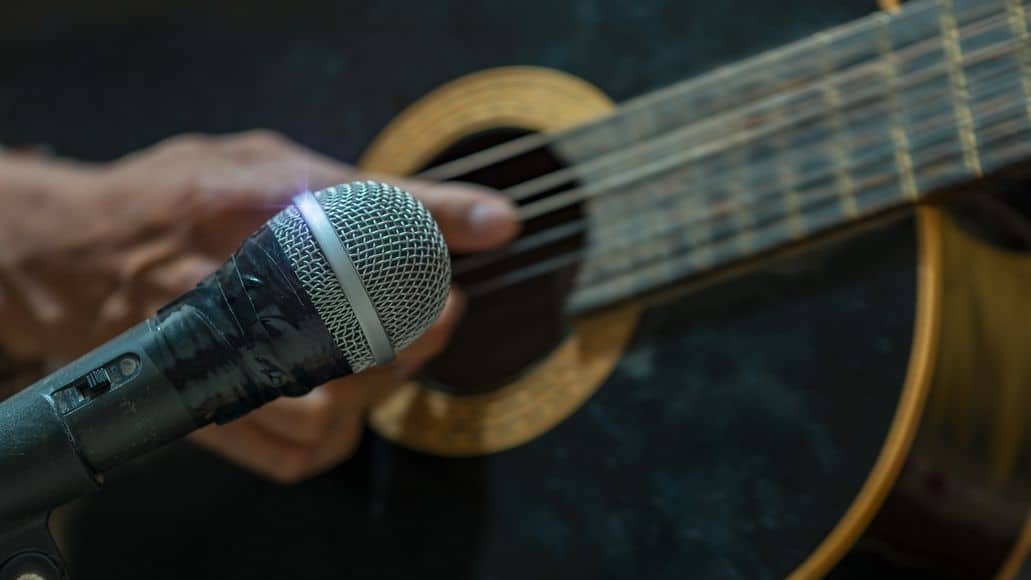 These microphones come in various shapes and sizes, but the main characteristic that impacts sound quality is the size of the diaphragm. Mics with larger diaphragms generally give you a smoother and deeper sound, making them especially great for vocals.
How Do Dynamic Mics Differ From Condenser Mics?
Because there are no electronic components or moving parts, dynamic mics are much tougher and more durable than condenser mics. They are famous for being virtually indestructible. They are also much cheaper and do not require power to run, either from batteries or an external source like a mic preamp.
On the other hand, they are less sensitive, have a smaller frequency range and just can't compete with a good condenser mic in terms of overall sound quality. They are especially bad with delicate sounds and with high frequencies, but they do much better than a condenser mic with very loud sound.
We go into much more detail on the differences between the two types of mics in this post.
Uses For A Dynamic Microphone
Dynamic microphones are usually the preferred type for live performances. They tend to isolate the desired sound source better from the background noise than the more sensitive condenser mics, which more than makes up for the reduction in sound quality.
In a studio or other setting where ambient noise is controlled, condenser mics sound better. When ambient noise exists, dynamic mics are better.
Dynamic microphones are also great when there is a very high sound volume and they are much more durable, which also makes them great for a live setting. This post gives more info on which type of mic is best for specific uses.
Best Dynamic Microphone For Live Vocals
We won't go into specific recommendations here, because we already have an in-depth review and comparison post that looks specifically at microphones for live performances. All but one of the mics featured on that page are dynamic mics.
Best Dynamic Microphone For Vocals In The Studio
We also have a post reviewing and comparing the best microphones for vocals in the studio or at home. Since condenser mics are generally better for studio work, only one of the recommended mics is a dynamic mic. The page mentioned above for live vocals has our recommendations for the best dynamic vocal mics.
What Is A Dynamic Microphone: Final Thoughts
Hopefully you now have a good idea what a dynamic microphone is and for what types of situations it is best suited. If you are still unclear about anything, please ask in the comments below. You can also take a look at this video.
Further Reading