You really have two choices.
In the world of audio recording, there are two main types of microphones: condenser and dynamic.
Both have a unique set of capabilities. Deciding which one is right for you can be tough.
But choosing the correct mic for the job is essential if you want superb sound quality.
You can even damage the mic's capsule and other vital components. if you record too loud with the wrong microphone.
In this in-depth guide you'll learn:
How both microphone types convert sound waves to electrical signals
The key differences
When you should choose one type of microphone over the other.
Let's dive right into the good stuff!
Condenser Mics Vs Dynamic Mics
In order to properly understand the difference between condenser and dynamic microphones, we first need to have a basic understanding of how any microphone works.
How Microphones Work
Let's start with the basics. At their core, microphones are transducers that convert sound into an electrical current.
Sound is a type of energy that travels through the air as a mechanical wave. When this wave reaches the microphone, it vibrates the diaphragm, which in turn produces an electrical current.
This current is then amplified and sent to a speaker, which converts it back into mechanical wave energy. The speaker then radiates this energy into the air, creating sound waves that we can hear.
The converting process varies for different types of microphones. As an example, condenser mics use a capacitor to produce the current, while dynamics use a magnetic field.
Active vs. Passive Mics
Microphones can be categorized into either "active" or "passive". Active microphones, such as condenser mics, require an external power source. This is in the form of batteries or phantom power from a mixer or audio interface.
Passive microphones (dynamics) do not require any external power source.
The type of microphone you choose will also affect the impedance of your signal. Impedance is the measure of opposition to the flow of an electric current.
The lower the impedance, the easier it is for the current to flow. Active microphones have a low impedance, while passive microphones have a higher impedance.
With less resistance, the audio doesn't get degraded in the cable as it travels to the preamp. What this means is that you can use longer cables with active microphones, without the risk of losing sound quality.
The frequency spectrum is also affected by the type of microphone you choose. Dynamic microphones tend to have a narrower frequency response than condenser microphones. This means that they do not offer as detailed a sound as condensers.
Condenser Microphones
Condenser microphones are commonly used on studio recordings. Why? Because they are very sensitive and can pick up a wide range of frequencies. Therefore, condensers are best used as vocal microphones.
Pros
Flat frequency response
Great at reproducing high frequencies
More lightweight than dynamic mics
High sensitivity
Cons
Fragile due to complex build
Requires phantom power to function correctly
A limit to the maximum input signal level
Cheaper models generate self-noise
Expensive
It is important to note that there are two main types of condenser microphones: small diaphragm, and large diaphragm.
Large-diaphragm mics look like your typical studio microphone. Bulky and expensive-looking. Small diaphragm microphones have a characteristic pen-shaped design and are often referred to as pencil microphones.
Each type has its own unique set of benefits and drawbacks that make it ideal for different types of situations.
Let me break it down for you!
Small Diaphragm Condensers
Small diaphragm condenser microphones are typically more sensitive to high frequencies than their large diaphragm counterparts. This feature makes them better suited for capturing delicate sounds.
They also tend to have a faster transient response, making them effective to use when recording drums.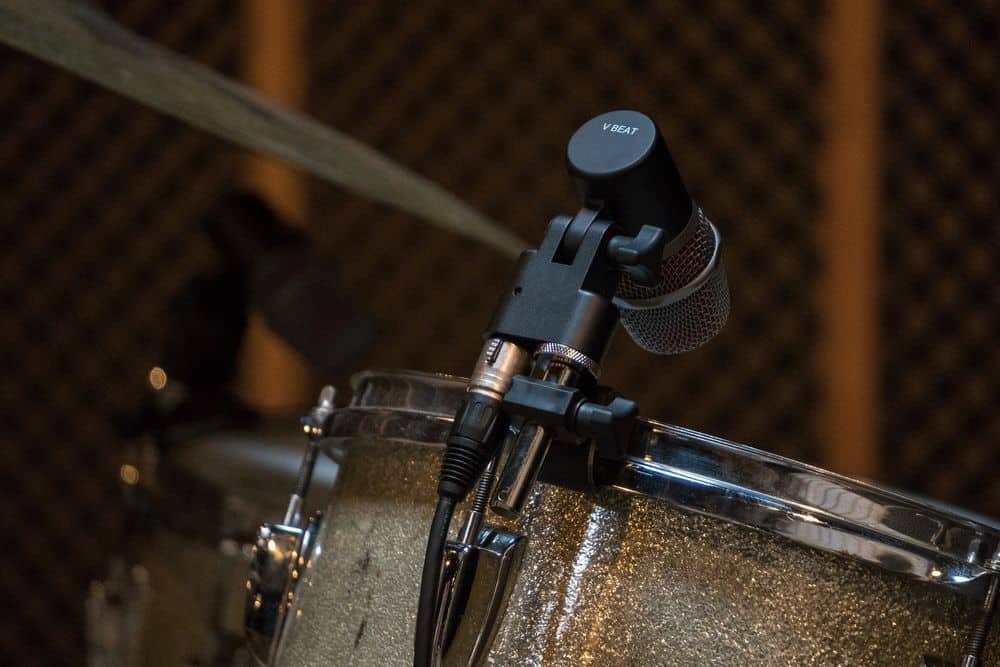 Last but not least, they're also much smaller and more compact than large-diaphragm condensers. The small pencil-shaped design makes them easier to position in tight spaces.
Also important is that they capture the sound from the top, rather than the side, making them easier to point directly at the sound source.
Large Diaphragm Condensers
Large-diaphragm condenser microphones excel at capturing low-frequency sounds. Why? The larger diaphragm can vibrate more heavily than smaller ones.
Furthermore, they color the sound with harmonic distortions. Whether this is a good or bad thing has been a hotly debated topic in the audio industry for ages. Some prefer a more natural sound while others appreciate the beautiful harmonics of colorization.
In addition, large-diaphragm mics have a wider frequency range than small diaphragm condensers, making them suitable for recording instruments with extreme detail.
Phantom Power
Unlike dynamic microphones, condensers require an additional power source to run. This is provided through something referred to as Phantom Power.
Phantom power is a direct current (DC) voltage, typically around 48 volts. This additional voltage can be supplied by either an audio interface, mixer, or preamp.
Condenser microphones have active electronics that need an external power source. The high voltage provides the microphone with the power it requires to function properly.
You can see some of the best condenser mics available in this article listing the best microphones for recording vocals.
Dynamic Microphones
A dynamic microphone is a type of microphone that uses electromagnetism to convert sound waves into electrical signals.
Dynamic microphones are rugged and can handle high volume levels without distortion. They are also less sensitive than other types of microphones, so they are less likely to pick up the background noise. That makes them ideal for use in noisy environments like concerts or crowded bars.
Pros
Rugged and durable build
Don't require additional equipment
They're relatively cheap
Can handle high SPL without distortion
Cons
Less detailed sound
Can only capture a limited amount of high frequencies
Not as sensitive as condenser mics
As with condensers, there are two types of dynamic microphones commonly used in the industry. Here is a breakdown of each type.
Moving-Coil Dynamic
The moving-coil dynamic is by far the most common type of dynamic microphone. It consists of a moving coil attached to a membrane.
Moreover, the coil is located in a magnetic field, and when sound waves hit the membrane, the coil moves. This movement creates an electrical signal that gets amplified and sent to the microphone's output.
Moving-coil microphones are often used in live performances because they can handle loud sounds without distorting the signal. They are also less expensive than other types of microphones.
Lastly, they're known for being indestructible. Although it's not recommended, you can drop them without causing any damage to the microphone.
Unlike large-diaphragm condensers, moving-coil microphones don't perform well with low-frequency sounds.
You can check out the best dynamic mics on the market in this article listing the best microphones for live vocals.
Ribbon Microphones
Ribbon microphones are commonly referred to as "ribbons" rather than "dynamics". However, due to their technical aspects, they are a sort of dynamic mic.
Ribbons are also one of the oldest and most classic mics around. To convert sound into electrical current, ribbon mics use a thin strip of metal, usually aluminum, suspended in a magnetic field.
The metallic ribbon is vibrated by sound waves, which causes a tiny electrical current to flow through the metal. This current is then amplified by a preamp and converted into an audio signal.
Ribbon microphones are prized and praised for their natural, warm sound.
Because of their passive design, ribbon microphones do not require power from an external source. However, they require a preamp to boost the signal before it goes to the mixer or recorder.
Ribbon mics won't be able to withstand as much abuse as moving-coil dynamics. They're notoriously fragile and prone to damage if they're not treated with the utmost care.
Difference Between Condenser And Dynamic Microphone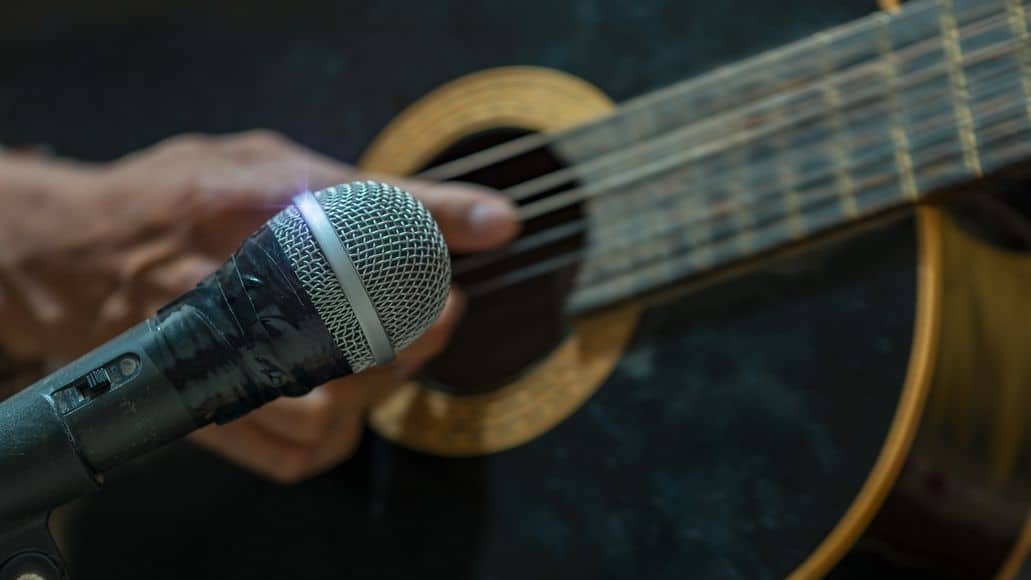 Next we'll take a closer look at the main differences between dynamic vs condenser microphones.
Sensitivity
Due to the thin membrane, condenser mics are far more sensitive than dynamic microphones. This feature allows for much more detailed recordings. Consequently, condensers are preferred if you want to capture delicate quiet sounds.
If you do an A/B test between dynamics and condensers, there is a good chance that you'll hear a lot more noise in the recording from the condenser mic.
Why? Because of the higher noise floor (self-noise).
The active circuitry inside the microphone generates this noise, and it is especially high in the case of cheap condenser mics.
However, the noise floor should be around 0 dB SPL-A, if you own a high-end condenser like the Neumann TLM103. Cheaper models can have a noise floor that measures up to 30 dB SPL-Al.
Dynamic microphones are ideal if you want to record loud sounds, since they can handle higher SPL than condensers without distortion.
Due to their diaphragm, condenser microphones are more susceptible to noise. Consequently, they are less suitable if you want to use them in a noisy environment.
Frequency Response
Frequency response is one of the most important technical specifications to consider when choosing a microphone.
It defines how a microphone will reproduce sounds at different frequencies and is typically graphed as a frequency response curve.
The shape of the curve can tell you a lot about the microphone's tonal character and output level at different frequencies.
Dynamic microphones have a reduced high-frequency response, making them great for recording bright instruments without harshness.
On the other hand, this reduction is unwanted, if you want to record sounds with rich nuances, which is usually the case if you are recording instruments for use in a song or remix. This article on how to remix a song has more on that.
Sound Pressure Levels
The sound pressure level (SPL) is a numerical measure of the loudness of a sound. It is measured in decibels (dB), which are units of measure for sound pressure.
The SPL is a logarithmic scale. So what does that mean? Each 10 dB increase represents a 10-fold increase in the sound pressure level.
So why am I telling you this?
You see, dynamic microphones are better able to handle high SPLs without distorting the sound. This makes them ideal for use in live settings where the volume level can be unpredictable.
Versatility
Even if condensers are generally regarded as "higher quality" and provide a much more detailed sound, a dynamic microphone is a well-rounded workhorse.
They're some of the most versatile types of microphones available on the market today. For this reason, they can be used for a variety of applications, including live sound, studio recording, and more.
Durability
Dynamic microphones are more durable than condenser mics for a few reasons. One reason is that dynamic microphones have a simplified construction, meaning fewer parts can break or come loose.
Additionally, they use magnets and coils rather than a thin membrane to convert sound waves, making them more resistant to damage from drops or other impacts.
The mic manufacturer Shure even posted a video of them dropping the popular dynamic mic SM58 off the roof. Guess what? It still worked. Here are a bunch of toughness tests they did.
Price
Condenser microphones tend to be more expensive than dynamic mics. Why?
The most significant factor is the diaphragm. A condenser microphone's diaphragm is an electrostatic transducer that converts sound waves into electrical signals.
In addition, the electronics required to process these signals are more complex than those in dynamic microphones.
Lastly, the microphone also has a built-in amplifier which adds to the costs.
Worth mentioning is that condensers also require additional equipment to operate. You'll need to buy an audio interface, mixer, or preamp with a +48V switch (phantom power) to power the mic's internal circuits.
Sure, condenser mics start very cheaply and you can get a studio microphone for as little as $50. With that being said, you do sacrifice a lot of sound quality by cheaping out.
Dynamic Mic Vs Condenser Mic: Which One Should I Choose?
Neither microphone is truly better than the other. When talking about dynamics vs condensers, it all boils down to the application, your budget, and personal preference.
I would pick a condenser mic when recording vocals and acoustic instruments in a studio setting.
Dynamic microphones are still my top choice during live performances, presentations, or for loud drum recordings.
With that being said, don't be afraid to experiment with different microphone types. There are no hard-set rules. If it sounds good, it is good. I've seen great-sounding recordings made with both.
Dynamic Mics Vs Condenser Mics: Final Thoughts
There are several key differences between condenser microphones and dynamic microphones.
First, condenser microphones are typically more sensitive and have a wider frequency response than dynamic microphones.
In addition, they require phantom power, which can be supplied by a battery or external power source such as an audio interface.
With dynamic microphones, you can record louder sound sources without damaging the mic's capsule. They're less sensitive and tend to be more rugged and resistant to feedback than condensers.