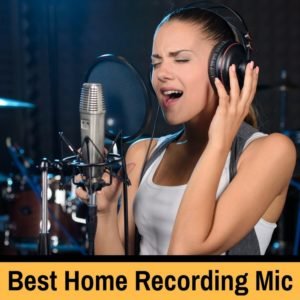 Two types of singers need a microphone for home use: those who want to record a few tracks for fun and those who want professional level recordings.
If you just want a mic to play around with and you don't want to spend too much, you might want to check out the best USB mics for singing, instead. They cost a lot less, don't require additional equipment and are much easier to setup.
The microphones on this page are all more expensive.
They deliver professional sound quality and are perfect for a home recording studio.
All require additional equipment, which adds to the cost, most importantly a mic preamp and an XLR cable, which connects the mic to the preamp. You will probably need a few other accessories as well. We compiled a short list at the end of this post.
We chose the mics listed here after sifting through the hundreds of options on the market. We took the time so you don't have to and narrowed the choices down to the 5 best mics for singing and recording at home.
Best Mics For Recording Vocals At Home: Summary Of Recommendations
A lot of readers wrote in saying they didn't want to read through all the reviews and just wanted me to tell them which mic is best. That's why I added this short section.
Best Overall Mic For Home Recording
The best overall mic is the AKG Pro Audio C214. It offers a great balance between low price and high performance. It actually has the same sonic character as the famous C414 XLII and is especially great for close-up recording, even for scream singers.
Best Budget Mic For Recording At Home
Our favorite budget vocal microphone is the Audio-Technica AT2035. Considering the low price, it gives you great sound quality. That said, it obviously doesn't come close to matching top-of-the-line models.
Best Premium Mic For A Home Studio
The top high-quality microphone for home recording is the Neumann TLM 103. It a sound that is as close as you can get to the original source, with an extremely low self-noise level of just 7 dB(A).
Best Microphones For Singing At Home And Recording Your Voice
Best Overall — AKG Pro Audio C214
​The C214 Cardioid Condenser Microphone by AKG Pro Audio is the top mic for recording vocals at home and comes packaged with almost everything you need, so you won't have to buy as many accessories.
In addition to the mic, you get a shock mount, a close-talk windscreen and a carrying case. The only thing missing is an XLR cable, unfortunately. That said, these are rarely included with a mic.
​AKG Pro Audio also make the legendary C414. That mic is in use everywhere. It's in a bunch of big recording studios, it is used in broadcast, and even on stages.
The C214 is basically a toned-down version of the hugely popular C414. The main differences are that the C214 only has one diaphragm and only gives you a cardioid polar pattern (more on polar patterns here). It is also much less expensive, making it perfect for home recording use.
What really sets the AKG C214 apart is its excellent dynamic range and its ability to easily handle the recording of high-output sources up to 156dB(A), even up close, thanks to a switchable 20dB attenuator and bass-cut filter. Mechanical noise and vibration are minimal, a result of an integrated suspension.
The C214 reproduces your voice clearly and accurately and it comes at a very reasonable price. This is what makes it the best microphone for singing and recording at home.
And if you want to mix vocals and instrumentals, it does an excellent job with that, too. Your vocals will always sit well in the mix. Even if you are a scream singer, this mic will handle it, thanks to the high maximum SPL (156 dB).
Want to take your mic on the road? The C214 has an all-metal die-cast body and both shock-resistant and scratch-resistant finishes. It is durable enough to handle anything
It definitely isn't a cheap condenser microphone, but when you consider the quality, you're actually getting quite the bargain. If it's still out of your price range, check out the Rode NT1-A (one of our runner ups; see below) instead.
Pros
Same sonic character as the famous C414 XLII
Great for close-up recording, even for scream singers
Can record up to 156dB SPL
Very high quality construction and finish
Cons
​Does not come with an XLR cable
Records on the lower-frequency end and may need to be EQed
Runner-Ups: Two Great Alternatives
Slightly Lower Quality, Much Lower Price — Rode NT1A
The NT1A Vocal Condenser Microphone from Rode does not give you quite the same quality as the C214, but the difference is not huge. The difference in price is much larger, making this mic an exceptional value, especially given all the accessories you get with it.
At the time of writing, the mic is bundled with a 20-foot XLR cable, a Rode SM6 shock mount with integrated pop shield, a dust cover and the NT1-A Studio Secrets DVD. Furthermore, the microphone is covered by a 10-year warranty.
The NT1-A has one of the lowest self-noise levels on the market: 5dB(A). The only mics that can match that cost ten times as much. That, combined with the sensitivity of the large 1 inch capsule with gold plated diaphragm, is what makes this such a good microphone for recording voice. It is also great for instruments like the drums. Read our full Rode NT1A review.
Best Dynamic Microphone For Vocals — Shure SM7B
Condenser mics are usually preferred for recording vocals at home or in a studio and dynamic mics are used for live performances. That's why we only list one dynamic mic here. The SM7B Vocal Dynamic Microphone from Shure definitely deserves a place on this list, though.
Dynamic mics work better on stage because they do not pick up as much ambient noise as condenser mics, but condenser mics produce clearer sound. They also cost a lot more.
This means you can get a much higher quality dynamic mic for the same amount of money as a lesser condenser mic. And that is the case here. The Shure SM7R is expensive, but for that price, it comes close to the much higher priced Neumann TLM 103 (see below).
Overall, I still recommend one of the condenser mics for vocals and/or recording at home, but if you plan on also using your mic for live performances, then this is a no-brainer.
You get exceptional quality for a relatively low price, plus a mic that can pull double-duty. You can also use it to mic a guitar amp for live sound. It comes with a foam windscreen, a close-talk windscreen and a locking yoke mount. Read our full Shure SM7B review.
Best Mic To Record Vocals On a Budget — Audio-Technica AT2035
The Audio-Technica AT2035 Large Diaphragm Studio Cardioid Condenser Microphone is easily the top budget condenser mic.
It is inexpensive and what's more, it comes bundled with a pop filter, a 10-foot XLR cable, a shock mount, a protective pouch and a microfiber cleaning cloth (though the cable and filter are not especially great).
Obviously, it can't match the other mics on this list when it comes to quality, but this is still an excellent mic, especially given the low price. The metal exterior and excellent construction make it tough and durable.
But what really makes the Audio-Technica AT2035 such a solid cheap microphone for recording is the sound quality. Despite the low price, it has a side-address cardioid polar pattern that reduces pickup of sounds from the sides and rear and helps isolate the desired sound source.
It has a high maximum SPL of 148 dB(A), a switchable 80Hz high-pass filter and a 10dB pad, ensuring it can handle even the loudest singers. This makes it an excellent vocal mic.
The AT2035 won't be sufficient for professional applications, but for anyone else, it is a great option if you're looking to save money. For a low price, you get one of the best large diaphragm condenser microphones on the market, that gives you a sound quality far beyond other similarly priced gear.
Read our full review of the AT2035 here.
Pros
Wide frequency response (from 20 to 20,000 Hz)
High SPL handling up to 148 dB(A) — handles the loudest of singers
Cardioid pattern — reduces sound interference and better isolates desired sound source
Low price
Cons
The included XLR cable and pop filter come from the seller, not the manufacturer, and they are not well made
Vocal output will probably need to be EQed
Highest-Quality Microphone For Home Studio Recording — Neumann TLM 103
The Neumann TLM 103 Microphone is the best affordable condenser mic. It is the Rolls Royce of the options on this page. It's going to cost you, but it's worth it.
The version pictured here comes with a shock mount and a briefcase, but you can save some money and just get the mic on its own, if you prefer. You get two colors to choose from, both with the same design: satin nickel and matte black. The microphone is protected by a 2-year warranty.
The TLM 103 has a very low self-noise level of just 7 dB(A), allowing it to pick up every little nuance of your voice. It is a large diaphragm microphone with a wide frequency range from 20 Hz to 20 kHz. It has a high SPL of 138 dB, so it can handle even the loudest singers yelling directly into it.
The TLM 103 does an exceptional job with vocals, helping any voice cut through the mix, thanks to a broad presence boost of approximately 6 to 15 kilohertz. A transformerless output stage ensures that the output is clean and as close as possible to the original source audio. It reproduces a powerful bass, even at the lowest frequencies.
The only microphones that top the German-made TLM 103 from Neumann sell for ten times the price. Few people are willing (or able) to pay that much. The cost of this mic is about the upper limit for most, but if you need the best possible sound quality without paying insane prices, this is the only option we can recommend.
Our full review of the Neumann TLM 103 microphone has much more.
Pros
Extremely high-quality sound as close as possible to the original source
Wide frequency range from 20 Hz to 20 kHz and a max SPL of 138 dB
Extremely low self-noise level of just 7 dB(A) — picks up even the slightest nuance
Cons
Does not include an XLR cable
High price
Best Microphone For Singing At Home: Final Thoughts
Before we leave you for today, we want to note that none of the microphones on this page can be used as is. They use phantom power, so you will need a preamp (or interface) to power them.
Most microphones don't come standard with the XLR cable either, so you will need to get one of those as well.
There are also a few other accessories you will almost certainly need, though any of these vocal mics can operate without them: