The Neumann TLM 103 is one of the best-known microphones on the market.
It has made a name for itself as an extremely high quality condenser microphone that specializes in vocals and acoustic guitars, but that can handle just about any type of instrument.
Is this reputation justified?
In short: yes. This is one of the best microphones available.
But not everyone should get it.
There is a reason for it's reputation as a vocal or acoustic guitar mic. It does that better than any other. But if you are not using it primarily for one of those purposes, you may be better off with a different model.
We'll cover those alternatives further down in the review, including how they compare to the 103. First, let's take a closer look at the TLM 103 from Neumann and see just what has made it such a popular microphone for studio recording.
Neumann TLM 103 Microphone Review: Overview And Features
Large-diaphragm microphones are part of any high-end setup, but they're not cheap. And if you're going to be paying, you want to spend your money on the best.
Neumann has always been one to raise the bar in the microphone game. And one of their finest examples is the TLM 103, which we voted as the best microphone for recording vocals, including rap vocals.
This condenser mic is a classic vocal mic, but it's not unusual to see it used for acoustic instruments, too, most notably guitars. Due to its sensitivity, it's not as commonly used for electric guitar amps or other loud instruments (like trumpets), but it does see some use there as well.
Neumann's TLM 103 is an old school-styled large-diaphragm mic, with a large condenser capsule. It was released back in the late 1990s and was designed after the company's well-known U87 A. From there, the TLM 103 slowly began building its reputation as the industry standard.
The specs give a good indication of its greatness. It features a pure perfect cardioid pickup pattern. The frequency range is vast, covering pretty much the entire audible spectrum. It is also important to note that it picks up frequencies more or less evenly all across the spectrum.
There's a slight boost somewhere between 5 kHz and up to 15 kHz and it gets somewhat weaker at the very bottom, from 20 to 50 Hz, as well as in the highest register, somewhere above 17 kHz. This is actually exactly what you would expect from a Neumann mic. The company is well-known for their great mid-range, especially higher mids.
We should also note that it features extremely low self-noise and that it handles high sound pressure levels up to 138 decibels.
Key Features
Large-diaphragm condenser mic
Cardioid pickup pattern
20 to 20,000 Hz frequency range
Very low self-noise, 7 dB-A
Can work without clipping to up to 138 dB
Overall "flat" frequency response with a slight boost of mids and higher mids
Designed for vocals and acoustic instruments
Design
The initial idea with the TLM 103 was to have a mic for broadcasting or for project studios. However, due to its features and specs, it soon found use as a studio microphone for singing and any kind of speech. It's a relatively large and somewhat heavy mic, weighing in at around 450 grams. This type of heft is not unusual for condenser mics.
Pickup Pattern
Unlike some of the newer condenser mics, the TLM 103 has only one polar pattern. It's a cardioid mic with no other switching or patterns. While this may be a downside to some, especially considering the high price, multi-pattern mics are not often done well and they cost more, too. Besides, the cardioid pickup patterns is the most useful for most singers or single instruments.
Wide Frequency Range And Low Self-Noise
As mentioned, this mic is known for its wide frequency range. Going from 20 Hz to 20,000 Hz, it covers every frequency that the human ear can pick up.
The TLM 103's self-noise is also extremely low compared to most microphones, sitting somewhere around 7 decibels. Looking at some other condenser mics, even the quality ones can go to 15, 16, or even more decibels.
Use
The most exciting thing about the Neumann TLM103 is the way it covers all audible frequencies. Although the very bottom and the very high end are somewhat suppressed, the mids are mostly flat, with the boost in the higher-mid range and most of the high end.
And that's where some of its biggest strengths come into play. Thanks to the frequencies that it covers, it is one of the best high-end solutions for acoustic instruments like guitars, pianos, cellos, double basses, and even violins.
This slight boost in the mid-range of the spectrum allows any of these instruments to shine and cut through the mix. When paired with a good dynamic mic, it can do real wonders for these instruments. This is also a great combo when recording guitar on a PC.
Of course, the TLM 103 is mostly known as a vocal microphone. This goes for lead vocals of any style, as well as regular speech. Just like with acoustic instruments, its specific frequency coverage makes it a great choice for singers.
Neumann TLM 103 Mic: Advantages And Disadvantages
Pros
Ideal microphone for lead vocals
Great for acoustic instruments that are supposed to cut through the mix
Wide frequency range
Extremely low self-noise
Cons
Only one pickup pattern
Lack of additional controls
Expensive
Neumann TLM 103 Vs 102
In a way, the TLM 102 is an affordable alternative to the 103. It includes some of the same features, like the frequency range, very low noise of operation, and the cardioid pickup pattern.
On the other hand, the 102 is designed to deal with even louder noises without clipping, even up to 144 dB. This makes it a more viable solution for wind instruments, like trumpets, than the 103. In addition, the 102 is smaller and significantly lighter. It also costs less.
At the same time, the 103 is something you'd want for more subtle and nuanced recordings. The way the two mics pick up frequencies is not the same, because the 102 has a slight boost of above 6 kHz.
Although it's one of the cheapest Neumann mics, the 102 is still pretty expensive compared to most other condenser mics available. If you want a high-end mic, you can't do any better than these tow, with the 103 being the best choice for vocals and acoustic string instruments, and the 102 being better for louder wind instruments.
AKG C414 Vs Neumann TLM 103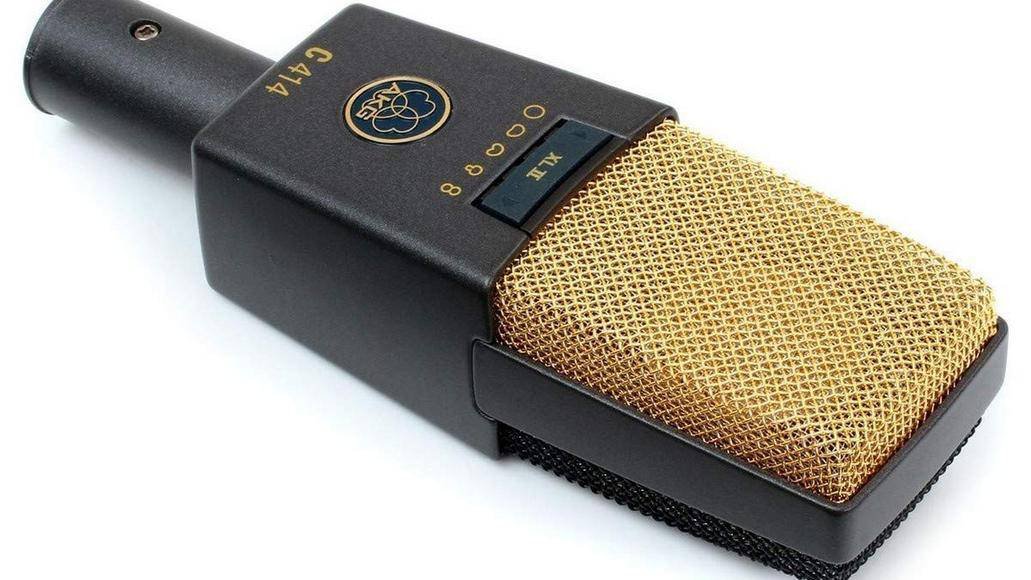 While the 102 is a cheaper alternative to the 103, the AKG C414 costs right around the same amount. Like the TLM 103, it is a high-end microphone for professional use.
It has the same wide frequency range between 20 Hz and 20 kHz, but this would mean nothing if there weren't other features to support it. First, the C414 has an even lower self-noise of only 6 dB.
Although the Neumann TLM 103 deals well with louder settings, though not as well as the TLM 102, the AKG C414 outdoes them both. Impressively, the AKG microphone manages to deal with noises up to 158 decibels without clipping.
This is why many guitarists use it for loud guitar amplifiers, especially in heavy metal music. And just like Neumann's 102, it is also a great solution for wind instruments. Many musicians even use it for live performances, which is very unusual for a condenser microphone.
The C414 also has three switches. First, there's the pre-attenuation pad that offers -6, -12, and -18 dB in the input. Then we also have a bass-cut filter that can remove anything below 40, 80, or 160 Hz. And third, it has a switching option for nine different polar patterns.
All of this makes the C414 a far more versatile microphone than the two Neumann options. But this does not necessarily make it the top choice.
The Neumann TLM 103 is superior in certain settings. For instance, it is much better at picking up subtle differences, making it the far better option in quieter settings.
To sum up, the AKG C414 is definitely more versatile, deals better with loud noise, and is even a good option for live stages. On the other hand, the Neumann TLM 103 is better for quieter settings and any recordings where even the subtlest dynamic nuances are of great importance. It really shines with acoustic guitars, vocals, and even classical music instruments.
Learn more in our full AKG C414 review.
Neumann TLM 103 Review: Conclusion And Rating
To put it simply: the Neumann TLM 103 is one of the best microphones available. It provides an extemely "convincing" input, picking up all the important frequencies of a voice or an acoustic instrument. The resulting recording sounds as if you were actually there, listening with your own ears.
While it specializes in quieter instruments, it still does incredibly well with louder acoustic instruments, like drums, or even for electric guitar amps and cabinets, too. That said, if you plan to use it exclusively for a louder instrument, you'd probably be better off with the AKG C414.
The only real downside to the Neumann TLM 103 is the high price. The price is most certainly justified, but that does not change the fact that it is a lot of money.
In addition to the cost of the mic, you'll also need to invest in a similarly high-quality preamp or audio interface, studio monitors, and all the other equipment you need. Paying for a high quality microphone is a waste of money, if you pair it with other low-quality components.
If you're looking to record vocals and/or predominantly acoustic instruments, the Neumann TLM 103 is easily the best microphone for you. That is why we give it a top Musicaroo rating of 5 out of 5.