Some mics are perfect for vocals.
But they don't do a good job with instruments.
Others are great for a specific type of instruments.
But they don't capture other instruments well. And let's not even talk about their ability to capture vocals.
If you're in a band that performs a lot, this is not much of a problem. You're going to need a bunch of mics regardless, so you can easily get the best one for each instrument and vocalist.
But what if you need a microphone for multiple uses, but you don't need them all at once and you don't want to spend a bunch of money buying multiple mics?
Luckily, there are a few great all-around performers out there. And the AKG C414 XLII is one of the best. This review takes a closer look at this all-star microphone to help you decide if it is right for you.
AKG C414 Review: Overview And Features
Finding the perfect vocal microphone for your needs is not an easy task. What is a great mic for some purposes does not do so well for others. But some models are good at almost everything.
The AKG C414 XLII is one of those. It is extremely versatile and can fit almost anyone's musical and vocal style.
It was inspired by and modeled after the company's legendary C12. It is a large-diaphragm condenser microphone with very unique voicing, created especially to enhance the important nuances of a singer's voice. It is also great for acoustic and electric instruments.
It mic covers the entire audible spectrum, with its frequency response spanning between 20 Hz and 20 kHz. But this would mean nothing without the proper distribution of desirable frequencies.
This microphone's response is pretty flat across the spectrum, with some slight boosts and cuts here and there. It has a few different polar patterns to choose from, so the curve will differ slightly depending on the mode of operation.
There's a slight cut somewhere between 1 and 2 kHz, while the high mids and highs are slightly boosted in a few areas. You have the option to cut the low-end. An LED light notifies you about any unwanted peaks and potential clippings.
Despite being a condenser microphone, it's not as heavy as similar products, like Neumann's TLM 103. The lighter weight could be advantageous for some applications. It makes it easier to set up with a microphone stand, for instance.
AKG C414 XLII Microphone: Key Features
Wide frequency range, between 20 Hz and 20 kHz
Mostly "flat" across the frequency spectrum
Nine selectable polar patterns
Bass cut filters: 40, 80, and 160 Hz
Attenuation levels of -6, -12, and -18 dB
Works well even in louder settings, up to 158dB
Very low self-noise
Capture Quality
Covering a wide spectrum of frequencies is great, but what really sets the C414 apart is its one-of-a-kind voicing. Looking at the graphs and listening to recordings made with the mic, you'll notice a few specific traits.
First, it's completely flat from 20 to 1,000 Hz. There's just a slight cut between 1 and 2 kHz, and then it gets slightly boosted in the area between 5 and 15 kHz. Finally, there's a slight dive after the 15 or 16 kHz mark up to the maximum of 20 kHz.
Of course, the response differs depending on the polar pattern mode you choose, but this is roughly it. Additional control for low-end cutting is also available.
Versatility And Functionality
One of the most noticeable things about this microphone are the switches. It is rare to find a mic with three switches on it.
One switch lets you select from an impressive nine different pickup patterns: omnidirectional, wide cardioid, cardioid, hyper-cardioid, figure eight, as well as four additional intermediate patterns with hybrid shapes. Each of these polar pattern modes also affects the overall frequency response and the shape of the curve.
Another switch controls the low-end cut filters. Because the frequency response is flat from the very start, you might get some unwanted bass here and there during vocal recording. This switch allows you to cut that.
It has 40, 80, and 160 Hz cut modes. The 40 and 80 Hz settings give you a somewhat steeper curve with a 12 dB per octave cut, while the 160 Hz one is noticeably smoother with a 6 dB per octave cut.
The third switch is for attenuation, with three additional modes of 6, 12, and 18-decibel cuts. Although the mic handles high-level noise, this is a very useful feature for close proximity recordings and louder settings.
In addition to the switches, this mic also has an LED indicator that warns you about any potential overloads. Even the shortest overload peaks are indicated via the LED light.
Use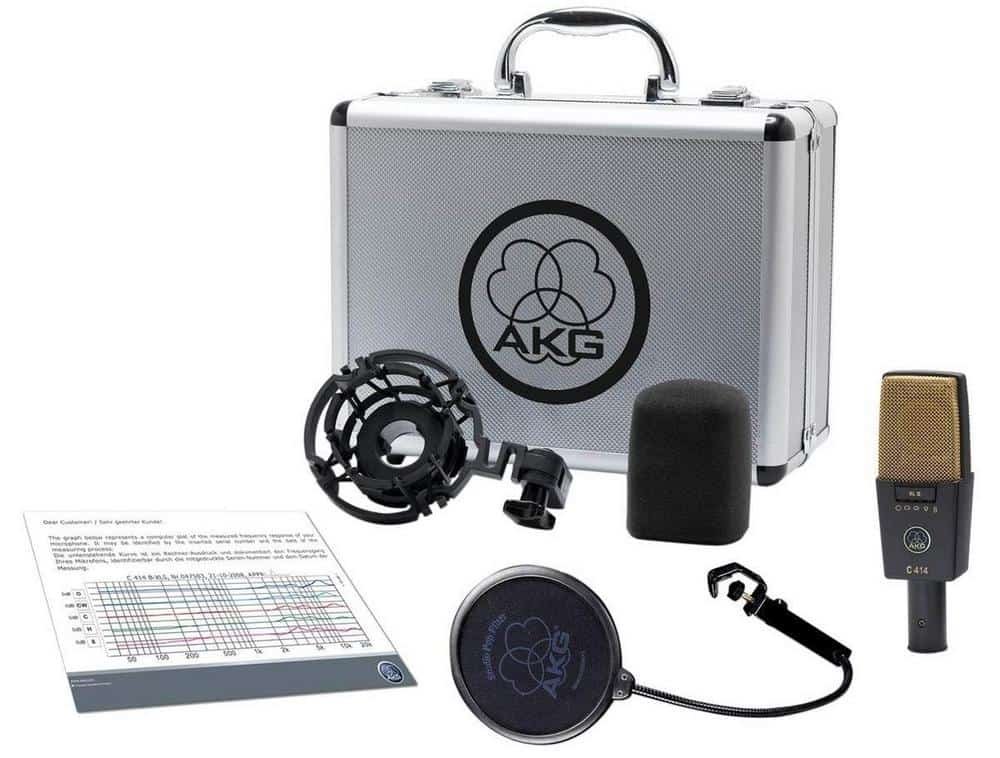 With so many features, you can probably guess that the AKG C414 XLII has a wide variety of uses in music. The first and the most obvious one is for vocals.
Thanks to its specific voicing, this microphone gives a great capture of all of the most important nuances of your vocal performance, be it growl singing, rapping or just regular speech. Because it has so many different polar patterns, it can be used as a directed mic for solo vocals or as a very wide mic for multiple singers at a time, plus everything in between.
As for instruments, it works best for acoustic instruments like strings, classical and acoustic guitars, and wind instruments. It's especially useful for louder instruments, due to its ability to handle loud noise at close proximity.
While it's not commonly used for drums, it can be used as a wide room microphone or as a mic for toms. Due to the lack of the highest part of the spectrum, it's not recommended for cymbals.
In addition, it can also come in handy as a microphone for loud electric guitar amplifiers. When you pair it with a dynamic mic, it will do wonders.
AKG C414 XLII: Advantages And Disadvantages
Pros
Extremely versatile
Low self-noise
An abundance of functions and controls
Perfect for any kind of vocals
Cons
Lack of high-ends make it a less favorable choice for some applications
AKG C414 XLII Vs XLS
The C414 has two versions. One of them is the XLII that we've talking about here and the other one is the XLS. The mics are pretty similar in their overall frequency response and feature identical controls and features. But there are a few important distinctions, mostly concerning the way they cover the frequencies. This impacts their application both in the studio and for live shows.
The capsule design is different as well. The XLII is closer to the C12 mic, while the XLS capsule that makes for a flatter frequency response than the XLII. The XLS captures high-end frequencies better than the XLII.
The XLS has somewhat wider polar patterns and captures all the frequencies more evenly at different distances. Overall, the XLS is a better solution for drums, backing vocals, and even kick drums and bass guitars. The XLII gives a better response for electric guitar amps, lead vocals, and toms.
AKG C414 Vs C214
The C214 is pretty similar in application, though it has far fewer features. The frequency territory is the same: 20 Hz to 20,000 Hz. The C214 is not as flat as the C414 and has a significant bass cut up to 60 Hz. There's just one control on it that cuts the low-end up to 160 Hz. The higher end of the spectrum is close to what the C414 XLII does.
Overall, the C214 is a great professional-grade microphone that's a cheaper alternative to the C414. It features only a cardioid polar pattern, and is great for lead vocals in studio settings, but also does a great job for miking-up guitars, electric guitar amps and electric bass amps, both for studio sessions and live performances.
Check out our AKG C214 review for more.
AKG C414 XLII Vs Neumann TLM 103
The Neumann TLM 103 is one of the best vocal recording microphones on the market and it has the price tag to match. But the C414 still beats it in some aspects.
It has a slightly lower level of self-noise and far more features. It is also better at dealing with louder settings, capable of handling noises over 150 dB. As a result, it is a more suitable choice for live settings and louder instruments in studio settings.
Despite its far narrower scope, the TLM 103 is by far the better microphone. It is a very delicate mic that's capable of capturing even the subtlest nuances. This makes it perfect for lead vocals. With cuts in the lower end and the very high end of the spectrum, it is also great for quieter acoustic instruments.
Basically, the TLM 103 is a specialist and it can't be beat when it comes to recording solo vocals and some acoustic solo instruments, like violins or classical guitars. The C414 on the other hand, is much more versatile. It can handle many different settings and a wide variety of instruments and vocals.
Check out our full review of the Neumann TLM 103.
AKG C414 XLII Mic Review: Conclusion And Rating
The AKG C414 XLII is a high-end microphone with a wide variety of uses. While it may not be as detailed as Neumann's TLM 103, it's a very useful tool for anyone who needs a microphone for a wide scope of use.
But, there are two things to bear in mind. First, it's a fully professional mic and requires extensive knowledge and experience in order to make proper use of all its controls. Second, a high quality microphone means nothing if the rest of your equipment is not able to reproduce all of its sound qualities, so make sure you don't pair it with cheap junk.
If you need a microphone for recording vocals, then the TLM 103 is better. It is also much more expensive. If you are on a budget, or you need a mic for a variety of uses, not just vocals, then the C414 XLII is the better choice. It is a great all-around performer and gets a Musicaroo rating of 5 out of 5.