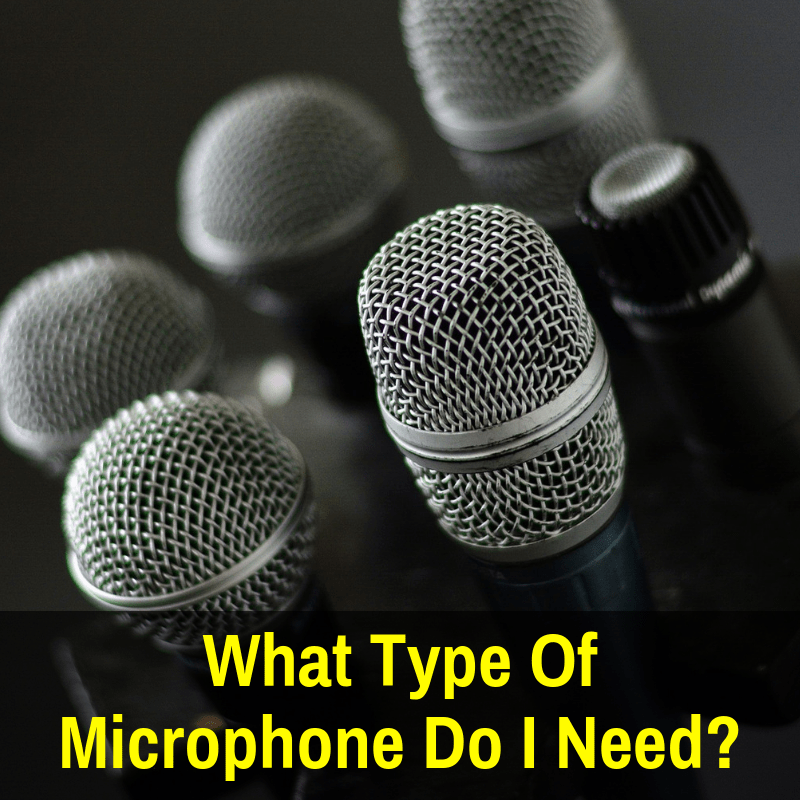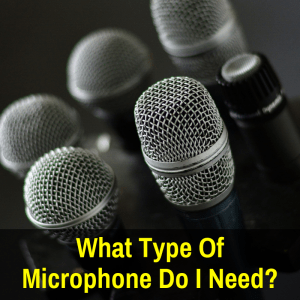 So, you're looking for a microphone and you've realized just how many different types there are to choose from.
You've read terms like 'condenser', 'dynamic', 'cardioid', 'figure 8', etc.
But what do they all mean?
More importantly, which one of those terms describes the mic you want for your specific needs?
In this article, I look at a number of common situations for which people need microphones.
For each of these situations, I let you know which type of microphone is best and I direct you to a post that lists and reviews the best models for that specific application.
Hopefully, after reading this article, you will know which microphone to get. At the very least, you will have narrowed your options down to just a handful, making it much easier to decide on a single one.
Because, once you've got it down to two or three individual mics, it is pretty easy to get it down to the best one, simply by using price or aesthetics. Which one looks coolest or which one costs the least?
What Kind Of Microphone Do I Need?
Read the following situations and decide which one most closely describes your need for a mic. Then follow the advice for that specific situation and you will be much closer to finding the perfect mic for your needs.
Recording Professional-Level Vocals In The Studio
If you're looking to record your own vocals in a home or professional studio, you'd be best off with a condenser microphone.
These microphones record a much clearer sound than the older dynamic microphones. The drawback is that they are more sensitive, but if you are in the studio, this does not matter, since you have full control over the acoustics.
Condenser mics do cost more, so if you are on a very tight budget, you might want to consider a dynamic microphone. Personally, I would spend a little more and get a condenser mic, though.
Here's a great post that will show you the best microphones if you want to record your singing at home. If you are a rapper, we have a post dealing specifically with mics for recording rap vocals as well.
Recording Amateur-Level Vocals At Home
If you're looking for a microphone to record vocals at home, but you don't need professional-level sound quality or you simply don't want to deal with the more complicated setup of a professional microphone, a USB mic is a great choice.
USB microphones are much simpler, since you can just plug them into any computer. You also don't need a separate power source or preamplifier, like you do with regular microphones.
With a standard mic, you need to buy a preamp and an XLR cable that connects the mic to the preamp. These are not cheap, meaning you save a lot of money by getting a USB mic. The microphone itself costs a lot less than a standard XLR mic, too. This article explains what XLR is exactly.
We have a post listing great USB microphones for vocals.
Live Performance
Performing live in front of an audience is much different than recording vocals at home. There's usually a lot of exterior noise and you need a microphone that will not pick that up.
For this reason, dynamic microphones are the preferred type for live performances. They are less sensitive and thus do not pick up as much ambient noise.
Microphones come with different pickup patterns. This refers to the direction from which they pick up sound. The most common is the cardioid pickup pattern, which picks up sound that is directly in front of the mic, but does not catch much sound from the sides or the rear.
In other words, it only picks up the person speaking or singing into the microphone and not much else. This makes this type of microphone perfect for the stage. Here's a list of the best microphones for live performances.
If you're just looking for a microphone to sing karaoke at home, you basically want the same type of mic as you would for a live performance. You can get away with a lower quality one, if you want to save some money, unless you want professional-level sound quality for your karaoke.
If you don't need the best (and you probably don't), I recommend the budget listed in the post I linked to above. It's not the best mic, but it's still quite good and it is very inexpensive. It is definitely more than enough for karaoke use.
But if you need a mic for live performances and you want to make sure you get the best, then the Sennheiser e945 is easily the top choice.
What Kind Of Mic Do You Need: Final Thoughts
I've covered the most common applications for which people buy microphones. I know I did not cover the use of microphones to record instrumentals, but that is because the mics that are good for recording vocals are also good for instruments.
If you will be recording instrumentals in a studio, get one of the mics listed in the post for studio recording. The Neumann TLM 103 is easily the best for vocalists. If you will be performing live, you would want one of the microphones from the article on live singing.
If you need a microphone for a use not listed here, please let me know in the comments below and I will respond with some good recommendations. I will most likely also add your situation to this list, so that anyone else in the same situation can benefit as well.
And finally, if you want to know more about the differences between condenser and dynamic microphones, read this article.