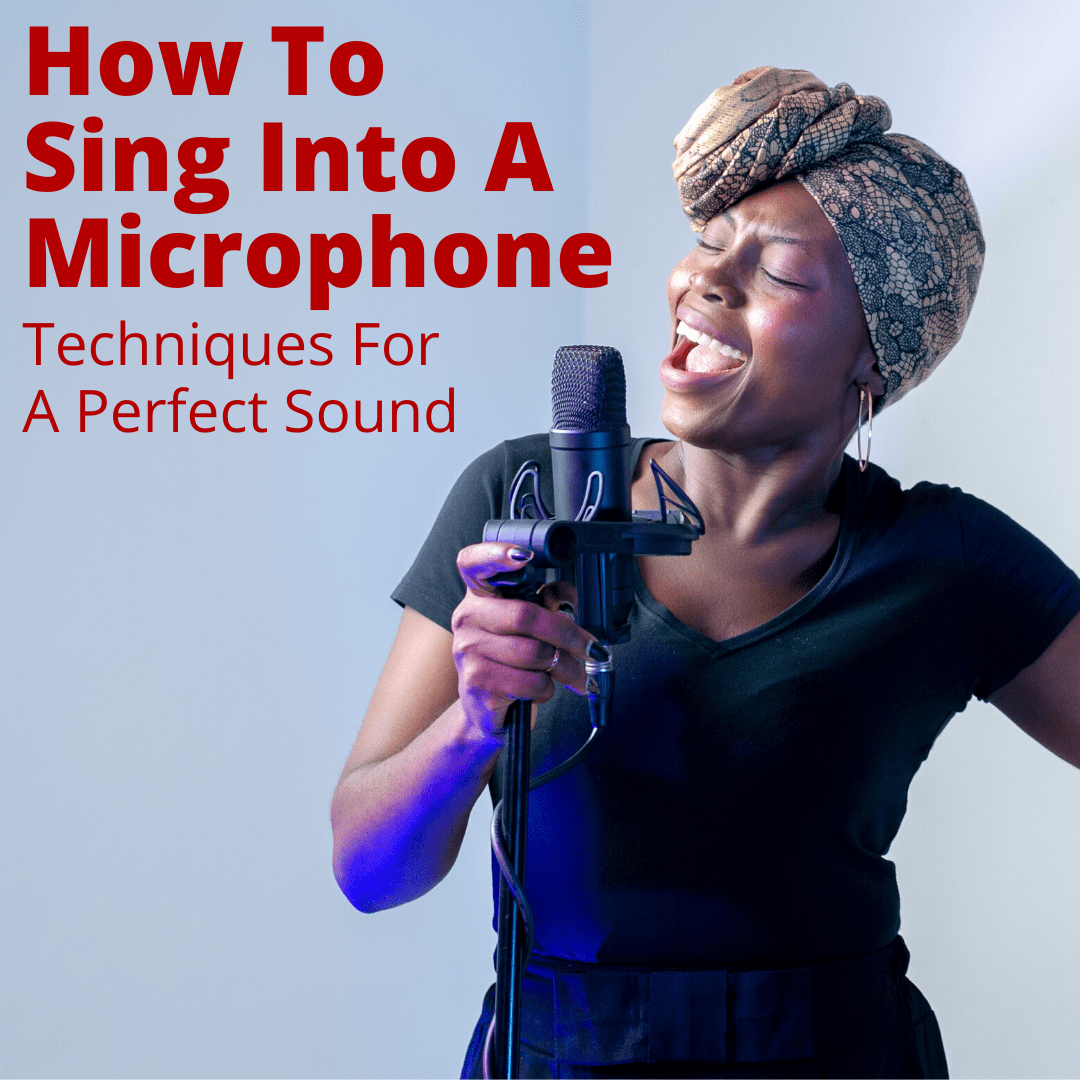 Have you noticed how some singers have a very unique way of singing on a microphone?
Some position it above them and sing up into it. Some cup it into both hands and practically spit into it. Some just stand in front of it and calmly sing into it.
There are countless different ways to hold and use a mic. So which is the right one?
The truth is: anything can work.
It just depends on the type of voice you have, the type of microphone, and the type of sound you want to create.
You can get as creative as you like.
But when you are first learning how to sing into a microphone, you want to follow some basic rules.
That way you get the best out of your voice and avoid feedback, distortion or other common issues microphones can cause.
This is so important, that every good singing course covers how to sing on a mic.
Let's take a look at the key things to take into account, and to look out for, when singing with a microphone.
How To Sing Into A Microphone
Below are the key things to be aware of when singing with a microphone. Follow these guidelines and your voice will sound its best.
We'll begin with a quick video that summarizes the 4 most important points, for those who prefer watching over reading.
Use The Best Microphone For Your Voice
Finding the right microphone to sing into is one of the most crucial technical elements to a quality performance, whether in the studio or live. You need to find a microphone that works with your voice.
You don't want to have to fight the microphone to get the sound you want – you could end up straining your voice, and that's no good for your vocal performance either. You should be able to test microphones at your local music store.
If you have a voice that leans towards the higher register, you need a microphone that will emphasize your mid and low range. You want it to simply emulate your high notes, and not accentuate them.
On the other end of the scale, if you have a lower voice, you need a mic that won't muddy your lower notes, but reproduce them faithfully. And you need it to emphasize your higher notes, too.
When You Can't Choose Your Mic
In many cases, you have no control over the microphone you'll be using. When you find yourself in such a situation. you're going to want to test out the mic provided for you.
You need to know how it makes your voice sound and you need to become comfortable handling it.
The first thing you'll want to do is figure out how to turn it on and off. While this seems obvious, imagine you're in the middle of a song and you accidentally turn the mic off and have no idea how to turn it back on.
While it may not seem likely, it does happen. It is best to prepare for the eventuality, instead of looking like a fool when something goes wrong and you have no idea what to do about it.
Once you've familiarized yourself with how to operate the mic, you want to do a proper sound check. Don't just "mic check 1, 2." Sing portions of your songs and pay attention to how the mic picks up and emanates your voice. This way you'll know what adjustments you need to make to how and how best to position the mic.
You also want to make sure you can hear yourself, especially if you have a band playing with you. You need to know what you sound like so that you don't have any issues with pitch, feedback, or muddiness.
Position The Mic Properly
The key to singing into a microphone is where you put it – its positioning in front of your mouth. The genre of music you sing plays a part in this.
Obviously if you sing more quietly, you'll want the mic to be closer to you, but don't keep it close if you suddenly swell to high volume crescendos.
A big mistake beginning singers make is putting the microphone right up to their mouth, which is referred to as "eating the mic."
Eating the mic leads to:
peaking out the volume of the microphone
loss of articulation from your lips (which affects how clearly your lyrics come across)
feedback
pop, which is when the "p"s and "b"s in words explode into the microphone
sibilance, which is when the hiss from the letters "s" or "f" is overly-pronounced when you sing into a microphone.
The proximity effect plays a large part on how the microphone transmits your voice. The closer it is to your mouth, the more your low end is amplified. But if it's too close to your mouth, your voice may become boomy.
Ideally, you should position the microphone about 4 or 5 inches from your face when you're singing at a more relaxed volume. Then, when you reach a moment in the song where you have to up your volume, even to the point of belting, move the microphone away from your face.
But be aware of how far away from your mouth you move the mic. You don't want to move it so far away that it doesn't pick up on the nuances in your voice, and fails to pick up how you articulate what you're singing.
Moving With Your Mic
When you're singing live and moving around, keep the proximity effect in mind. You want to always be in control of where the mic is, regardless of how much you move around on stage.
It's quite important to remember that when you're singing live, and you're going to be moving around, that you still actually have a microphone in your hand.
If you have a wireless mic, you might get into the bad habit of dropping it to your side in the moments you aren't singing. But this could cause unnecessary and unwanted noise.
Keep the microphone raised. Not only does this minimize noise, it also ensures you are more prepared to bring the mic into the next position, for when you start singing again.
Angle Your Mic Properly
The angle of the microphone to your face makes a difference, as well. Position it slightly above your mouth, but angled so that it's pointing towards your mouth. It'll help you hit the mic's sweet spot. If you've been in a studio, you probably noticed that the mic is set up this way.
If the mic is positioned below your mouth, you'll obviously sing over it, and it won't be able to pick up your voice properly.
Use A Pop Shield
You can prevent popping and sibilance when you're recording by using something called a pop shield. It's not the most high-tech piece of equipment, but it can have a big impact on the quality of your recording.
Usually just a piece of stretched mesh placed a few inches away from the microphone, pop shields stop the "b"s and "p"s from popping, and the "s"s and "f"s from hissing too much. The come in various forms and you can take a look at a bunch of different ones on Amazon.
Pop shields can also eliminate some of the issues you might face with your high and low ends during your recordings. This means you'll get a cleaner sound, and the person or people mixing and mastering your tracks will have less hassle having to edit out any unwanted frequencies or sounds.
Where You Hold Your Mic Matters
Where you place your hand on the microphone makes a difference to how cleanly it picks up your voice, and how clearly it transmits it. The less interference, the better, obviously.
To minimize interference, place your hand on the mic's shaft, where it can't get in the way of your voice. Keep it away from the head. If your hand is on the head, your voice will sound muffled, and won't be a true reflection of how good you actually are. It might also deafen your audience by creating horrible feedback.
Test What You Can Do With Your Voice
As a singer, you can consider the microphone a part of your instrument – your voice. So treat it as such.
Try playing with your voice and see how it sounds through a microphone. Adjust the amount of airflow through your nose when you sing, try opening your throat to create more resonance, work on how you enunciate your lyrics, and practice your vibrato.
Not only will this help you figure out how to use those techniques to get the best sound possible for your music, but it'll train your muscle memory. That way, replicating those effects will be second nature when you perform live.
Don't Be Afraid
For beginners, a crucial tip is to not be afraid of the microphone. Don't let it change the way you sing – instead, see it as an addition to reaching your potential as a singer. Don't hold back from hitting the big notes, or swelling in volume.
Sound check is so important for getting comfortable with how your voice will sound, and knowing how to adjust the mic so you can hit the notes and the volumes you want to, without worrying about any technical mishaps or drowning out the rest of your ensemble, if you have one.
This is true whether you are using an inexpensive mic like the Audio-Technica 2035 or a top-of-the-line model like the TLM 103 from Neumann. So don't hold back when you're sound testing.
Be Careful Not To Distort Yourself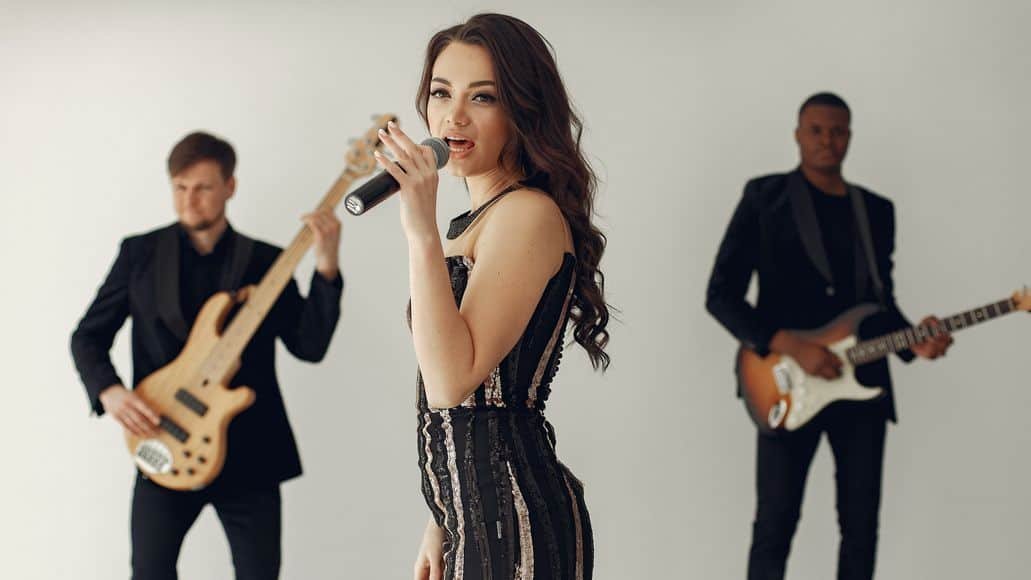 When you're performing live, or even during recording, listen for microphone distortion. This could be the result of a poor sound check.
If you sing too quietly during the sound check, the sound engineer may increase the volume on your mic for your actual performance.
Then, when you start belting out the big sections during the performance, your mic will peak, and the sound it transmits will be distorted.
If you position the mic too close to your mouth, and then sing too loudly, the effect will be even worse. Always be aware of microphone gain.
Know Where Your Speakers Are
Another thing to be aware of when you're performing live, is to make sure you know where the speakers are. You don't ever want to stand directly in front of them with the mic, and you also want to try to avoid walking past them during your performance.
Some mics could potentially pick up all the sound around them. If you're singing on a microphone and the speakers are behind you and are emitting your voice or even your band's instruments, your mic will definitely produce feedback. This can be a huge detriment to the quality of your performance, and to your audience's experience.
Singing With Microphone: Final Thoughts
Knowing how to sing into a microphone seems so simple: just hold it in front of you and sing. Better yet, adopt some cool rock star pose and have everyone in the audience wishing they could be you, or be with you.
But it isn't that easy. You need to practice singing on a microphone before doing it live. And ideally, practice on the exact mic you'll be using. You need to learn how it responds to your voice and where its sweet spot is for various volume levels.
The tips above will help you dial in your microphone performance, so that you'll get it just right when you're up there in front of the crowd, or laying down that track during precious studio time.