Have you been seeing the letters XLR everywhere lately?
Then you must be looking into a good condenser microphone or a set of monitors.
More and more home users are looking into professional audio equipment for their home.
Prices have come down a lot and made it more accessible.
With professional audio equipment comes the XLR connector.
But what exactly is an XLR cable? Why do you need it and does it really make a difference?
Keep reading to learn everything you need to know about the XLR connector. We'll begin with the most basic question.
What Is An XLR Cable?
The XLR connection is used to deliver balanced line signals over long distances, in order to avoid unwanted noise or external interference (reverse polarity). The acronym stands for "External Line Return".
The XLR cable has 3 pins: tip, ring, and sleeve. Its design has changed over time, because it used to have a rubber component in the past, but it is no longer necessary. Despite the design change, they did not change the name of the cable.
The XLR connector is famous in the professional field of sound. It is used by musicians, artists, and producers. And has been for a long time. It is not a new connection, by any means
It is not as popular at the domestic level, because it is used in professional settings. However, the rise of "setups" has led many home users to buy a pair of monitors and an audio interface, to enjoy the best sound quality. And that's where the XLR connection comes in.
Let's take a closer look at the XLR connector. We will cover absolutely everything you need to know about it, beginning with the reason it exists in the first place.
Why Was The XLR Created?
The XLR was created because it was required to pass large electrical currents cleanly, as well as to standardize a connector that would work for all professional audio devices like:
amplifiers
mixing tables
monitors (studio speakers)
microphones
other recording devices.
The XLR cable has evolved and you can find many variants:
XLR3: the classic 3-pin connection
XLR4: 2 pins for mono headphone signal and another 2 pins for unbalanced microphone signal
XLR5: its most frequent uses are for dual or stereo microphones, as well as for powering audio equipment
XLR6: you can find it in stage lighting, but also stereo headphones with balanced microphones
XLR7: you can find this on in valve condenser microphones, but they are not used much and have become somewhat obsolete
The most widely used is the XLR3. It is also the most compatible as far as professional and domestic use is concerned.
Therefore, XLR refers to a standard for high-quality audio inputs and outputs, because it isolates the signal from all noise, making it the best connector for professional purposes.
The average consumer doesn't take advantage of it too much for mainstream purposes, but there is a growing interest in wanting great sound quality (despite the fact that we listen to everything streaming, at medium quality, like Spotify).
XLR Characteristics – The Balanced Audio Signal
Making use of its 3 pins/plugs, you have 2 equal signals and a third one that is a ground signal. One signal is inverted and sent completely out with the other
In other words, the 2 signals are inverted and exchanged with each other, which generates noise cancellation at the other end. In this way, any noise or external interference is canceled automatically, without us having to do anything.
The most important feature of the XLR is that it shields the sound from irregularities.
Just like an electrical circuit, in audio, we need both a positive and a negative side to an audio signal for the "magic" to happen. For example, in a microphone, the electrons go to one side of the wire, through the amplifier, and back to the other side of the wire.
What is the problem? Well, most systems treat this as if there was only one cable, which gives rise to various types of noise entering the audio signal. Three types of noise are the most common:
Ground noise: Many professionals say that it is the most annoying, because it is a low hum, but various irregular hums can appear. It occurs when the audio takes 2 different paths to go to the amplifier. Note that it usually occurs when there are many systems involved.
EMI and RFI: These are hums created by magnetic fields generated by high-frequency devices (transformers, motors, etc.). Be careful around an AM transmitter, because their radio signals can be coupled.
Crosstalk. When one signal crosses another.
The solution to all this disharmony of noise is the isolation of the audio signal from the cables. Thus, the positive and negative half transmit separately and we prevent the signal from having noise or interference. This results in 2 benefits:
Balanced audio signal: no ground loops and no crosstalk
Noise rejection: the magnetic field creates the same signal for both sides
Why XLR Use Has Increased
There are various factors for the increased adoption of XLR. These are the 3 main reasons for the increased use of the XLR:
Desire to have a powerful setup. Not only do you look at a good PC and some peripherals, but a reliable sound as well. This is where the monitors and the top dynamic microphone come in, which require an audio interface, because they use an XLR connection.
Rise of streaming and podcast. Both areas have risen like foam, which pushes many to get professional audio equipment. Therefore, they end up buying professional microphones and using this standard.
More affordable monitors. A few years ago, active monitors were a product with a "professional" price, which discouraged many average consumers from using them for their setups. Now, we find very interesting active and passive monitors at an incredible quality-price ratio. This has resulted in a big increase in the use of this connection.
Alternatives: TRS Or TS?
In principle, the TRS connector offers balanced audio signals and is characterized by having a positive (tip), a negative (ring), and a ground (bottom) connection. Originally, the TRS is a phone jack, but it is widely used in professional equipment, especially mixing consoles.
You see it a lot in DJ equipment. It looks a lot like the 3.5 mm jack plug, but it is much larger and is used for professional purposes for balanced signals.
In addition, you can buy an accessory called a "Ground loop Isolator", which is a device to which you connect the TRS cable to isolate it from noise, since it transforms the audio 1:1 to avoid ground loops.
As for TS cables, they are used for unbalanced mono signals, such as musical instruments (electric guitars, keyboards, etc.). They are longer, because the musicians move a lot on stage.
Many guitarists use them, because a balanced connector (TRS or XLR) is much more expensive to produce and guitarists may welcome some extra metallic noise.
How To Connect XLR Cables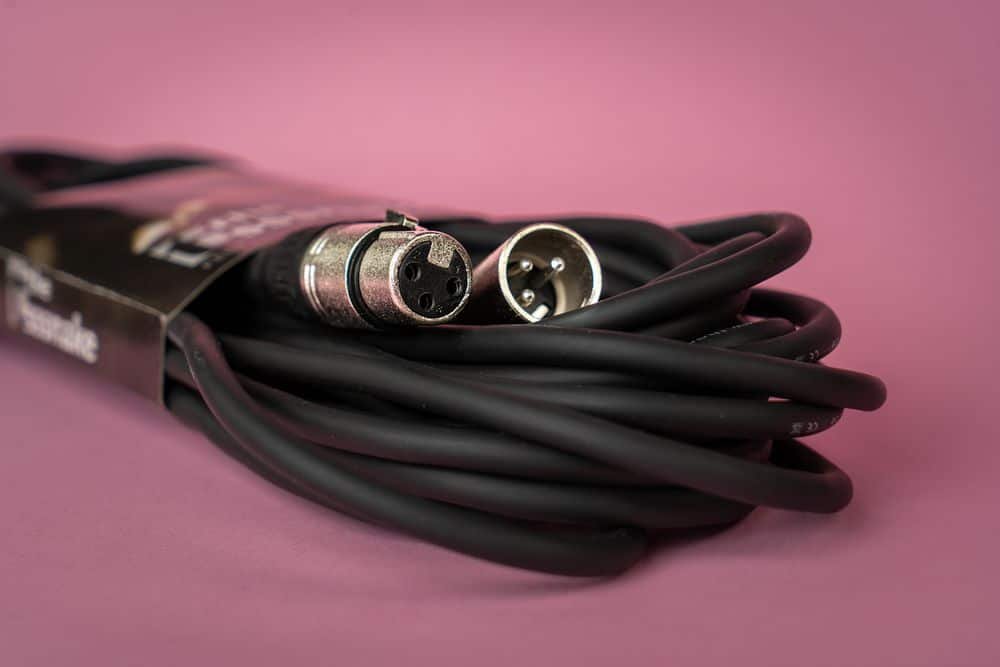 Connecting XLR cables to each other is referred to as daisy chaining. You daisy chain two cables together, when your existing cable is not long enough.
In general, it is always better to use as few cables as possible, but you should not see any drop in sound quality if you connect to XLR cables and they don't run for a combined distance of more than 50 meters.
To daisy chain two XLR cables together and secure the connection, just plug them into each other. Let's say you are connecting a microphone to an audio interface. Simply plug the free male end of cable that is hooked up to the microphone into the free female end of the one that is connected to the interface.
The XLR Cable: Final Thoughts
The XLR connector has long been the favorite of professionals. But lowering prices and a desire for the best has led to a huge increase in its use in home setups as well.
The XLR offers a noise free transmission of an audio signal. This is something professionals need and many home users now want. If you are looking into getting a quality condenser microphone, or a good set of monitors, you are also going to to need an audio interface and an XLR cable to hook them up.