Modern computers are insanely powerful.
Even the one you have at home easily outdoes any supercomputer from 30 years ago.
That's why so many modern musicians can create hit music without ever even setting foot in a studio.
They use their home computer for everything.
If you want to follow in their footsteps, you first need to know how to connect your guitar to your computer.
Luckily, it is incredibly easy. But there is one piece of equipment we strongly recommend.
Keep reading to learn what you will need and how to correctly connect your guitar to your computer to avoid a deterioration in sound quality.
How To Connect Guitar To Computer
As mentioned, connecting your guitar to a computer is easy. But one piece of equipment makes it even easier and ensures the best possible sound quality. Plus it gives you far more flexibility.
What You Need To Know First
Your average modern personal computer is capable of being more functional than an entire studio from the 1970s or the 1980s. However, in order to unlock this potential, you'll need to know a few things first.
But don't worry, this is far from a difficult task. Especially if you need it for just one instrument like a guitar.
In order to make things work, your best bet is to get an external audio interface. In most cases, the simple ones aren't that expensive and even come with additional useful software for detailed tone shaping. This is a good budget option.
If you are looking for a better quality model (the one above is good, but simple), this one is a few steps up:
But what is an audio interface? Well, your computer has one already. However, getting a specialized one will help you play in real-time without latency, all while allowing you to further shape your tone and play along to multi-track projects.
Why It Is Important To Get An Audio Interface
It may seem like we're on a tangent here, but it's really important to understand what audio interfaces actually do.
Your guitar has a regular analog signal. An audio interface converts this analog signal to digital information, or ones and zeroes.
It processes this information, "shapes" it according to your set parameters, and then converts it back to an analog signal that goes through the speakers or headphones.
Obviously, there are a lot of things going on here. In practice, this means that there's going to be latency and some loss in quality.
The more things there are involved, like effects or more recorded tracks that you play along to, the slower the sound gets out of the audio interface. This is known as latency and it's measured in milliseconds.
Your goal is to get that as close as possible to zero and it's usually just below 10 milliseconds. Additionally, there should be no significant loss in quality. This is where an audio interface comes in to save the day.
Plenty of multi-effects pedals and guitar amps today come with an audio interface. You can connect them to your computer using a USB cable and the amp or the multi-effect pedal will act as an audio interface. This is a major advantage of multi-FX pedals over individual pedals.
Other Things You Need
Aside from your guitar and guitar cables, you'll also need a few other things. Adequate speakers or headphones are, obviously, a must.
Additionally, you'll want to get 1/8-inch to 1/4-inch adapters and 1/4-inch to 1/8-inch adapters. You never know when they will come in handy for connecting different speakers or headphones to your audio interface or a computer.
We also recommend additional USB cables. The exact type depends on the kind of USB interface and the kind of computer you have.
Along with hardware, you'll also need proper software. First, you'll need a DAW (digital audio interface) which is essentially a "platform" where you'll be doing all the work. If you want to record your guitar to your PC, you will definitely need this.
If you just want to jam and don't feel like getting into multi-track recording, you can just get any standalone amp and effect emulation software. The good news is that there are some good free options available.
MacOS and iOS devices come with GarageBand which is free of charge. Additionally, various developers have free versions of amp and effects emulators. One such example is IK Multimedia's AmpliTube 5 CS.
Bear in mind that these emulators can also work within DAWs and help you get desired tones while recording in real-time.
Connecting Your Guitar To A Computer
First, you'll want to connect your audio interface, amp, or multi-effect pedal to your computer using the USB connection. Once it's all there, check to see if you need to have any additional software and drivers.
Fortunately, modern operating systems will, in most cases, sort this out for you, if you're connected to the internet.
Next, plug the speakers or headphones into the designated output on your audio interface. After that, plug in your guitar. Play the instrument and check whether the indicators on the audio interface show that it is receiving the audio signal from the guitar.
Setting It Up
In most cases these days, everything works according to the "plug-and-play" principle. You open up your DAW, create a track for your guitar, and you're ready to go.
You can add effects, pedals, amps, or anything else. In some cases, you'll need more tweaking and setting up different parameters, like buffer size, that will help you reduce latency. Some advanced DAWs require channel "mapping" as well.
Fortunately, there are so many easy-to-use options these days that don't require advanced knowledge. As we mentioned already, a lot of the stuff is "plug-and-play."
However, you need to be aware of latency and sound quality. You will easily be able to notice latency that's above 10 milliseconds. You'll feel that the sound is just a bit late compared to your playing, making it impossible to perform properly.
As for sound quality, check whether there are any unwanted "cracking" noises while you're playing. This usually means that you're using too many tone-shaping features at the same time.
In some cases, you'll also notice so-called "clipping" or unwanted distortion. You can sort this out by checking the input levels on your audio interface. There will be a knob you can adjust on the channel into which you plugged.
Can You Connect Your Guitar Without An Audio Interface?
Technically, you can also connect your guitar directly to your computer without using a USB audio interface. It's usually the simplest way with regular desktop configurations.
However, it's far from a perfect option. The sound quality will suffer and you'll experience noticeable latency if you add more effects.
The only thing you need for this is an adapter for a guitar cable, changing it from 1/4-inch to 1/8-inch. Other than that, you can use the same software that we mentioned above.
You can also use your regular pedals in a chain, plugged directly into your computer. But it's all still pretty limiting compared to having an audio interface.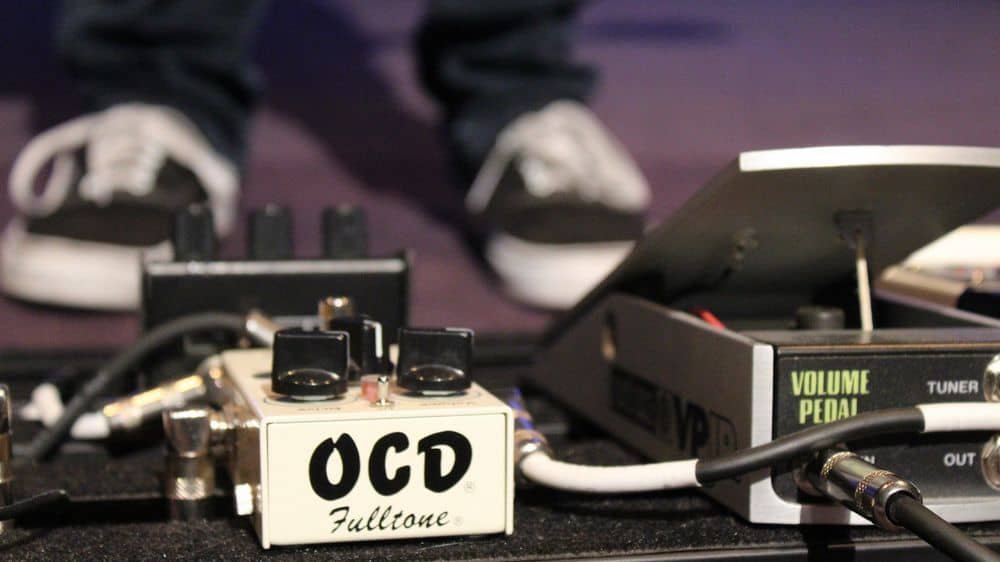 Plugging Guitar Into PC: Final Thoughts
Connecting your guitar to your computer is easy. Ideally, you want to get an audio interface and connect to your PC via that. Not only does the interface make connecting easier, but it also ensures the best possible sound quality.
In addition, it makes it possible to do far more with the sound. That said, you can certainly hook your guitar up to your computer without an audio interface. But if you do it that way, you will be limiting yourself and you will also have to deal with latency issues.
If you are just looking for a way to play your guitar without outputting the sound through an amplifier, you could also plug headphones into your guitar. You can't plug them in directly, but you can plug the amp into the guitar and the headphones into the amp.