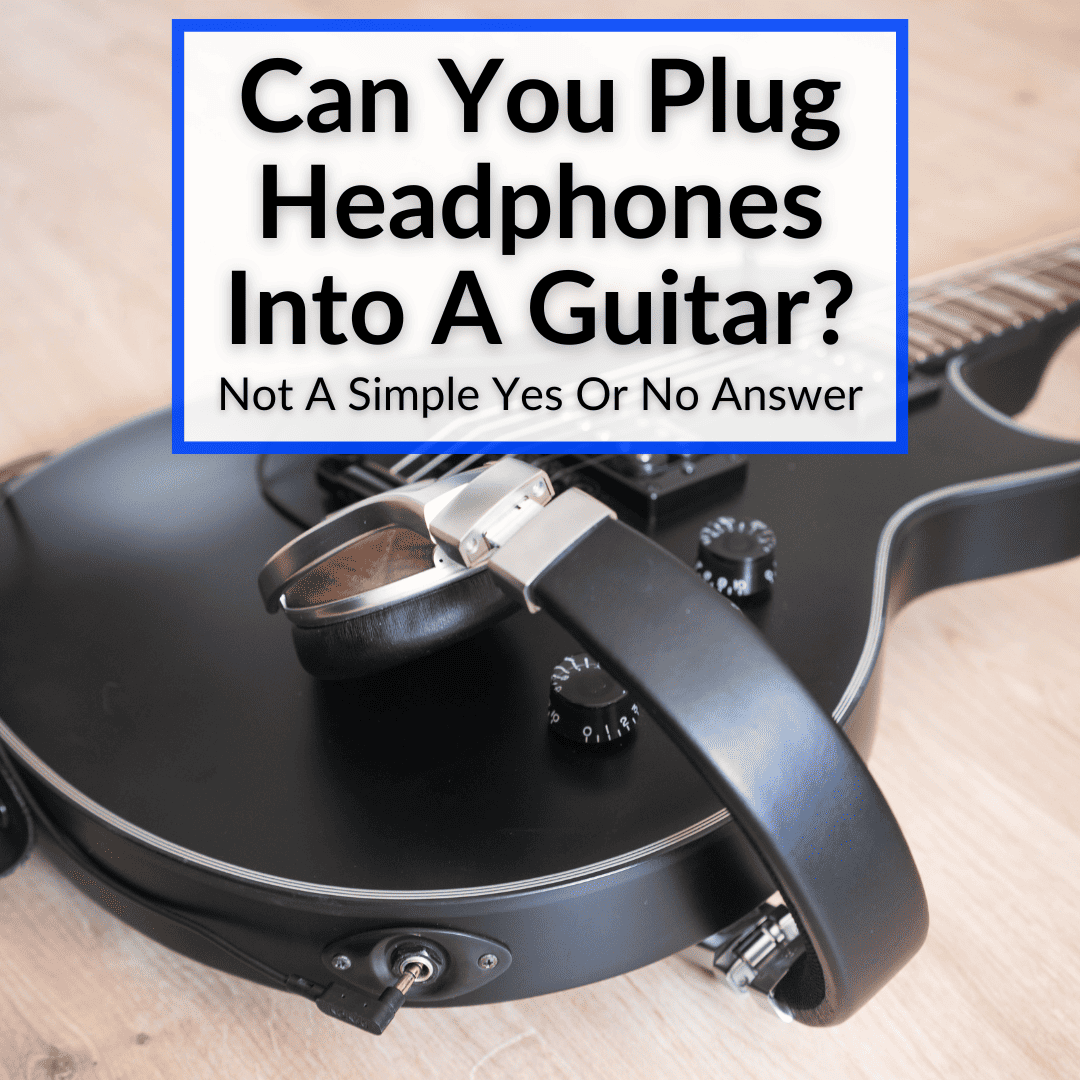 I was a teenager when I got my first electric guitar.
My parents severely limited how much I could practice, due to the noise.
Luckily, my amp had a headphone jack, so I could practice quietly.
And playing your guitar through headphones has another big advantage.
But can you plug headphones into a guitar directly, too? Or do you always need an amp?
And does it work with any guitar or amp, or only some models?
Keep reading to learn everything you need to know about plugging headphones into your guitar, including the second big advantage of doing so.
Can You Plug Headphones Into A Guitar?
You can not plug headphones into a guitar (acoustic or electric) directly. The only way to listen to guitar audio through a set of headphones is to first connect the guitar to an amp, and then connect the headphones to the same amp.
This means that you can not plug earbuds, headsets, and other types of headphones into purely acoustic guitars at all, but it is possible to link headphones to semi-acoustic ones, since you can play them through an amplifier.
Listening to your guitar playing through headphones allows you to hear more details in the tone. Even though all headphones sound different, they can handle, recognize, and reproduce pitches at a broader dynamic range than human ears.
Plugging Headphones Into A Guitar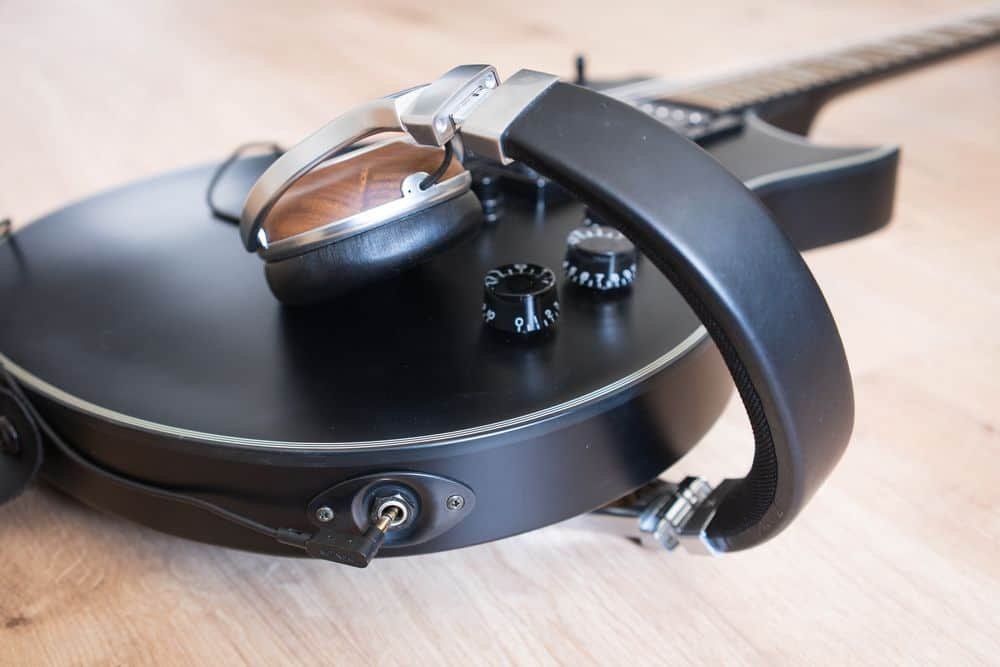 As mentioned, technically speaking, you can't plug headphones directly into your guitar. This applies to all guitar types, makes, and models: electric, acoustic, semi-electric, fretless, and so on.
The only way to listen to your playing through a set of headphones is to first plug your guitar into an amp, and if that specific amp has a headphone input, plug your cans into it. The good news is that you need an amp to play the electric guitar anyway, so it won't be an additional expense.
Of course, there is more to this topic than just inserting headphones into a guitar amplifier, especially if you're a beginner.
You might use the wrong type of headphones, set them to the wrong setting, plug them into a cheap amp, and start strumming a budget guitar. That wouldn't necessarily produce a good sound, and you may be dissuaded from attempting this ever again.
To help you better understand all the factors that go into linking headphones to guitar audio, I want to give you a couple of pointers. So let's get started.
Only Electric And Semi-Acoustic Guitars Are Headphone-Friendly
The only types of guitars you can use headphones with are the ones you can hook up to an amplifier. This means all electric guitars and semi-acoustic (acoustic guitars with pickups and a cable input).
Furthermore, it's important to note that not all amps have headphone jacks. Without one, you can't plug your headphones in. The models that lack this feature are either very small (2 to 5 watts), very old (made before headphones were a thing), or both.
Not All Headphone Types Are Good For Guitar Playing
There are dozens of headphone types, some of which are great, and some of which are downright terrible, for guitar players.
We'll start with the cheapest and most commercially available category: earbuds. Earbuds are usually just okay for guitarists. Unless you own an advanced model with active noise cancellation and a sophisticated soundstage, you'll barely be able to tell the difference between using and not using them.
Open-back headsets are quite good, but if you crank the volume all the way up, there's a good chance they'll be loud enough for your housemates to hear what you're playing.
Closed-back headphones are decent, but it boils down to personal preferences. I don't like having oversized muffs clamping my ears and shutting me off from the outside world. But that might not be the case with other guitarists.
Why Use Headphones When Playing Guitar?
For starters, many people live in apartments next to neighbors who don't have the same appreciation for music. Parents sometimes do not allowing their kids to play music as loud as they want. Headphones can help greatly in both cases.
Sure, you can play your electric guitar like an acoustic, i.e. without an amp, to keep the sound down, but this is obviously not the same. Your electric guitar will sound like an acoustic, but much weaker and quieter.
The other main benefit of using headphones is tonal clarity. When we're playing the guitar and relying solely on our sense of hearing, it's easy for mistakes to hide under heavy distortion/gain and flashy effects like pitch-shifter or super-hard delay.
With headphones, you're up close and personal with your guitar's tone. The sounds you are playing are fed directly to your ears instantly. This instant feedback can be a bit difficult to get accustomed to, but it promotes more efficient practicing and performing habits.
How Different Is Guitar Audio Over Headphones?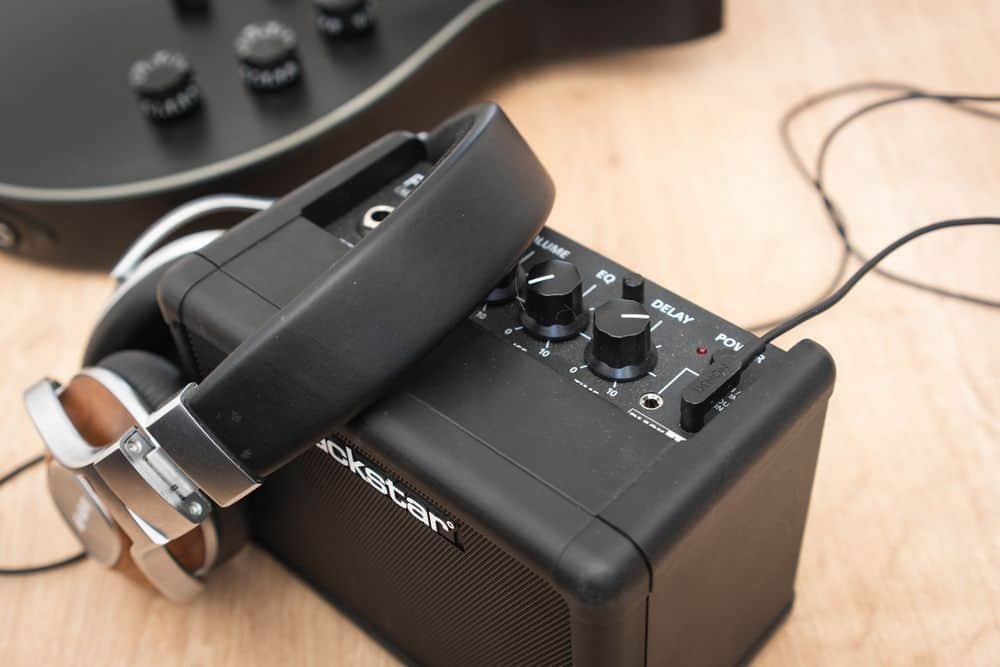 Simply put, it will be considerably different from what you're accustomed to. Even the cheapest headphones feature hardware bits that allow them to pick up on frequencies humans can't.
The audible spectrum spans from 20 Hz to 20 kHz, which is also the frequency range of your average headphones. However, the vast majority of people have suffered from at least minor noise pollution (loud traffic noise, animals, parties, etc.), meaning that most of us can't hear everything we're supposed to hear.
With headphones, the frequencies are instantly recognized and divided across multiple channels, preventing the sonic clutter.
Why Is The Guitar Tone Different Over Headphones?
It's not necessarily true that the guitar's tone is different. All headphones have a unique sound signature, excluding models that are purposefully built for critical listening (e.g. all Sennheiser studio headphones have a neutral signature that doesn't color the sound whatsoever).
This means that your guitar's tone will mesh with the sonic attributes of your headphones, but only you will be able to tell the difference. If you're using wireless earbuds on stage, don't worry. Your audience will still hear your guitar as you set it.
Can You Improve The Sound Of Your Guitar On Your Headphones?
Yes, this is possible in several ways, but it mainly depends on which kind of headphones you are using. You can only reconfigured wired headphones by manually changing their internal components, which generally requires a professional. That usually makes it more complex and costly than buying a new pair.
On the other hand, wireless headphones are far more versatile. You can tweak them from various apps. The easiest way to improve the sound of your guitar that you hear over your headphones is to download a free EQ app, and simply adjust the settings to fit your needs.
Alternatively, you could also change the settings on your amp, but that will interfere with the actual tone rather than the sound you hear in the headphones.
One of the cool habits I developed over time is penning the settings to paper. I have separate sheets for "amp" and "headphone" settings (although both are amp-related settings), so it's easy to switch between the desired parameters when my phone is not near or charged.
Can You Connect Electric Guitar To Headphones: Final Thoughts
You can not plug headphones directly into a guitar. Acoustic guitars have no jacks at all and the ones on electric guitars are made for guitar cables, which have much larger plugs than headphones.
The only way to play your electric or semi-acoustic guitar over headphones is to use a guitar cable to plug the instrument into a guitar amplifier and then connect your headphones to the headphone jack on the amp (if it has one). You can not use headphones with acoustic guitars.