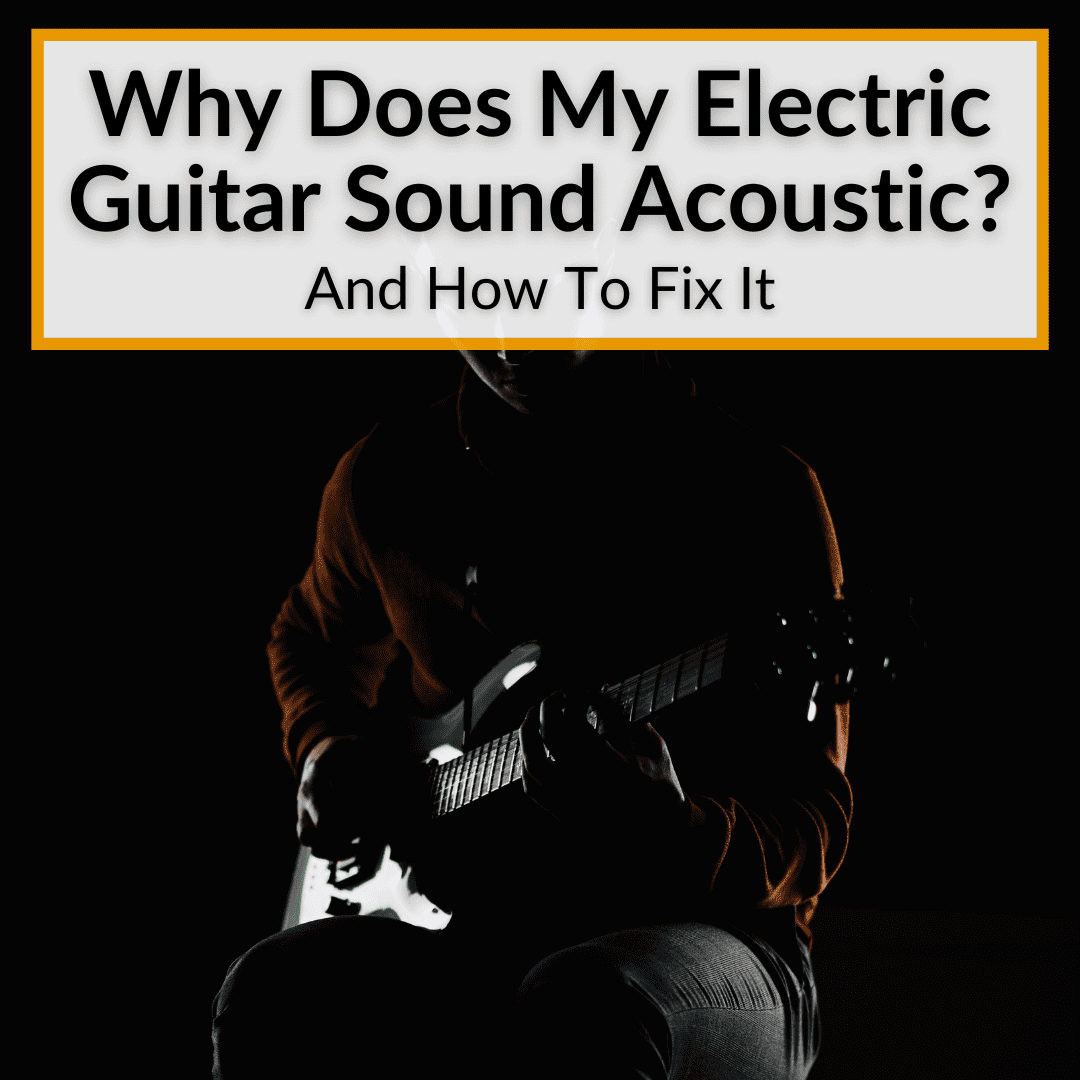 I've been there myself.
You connect your guitar to your amp and turn on the power.
You play that first chord and expect a powerful distorted sound.
But all you get is a weak little tinkle of a sound.
It leaves you wondering: why does my electric guitar sound acoustic?
Wonder no more.
Keep reading for a list of common issues that result in an acoustic sound from an electric guitar. Check each one and hopefully you will have your guitar producing a powerful sound in no time.
Why Does My Electric Guitar Sound Acoustic?
Your electric guitar can sound like an acoustic guitar when it's not connected to an amp, when the amp knobs are either non-responsive or set too low, due to gear malfunction, or when it's connected to a pedal that emulates acoustic guitar sounds.
If any of the electric guitar gear isn't working properly (guitar cable, amp, or pedals), the guitar will emit a non-powered sound, resembling the tone of an acoustic guitar.
What separates electric guitars from their acoustic counterparts is that their tone can be reinforced with an array of effects.
From crunchy overdrives and brutal distortions to shape shifters, reverbs, and delays, you can use a barrage of pedals to make the tone of your instrument as different from acoustic guitars as possible.
Assuming that you've deliberately pursued a "fancy" tone and already have all the necessary gear, your electric guitar shouldn't sound like an acoustic guitar. If it does anyway, we are going to briefly cover a couple of things you may want to try to find the desired tone.
Check The Cable
Many guitarists, even the more experienced ones, tend to downplay the importance of a good guitar cable. If you're a beginner and have recently purchased a guitar bundle, chances are that you received a complimentary off-brand cable. It may not work well, if at all.
Broken, twisted, or ruptured cables are some of the main reasons your electric guitar may sound unplugged, even when you connect it to a powered amp.
Carefully inspect the entire surface of the guitar cable. The surface should be perfectly smooth, and you should be able to effortlessly wrap it.
If that's not the case, you are probably using either a used or a poorly-crafted cable. In both cases, it is possible that the cable can't transmit the power from the amp to your guitar. The solution for this is to buy a new cable, preferably from a reputable music shop.
Inspect Your Guitar's Cable Input
Even if you're using the most reliable guitar cable you could find, it won't work if your guitar's cable input is malfunctioning.
The first guitar I ever used was a borrowed off-brand Squier replica that had already changed hands many times prior to landing in mine. After a short few weeks, I heard a thin sound coming from below the saddle.
Long story short, the input was off position by just a few millimeters, which was enough for the cable to not be able to reach the hardware.
If the input jack is loose, check which screws are holding it together and use the corresponding screwdriver to tighten them.
On rarer occasions (especially if you've forcefully inserted the cable into the jack), the slot might have retreated a bit into the body. In this case, unscrew the jack, manually pull it back into its original position, and tighten the screws until it no longer moves.
It is important to note that this problem can also happen on your guitar's amp. Follow the same steps to fix it.
Tweak Your Amp's Settings Up
The knobs, faders, and sliders on your amplifier play an important role in determining the guitar's tone and sound. When I bought my first 20w Peavey, I did not know what these functions are supposed to do, so I kept them all at their lowest settings, except for the volume knob.
Unsurprisingly, my guitar sounded exactly the same as before. Perhaps just a bit louder. This is a fairly common issue. Beginners don't want to break their amp by experimenting with features they don't understand.
To solve this problem, you'll first need to learn the distinction between these functions. The sliders are often used to change the frequency range. Even if they're all sitting at 0 dB, your tone won't hugely suffer from it (the frequency range will be flat).
The knob reading "gain" or "dist", on the other hand, can drastically impact your guitar's tone. Crank the gain up at least halfway. You may also want to search for knobs named "boost", "presence", and "pre-amp", although basic amps rarely feature these settings.
Another important knob that you don't want to keep low is "Master". Some beginners don't know that this is actually the main volume knob, so unless it's at least somewhat up, your amp will be silent, or just barely audible.
Crank Your Guitar's Tone Knobs
Just like amps, all guitars have at least a couple of knobs (or a sliding pot). These knobs typically govern the instrument's tone, volume, and/or the selected pickup.
If these knobs are set to zero, your guitar won't make any sound, giving you an acoustic-like tone. In other words, its internal volume is set to "silent", and neither pickup (if two are present) will be selected.
Crank these knobs in the opposite direction. Even if the tone is not great, this should at least make it much different from an acoustic guitar. For more on these knobs, read our article on the parts of an electric guitar.
Check if Your Signal Chain Is In The Correct Order
There is only one way to route the power from your amp to the guitar, if you're not using any effects pedals. If you are using pedals, you must use two cables and plug them into the correct jacks, or the amp won't produce any sound.
Assuming that you've already purchased good-quality cables and all the jacks are in working order, all that's left to do is check your pedal for "In" and "Out" markings.
Plug the first cable into your amp, and plug its end into the "In" jack of your pedal. Plug one end of the second cable into the "Out" jack of your pedal and its other end into your guitar's jack.
The situation is much different if you're using multiple pedals. Not only will you need multiple guitar cables to link them together, but you'll also have to connect them in the right order. Randomly linking your FX pedals may adversely impact your tone, or even cut the signal altogether.
As a rule of thumb, your chain should begin with a compression pedal followed by booster pedals, overdrive, fuzz, delay, reverb, modulation, and wah pedals.
Electric Guitar Sounds Acoustic: Final Thoughts
When an electric guitar sounds acoustic, it is usually an easy fix. The most common problem is simply a cable that is plugged in incorrectly or malfunctioning. A cable jack not working is also a common culprit.
If you have gone through the list above and your guitar still sounds acoustic, there may be a more serios issue with the guitar or the amp. IF you have a second guitar or amp (or one that you can borrow), try the other guitar with the amp, and the other amp with the guitar. This will help you figure out which component is not working.
If you have fixed the issue and you are now getting an electric sound from your electric guitar, but it does not sound anywhere near the way you want, we also have an article teaching you how to get a rock or metal sound from your electric guitar.