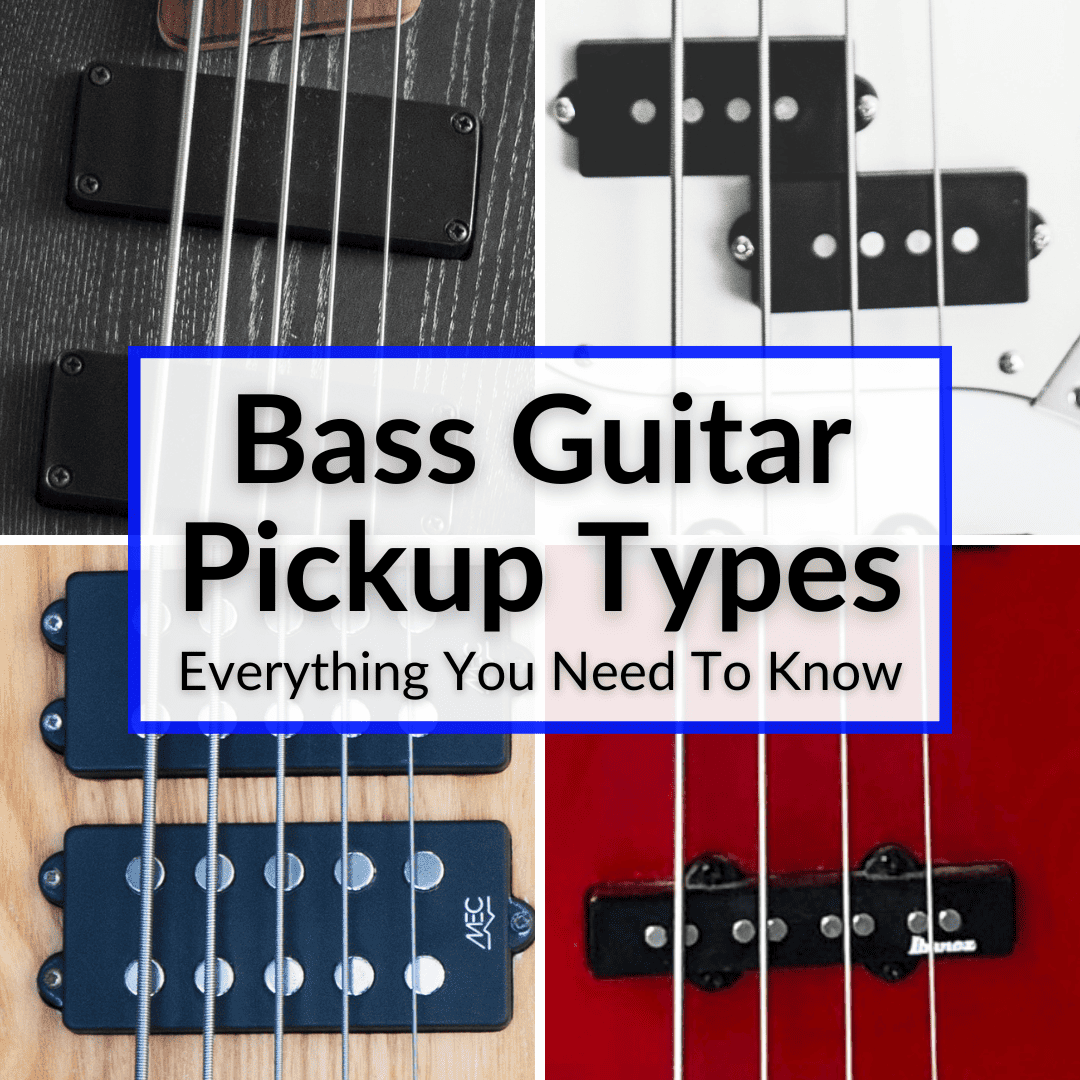 A lot of things impact the sound of your bass.
The tonewoods, the strings, the way you play it.
And, of course, the pickups.
There are a number of bass pickup types.
And each brings a different sound. That means the best one for me may not be the best one for you.
So which bass guitar pickup type should you be using?
That's what we are going to help you figure out today. We will go over all of the different types of bass guitar pickups and the advantages and disadvantages of each.
Bass Pickup Types Explained
There is no best bass guitar pickup. Each bass guitar pickup type has both strengths and weaknesses. Which is the best bass pickup configuration depends on your needs. Ask yourself: which characteristics do you need most, and which weaknesses are you best able to live with?
Single Coil Pickups
The single coil pickup is one of the oldest, and one of the most popular, bass guitar pickups. It features one large coil running around the magnet.
Numerous more or less crude iterations of single coil pickups existed in the beginning, before finally gaining a more concrete form around the '40s.
Like most modern pickups, single coils electronically pick up the vibrations the strings produce and convert them to sound.
Even though single coil pickups revolutionized the way electric basses sound, they have one nasty drawback: hum. Without sufficient external shielding, these pickups are very responsive to ambient noises and can produce sounds they weren't meant to.
Before dual coil pickups were invented, one of the simplest methods to solve this unwanted noise was to set two single coil pickups next to each other. This trick wouldn't work if there was a dominating pickup, though. Both would need to sit at the same volume for ambient sounds to be eliminated.
There are cases where a bit of hum could complement the song and tone. Chris Squier famously used a single coil Precision on Yes's debut album (and a few songs off of Time and a Word).
The main advantage that a pair of single-coil pickups has over humbucking pickups lies in the unfiltered high end. That's why many bassists still use single coils, even though dual coils have been around for almost a century.
For a great example of a bass guitar with a single coil pickup, take a look at the Squier Bronco Bass (review here). It is the best cheap bass available on the market. It is simple and it won't blow anyone away, but it costs very little and delivers far above its price level. If you're strapped for cash, this is the instrument to get.
Dual Coil Pickups (Humbuckers)
Aptly named "humbuckers", dual coil pickups feature opposing coils: an upward-pointing (north) magnet and a downward-pointing (south) magnet.
By placing the magnets in an opposing polarity, ambient noise is rejected, as electrical engineers would say. It isn't completely canceled out, but most of it won't be audible.
Experienced pickup makers like Seymour Duncan usually connect their humbuckers in series, rather than in parallel, to capitalize on the signal reception strength, while eliminating unwanted noise.
Even though you can't dispute the obvious benefit, which is a clearer tone, many players who've played bass with humbucking pickups have noticed that the sound isn't as bright and full. Because of their particular construction, humbuckers trade a bit of their highs for hum reduction.
Innumerable famous bassists have used humbuckers at one point in time, and many of them still do.
Cliff Williams of AC/DC is a perfect example of a professional who knows how to properly utilize humbuckers. Since humbucking pickups tend to be slightly hotter and sonically lower than their single-coil counterparts, bassists like Cliff use them to drive the songs they play.
For a good example of a bass guitar with humbucker pickups, look no further than the Gretsch G2220 (review here). This is one of the absolute best budget bass guitars on the market for rock and punk music, thanks to the beefy tone of the dual humbuckers.
Split Coil Pickups
Split coil pickups are among the more popular variations of dual coil pickups. They have an almost identical construction, with the main difference being that split coils are split under bass string pairs, rather than have an entire coil running beneath all four of them.
This way, the signal reception of each split coil is much stronger than it would be on a humbucker. By focusing on picking up the signals of two strings at any given time, split coil pickups sound cleaner and offer a much better sonic canvas for players who love using distortion, fuzz, and overdrive pedals.
Whenever you split anything electrical, it loses a bit of power. Split coil pickups aren't as strong, hot, or loud as humbuckers. They're much closer to single coil pickups in this regard.
Quality-made humbuckers placed on a good bass won't ever need to be replaced with split coil pickups, in my humble opinion. You can achieve relatively similar effects by fine-tuning the magnets with the instrument's control knobs, without sacrificing volume.
One of the more popular bass pickup configurations is one with a split coil pickup in the neck position and a single coil in the bridge position. This gives you the best of both worlds.
The photo above shows this configuration. It is also the bass guitar pickup configuration used on our choice for the best value bass guitar: the Fender American Performer Precision Bass (review here). One of the best budget bass guitars uses it too: the Ibanez GSRM20 (review here).
Active Pickups
Even though pickup categorization could be as simple as "active versus passive", I believe active pickups (especially EMGs) deserve a group of their own.
Unlike all pickup types I've covered so far, active bass pickups have built-in boosters that enable you to significantly increase the volume and grit of your tone.
I couldn't fathom the difference between humbuckers and active bass pickups before I bought my first Warwick Corvette RockBass. That changed instantly. With the touch of a button, I got a massive bump in strength and gain.
The main draw of active pickups is that you won't have to worry about playing on budget amps, which is especially true for small tours and gigs outside of your comfort zone.
Even if you're handed a beaten-up 20w cube, just plug in a bass with active pickups, and you'll be able to hold your own, even against the loudest and most inconsiderate drummers.
There is one major pitfall you need to know about. Active bass pickups can run out of fumes. They're powered by batteries, and you shouldn't be surprised if your bass sounds incomparably worse even if the batteries are still at 50% strength.
To ensure I avoid that surprises when I play, I usually have at least a couple of spare batteries and an appropriate battery adaptor. Even though this means spending a bit of extra money on maintenance, it's worth it in the end.
Take a look at the Yamaha TRBX 504 (review here) for our favorite example of a bass with active pickups. This bass guitar is one of the absolute best values on the market. It is also one of the most versatile basses, thanks to its dual active humbuckers and the active/passive switch.
Of course, there are better instruments, but the only more expensive one that comes close in terms of value is the Sterling StingRay Ray34 (review here). It also features dual active humbuckers, but it is a pro-level instrument. The price reflects that, of course.
Optical Pickups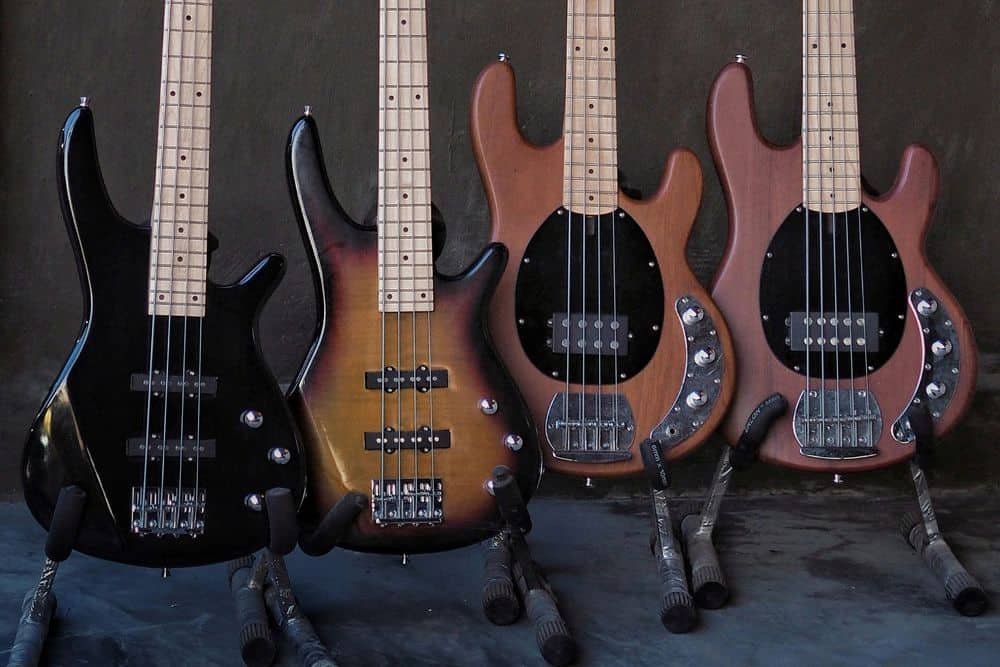 It has now been around 3 or 4 years since I first heard about optical pickups hitting the market. First, it was Light4Sound with their ōPik pickups, and then I discovered that Willcox Guitars had worked on similar technology.
These cutting-edge pickups work much differently from every other pickup type that has been invented so far. They use light instead of magnetic fields.
With triggers that work on light sensing, optical pickups are virtually noiseless. Unlike humbuckers, they completely block off ambient noise, rather than just filter most of it.
Another major advantage of optical pickups is that they offer much better sustain. Since the method by which this is achieved is strikingly different from what most bassists are accustomed to, it wouldn't surprise me if some people don't like the sound and feel of it. But it has a lot of potential.
After digging into the most recent news about the development of optical bass pickups, I've realized that they're still a work in progress for the most part. It might take years to refine their performance. And a couple more years before the world picks up on the trend.
Types Of Bass Guitar Pickups
As mentioned, all bass pickup types have their own distinct advantages and disadvantages. Which type of bass guitar pickup is best for you will depend on the characteristics you need for your style of music and playing, and which weaknesses you can live with the easiest.
It is always a delicate balancing act. And for many bassists, the answer as to which bass guitar pickup type is best changes from one song to the next. That is why many professional bassists have multiple guitars, and often also different types of pickups, in varying bass pickup configurations, on the same instrument.